Caregiver: Abu F.
A Caring Champion 2014 Nominee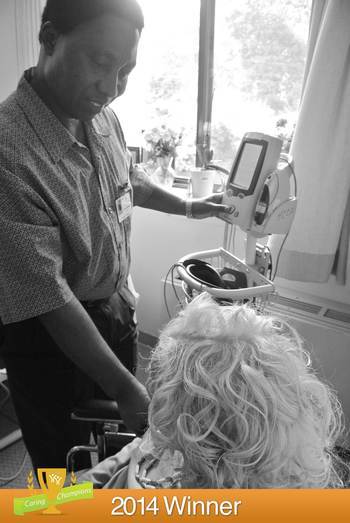 Employer: Roland Park Place
Location: Baltimore, Maryland
Like this story? Cast your vote(s) using the social media buttons on the left side of this page – click "like," tweet this page, give it a +1, or pin it! All of these actions will help us determine the cash bonus winners.
Inspiration for This Nomination:
Abu, LPN, is a natural champion in caring at Roland Park Place, a non-for-profit continuing care retirement community (CCRC) located in the heart of northern Baltimore City, Maryland. He is known for his strong leadership skills; his compassion to older adults and their family members; as well as his commitment to the betterment of the community and the long-term care nursing profession in general.
Abu stands out as an exceptional candidate for this award as he consistently demonstrates selflessness; professionalism and leadership; value and respect for all of the nursing staff at Roland Park Place – no matter the attending level; and perhaps most admirably, his commitment and passion for providing the highest level of care, customer service and treatment to every resident at Roland Park Place.
Abu truly epitomizes the level of commitment to care and nursing that this award celebrates. Originally from Sierra Leone in West Africa, Abu didn't cut a path, but followed his heart to this profession. With a lifetime of knowledge of how seniors are cared for and live internationally, Abu is able to offer gentle and loving care to everyone he meets. A distinctive contributing member of the Roland Park Place community and greater long-term care nursing profession, and an unsung hero, Abu is deserving of the Caring Champion award.
Caregiver's Best Skills and Attributes:
According to his supervisor, Roland Park Place's Director of Health Services, she has never met a more composed and levelheaded medical professional in long-term care nursing at any level.
Abu's tremendous passion for caring for residents is evidenced by his willingness to "drop everything" to assist anyone in need, whether it be a resident or a fellow nursing staff member. Additionally, he has a great consciousness for the pain management of residents, assessing and tending to each resident to not only make sure they are receiving great care, but great comfort in their care. Abu attends to every resident as if they were his own family members. He is known for taking special measures for residents — caring for them in the smallest of ways, but the most empathetic.
Feedback About This Caregiver:
Abu has a reputation for developing close relationships with the residents with whom he works. A combination of his reliability and calm, gentle spirit has earned him a loyal and devoted following of residents. If Abu is absent from work for a conference or school, residents with requests will pass notes to him through other staff members with the message, "give this to Abu, and only Abu." They know he is trustworthy and can be depended on for even the smallest chore or request, which speaks to his commitment to the residents and his clinical excellence in this profession.
What Others Have Learned From This Caregiver:
Abu orients new geriatric nursing assistants and other members of the nursing staff, and is generous with sharing his clinical knowledge and expertise of each individual resident, internal processes and personal experience. Nursing staff can often be seen observing and admiring Abu's soft manner and work to duplicate it in their own caring practice. Abu's co-workers constantly emulate Abu's gentle caring style — adopting his technique and implementing it to help them attend to residents facing even the most extreme challenges in aging.
More About This Caregiver:
Abu's interest in health care programs, specifically in geriatrics, stemmed from the lack of adequate health care services for older adults in his home country in West Africa. Abu obtained a pre-medical degree in biology and chemistry from the University of Sierra Leone with the intent to attend medical school and eventually become a stronger advocate for seniors in Sierra Leone and beyond. Abu's experiences abroad and personal cultural beliefs contribute to his special attention to our older generation and this unique perspective on geriatric care and nursing services in Africa has fed his passion for providing excellence and strong compassion in care to seniors everywhere.
Sierra Leoneans greatly respect and care for their elders because they are an essential source of transferring history and traditions in the culture. In Sierra Leone, it is a general cultural belief that the more you help your elders, the more blessings you receive. For this reason, Abu has always had a connection with older adults and carries this cultural belief through in everything he does.
His understanding of the importance of care to the Roland Park Place community, and his desire to affect the lives of more people here and in Sierra Leone led Abu to pursue his Bachelor of Science degree in organizational leadership and currently, his pursuit of an MBA in healthcare management.
#
Like this story? Cast your vote(s) using the social media buttons on the left side of this page – click "like," tweet this page, give it a +1, or pin it! All of these actions will help us determine the cash bonus winners.
Read More Stories
|
Find Continuing Care Retirement Communities
| Hire This Company:
Roland Park Place
---
Stay Connected With Caring.com
Get news & tips via e-mail
---