St. Joseph's John Knox Village
Claim 4100 E. Fletcher Ave, Tampa, FL, 33613
Caring.com Listing
Talk to a Family Advisor: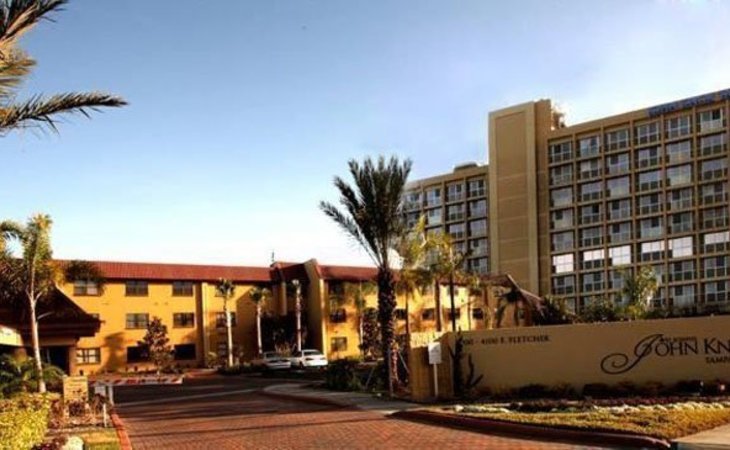 Top nearby Continuing Care Retirement Communities
Reviews of St. Joseph's John Knox Village
---
Pablo
July 17, 2017
I am a friend or relative of a current/past resident
My father is in John Knox (St Joseph's John Knox Village). It is nice and big and has a library. They have a cafeteria on each floor if you cannot make it downstairs. They take care of everything. They have independent living, assisted living, and long-term care. They do all types of activities, such as bingo, dominoes, exercise, reading, and outings four times a week to special lunches and dinners . They serve all three meals. Either we or they can take him to the doctors' appointments. The staff is very helpful and nice. They can improve by having cheaper rates.
---
Shirley200236
December 05, 2016
I visited this facility
The main thing that I like about St. Joseph's John Knox Village is that I can go to mass every day. They have a swimming pool and heated screened-in pool and all kinds of activities, like cards and games. They serve three meals a day and will take me to my doctors' appointments. All I have to do is let them know in advance. They have a doctor there, but you do not have to use him. In case of emergency, he will be there.
---
Iffy
July 28, 2015
I am a friend or relative of resident
Pros=activities, pool, friendly staff, nice grounds. Cons=food isn't good even after so called improvements. T.V. satellite signal terriable, before the rain even starts you loose your signal. So if you dont care about food or t.v. this is the place for you! ;)
---
Grateful girl
June 26, 2015
I am/was a resident of this facility
for the past two years I have been a resident of the independent living section of the village. These have been very very happy years. there is an atmosphere of warmth and caring that is great. And the energy! The marketing staff is dynamic and so welcoming. It is exciting to live here. There are so many activities to participate in, one of my favorite being the movies show three times a week in our little theater. I write articles for the monthly John Knox news about residents who have pets. One of the questions I ask each time is what brought you to John Knox. Without exception one of the answers is always the warmth of the people in the village. To be honest, I had no desire to come to a retirement community, but I had had a mini stroke, and had to conduct a search of communities to live in so that I would not be alone. On my list was Saint Joseph John Knox, and the minute I walked into the marketing department, I knew I was home. I had already received papers from another community and all I needed to do Was to sign them. But after my interview with a marketing person, and a tour, I tore up those papers and chose Saint Joseph John Knox Village. I do not regret one minute. Nor have I been as happy as I am now. The apartments are clean and attractive; the facility is well cared for; and the people here, my fellow residents, are absolutely delightful. There is a large dining room that it beautifully appointed, and a smaller dining room which has cafeteria style service. The staff from house cleaning all the way up to administration are for the most part very very friendly, very willing to take care of any needs that we may have. There is a big Olympic size pool which is terrific.One of the things that I looked for was whether or not John Knox excepted residence with pets. They do. So I have my two cats are very happy trio and a very happy home.
---
Caring104367150
March 28, 2015
I am a friend or relative of a resident
We have placed my mother at John Knox Village as it is closer to us, has a really good reputation, and it was recommended by several friends. It's a big place with several different choices. So far she has been there for about 6 weeks now. They have a walking area and social activities. Every week I had a meal with mom, and the food is always good. Each floor has a little dining area or they can go to the main dining hall. They administer her medicine whenever she needs it. They have a doctor on site, and one of her primary care is on site. The community is very clean. They come in everyday and mop, scrub the bathroom, and change the sheets.
---
Caring105052850
January 26, 2015
I visited this facility
The rooms weren't quite as large at St Joseph's John Knox Village, but they were clean. The staff were good and accommodating during my visit. I was impressed with its reputation, and I would recommend them.
---
Mrs. Bryant
December 22, 2014
I am a friend or relative of resident
The facility provides poor quality health care in regards to the MED/Rehab center. My 83 yr old mom was admitted for rehab approx. 5+ weeks ago due to a stroke; right side affected. MOST of the CNA's assigned to my mom were extremely rude. The nurses included did not treat her with dignity or respect nor did they make her living environment comfortable. A particular CNA took away my mom's freedom of choice to make her own independent decisions by forcing her to use a bed pan instead of the brief because she did not want to clean her diaper. Another CNA forced my mom to sit up in her wheelchair for 5+ hours after complaining of horrible back pains. The CNA did not want to stop to use the hoyer lift which requires some time and effort in putting her back to bed. The CNA argued with me trying to debate the 5+ hour mark. When my mom was put back to bed her brief and pants were soiled with urine. A CNA along with another CNA were speaking harsh to my mom; they were not aware I could hear them from the bathroom in the room. I could go on & on about the CNA's and what they do when they think no one is watching. That is why my family and I came often and stayed long periods of time. Families have the right to inquire about the care/concerns and when I approach the nurses desk the staff would often ignore me and when they finally decide to acknowledge my presence their tone of voice is as if you are bothering them and you are unimportant. A nurse is one of those people. She will "roll" her eyes and speak loudly in a negative way but not addressing you directly. She along with another nurse act as if you are bothering them when approached. The overall behavior of the nursing staff is highly unprofessional and the skills of the CNA'S are questionable at best. There are three staff members who were great in regards to providing care to my mom. I wish the facility would employ more like them. Unfortunately there are more unprofessional, "ghetto" acting staff members than there are kind and professional ones. My mom was afraid to sleep in fear the staff would harm her. Since being admitted to John Knox Village she has acquired a bacteria resistant infection in her gut twice, a urinary tract infection, pneumonia and NOW she's on a ventilator fighting for her life. I definitely would NOT recommend sending your loved one to this facility for long term or short term treatment.
---
PJMC
October 14, 2014
I am a friend or relative of resident
My mother was in the rehab facility and I was far from impressed and disgusted with most of the staff and conditions. Not only did she not rehabilitate but basically due to neglectful care I had to transport her to the ER as she was severely dehydrated. Once she became symptomatic and complained of not feeling well she actually went 4-5 days without a doctor bothering to check on her or take any kind of action. No fluids administered?! I cannot believe this was ranked so highly. Maybe the residential facility is better. Honestly it would have to be. If you have a loved one here be sure to check on them regularly as many staff members seem to not be able to do that.
---
George88695550
July 22, 2014
I visited this facility
I have been to John Knox Village. I like it very much. I'm not sure I can afford it but I'm considering it and will see what I can do when the time comes. They have a hospital in the facility. The menus and the food look good. Everything about the place looks good to me. Location is convenient to a lot of things. I'm impressed with it. Everything is compact. Everything is connected together. It's large, but you don't feel a largeness about it, and people are very friendly. The facility itself is clean as a pin. It has been updated in the last few years. My mother lived there before she died, and my friend's mother lived there. It's very well known and highly respected.
---
MrMojoRisin76
September 13, 2012
I am a friend or relative of a resident
The nursing staff is wonderful. They took very good of my friends mom. She had had a stroke and needed total care. She was kept clean and the nursing staff continuously engaged her to "work" her mind. The therapy staff and the administration were a different story. As soon as her 21 days ran out for medicare reimbursement she was deemed no longer able to make progress. This was not the case. The nursing staff disagreed with the therapy department and continued to work with her. With the nursing staffs help she has made more progress then she ever made with the therapy staff. She is now regaining use of her affected side and has transitioned from a tube feed to solid foods. This progress happened AFTER she was discharged from therapy. The administration called and stated that her mothers insurance company was not paying and there for she must pay. This would be normal protocol except when the insurance company was called my friend was informed that John Knox had only submitted a claim for the first month and had not attempted to get payment for any other months. The insurance company believed this was because private pay is a higher rate then the allowable charges under insurance. When the one month was billed to the insurance company it was payed within 24 hours. So in conclusion as far as Nursing staff the facility is GREAT!! The rest leaves something to be desired.
---
davefair
August 13, 2012
I visited this facility
This is a great place with much care and giving
---
tampabayCNA
January 18, 2012
I visited this facility
This place feels like a hotel from the minute that you enter the front door. There is a fabulous activities department that is constantly having stimulating engagements. There are postings in the common areas. The dinning area is absolutely beautiful and large scale. Apartment style living and double occupancy is available. There is a bunch of parking available in the front and on the sides of the building. The grounds are well manicured. I noticed plenty of staff and they seemed very helpful.
---
sunshine4
December 08, 2011
I am a friend or relative of a resident
I would visit my Grandmother when she was a resident of the home. She was transferred from the hospital since she needed more care than she would get still living on her own at the young age of 87. Unfortuantley, they too are short staffed. I would come by and my poor Grandmother would be so excited to us so we could help move up in her bed. I have seen her in the wheel chair stuck waitng for the pysical therapist who is late and she is uncomfortable in the wheel chair. It saddened me so to see her like this. It was an old building, her room mate was not very friendly.
---
disappoitment
November 15, 2011
I am a friend or relative of resident
My love one was a patient in their subacute unit. She frequently ate up in the cafeteria until one day was approached by the food service director expressing that she needed to eat in her room. My love one tried to explain that the menu choices were not the same and was called a "liar" by the food service director. We filed a grievance however to this date it has not been addressed nor has she received an apology from the food service director. What ever happened to the customer is always right?!
---
JMASON1
October 14, 2011
I visited this facility
I WORKED FOR RIGHT AT HOME NURSING AGENCY IN TAMPA FLORIDA AND WAS ASSIGNED TO A PATIENT THAT RESIDES IN JOHN KNOX VILLIAGE. THE EMPLOYEE'S AT JOHN KNOX WORKS REALLY HARD AND TREATS PATIENTS HOW THEY WOULD TREAT THEIR PARENTS. AT JOHN KNOX THE EMPLOYEES ARE LIKE FAMILY. THEY HAVE MANY ACTIVITIES LOCATED IN JOHN KNOX. WHEN IT COMES AROUND TO THE HOLIDAYS JOHN KNOX IS WELL DECORATED. THE FOOD AT JOHN KNOX IS DELICIOUS AND IT IS A CLEAN FACILITY. IF I HAD TO DECIDE TO SEND MY RELATIVE THERE I WOULD.
---
Bucs Fan
August 05, 2011
I am a friend or relative of a resident
This is a world class facility. It looks brand new and the amenities are very nice. My grandmother stayed here for 2 years. It was a much nicer than the assisted living facility that she was staying in previously. I cannot recommend this place enough! The staff were very attentive to our needs and the needs f my grandmother. She loved it. Because she loved it, it made us like the place even more. One quick tour of the place and I am sure you will be happy with it as well.
---
angel12b
July 28, 2011
I visited this facility
The facility is very conveniently located near major highways and medical clinics and hospitals. The staff is very caring and dedicated, the facility is very clean and private. They are many activities that are carefully planned for the residents to be actively involved in.
---
Karen1
June 08, 2011
Friend or relative of resident
My parents were residents in the independent living portion of John Knox Village (JKV), but when my mother's Alzheimer's became more than my father could handle, the facility helped him transfer her into assisted living. JKV offers assisted living with varying levels of care (and varying costs based on the patient's needs). My mother was placed in a small apartment that was much like a hotel room. It was great to be able to surround her with own furniture, favorite rocking chair and knick-knacks to help her feel more "at home." JKV was very flexible in all respects ... my mother could eat provided meals under supervision on her floor, or my father could take her to the main dining room to eat with him and their friends. Her caregivers treated her with dignity and respect. They encouraged her to attend activities, but never forced her when she didn't want to go. If she didn't want to go to the dining room, they tried bringing snacks to her room. The staff at JKV has low turnover, which is rare for an assisted living facility. It is a real comfort to residents to recognize the faces of their daily caretakers, and as a family member it was comforting for me to recognize the nurses taking care of my mother and to know that they recognized me and shared information with me. My only criticism is that sometimes the staff did not check on her hourly, which is their policy. That may be partially because my father spent time with her every day, and they knew she was not often left alone or unsupervised unless she was sleeping. They seemed to stay on top of her medications. As her condition worsened, I felt that they did everything they could to keep her in assisted living as long as possible to avoid transferring her to the depressing unit in the nursing center reserved for patients with severe Alzheimer's. That was helpful not only to her, but to my father, who would have found it hard to see her living in those more restricted quarters. In addition to the nursing staff, everyone else, from the administrators to the food service staff, was helpful and understanding. JKV offers assisted living for patients without Alzheimer's or dementia, but I did not have the chance to observe many of those patients. In addition to the motel-room style units in the high rise building, they offer assisted living services in one-bedroom and studio apartments that are more like "regular" apartments. In addition, JKV was very accommodating of my father's needs, helping him move to a smaller apartment after my mother moved into the assisted living facility.
---
About St. Joseph's John Knox Village
---
St. Joseph's John Knox Village is a continuing care retirement community in Tampa, FL that offers housing options for currently healthy people who want to secure their healthcare plan throughout the aging process. Contact St. Joseph's John Knox Village for more details on CCRC housing and rates.
Location of St. Joseph's John Knox Village
---
Request Info
Get full access to reviews, cost information, and amenities