Freedom Plaza Sun City Center
| Continuing Care Retirement Community
1010 American Eagle Blvd., Sun City Center, FL, 33573
Talk to a Family Advisor: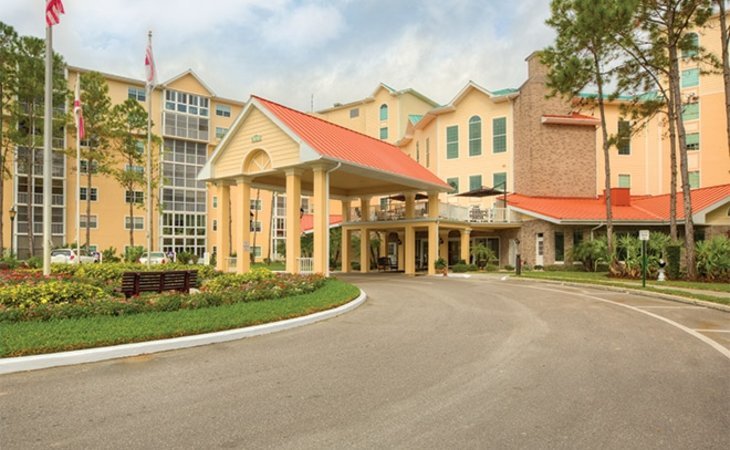 Reviews of Freedom Plaza Sun City Center | Continuing Care Retirement Community
---
Dianne168468
January 02, 2017
I visited this facility
Freedom Plaza at Sun City Center was fabulous. The independent living looked like a country club. They offered everything and then you can even go to the rec centers at Sun City and join any of the activities besides what they offer. They go on trips to Tampa or to Sarasota besides the beach several times a week. They were excellent and fantastic. There is a big building in the center because all the apartments are around it like a horseshoe. They will pick you up in a large golf cart, take you over to the building, and then bring you back, so you don't need your car and you don't even have to walk if you do not want to. They offered everything. The doctors come to the facility, so you don't even have to spend your time going to their office.
---
Nancy740865
November 28, 2016
I am/was a resident of this facility
What we like most at Freedom Plaza is that they have all different levels of care. We have electronic things that checks when you are up each day. There's a nurse in each building, physical therapy, and visiting nurses. They have home health. The food is very good; there are seven restaurants. It's a large place. The staff is very good. There's a skilled nursing and rehab center. There's a Clarebridge for memory center.
---
Sharon730716
October 13, 2016
I visited this facility
We looked at Freedom Plaza, which we were very impressed with. They were very nice. They had very nice apartments, but then again, I had some concerns about how well I could get around in the apartment because I have a power chair, and I think it would be too big, and I couldn't get in and out of the bathroom easily. They were modifications they would be willing to do, but that was going to be costly. Also, it had carpeting in the bedroom and the living room, which I can't have because I have allergies. It was a nice apartment, and it was on the first floor with a little patio, but unfortunately, somebody else bought it already. Their food and their dining room were outstanding. Their food was really good. They got a very big buy-in there.
---
Helen231420
June 10, 2016
I am a friend or relative of a resident
My brother-in-law has been in Freedom Plaza at Sun City Center for 20 years now. It's very comparable to others, and they have more dining options, which we really like. It has just about everything we would want.
---
BertPRAXJ
May 11, 2016
I am/was a resident of this facility
Freedom Plaza was nice. I saw a bunch of rooms, their dining room, and the facilities. I stayed in the rehab section about a year or so ago. I remember the small dining room, which was part of the rehab center, and it was very nice, friendly, and offered a good variety of food.
---
Judith45
November 16, 2015
I visited this facility
The one place we were really interested in was Freedom Plaza. It was very nice. There was an apartment there that we were interested in with a room that was much bigger than what we expected. Everything was new and had the latest appliances. It was really nice. We ate there, and it was wonderful. It was more than one building. I liked that they offered transportation to take you to the doctor. They had a bus service that went all over the place. I really liked the place. They even had nursing home. They had whatever you needed.
---
Caring114201050
October 28, 2015
I visited this facility
We visited Freedom Plaza. The staff was over-friendly and over-accommodating. The rooms were about average with the others. The food was what you would expect; I didn't think it was exceptional. What I didn't like about Freedom Plaza is that when something happens to you, you lose everything. Oh, they would take care of you, but they send you down to the different buildings. There isn't much activities whatsoever.
---
Caring107745750
June 30, 2015
I visited this facility
I really like Freedom Plaza the best because it had a golf course and a nice campus and I really appreciated that. It wasn't very impressive as a community. The campus appreared to be more like an army base than a retirement community. The people were very pleasant and very nice, it 's just the community itself that I didn't care. We had one meal there and it was very nice and we were with our hostess.
---
Caring99626550
December 22, 2014
I am a friend or relative of a resident
My parents are in Freedom Plaza Sun City Center. The have different sizes of rooms. The place is quite beautiful, clean, modern, and very pleasant. They have many activities. The food is very accommodating to any particular diet. It is served beautifully. I had lunch with them, and it is very good. To be honest, I think they could use more staff. The staff seems to be on the light side. However, they are very pleasant, very hardworking, and they do what they can. They have supervisors and nurses on duty 24 hours a day. You can call them anytime, and they are very accommodating.
---
Caring83087750
May 30, 2014
I visited this facility
Freedom Plaza have basically the same kinds of programs as normal. Its physical location is that nice. But to be fair, I don't know if it's old or not. It wasn't very physically attractive. As we were talking to the people who work there, we were told that about 20 to 25 percent of their population are retired military. I certainly have no problem with that. I respect and honor them, but I wouldn't fit in. That became a factor. They were very honest with us. It didn't fit what we wanted, but in terms of the place itself, it's very nice. I didn't see anything that was not pleasing.
---
Caring84202950
May 12, 2014
I visited this facility
The rooms are very nice at Freedom Plaza. We like that when we go in, there is a center atrium where they have little conversation areas with comfy couches and a piano. It looks like a great place for people to come together. The staff is very fine and nice. They are young and great people. I like the friendliness of everybody. I think they need to improve on their landscaping and trees. Another thing in the community, I think they need more nice restaurants. The food there was very good. We will be moving there in June.
---
Barbara35687050
January 31, 2014
I am/was a resident of this facility
We love it here! We moved here in Freedom Plaza 5 years ago. It's the best thing we've ever did. We looked at 6 different places in Tampa Bay area. This was the only one that's a CCRC that would take care of us even when we ran out of money. We buy in and we get to stay here. We chose this place too also because of the medical help that we have here. We have OT and PT in the building. We have so many amenities to help keep us live independently. Because we already live here, if we have to go to rehab or assisted living, it would be much cheaper for us. If we came in off the street and live in the nursing home here, it would be $9000 a month. We have a friend and his wife has Parkinsons, she's been in assisted living for 4 years and it only cost them $1800 a month because he already lived here. What I like is the therapy is just right here in the building. We don't have to get in the car and go somewhere. It's just all right here. We have an indoor pool, fit and bounce training and yoga. There's just so much to keep us healthy here. We 6 different beautiful dining rooms. We don't have to go in one big dining room and feel like we're in an institution. It's like fine dining out every night with linen table cloth and napkins. It's just very nice.
---
Richard42
December 27, 2013
I visited this facility
We're moving into Freedom Plaza. I like this community. They have good food and the chef was very good. They have five different dining rooms so there's more than enough room for everybody. They have everything right there. I can walk out my door and play golf, I can go swim in their swimming pool, I can play tennis, etc. The staff was fantastic! They're very friendly and warm. They did a great job.
---
Caring RO
August 15, 2013
I visited this facility
Freedom Plaza is wonderful. I like it very much. We did see the different levels of care they have there and it felt like we would be comfortable aging in that facility because the higher levels of care are equally as attractive as their independent living. Their apartments have a sort of condo-feel to them. They have several different but lovely floor plans and they all included a garage. The management is accommodating with structuring and decorating the rooms with upgrades that their present residents want. We did have lunch there and the food was very good. This is probably our favorite one that we have looked at in the area.
---
Frank12
June 28, 2013
I visited this facility
Freedom Plaza was nice and I was really impressed. The location is great and the room sizes are about thirty percent bigger, but actually cheaper than the other facility up here and both facilities are run by the same people. I liked the size of the rooms, the closeness to everything, and they literally take you to any place you want to go. That was fantastic. You really feel important down there.
---
caring10051
February 22, 2013
I visited this facility
Freedom Plaza is an expensive place. We have friends living there. It's like a high-class hotel, it's very well-kept, and the food is quite good.
---
From Freedom Plaza Sun City Center
---
Freedom Plaza Sun City Center provides a full range of choices for today's seniors. Choosing a senior living community represents a lifestyle choice and we understand that our residents are choosing much more than a comfortable living environment to call home. Our Brookdale community delivers Inspired Independent Living, with the promise of Exceptional Experiences Everyday. In choosing this community, our residents have made a conscious lifestyle decision designed to deliver enhanced opportunities for pursuing health and life fulfillment through the exceptional services, amenities and opportunities we offer. And, our residents can rest assured that as their needs change we provide a variety of ancillary services and a Personalized Assisted Living environment that encourages our residents to continue to live as they please while respecting individual preferences.
Our Optimum Life&reg and Celebrations programs provide an all-encompassing way of life that touches the lives of our residents, their families and associates alike. Optimum Life&reg is a journey of self-discovery including services, features and benefits that allow each resident to pursue their peak level of health, wholeness and fulfillment while balancing six key dimensions of personal wellness: emotional, intellectual, physical, social, spiritual and purposeful. As part of Optimum Life&reg we encourage our residents to celebrate life each day. Inspired dining and vibrant lifestyle activities come together in our Celebrations program filling the monthly calendar with themed experiences, special events and group activities that highlight different cultures and cuisines in a common venue of camaraderie.
What Makes Us Special
---
On 140 acres, 18 hole Golf Course, Pub/Sports Bar, Parking - Indoor Garage, Therapy Pool, Indoor/outdoor Pool, Fitness Center, Pet Friendly, and so many more amenities and activities!
Location of Freedom Plaza Sun City Center
---
Top Cities for Assisted Living
---
Get Cost Information
Get full access to reviews, cost information, and amenities