Asbury Methodist Village
| Continuing Care Retirement Community
Claim 201 Russell Avenue, Gaithersburg, MD, 20877
Caring.com Listing
Talk to a Family Advisor: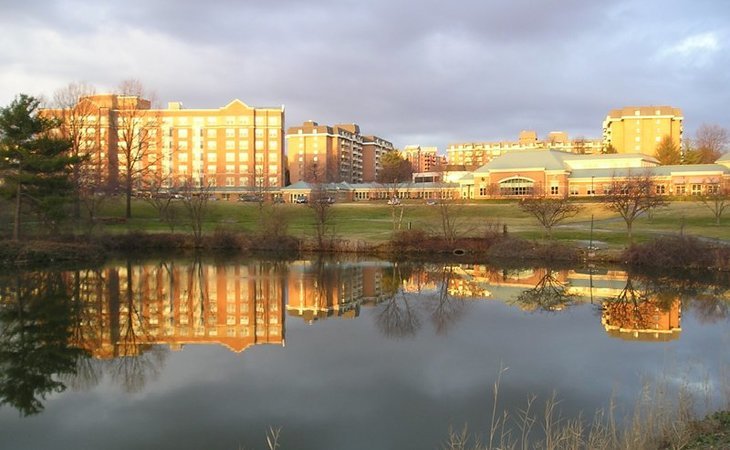 Top nearby Continuing Care Retirement Communities
Reviews of Asbury Methodist Village | Continuing Care Retirement Community
---
wanainche
July 06, 2017
I am/was a resident of this facility
We looked at over a dozen places over five years before settling on Asbury. Pluses included: Non-profit organization with long history; lots of on campus AMV provided and resident generated/provided opportunities for engagement and involvement; within 30 minutes of a variety of good cultural activities outside of campus; an hour to three air airports, plus blocks from Interstate, on bus system, mile form train station; responsive administrative staff and attentive and interested support staff; and above all else, great neighbors with a variety of backgrounds, life experiences and interests.
---
hallock
May 31, 2017
I am/was a resident of this facility
Asbury Methodist Village was a big place. It was a farm, and they had a huge staff. They had a swimming pool, a gymnasium, and workout places. We were quite happy when we were there. There were about 1500 residents, and most of them were in the independent living. They had a bistro, and you could order sandwiches there. There was a library, and they offered all sorts of programs and outside activities. We had a 2-bedroom apartment with a sitting room, a big dining area, and a washer/dryer. We also had a sun room which overlooked the courtyard. It was a gated community, and there were ponds. It was a really nice place.
---
Precious Soul Fly Away
March 12, 2017
I visited this facility
I visited this place and I highly recommend not……Staff in the elevator speaking in a different language about being over worked with 12 patients and how some of their patients don't even get taken care of. In addition, I came back on a different day - staff always having side bar conversation for long periods of time, very rude with horrible attitudes, most of them were foreigners. I could feel no love in the air as it was just a job not truly caring for the people.
---
Dotsie
February 27, 2017
I visited this facility
This is the best place for anyone who is retired and ready to enjoy life! Move in while you are young (60!) so you can take advantage of all the wonderful facilities and programs! The larger the facility, the more they can offer the residents and Asbury is the largest CCRC around. We have it all! I walk the nature trails daily, swim in the gigantic indoor pool 3 times a week, participate in the exercise classes, attend Keese School twice a week, go to the movies in the 275-seat theater, attend different classes, enjoy the Strathmore events on compass, go on trips to various places, eat out at the restaurants whenever we want to, play bridge with new friends, share at a book club, volunteer at different places, and much more. The best part is the wonderful people we have met and the fabulous staff who are always there to help. I thank God every day for finding this beautiful, well-maintained campus and facility for my husband and me. We love it here.
---
Mel358628
January 02, 2017
I visited this facility
I had little experience with Asbury Methodist Village using various functions that they have, and they were very good. So far, the staff has been excellent. The rooms that we saw were fairly small but everything was very well kept. The best feature of it was that outside of the rooms themselves, they had numerous libraries and common rooms that were well kept, very well maintained, and painted decent colors. There was nothing dismal about the place. It was light and airy, and it was pretty good.
---
happyvisitor101
August 22, 2016
I visited this facility
I went to see Asbury Methodist Village. The independent living section looked good. The patients looked pretty happy, but the assisted living part didn't seem that clean or well managed. Asbury Methodist Village was a nice gated community, so it's safe. The staff looked nice.
---
Ava420837
May 25, 2016
I visited this facility
Asbury Methodist Village was a huge place with individual courtyard and garden homes, and my husband and I would like to be in that rather than in an apartment. They had a pool, a salon, a library, and all kinds of activities. It seemed really flexible. There were lots of green places to visit and ponds. It seemed more rural, and they've been here for almost 90 years, so they've been doing this for a long time. We stayed for two nights, ate a couple of meals, and had residents who ate and sat with us. There was a lot of one-on-one contact. They had anything you could want to eat and three or four dining rooms. You can pick a food plan or you could just eat where you want, when you want, and what you want. It was a very nice and a very expensive place. This is where I would go if I decided to go to the East Coast.
---
Anonymous120920550
February 24, 2016
I visited this facility
Asbury Methodist Village is very nice, well kept, and offers a variety of housing. It's extremely expensive because it is a continuing care facility. I do not like that I will get involved with skilled care and intermediate care; if I need it, I will get it, but I do not want it now.
---
Pam115223650
August 11, 2015
I visited this facility
During my visit in Asbury Methodist Village, I saw that the staff was very lovely and nice. The people working there were very positive. The rooms were spacious too. I tried their food, and it was delicious. They also had a very wonderful dining room. They had all kinds of activities like lectures, theatre, music, and everything you could think of. They even had a swimming pool and wellness center. It was a gated community, so I was quite satisfied of it. In general, I think they didn't need improvements at all.
---
Caring111052450
July 21, 2015
I am a friend or relative of a resident
My sister is in Ashbury Methodist Village. It is a CCRC. It is a big beautiful place. It is very well run with great, competent staff. The grounds are spectacular. It is a huge campus with massive trees and beautiful grassy lawns. It is very peaceful and very quiet, and it doesn't have a lot of commercial traffic running around the place. The thing that is beautiful about the room because she has Medicaid and she has a shared room, they have a huge bay window, and everybody gets a bay window. It is lovely. They have lots of good activities. They have a big calendar, and they try to push my sister out. They have volunteer activities where you can make sandwiches for shelter. They have movies, bingo, and book clubs. They have a variety for every mental capacity. It has a very fine reputation and we consider to be very lucky to get her in there.
---
Caring100421550
January 25, 2015
I am a friend or relative of a resident
It was a nice huge sprawling campus, and they did a lot of great things there, but it was too much money for us, way too expensive. We felt that we were paying for a lot of services and amenities that my mother was never going to use like the swimming pool. If you've got the money, that's the place to go. She had a very nice room. It was of decent size, it was well laid out, and the bathroom was very nice and very big. The staff were very professional. If you move in there, you can get an independent living apartment which was very well done, very well kept up, and when it was time for her to go to assisted living, it was kind of an easy step; we just took her to a building across the campus. They're able to take care of you forever there. When you go in there younger, you can take an advantage of all the amenities: the gym, swimming pool, all the activities, the campus, and everything they have. If I had money to burn and then was looking for an independent living, I wouldn't hesitate to move in to Asbury Methodist Village.
---
Caring101682750
January 25, 2015
I visited this facility
Asbury Village is a gorgeous facility. They gradually expanded, so physically it is extremely attractive. One of the reasons that I opted to apply to this place is I know some people who lived here. I worked for and with them, so it gives me the upper hand when I move to this place; it won't be a complete surprise. I had a meal there, and it was delicious.
---
Disgusted and angry
October 05, 2014
I am a friend or relative of resident
Horrible place. PT,OT,and Speech therapy is contracted and they are good. Emplyed nurses, GNA's, CNA's are awful, have bad attitudes, lazy, and limited skills.
Provider Response
We are very sorry that you were disappointed. Asbury Methodist Village strives to provide the best possible care and service at all times, whether it is provided by our staff members or contracted providers. We have shared your comments with the relevant management teams to ensure proper follow-up.
---
Caretaker001
June 10, 2014
I am a friend or relative of resident
Avoid at all costs. Asbury is all about draining you of your funds before you pass away. You will receive a bill for every time a physician says hello to a resident, staff are confused, many do not understand English, others are poorly trained and do not understand common medical terms and names of items, food is mostly cold even when listed as "hot", and dinning room personnel unattentive, often with trainees working. Please do yourself a favor and look elsewhere for caring staff.
Provider Response
We apologize for the frustration you experienced. We have many dedicated and skilled staff members who are truly committed to the residents they serve. We will continue to provide training and education for our staff members so that every client receives great care and service while they are here.
---
Darienne
May 30, 2014
I am a friend or relative of a resident
Asbury Village was recommended to us by a number of my mother's friends, and I had also come across it in various senior publications. It's a large property, and it has a number of different villages designed for different needs, and I like that. There were also a lot of activities for the residents to partake in. The rooms are very pleasant. It's nicely laid out. They have all of the safety grips that elders need. I like their philosophy and how they approach caring for senior citizens.
---
Caring3835
May 29, 2014
I am a friend or relative of a resident
My husband is in Asbury right now. It is one of the best nursing homes/assisted living/rehab places that I had seen so far. My husband is in the part called Wilson Health Center. They have residents with advanced Parkinson's disease, with Alzheimer's, and they also have people who just want to retire and have a quiet life. Asbury is very nice. It is really outstanding. They have exceptional amenities. It is beautifully landscaped, and it has enclosed security. They have a beautiful serenity garden. They have a comfortable and large living room with television and access to computers. They have an event room for social times and a library with access to an abundance of reading material. They also have a chapel and a store, and when you go in there, they offer you coffee and chocolates and crackers. The food is outstanding. There is a nice dining area where you could eat with your loved ones. Asbury is really top of the line. It is five-star. It was run by the Methodist Church, but now it has grown into a really big, huge place. It is assisted living, and it has rehabilitative services. It has everything you need from the time you retire until you die. They have nice staff. They are very informative. They have the right people. They help you navigate through the system. They are very good and very attentive. They have a community coordinator who coordinates everything for you to make sure you understand all the insurance and how it works and you won't be caught by not understanding what's going on with like Medicare and Medicaid. My husband has Alzheimer's, and he was unable to walk when he came out of the hospital, so he is there for rehabilitation.
---
Caring83229650
April 21, 2014
I am/was a resident of this facility
We moved here to Asbury 15 years ago. It is a very large facility. There are five apartment buildings here. We live in the shortest one, which is only five stories tall. They have one-bedrooms, two-bedrooms, and some even have three-bedrooms. We have a washer and dryer in our apartment. After 15 years, the food is not good as it was. The quality of food has greatly dropped off. It is not as fancy as it used to be. We have one meal a day that is either lunch or dinner. In terms of activities, my wife is involved with the Christian's Women's Club and the Gardener's Club. However, I think what they could improve on is the attitude of the upper staff people. They're not friendly and happy. The interesting thing is that the housekeepers and all those kinds of people along those lines, they send them to a school that they have here to teach them to be happy and friendly and speak to the residents and all those kinds of things. Unfortunately, it is the upper level that should be going to the school and not the lower ones.
---
Caring79340150
February 28, 2014
I am a friend or relative of a resident
Asbury Methodist is very good. I'm very pleased with it. The staff is excellent. They have lots of activities, trips, lots of lectures, concerts, they bring people in, and lots of physical activity as well. I did a lot of research and I knew the medical directors. They offer ranges of options.
---
Melissa11
February 13, 2014
I am a friend or relative of a resident
My mom was in Asbury for around two weeks before she passed away. She was in the Wilson Health Center. Asbury was near my office and very close to where my brother and I both lived. We were very happy with the place. It was very clean and it looked like the food was good. The care was unbelievable, the nurses and the doctor on staff were great.
---
farfromhome
January 31, 2014
I am a friend or relative of a resident
My mother-in-law is in Asbury Methodist Village for three weeks now. It is a nice place and near where my sister-in-law lives. The facility is really clean and nice. The staff seems to be really nice. She likes them and everyone seems to be very helpful. She likes the residence and has made a lot of friends. I haven't eaten there but my mother-in-law likes the food. She is staying in an apartment. I know they have lots of activities but she has not been there long enough to be involved in the activities. She's very satisfied and happy with the community. I will recommend them to others.
---
Caring57682350
October 31, 2013
I visited this facility
Asbury Methodist was lovely and wonderful. If it wasn't for the money, that's where we'd probably go. They have a lot of activities. They have a big, beautiful swimming pool with all kinds of swim and exercise classes. They have a gym, they have a theater and they also take you all over on trips.
---
siona
October 29, 2013
I am a friend or relative of resident
My mother stayed here twice in the Wilson Nursing building and the care was excellent. She died here while in hospice care and the majority of the staff were wonderful to us.
---
Alice11
September 25, 2013
I visited this facility
It was a nice facility. The rooms were fine and the staff was very accommodating. They had lots activities and I would recommend them to others.
---
Caring060507
June 13, 2013
I visited this facility
Asbury Methodist Village looked very good. It was one of the top for senior citizens. It's very well respected. We're very impressed when we visited the facility. The staff were competent and they seemed to know what they're doing. Residents seemed very happy and there's always something to do. They're very pleased with activities, like swimming in their pool, ping pong, card games, yoga and various classes. They also have field trips like going to theatres. Everything was fine, however, the place was way too expensive for us.
---
Jean18
May 11, 2013
I am a friend or relative of a resident
My mother stayed at Asbury Methodist Village and it was near my house. It was convenient for me to visit her anytime. She had an apartment complete with a bedroom, living room, kitchenette and a large bath. The staff were amazing, caring and smart. There was a nursing staff 24/7 and their vital signs were checked once a week. The residents had two options for every meal and my mom said the food was delicious.
---
Carlos2
April 30, 2013
I visited this facility
We visited Asbury Methodist Village as we looked for a facility. The apartments were a little cramped and it was not spacious enough for me and my wife. They had various activities available. And the staff were very amenable and accommodating.
---
Caring5940
January 05, 2013
I visited this facility
Asbury Methodist was the one that had the most things that we're looking for. We've only met the marketing people because we haven't moved in. But I've been very pleased. All my questions were answered. One of the reasons I preferred this place was we do not have to take the evening meal. And that means the monthly fee becomes much less because we're doing our own food. We have a very different pattern to our life. We don't eat from 5 to 6:30, we tend to eat later. So for us it was perfect because we can do our food when we want to. That's not possible with the other places.
---
TripleS
October 17, 2012
I visited this facility
The facility that I volunteered at was maintained very well. Janitors were constantly scrubbing and sanitizing the facility as to not allow the spread of germs. The facility had a large staff and thus the nurses weren't forced to work long shifts which is the case in many other assisted living facilities. There were three square meals a day alongside various snacks at the resident's request. Hand sanitation devices were located through out the facility in each hallway and living area. This provided for a much safer and germ free living and working space. Vending machines were made accessible to the residents family and friends and to the volunteers. The staff treated each resident with the utmost respect and care although in some cases the residents were ignored. The facility also contained a beautiful yard where residents were allowed to relax. There was a large cafeteria that provided meals for the guests and residents throughout the day.
---
Dashrike
September 22, 2012
I am a friend or relative of a resident
The facility was as close to an ideal community for my elderly grandmother. Because of complications due to her diabetes she had a hard time getting around injecting herself with medication and preparing nutritional meals for herself. In this community she was able to maintain her independence by having her own apartment while still having constant supervision. The home included a meal plan that allowed my grandmother to eat prepared meals in a dinning facility with other residents. The dining facility was very formal with set menus and waiters in ties. It made my grandmother feel important at each and every meal. In addition it forced her to socialize which was something that she avoided before she went to he home. Also, the security at the home was top notch without being overly restrictive. A visitor had to sign in to visit a person in the facility but if you were a frequent visitor as I was the facility streamlined the sign in process so it did not feel overly cumbersome. I remember my grandmother telling me that she felt very secure even in the facility without feeling like she was in a prison.
---
Caring410
September 06, 2012
I visited this facility
Asbury Methodist Village is huge, like a campus. It was nice, we got a tour and everything. The apartments are little old, but its' nice, they had parking and everything. It's both independent and assisted living. But it was the type where you buy in, it wasn't a rental. My mother liked it, but she's 89, and she said, "I'm not going to live that much longer. Buying isn't worth it." They have many different buildings. They have buildings for people living independently and for the assisted living, and I think they also have nursing home care, but we didn't see that. We talked to some people there and they seem to really like it. The two downsides, you had to buy into it and mom didn't want to put out that kind of money, she wanted a monthly rental place. And the other thing was it was far enough away from where she lives right now. She doesn't know the area, so she would have to give up driving. She's kind of too old to learn the area.
---
Thompsonsm4
June 29, 2012
I visited this facility
The main building is getting old and does not give off a warm feeling, but they are currently working on renovations. From what I can tell the residents seem to enjoy staying there for the most part as many activities are provided. Since I have only toured the facility I cannot speak to the true nature of the staff and how they treat the residents at the facility. I did not taste the food but it did not appear to look very appetizing and I hope they upgrade that in the future to give the residents something to look forward to eating. I was happy to see that the company brought land around the main building to house younger residents of the community (still 65 and up). The homes are very nice, and bring a new energy to the area. Most people complain about nursing homes, luckily I have not heard too many complaints about Asbury Methodist Village.
---
Kate5
May 22, 2012
I visited this facility
I visited this facility and think it was good. It certainly had a lot things available and it was neat. The only problem I had seen when I went there was the people who were immobile, were still in bed. Well, i mean it's not the facility or I might have gotten there early. It was just that I was thinking "oh it would be this nice place for my mother would be up and they'd get her out of bed". I've worked in a rehab facility and in a nursing home before, so maybe my expectations were up. But even though its no picnic and patients complain, they should be gotten up. I didn't like the fact that people are being in bed all the time or looking up at the wall and looking at the ceiling. Otherwise everything is neat and nice. The staff are really good people so I would still recommend this facility.
---
Roqaiya_S
May 18, 2012
I visited this facility
Building itself is very clean and seems comfortable to live in. Very eary to get around. Staff is always planning events and activities for the residents, and all workers are respectful and friendly towards the residents.The wants and needs of the residents are taken care of as much as possible.
---
gingermarie
May 16, 2012
I visited this facility
Before visiting this facility, I had heard very good things about it. Not only had I read positive reviews about it online, I also heard from more senior nursing students that it was an excellent facility. When I arrived, I was pleasantly surprised by how welcoming the staff was. Even the residents seemed very welcoming to see new faces. They all seemed to be happy about their living situation. The nursing staff seemed to all be very busy at all times. I think this is because they are very attentive at the needs of the residents. The facility was nicely laid out, spacious, and stimulating for the residents. There were paintings on the wall, and the hallways were colorful. The social workers seemed very active in this facility. They were eagerly working with the residents and playing games, keeping them active with trained dogs, etc. It seemed to be a very pleasant environment. After I finish my nursing training, I would feel honored to be working at this facility because I was so impressed with it.
---
slamjam75
March 11, 2012
I am a friend or relative of a resident
I frequently visited my great grandmother at this facility. The rooms were spacious, the food was good, and the staff was friendly. I never had any serious issues with my experience and as far I as knew, my grandmother was happy as well. I will say that she would have benefited from a greater number of extra services such as transportation, group sessions, and exercise regimens. It seemed that the residents were expected to handle all outside matters on their own. As my great grandmother was approaching 100 year, this was clearly impossible. As a result, we had to take care of all of her shopping and outside needs. This is only a small complaint however, and overall her experience was very good. Eventually we had to move her out of the home because she needed more constant attention, but those services were offered by the facility. We chose not to utilize their services for this need because of the high cost and the desire to have her live closer to us.
---
Worriedrelative
January 14, 2012
I am a friend or relative of resident
Be very careful! Asbury buries clauses in their leases that make it very difficult or impossible to obtain a refund of the entrance fee. After more then 1 year, the family is still waiting for the funds return with no end in site, following my relatives passing.
---
Amy_Lou
September 10, 2011
I am a friend or relative of a resident
A very nice community, like a college without exams. Asbury provide lectures and other activities to keep residents mentally active, a park-like campus with wildlife, meal plans are available, or residents can cook in their apartments. They have gyms, a TV studio to prepare their own programs, various hobbies, community gardens, and is within walking distance of a library and mall. I'm thinking of going there when I retire.
---
Tom2
September 01, 2011
I visited this facility
This is a huge facility where a number of people from our church have gone when they need to move to a supportive environment. The housing options range from a 3 bedroom villa to nursing home care. The campus is extensive and there are a wide variety of clubs and activities. The folks we have known have been very happy with their move and as their health deteriorates they have received the care they need. It is a place where it is easy to make friends and become well connected.
---
ChrisA
July 27, 2009
Wonderful place
We have family members that live at Asbury Methodist Village and it is amazing. When we visit, we feel like we are at a resort. We can swim in the pool or walk the park. My aunt and uncle have a million friends and are never home! It is a beautiful place to live.
---
About Asbury Methodist Village
---
Asbury Methodist Village is a continuing care retirement community in Gaithersburg, MD that offers housing options for currently healthy people who want to secure their healthcare plan throughout the aging process. Contact Asbury Methodist Village for more details on CCRC housing and rates.
Location of Asbury Methodist Village
---
Request Info
Get full access to reviews, cost information, and amenities