Regency Oaks Clearwater
| Continuing Care Retirement Community
2751 Regency Oaks Blvd., Clearwater, FL, 33759
Talk to a Family Advisor: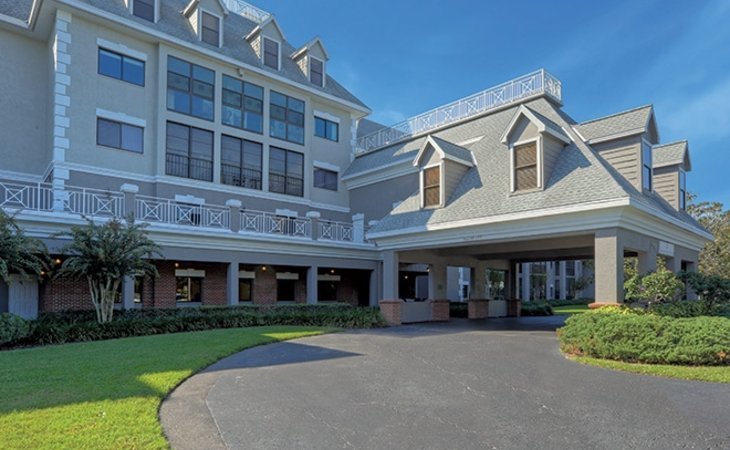 Reviews of Regency Oaks Clearwater | Continuing Care Retirement Community
---
PeterAOXTC
May 22, 2016
I visited this facility
We visited Regency Oaks. What I liked about it was the location and that it seemed a nice place. Activities were similar to the other places we've visited. I feel it's a nice place that one can stay and nicer than most of the places we visited. The staff was informative and friendly. Overall, it was a nice tour and would be a place that I would be visiting again.
---
William120084550
February 23, 2016
I visited this facility
We visited Regency Oaks. The staff was very hospitable and very informative. She was awesome. The rooms were beautiful two-bedroom and one-bedroom units. I was very impressed by the place. At the time of my visit, there were some people playing Wii bowling and cards.
---
Original Blondie
December 11, 2015
I am a friend or relative of resident
My parents, unfortunately, live here and hate it. The people now being admitted are mainly in wheelchairs or walkers, no longer required to be ambulatory. The food has deteriorated to being barely edible - my dad has lost 20 pounds in the last few months. And they seem to offer the same three meals, with little to no variety, rotating on a three day schedule. Sad, as it started out pretty good, but in spite of their fees increasing annually, the services, especially food, has greatly deteriorated.
Provider Response
We are sorry to hear that your experience with us is not meeting you and your loved one's expectations. We appreciate you taking the time to share your concerns and hope you will call us at 877-400-5296 or email us at familyconnection@brookdale.com to discuss your concerns in greater detail.
---
Anonymous109830750
December 10, 2015
I am/was a resident of this facility
Regency Oaks should follow what is stated on the contract; about 50% of admissions in independent living are in walkers, which is just not right because they have to be truly ambulatory to be in the independent unit of the facility. They should be placed on the assisted living unit of the facility. On the other hand, I have a gorgeous contract with Regency Oaks. I'm on the Dining Committee, and the food is becoming wonderful. There are a lot of activities that everybody can participate in. At least twice a week, we have a harmonica group where we can observe rather than participate. Every Tuesday and Saturday, they have a Sterling University speaker who is very stimulating. I have more positives than negatives for Regency Oaks. Brookdale took over the facility, so Regency Oaks is forced to listen to residents' feedback on a regular basis.
---
Caring110825150
September 07, 2015
I visited this facility
Regency Oaks staff was very good, and as far as activities, it seems like they have plenty of things to keep you busy, but it's a little too institutionalized for us. They have bridge, swimming pool, water aerobics, entertainment. and bingo.
---
John94267850
October 18, 2014
I am/was a resident of this facility
I moved to Regency Oaks on the 5th of this month because I liked what they offered. The place is beautiful. The staff is very good. I have a one bedroom apartment with a living room and kitchen. The units are a little larger than the others I saw. The food is very good, and I'm very pleased. I'm happy with the move so far.
---
Caring88859550
August 29, 2014
I visited this facility
Everything was good about Regency Oaks, but we were looking for a place with villas as supposed to high-rise apartments. The place is very nice and they have done a lot of renovation. The people there were good. Their rooms are very nice and remodeled, and everything looked pretty up to date and modern. They told us that they do have activities, but we weren't there long enough to notice any. The food is probably above average. They have a good variety of food selections and their dining room was fine.
---
Caring8553
August 26, 2014
I visited this facility
I thought Regency Oaks was excellent; however, their entry fee started at over $100,000 and their monthly fee was higher but the accommodations were smaller. It was a very nice facility, I can say that. Regency Oaks had a formal night every Wednesday and that would be a dress-up night, which I thought was were snooty. The food was good. If you have the funds, I think it is a great place to live.
---
Gwynn1
June 18, 2014
I am/was a resident of this facility
I highly recommend Regency Oaks. I love it here. This is right in the middle of all of the areas, so we know all of the stores, all the roads, and the doctors. We know everything. We don't have to change or anything. I'm very grateful for that. We are very happy here. It is a beautiful place. They have an indoor heated swimming pool, which is a big plus. There is also a delightful spa right next to a hot tub, and it is also very nice. They are trying to constantly upgrade themselves. They are trying to improve their relationships with everything that goes on here. The food is excellent. It is delicious. It is sometimes rich, but there is a lot of exercising going on, and people take good care of themselves. They have one meal a day, and there is always a fresh salad with many choices. I think it is a marvelous place. They even have special dinners that you can sign up for. We have a lovely 800-square foot apartment. We're really delighted with it. They do a wonderful job. The rooms are spacious and very large. We have no regrets. We are very happy that we moved here.
---
Caring92060350
May 13, 2014
I visited this facility
Regency Oaks was very clean and very bright. The staff was very informative and friendly as well.
---
Rev. Doc.
April 03, 2014
I am/was a resident of this facility
My wife and I have lived at RO going on 3 years without any regret. Of the 14 CCRC's we had visited RO offered the best combination of amenties. The lovely well kept spacious grounds, functionality of the buildings and town center were by the far the best with bank and indoor pool and spa etc. all connected by breezeways for rain or shine protection. We have.a spacious apartment and pleasant view.The residents are like family. The staff are caring and so easy to relate to including the department heads and the executive director. RO's site with it's 44 pastoral acres sits within a few miles of a hospital, great medical care and excellent shopping. it''s all we could expect this side of heaven.
---
Caring68279850
January 30, 2014
I am/was a resident of this facility
I am living in a continuing care facility – Regency Oaks. I've been here for about a year and a half. The apartments are beautiful and spacious, but the facility is not that cheap. They have a very big entrance fee. They have all kinds of activities you can think of – all sorts of exercises and yoga. They have cards and mahjong games. They have a full gambit of keeping the residents occupied during the day. The food is passible, not really gourmet dining, and I get one meal a day. The dining room is beautiful and it's a pleasure to sit there and meet some other residents. I think the one thing that becomes a problem here is that your rent is raised every year.
---
Roland1
October 15, 2013
I visited this facility
Regency Oaks might be nice. I was sure the apartments were wonderful and the services was good. However, you had to buy in upfront for about a hundred thousand dollars and then you'd never get it back.
---
Harry10
September 19, 2013
I visited this facility
The price at Regency Oaks was the one we could afford. I liked that they had all levels of care. They had a newsletter every month and the schedule of activities were in it. The same activities were done in different days of the week. They had wonderful food and a lot of nice residents. Most of the staff had been there for eight years or more including the chef. I would recommend this place to others.
---
Caring RO
August 15, 2013
I visited this facility
Regency Oaks is a very beautiful campus. It was storming the afternoon when we went there, so we weren't able to look at the different levels of care that they have; however, it was a gorgeous facility. The rooms were being renovated at that time, and I remember that they have little enclosed porches, which is a very lovely feature. I did not interact with the staff other than with the sales representative and she was very helpful. They also have numerous activities for their residents.
---
caring4666
March 08, 2013
I visited this facility
Regency Oaks was on a beautiful campus. It has a positive environment. All their units have these lovely little enclosed porches. Their dining rooms are lovely. I particularly liked the covered areas, the walkways and sitting areas where they do an outdoor grill once a week. I thought it was a lovely touch. It would be a good place to live.
---
EricStoner
December 30, 2011
I am a friend or relative of resident
Good meal to get you in and once signed up the food is terrible and you pay even if you dont eat. Only interested in your money.
---
From Regency Oaks Clearwater
---
Regency Oaks provides a full range of choices for today's seniors. Choosing a senior living community represents a lifestyle choice and we understand that our residents are choosing much more than a comfortable living environment to call home. Our Brookdale community delivers Inspired Independent Living, with the promise of Exceptional Experiences Everyday. In choosing this community, our residents have made a conscious lifestyle decision designed to deliver enhanced opportunities for pursuing health and life fulfillment through the exceptional services, amenities and opportunities we offer.
Our Optimum Life&reg and Celebrations programs provide an all-encompassing way of life that touches our residents, their families and associates alike. Optimum Life&reg is a journey of self-discovery including services, features and benefits that allow each resident to pursue their peak level of health, wholeness and fulfillment while balancing six key dimensions of personal wellness: emotional, intellectual, physical, social, spiritual and purposeful. As part of Optimum Life&reg we encourage our residents to celebrate life each day. Inspired dining and vibrant lifestyle activities come together in our Celebrations program, filling the monthly calendar with themed experiences, special events and group activities that highlight different cultures and cuisines in a common venue of camaraderie.
Within its Continuing Care Retirement Communities, Brookdale Senior Living provides Rehabilitation and Healthcare Centers, where professional staff provide compassionate medical care when needed. Whether for short-term rehabilitation, or for longer-term nursing care, our communities provide excellent services and attention that extends beyond the clinical details of recovery.
Residents of Brookdale Continuing Care Retirement Communities enjoy peace of mind knowing that opportunities for optimizing their health, wellness and convenience await them. With Inspired Independent Living, Personalized Assisted Living and Skilled Nursing care, Brookdale Continuing Care Retirement Communities provide the lifestyles our residents want, the services they need and abundant opportunities to enjoy life in comfort, with convenience and style.
Location of Regency Oaks Clearwater
---
Get Cost Information
Get full access to reviews, cost information, and amenities