2651 Armstrong Drive, Sacramento, CA, 95825
Talk to a Family Advisor: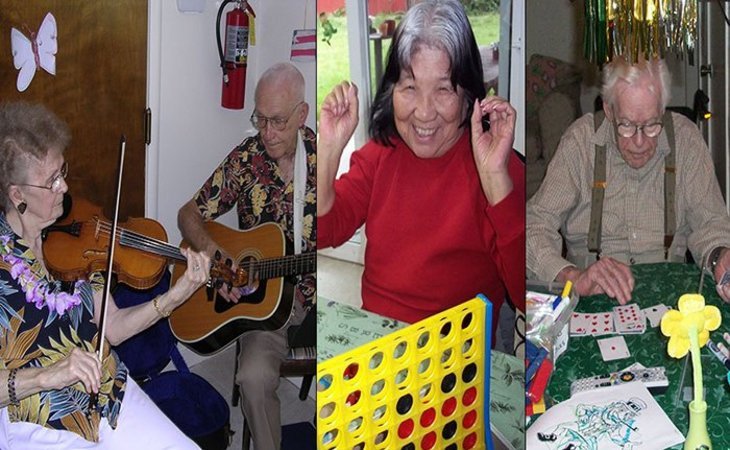 Reviews of Golden Moments Care Home
---
Daughter Linny
November 30, 2012
I am a friend or relative of resident
My dad has lived at Golden Moments Care Home for over 2 1/2 years. He has mobility issues,diabetes and mild dementia requiring close monitoring and medication management. The staff is so amazing, my dad requires a great deal of care (as do all elderly), and this care is well provided--whether it is 2:00pm or 2:00am. Our favorite things about Golden Moments Care Home are the fun, loving, attentive and caring staff plus all of the activities they have my dad involved in throughout the day. He is never left alone in his room, or just sitting in front of a TV all day. My mom lives around the corner and enjoys her visits with dad, the staff and the other residents. On occasion she will join them for lunch, desert and sometimes participates with them in their exercise and/or their music program. Golden Moments Care Home is a true miracle for my family, We are so grateful! They are reliable and professional. They really go the extra mile on all aspects of the top-notch care they provide. I don't know what we would have done without them.
---
Golden Moments Care Home
November 20, 2012
Other
I have know Denise for over 12 years after she became a client and FATE helped her when her father was in an acute hospital in Sacramento. I got to know Denise very well. Denise took very good care of her father and was also caring for her mother who suffers with dementia. After Denise's father died, she decided to open a care home to continue caring for her mother and to also care for others who suffer with dementia. I have referred many clients to Denise for possible placement in her care home and as of today (November 2012) I have never received a complaint about the care being provided by Denise and her devoted care givers. If I had to place a family member in a residential care home, I would hope that Denise would have room for my relative. She is a loving and caring person who treats her clients like her own family. Carole Herman/President Foundation Aiding The Elderly (FATE) Sacramento, CA
---
gratefulson
November 02, 2012
I am a friend or relative of a resident
Several years ago, my mother was living at a large assisted living residence. It was really a beautiful setting, with lots of amenities and activities, and she enjoyed living there. But when she needed more care and it was recommended that she move to the facility's memory unit, we found the place to be a bit sterile and so we looked at other options. Finding Golden Moments Care Home was a godsend. The house is truly a home "" it's cozy, comfortable and clean. This is due primarily to the wonderful staff "" they are very caring and professional. In addition to the dedicated staff, what makes Golden Moments so special is its owner, Denise Walker, who purchased the home and established it as a way of caring for her parents, both of whom were battling with dementia. Denise takes a great personal interest in all the residents, even accompanying them to their doctors' appointments and assisting relatives in advocating for their loved ones. Like most of us, my mom has her moments (a/k/a "challenging behaviors") but Denise and the staff know her for the wonderful and funny person she is, and care for her with love and respect, for which I am very, very grateful.
---
VTVern
November 02, 2012
I am a friend or relative of a resident
Denise W. is an amazing,caring and loving young woman! She was a neighbor and friend who assisted my husband's 95 year old aunt following her hospitalization. Although Denise did not have a vacancy at her home she found placement for his aunt nearby and continued to assist her for 4-5months until her death. This was a very time consuming job as she is very busy with her own residents at Golden Moments. Aunt Skip was not always easy to deal with as she was a wonderful but feisty 95 year old who wanted to live independently until she was 110 years old! Denise established a very special relationship with her and eased her transition to assisted living so that although Skip continued to talk about "going home" she settled in and seemed quite content. We recently spent a week in Sacramento closing Skip's home and had the opportunity to visit Denise and her residents at Golden Moments. They were clean and well dressed and were busy doing exercises. Her home appeared clean and pleasant as well as "homey". As long a Denise is the owner of this home, I have no doubt that her residents will be well cared for and treated as one of her own family. She cares for each and every one of them and treats them with their well deserved respect. Although no one would choose to leave their home for assisted living, I would be happy to recommend Golden Moments.
---
Eugene T
November 01, 2012
I visited this facility
I have visited Golden Moments on many occasions. The owner and staff offer professional service and are very conscientious about the level of care they provide. The residents and living environment are always clean. The food provided is fresh and prepared individually at each meal. A major emphasis is on memory care with the patients being actively engage each day in exercises both physical and mental to provide stimulation. Health and safety is also a high priority for the staff and the owner. All patients wear personal body alarms to alert the staff of their movements. There are always two caregivers per shift to assist with transfers. The night shift staff is awake and attends to regular incontinence needs.Most importantly is the owner's commitment to the welfare of the residence. All medication is monitored and dispensed at regular intervals. Transportation is provided to and from doctor appointments. In case of an emergency the owner will advocated for the resident with emergency services for the best care possible. If my loved ones needed to be cared for more then I could provide at home then I would be very comfortable having them placed at Golden Moments.
---
RN Case Manager
October 31, 2012
Other
This care home exemplifies the word "Care." The staff is invested in the well-being of each resident. There are always activities taking place, including physical and mental stimulation and socialization. There is generous staffing to foster individual attention to the residents' needs. Family needs are also a consideration. Meals are served in a pleasant environment and are appetizing in appearance. The environment is very warm and nurturing for all.
---
The Visitor
October 31, 2012
I am a friend or relative of resident
This place is wonderful! The house is very well kept, clean and does not smell like a facility or nursing home. As a person with a high sensitivity to smells and odors, I can honestly say this Care Home is the first one I've ever visited that does not smell like a Facility or Nursing Home. Honestly, I smell home cooking most of the time. Everything about this Care Home is a 5-star rating in my opinion: safety, security, accommodations, hygiene, well trained staff, exercises, mobility, arts & crafts, games, group activities, healthy and customized diet plans, travel to and from medical appointments, detailed care notes, med techs, privacy, holiday events and celebrations, open floor plan for daily interaction, experienced and professional management/ownership, and centrally located. Ownership, management and staffing are always friendly, assertive, compassionate and understand the special care needed for the elderly and those who suffer from all stages of dimentia. I can't say enough about this Care Home and the staffing. Once you tour this Care Home and tour other Care Homes, the decision will be very simple.
---
cport
October 30, 2012
I am a friend or relative of resident
My mom has been living at Golden Moments for two years now and we are grateful for the excellent care she has received. Denise and the staff are both caring and professional. They are always accommodating and have kept us apprised of Mom's personal and medical progress and challenges on a timely basis. If you have a loved one in need of care, I highly recommend you consider Golden Moments.
---
Paul's family
October 30, 2012
I am a friend or relative of resident
Our father lived at Golden Moments Care Home until his passing in April 2011. I can't say enough positives about Denise and all the staff there. They are angels! Our dad was not the easiest person in the world for us to manage, but they had him figured out right away and he thrived there, even leading arm exercises in the day room! We would recommend Golden Moments Care Home to anyone! My family wishes we had found Golden Moments earlier than we did, having a negative experience at a large assisted living facility prior to coming to Golden Moments. We echo all the other writers about the homey atmosphere, fun crafts and activities, expert personal care and attention, great food, pretty back yard area, and amazing family support. We'd give them 10 stars!
---
Dell's Daughter
October 28, 2012
I am a friend or relative of resident
My father has resided at Golden Moments Care Home since March 1st, 2009. He is now 93 years old and feels very much at home. Whenever we visit, he is well-rested, well-fed and ready to play Cribbage and Uno with his family. My father has prostate cancer (since he was 76) and Alzheimer's (since he was 83). He is doing remarkably well considering. He tells us he feels "fine!" each time we visit. More than that, he is loved and pampered by the most caring staff I have ever experienced. I have visited many homes and none even begin to compare with the quality of care given by the staff. The residents are treated as if they are family. I am kept apprised of my Father's condition regularly. He is taken to and from all Doctor and Dentist appointments and kept in a good humor throughout. I am so grateful to have found Golden Moments for my Dad. My Mother and Brother are equally grateful. I would recommend this HOME, not facility, to anyone who would ask me.
---
portpaint
October 17, 2012
I am a friend or relative of resident
My mohter in law has lived with Golden Moments for the past two years. We feel very lucky to have such a resource in town. The staff is professional, as well as caring and helpful both to the residents and the extended family. Extra touches include holiday meals on site-where all the families participate, detailed emails on any changes of care from the director. Residents are encouraged to use both mind and bodies to the extend possible. It is not a facility, it is a home- a very clean home at that! There is a relaxed atmosphere but a constant sense of awareness of residents needs. Our family member has done extremely well with Golden Moments. I wish more facilities had their common sense and compassion coupled with the professionalism that exists there.
---
Brent Vockrodt
September 26, 2012
I visited this facility
I managed large Assisted Living facilities for 13 years and had low respect for the small 6 bed care homes. I left the AL field and started selling real estate with my wife 2 years ago. We met Denise W. around this time and spoke in length about her care home "Golden Moments Care Home". As we wanted a care home to recommend to our clients we asked to see the home and talk with the care staff. Was I ever surprised. The care givers had all been their many years and loved their jobs. They were singing and dancing with the residents when we arrived and by the time we left they were playing a game with them. The manager who was excellent showed us around and explained why she loved working here, and why she came back on days off and evenings just because she wanted to. I was so impressed with her and with her staff that we recommend this care home anytime we hear of a need. I was particularly impressed with some of their procedures such as helping everyone to the restroom and offering this help on a regular basis to all of the residents. There is also mats at each bed which are activated each evening which lets the care giver on duty know if someone gets up in the night, so they may be assisted to the bathroom or whereever they decide to go.
---
carney
September 26, 2012
I am a friend or relative of resident
Golden Moments is one of the the few facilities that actually makes your loved one feel as though they are HOME. The staff is outstanding, the really do care for your loved one.Many of the care providers we visited felt like a hospital or Institution, Golden Moments is truly a HOME.
---
The Daughter
September 25, 2012
I am a friend or relative of resident
There are few options out there...We desperately needed end-of-life care for my Mom and were not qualified to provide it ourselves. After considering plenty of unacceptable alternatives (live-in help, other residential arrangements) I ran across an ad in the Sacramento Bee for Golden Moments. We met with Solomae and were assured that Mom would be cared for properly. It was clear that Solomae and staff were highly trained; I was confident Mom's complicated medicinal regimen would be followed to a "T." We were welcome to visit any time. Meals were had at the kitchen table, family style. TV, a Wii. There was always a project going on. They went fishing!! Very much a home environment. The staff was observant of Mom's condition and didn't hesitate to call for an ambulance if there was any question about it. I would recommend Golden Moments to anyone.
---
guardian angel
August 17, 2011
Other
My knowledge derives from providing volunteer services during the holiday season for the residents of this community. Golden Moments is a cozy, assisted living home in Northeast Sacramento. Located off I-80, 15 minutes from downtown, between Arden Way and Fulton Avenue, just one mile North of Arden Mall, Golden Moments is conveniently close to area shops, movies, and restaurants. Golden Moments provides 24 hour supervised care for memory impaired, and Alzheimer's Dementia clients. Male and female residents with docile personalities are welcome. Family ownership promotes a family atmosphere by having frequent events that include residents, families and staff. Their activity program is exemplary, tapping into the short attention span of the residents. I was especially impressed by the arts and crafts, the drawing, musical, exercise, and walking programs. Noted outings have included going to the fair, the train museum, and fishing. Caregivers are well-trained, assisting residents with various ADL's, anticipating their needs. Laundry and housekeeping is done daily. The staff is friendly, and down-to-earth. Team work is evident. Day and evening shift have two care givers on duty. The home employs an alarm bracelet system in case a resident eludes staff. Meals are home-made, and quite tasty; respectful of most dietary restrictions. Spices are used as a great substitute for salt. Most residents are ambulatory, utilize cans, or walkers. Golden Moments is charming and home-like. There is an ample, tree strewn backyard for special events, BBQ's, and Easter Egg hunts. Situated in a residential neighborhood where beautiful trees envelope the streets, it is a delightful place for the residents to stroll. In autumn when the leaves change colors, it is a spectacular sight. The home is spacious and cheerfully colored. Some rooms are large enough for double occupancy. Each room is decorated with matching ruffled bedspreads, ruffled curtains, and matching furnishings. Bathrooms and walkways are equipped with grab bars, and safety rails. The shower is walk-in, making it much safer. The residence is immaculately kept, odors rare, and quickly eradicated. Families are encouraged to bring furniture, mementos, and pictures from home. The only drawback; the rooms are less cozy when they are converted from private to semi-private rooms. The family like atmosphere and kind, caring staff is noteworthy. On a scale of 1 to 5, I"˜d rate Golden Moments a 4.75. Signed : cashew kid
---
From Golden Moments Care Home
---
We pride ourselves in giving our special care Residents a quality, active and enriched lifestyle, by loving and nourishing the social, emotional, physical and spiritual needs of each of our Residents and their families.Assisted living is a new way of life that should be fun, exciting and adventuresome. It simply means your loved one is in need of extra care and help with his/her daily routine. This new beginning takes place with a highly trained care giving team who understands the need for a smooth and comfortable transition.
What Makes Us Special
---
Golden Moments has an amazing 10 caregivers for the best in individual attention. Exercise, music, singing, playing and just plain fun fill each day.
Features of Golden Moments Care Home
---
Costs
Minimum Rate:

$5400/month
Room and housing options
1-bedroom apartments
Companion Suites:

We Offer Companion Suites
General
Minimum Age:

65

Pets:

Small Pets Allowed
Licenses
State Licenses:

347004362
Location of Golden Moments Care Home
---
Get Cost Information
Get full access to reviews, cost information, and amenities