Simo Radulovich, 102: You Need a Sense of Humor
Secrets of a Long (and Happy) Life From People Over 100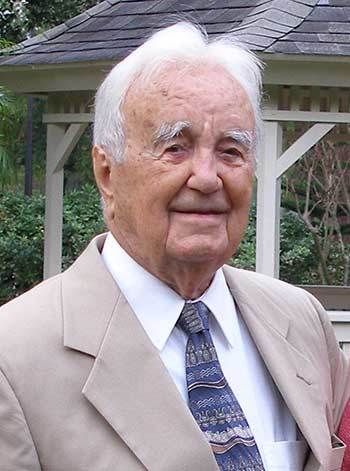 All Rights Reserved
What does Simo look forward to? Daily exercise.
"I do miss my own home," he admits, "but I've gotten used to my new surroundings at Harbor Chase in Palm Harbor, Florida. I especially look forward to 'noodle ball' and the other exercise games we do here every day. I'm quite aggressive when I play and my wife complains, but if I'm among the younger women I need to impress them. I'm always ready for having fun and enjoying life!"
Have confidence you'll get through.
Simo was born in 1910 in Polača, a municipality in Croatia. As a young man he studied tailoring and moved to France, where he worked for the fashion house Lanvin, specializing in women's clothing. One of the highlights of his professional career was that he tailored an outfit for Happy Rockefeller. He and his wife, Stanislava, eventually emigrated to the United States, arriving by ship. "I was never afraid of anything," Simo says. "Life's difficulties didn't scare me. I've always had confidence I'd get through." This year the couple celebrated 62 years of marriage.
"Even when I was young, I respected my sleeping."
Simo says the secret to living to 100 and beyond is to live moderately -- and sleep well. "Even when I was younger and life was really busy, I made sure to be asleep by midnight. And it's important to have a sense of humor!"
"Bacon or no bacon? I prefer sausage!"
Simo chose to never drink in excess. "However, I still say to my wife even now, 'Give me half a glass of wine to help me go to sleep.'"
What's best about living past 100? Still being able to enjoy family and friends.
"I am happy to still have my wife! We've been married for over 60 years -- and if she sees a younger woman looking at me, she still gets jealous!"
Worries or regrets? Don't worry about living a life of luxury.
Simo lived modestly. "I paid my bills," he says. "When I came to the U.S. I didn't have but two dollars. I've had a good life."
Centenarians' Secrets | Find Assisted Living Near You | More inspiring assisted living stories
Comments
---
about 4 years,
Aww, amazing and God bless this dear man and his wife. I do sincerely wish both of them well. As much as I would like to have my own Mum a long and happy life...she kinda has!!! But the last ten year years has been very trying and with in the end stage of dementia she has gradually gone downhill, but not yet out. With Dad, he's had his calling cards already is now in the next realm passing away with Alzheimers disease at the end of November 2012, he was only 77. But how strange that Mum has outlasted him as she'll be 94 this May. I don't understand how things like that happens but if that's the way it is, well so it is. Blessings to you Mr Simon and wife.
---
over 4 years,
I love Simo's advice to live modestly and pay your bills. It seems as though most people today want all the bells and whistles instead of being contented with less. Go Mr. Simo!!
---
about 5 years,
Simply amazing. Simon Radulovich, looks great for 102 years old. It's wonderful for him to still be around to enjoy his family and friends. Hats off to you, Simon.
---
Stay Connected With Caring.com
Get news & tips via e-mail
---