Margaret's Journey out of Darkness
Making a New Life in Assisted Living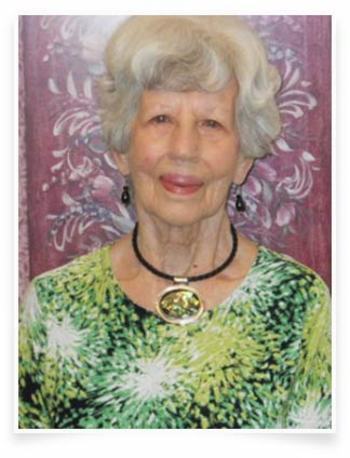 "Because I am blind, I am no less a person than when I could see."
Margaret is 89 years old, and she suffers from macular degeneration (MD) and glaucoma. She lost the majority of her vision in 2004, the year after her husband passed away. "Having written and illustrated several books, it was quite the trauma to lose my vision," she says.
"Enjoy what we have, not what we're going to get."
Margaret learned early on to survive and thrive in hardship. She was born in 1923 among poverty-stricken families of the Great Depression, and she lost her mother at the age of seven. She developed a genuine love of school -- and a passion for learning, studying, reading, and knowledge that has sustained her throughout her life.
"I have been so happy. . ."
Margaret moved into assisted living in April 2010, to a community called Sycamore Manor. The caring and compassion she experiences there has meant a lot to her, she says. Despite her vision impairment, she's incredibly active -- she has helped organize sing-alongs, baby showers for a local nonprofit, and even a monthly friendship club. Margaret most enjoys fitness activities, including chair Zumba. "The first rhythm we know is our heartbeat," she says. "So no matter how old we are, we need to get that music and heartbeat rhythm."
"My journey out of darkness. . ."
"One of the things we learn as children is: If you have knowledge, let others light their candles around it," Margaret says. She has been part of a sight-loss support group for a while, but in 2011 she felt inspiration to do more. "I have knowledge about being blind and coping with vision loss." So she went to her yellow legal pad and started writing. At first, she focused on writing about her vision loss -- what she calls her "journey into darkness." Getting words on the page wasn't easy. Margaret is legally blind and can only see light and images.
But she didn't give up. And as she worked, her inspiration shifted. "I thought, 'What good is that?'" Her writing continued, now focused on "my journey out of darkness."
Now her book is complete and on the way to being published. It includes 100 tips to make living a low-vision life easier.
"What can I do?"
"We think, 'I'm 89, 65, 18 years old and what can I do?' We have a gift to give. Here I am one more time, and I'm so happy to share the knowledge I have."
Explore Assisted Living Near You | Meet Ruby -- Bringing Joy to Her Assisted Living Community
Comments
---
over 5 years ago,
This is amazing, in fact she is amazing
---
over 5 years ago,
On Nov. 13, I am having two representatives from the Oregon Commission for the Blind speak to the residents of our Down Manor community and their family members as an education program. At today's noon Lions Club meeting, I met a man whose wife is almost totally blind. They are having two caregivers come into their home to help them. I mentioned the upcoming program and he isaid he would try to attend. So today is a great day of helping people.
---
over 5 years ago,
This is so wonderful! My mom, born in 1925, had dry macular degeneration and also, it turned out, some cornea issues as well; she loved to read but not books, more magazines, etc., so the whole book world didn't work so well for her. But later my cousin also went blind from an optic nerve issue and she has a machine that will read whatever you "feed" it; wish I'd known about that for mom. She also passed away a couple years ago. Also years ago my oldest son read newspapers to a retired blind school teacher; such a wonderful experience for both of them. I, too, hope Margaret continues to be active; let us know when her book is published; that is so great for her to do that; just amazing that she could!
---
over 5 years ago,
What a lovely inspiring lady. My Mom, an avid reader, lost her vision due to diabetes. We got her a radio from an organization here in Columbus, Oh. Volunteers read the newspaper each day. Also, we got her talking books. She received a special machine to listen to the books. We also got books on tape from our local library. I hope Margaret contnues to live an active life. "When we bring sunshine to others, we can't help getting some sunshine on ourselves."
---
over 5 years ago,
What a nice story. I'm becoming more aware of the challenges of blindness ever since my mom got wet macular degeneration. She too was born in 1923 but passed away 7 years ago, Best wishes to Margaret on a life lived well.
---
Stay Connected With Caring.com
Get news & tips via e-mail
---