Kitty Mosely, 103: Enjoy Every Day
Secrets of a Long (and Happy) Life From People Over 100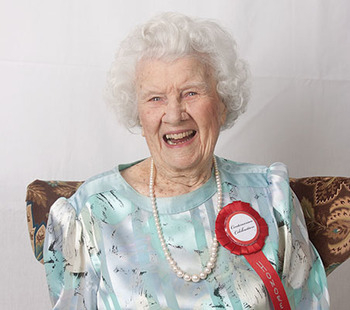 All Rights Reserved
Enjoy your everyday life.
What does Kitty look forward to? Breakfast, lunch, and dinner! "Every night when I lay my head on my pillow, I look forward to waking up the next day. It's not necessarily the big things that matter the most. You never know what's going to happen next. I look forward to my family coming to see me."
"It's prayer that keeps me steady."
Kitty believes in prayer to get through. "I use prayer when I don't know what to do, when I need it, and I need it every day."
Serve other people.
Kitty served as a volunteer at Baptist Medical Hospital in downtown Jacksonville for more than 50 years. She's a charter member and had two terms as president of the auxiliary. "Nothing takes your mind off your own troubles like serving someone else. There's always someone who's hurting more than you." Kitty reminds us that there are many people and helping organizations that need our service.
"I've always eaten whatever I wanted!"
Kitty says that if you stay busy, you can eat whatever you like. "I adore cakes and pies," she says, "especially banana cream."
"The older I get, the more plainspoken I get."
Kitty's known around Carriage Club, Brookdale Senior Living for saying exactly what's on her mind. "Now that I've turned 100, folks treat me with such kindness. They open the doors for me -- if they're able -- but I'm just about as able as they are!"
"I think we'd all change something."
"I try not to regret anything, but I have a few times I'd like to go back and do right." Kitty looks out her window and takes in a deep breath. "But we can't go back, can we? We have to make peace with what we have, and I think I've done that. I really love my life."
Centenarians' Secrets | Find Assisted Living Near You | Meet Doris T. O'Dell, 102
Comments
---
---
over 5 years,
Kitty sounds like a really fine and happy person. I've had "foot in mouth" disease most of my life, but I find now as I'm aging (66), I do try to think before I speak.
---
over 5 years,
YOU LOOK GOOD FOR YOU AGE MS KITTY.....WHAT EVER YOUR DOING KEEP IT UP.....PATRICIA LACKEY AGE 54, HOUSTON, TEXAS
---
Stay Connected With Caring.com
Get news & tips via e-mail
---