How Much Senior Care Costs
Breaking Down the Price of Senior Care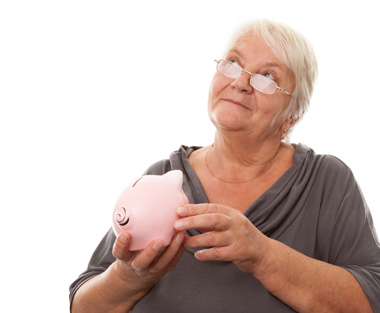 When making your senior care plans, keep in mind that some options might be more (or less) expensive than you think.
Nursing Homes
Many people think senior care means "nursing homes." It's true, nursing homes are a good option if your loved one needs round-the-clock skilled nursing care. But if your loved one doesn't need constant attention, you need to know that there are other options. It's important to do some exploring, because nursing homes can also be pricey, even for a semiprivate room. (Though, in some cases, public assistance will help cover the cost of some nursing homes.)

Home Care
If your loved one needs less than 40 hours of assistance per week, you'll want to think about in-home care and home health care. You can bring a professional caregiver in to help with your loved one's specific needs, and you can get help for just a few hours a week or a few hours a day.

Assisted Living
If your loved one needs more than 40 hours a week of care -- or if you think your loved one will need this level of care soon -- it's important to consider assisted living. Assisted living might sound expensive, but it might be the more affordable option.
Here's how the numbers work, based on national averages: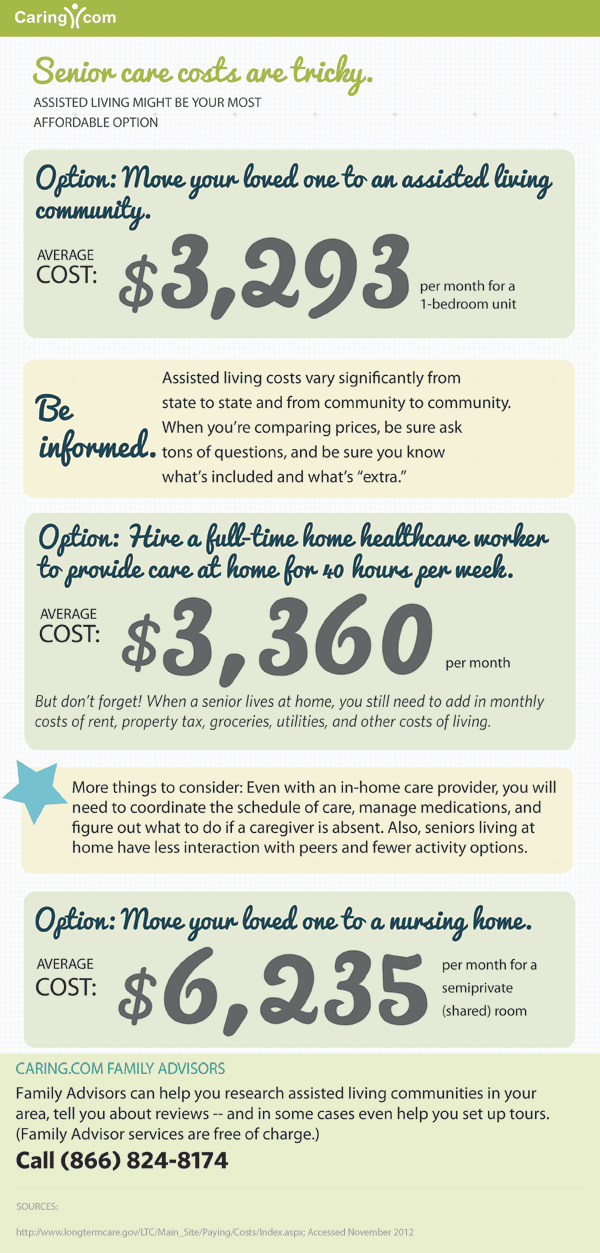 If these prices seem high, please don't let sticker shock stop you from looking for the care your loved one needs. Be sure to check out 8 Creative Ways to Pay for In-Home Care and 8 Smart Ways to Pay for Assisted Living to learn about veterans benefits, bridge loans, life insurance living benefits, and other options that might help you manage the cost of the senior care your loved one prefers. You might also find valuable help from benefitscheckup.org or in our Medicaid Help Center
Find Assisted Living | Assisted Living Costs Near You
Comments
---
4 months,
I have lived at Surgar Grove some years ago. I need no nursing or help just food, I need the price for studio or one bedroom, I have a smallservice dog. I had this dog when I lived there, also I lived in the back looking over the Woods, I enjoyed it very much. Carrol Jeanne Ogden ..
---
5 months,
Please do not call me. I just looking at options. We are down the road maybe 10 years. Wanted to know if there were options in Gahanna.
---
8 months,
its very confusing. we will need to speak with a professional. WE are considering total care in a nursing facility. mother has approx $2000.00 a month in income and we will have money from the sale of her home.. Dad served in the armed services but was discharged early because of a snake bite that affected his nervous system. his discharge said honorable disability but he never received disability.a $6000.00 figure for her would leave no room for her personal care and sitters which we want .SO we will be contacting a counselor to discuss this.
---
9 months,
I am looking for an active adult living without any kind of care, just room and board. How much it will cost per month? Please advise. Thanks S Arjunan.
---
about 1 year,
I live in Portland, OR., 97219. I'm trying to help some friends looking for a facility that has all 3 levels of care, independent living, assisted living, and memory care. The husband has dementia that is progressing. They are looking at Charbonneau in Wilsonville, OR. With the up front service fee (for the community convenience services), it's about $7,000/month for a 1,200 sq. ft., 2 bedroom with NO care. I'm trying to get an idea of what independent care facilities generally charge in the area. This seems awfully high to me. They do not want a nursing home, and do want a pleasant place to live. Thank you so much, in advance.
---
almost 2 years,
My husb and I have $3560 income from pension and soc. sec. We both have a walker. What would independent living run, with option to assisted living later on if necessary?
---
almost 2 years,
My husband has severe dementia and needs lock down and memory care BUT he does not want to live w/o me. Can we both live in the Ass. Living facility and he in MC and lock down and me not?
---
about 2 years,
I have MS and use a cane and often times fall. I have balance problems and need to make the move this year to assisted living probably. I am on Social Security Disability now. What other government programs can I qualify for? Has anyone else gone through the hassle of jumping through these hoops?
---
about 2 years,
Just came upon this Conversation and would like to join, if that's ok? I don't have a screen name for this site, any suggestions? I await.
---
about 2 years,
My Mom needs are: all meals prepared and served all medication given(all oral all given in groups 3 times daily) Put in bed waked up in the morning she's able to walk, wash, dress, feed her self, make the bed. With all that being said does my Mom qualify for assisted living?
---
---
over 2 years,
Physically Unable to be conservator for my sibling.Public Guarding Public Conservatorship closed her case. She has dementia and Adult Protection Safety has been called for help. San Diego has received a diegosis from her neurologist which says that my sibling is incapable nmakaing rational. Decisions. Seveffal weeks later the same neurologist filled out a form oof the San Diego County giving the opposite diagnosis. What can I fo???
---
over 2 years,
I don't even make that much money. Do you know any for a lot less money in Pensacola, Florida 34504
---
over 2 years,
I am looking for Assisted Living facility. Don't want or have the desire to do yard work. [leaves pick up], Clean house or cook. Just need some help...bathing...etc., etc.!
---
over 2 years,
like information on senior apt living in an apt for some help with household things I can no longer do around home. ie some cleaning and laundrey
---
over 2 years,
Can not afford this on his SS disability income.
---
over 2 years,
What does adult day care cost look like for 50 hours a week. Does Health Insurance cover those facilities?
---
over 2 years,
looking to compare costs of local nursing homes, adult care residences, and other available options in st Lawrence county
---
over 2 years,
My mom is in skilled nursing/rehab after a stroke. She is in a room with three other people. She is covered through Medicare for the first 20 days but doesn't have gap coverage. She only has straight Medicare and Medicare part B. What kind of cost will we need to expect after the twentieth day. Also if my mom goes to assisted living how much is that as a cost, her fixed income is $2400 a month.
---
over 2 years,
Medicaid pays for 40 hrs in home healthcare giver through nurses unlimited. I can not find a therapist that will accept me because I am only 58.
---
over 2 years,
Does national guard count as vetetan benefits My husband served in national guard but never received benefits from it. He died 3 weeks ago. If it qualifies can I use his benefits for various and his retirement benefits. I receive SSI in the amt of $740.00 monthly and $81.00 in food stamps. I have no home or car or any collateral. Would I qualify?
---
over 2 years,
I am 80 no serious illness controlled. Diabetes 2, COPD early stage.& just aging groans & pains I drive, cook, shower etc. I need help making bed, cleaning higher areas in home. I do not have family near by & I am alone most of the time. My concern is I feel if I am wth other seniors I would be more content. I am looking for a senior apt building.
---
over 2 years,
WOW! it is too expensive, cannot afforded... my rental apt it is much cheaper..
---
---
about 3 years,
I found this article extremely helpful. I appreciate your being there for "us".
---
over 3 years,
Understand that dementia care costs more than average because the care required is greater. Be certain to tour and compare facilities AND prices. The representative of ALF that we chose told us that their policy was for THEM to adjust to the resident and not the other way around. They DID and we couldn't have been happier with the choice.
---
about 4 years,
I debated for a while about assisted living vs home care and started with home care and never looked back. i had Right at home come in for my parents they managed all of the issues regarding caregivers so i could go to work and not have to worry. I can now go on line and confirm that the caregiver arrived. now in comparing the cost of my parents care vs my in laws care at an assisted living facility was interesting. using home care the cost started low because my mom only needed help in the morning so it was about $2000 per month vs assisted living was over $3500 per month everything included. once my mother needed more care it started to catch up to the cost of assisted living but the overall expense was still less for my parents and they were always together. as i found out when my mother in laws started to need more help she was moved to a different part of the facility and they were no longer together because they had different needs.
---
over 4 years,
Personally, I had a good experience with Comfort Keepers but it was only part time and it was expensive. I finally opted for assisted living but my husband was assessed by the facility as requiring Leve 2 care, in their dementia/Alzheimer's section. All facts considered, I agreed with them. The initial cost was a surprise but managable. I had to purchase a bedroom set, TV....cable hookup billed to me, arrange delivery, label all clothing, bedding, towels, belongings. The arrangement was you "rent" the apt., room and they provide the care, meals, manage medication, provide entertainment. I also had our physician write a prescription for my husband to have physical, speech/swallowing and memory therapy,by the "in house" therapy company. Medicare and our insurance will pay for that. Transportation for physician appointments can be arranged, at an additional charge. Of course, there was the initial "community fee" and then the rent is billed monthly, along with haircuts. If a telephone is hooked up, that is also billed directly to the responsible party......a cell phone is a better option for the resident. The facility that I chose, is an "age in place" facility. However, if a resident needs to be hospitalized or sent to a "skilled nursing" facility.....the rent continues. Although expensive, this option appealed to me for my husband's care. His care will cost more than for my living expenses but no one ever said that aging and the mental, medical issues that accompany aging, would be inexpensive! My husband may live another six months or another eighteen years......to 102, only God knows the answer to that. The whole process is a learning experience that no one prepares you for........the laws, the regulations, the research, misinformation; as the sole caregiver, it is exhausting.
---
about 5 years,
One of the greatest difficulties of having in-home care is hiring a caregiver who is dependable. If you're working, a caregiver who tends to show up late, or calls in sick frequently, can wreak havoc on your career. Not to mention the stress it causes you. Be sure to check previous references. If the applicant doesn't have any, that may be a problem. I would also use caution in hiring a caregiver whose only experience is caring for that of a relative. It's vitally important to hear from the caregiver's last three employers...even if they've been out of caregiving for a while. Ask about the applicant's ability to get along with others, to handle stress, and how reliable they are. And don't forget to do a full background check.
---
Stay Connected With Caring.com
Get news & tips via e-mail
---