Dona Rosa, 103: Love Each Other and Forgive
Secrets of a Long (and Happy) Life From People Over 100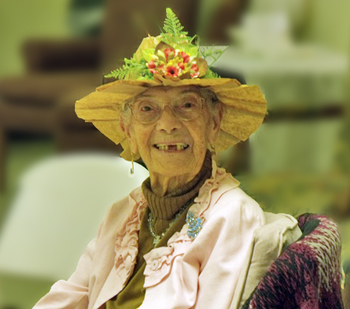 All Rights Reserved
"What do I look forward to? Visitors."
"My daughter, Martha, comes to take care of me every day, and I get Meals on Wheels. They are so wonderful to me. My church family and priest visit often, so I'm always surrounded." Dona Rosa speaks Spanish, so her daughter translates for me. "Another thing I love to do is to watch baseball. I yell, 'Go, go, go!' at the television as loud as I can!"
"When I face tough times, I think of my grandmother."
Dona Rosa grew up in Panama. Her mother died when she was seven, and her grandmother held the family together. "That's how I try to be -- like my grandmother. She was strong and courageous, and it's as if she's guiding me. I also pray every day. I talk to Him like He's in the room with me."
"I'm not going to give up my coffee!"
"I try to cut down on my sugar, I don't want diabetes, but I'm not going to give up my coffee." She loves soup (tomato is her favorite), and she tells her daughter to make sure to serve it with some hot, fresh bread and butter. "I tell her, 'That's a lot of butter, Mama,' and she says, 'I don't care, that's how I like it!'" says Martha.
Next birthday: 104
Dona Rosa celebrated her 100th birthday with her church family and again at her home at Taylor Residence in Jacksonville, Florida. "We had a big cake and lots of decorations. My mother was so pleased," says Martha. "She danced and danced. We're going to have to celebrate big when she turns 104 next April."
"Forgive. You have to forgive."
Dona Rosa leaves us with one important message: "Love each other and forgive. Just let go. If you don't forgive, it's very sad, and you won't have peace in your heart."
Centenarians' Secrets | Find Assisted Living Near You | Meet Louise Seely, 102
Comments
---
about 4 years,
Acceptance for people who ofend you , that they are who they are and you cant change them is my first step in forgivness. Who knows the other persons chalenges of today tommorow or their past have made them who they are. So when I have had enough of the others behaivure, I pray to remove my resentments, and ask for guidance and if I can not help the situation, I smile nod my head and leave them alone. Knowing that forgivness 2ill come and be full of r3l3if billy
---
over 4 years,
Hi croline what a coincidence, this story also struck me. Go Doña Rosa, words to live by for sure!
---
over 4 years,
Wow. I just stumbled across this article and I have to say I was very inspired by Dona Rosa's story. Just wondering if anyone knows how she is doing? Would love to find out, thank you for being such an inspiration Dona Rosa!
---
---
---
over 5 years,
Longevity is by doing things you liked much
---
over 5 years,
She likes butter too!!! It hasn't hurt her any
---
---
---
---
Stay Connected With Caring.com
Get news & tips via e-mail
---