Bill Frank, 103: He'd Do It All Again
Secrets of a Long (and Happy) Life From People Over 100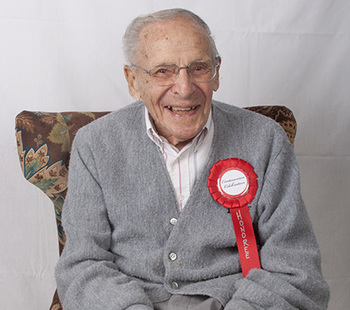 All Rights Reserved
Bill checks the stock market every day.
Bill enjoyed a long career as a stock broker, and he still follows the market every day. "I can't help it, it's in my blood! I also make sure I exercise, and I enjoy reading the paper. That's important at any age, especially at 103!"
Tough times? "I just might run!"
How does Bill tackle tough times? "Oh, I suppose having a good attitude helps. I've always done the best I can with the knowledge and resources available. But when life gets hard -- and you never know when -- I just might run!"
It's wise to find a good doctor.
What does Bill suggest to those who hope to make their 100th birthday? "Find a good doctor, and eat a careful diet. I really believe in exercising as much as possible -- and stick to a healthy routine." Bill hits the workout room almost every day where he lives at Carriage Club, Brookdale Senior Living in Jacksonville, Florida. "And avoid smoking cigarettes!"
Vices? "Don't go overboard -- I try not to avoid anything in particular."
Bill believes in moderation. He still enjoys a glass of wine and a good dessert. "The only thing I stay away from is low-grade meat."
Turning 100 can be stressful.
Bill enjoyed four parties the year he turned 100. "You get a lot of attention. I actually had a small stroke afterward -- I think I overdid it!" Nothing's really changed since he's turned 90, Bill says, "but I do get interviewed a lot. "
"I'd love to go back."
"If I could know then what I know now, I'd love to go back and be 20 all over again," Bill says, sitting back and smiling. He says luck plays a big part in making it to 100. "So I guess I've been pretty lucky."
Centenarians' Secrets | Find Assisted Living Near You | Meet Kitty Mosely, 103
Comments
---
over 5 years,
Hope your reading this Bill. We love you!
---
over 5 years,
My mother lives in Santa Cruz, Bolivia and she is 102 and 6 months. She used to be a tennins player and she is still very active. She recites poems from her childhood and remembers everything. I'm 70 (71) in February and nobody can belived that I'm old. I don't feel old and thank God I'm healthy.
---
Stay Connected With Caring.com
Get news & tips via e-mail
---