Caregiver: Dawn L.
A Caring Champion 2013 Winner!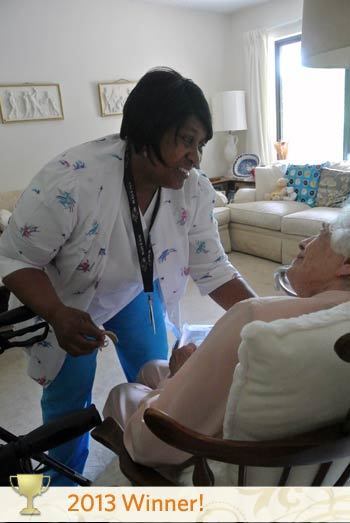 Employer: Roland Park Place
Location: Baltimore, Maryland
Inspiration for this Nomination:
Dawn is a standout GNA at Roland Park Place, a non-for-profit continuing care retirement community (CCRC) located in the heart of northern Baltimore City. The positive attitude, exceptional customer service, empathy, patience and dependability she has shown all of Roland Park Place's residents makes her an outstanding champion caregiver. Dawn's compassionate and thoughtful technique is evidence of a superior level of elder care service that is unparalleled.
Dawn can always be seen greeting residents with a pleasant smile, a warm hello and a genuine sense of care and respect which is often noticed by resident families and outside visitors.
Caregiver's Best Skills and Attributes:
Dawn often orients new geriatric nursing assistants and is generous with sharing her knowledge and expertise of residents, internal processes and personal experience. Her caregiving style is very distinctive because she applies different techniques for each resident, truly customizing care based on every individual situation and each resident's preferences and partialities.
She's a valued resource for questions and troubleshooting problems among the staff and her connection with the residents is so authentic. Her 19 years of caregiving service at Roland Park Place is evidence of her incredible commitment to senior care and personal investment in the lives of our residents.
Feedback About This Caregiver:
Families often comment on the excellent care Dawn provides and residents feel a sense of trust, calm, and reassurance whenever they know she is working. Dawn has worked for Roland Park Place for 19 years and has become one of the favorite GNA's noted by both Independent Living and Residential Care residents, families and staff. Her excellent work ethic, customer service, unique style, and quality care make her a Champion Caregiver worth acknowledgement.
One resident calls her "daughter" and will not do certain things for anyone else except Dawn.
More About This Caregiver:
Dawn's co-workers are often observing and admiring her soft manner, and work to duplicate her unique and gentle style of caring. By setting a positive example of an attentive and affectionate caring style, other staff members at Roland Park Place have adopted Dawn's technique and implemented it to help them attend to residents facing physical and cognitive challenges.
Read More Stories
|
Find Assisted Living
| Hire This Company:
Roland Park Place
---
Stay Connected With Caring.com
Get news & tips via e-mail
---