Caregiver: Dorothy B.
A Caring Champion 2013 Nominee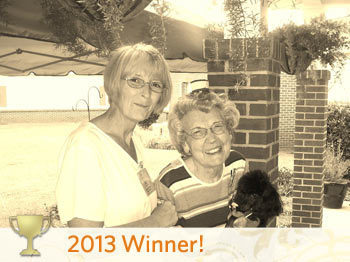 Employer: Autumn Cove Retirement Community
Location: Anniston, Alabama
Inspiration for this Nomination:
I wish everyone had the absolute pleasure of knowing Ms. Dorothy B! Her smile brightens everyone's day and her positive attitude is inspiring. After talking to other co-workers I realized that I was not the only one who realized how special Dorothy is. Never, and I mean never, has anyone ever seen her seeming impatient, aggravated, frustrated or bored. The list could go on and on. You can think of any negative emotion and I can promise you Dorothy has never shown it at Autumn Cove toward any fellow employee or resident. Her loving attitude and compassion toward people is obvious to anyone who meets her.
Caregiver's Best Skills and Attributes:
It is a truly amazing experience to watch Dorothy interact with and care for Autumn Cove's residents especially those with some form of dementia. Both her patience and gentleness truly are remarkable! We have one resident in particular who is her "helper". From the moment she clocks in until the moment she clocks out he is right by her side. With the biggest smile on his face I might add! As long as it's not inappropriate for him to be with her as she assists other residents then she never redirects him to leave. She works extra hard for everyone to feel important and useful.
Dorothy's compassion is second to none. I watched her with a resident during an unwarranted nervous episode of shaking immediately stop what she was doing and go to them to give them comfort. She so sweetly hugged and held hands until the resident calmed down. This definitely put her behind on her daily duties that she was responsible for but this fact was obviously of no concern to her. The most important thing to Dorothy is that she always put our residents first. The beautiful thing about it is that no one has taught her or asked her to be this way. She just is! I have seen her take time to bring coffee and snacks to some residents just because she knew it would make them feel better. She also makes a point to keep all of our lovely ladies looking their best. Some of our residents can't communicate what they would like done for appearance sake but they don't have to. Ms. Dorothy knows just what to do to make a lady feel pretty. She dotes on our men just the same by brushing their hair and keeping their clothes neat and clean and always telling them how handsome they are. These examples go hand in hand with her positive attitude. I have never seen nor heard of her ever feeling overwhelmed or discouraged. Working as an attendant can seem like a "grind" for some but not Dorothy. It is a calling for her, a calling to bring happiness and the feeling of significance to senior citizens. She doesn't have to work to muster up energy or positive thinking; it is second nature to her. I wish I could say more about Dorothy but I don't think I could ever make anyone understand through words. Seeing the way our resident's faces light up when she enters the room says everything right there.
Feedback About This Caregiver:
Families of residents who live here at Autumn Cove frequently tell our nurses and our management staff how happy they can tell their loved one is living here. They refer to instances just like I mentioned above where Dorothy has shown her love and compassion. In addition I have heard several families thank the administrator of Autumn Cove for hiring such a wonderful and exceptionally caring attendant when referring to Dorothy. These compliments have never changed anything about her, thank goodness. Because of her integrity she always does the best that she can. There is nothing that I believe could be said by our residents concerning the care she gives. Their happiness is written all over their faces and seen in the joy in their demeanor.
More About This Caregiver:
Ms. Dorothy's humble leadership is something that greatly impresses me. I can see the respect felt by fellow attendants and co-workers shown in their attitudes toward her. They look up to her and want to follow her example. Her positive energy is very contagious and you can see it working through others. Another wonderful attribute is that she always takes initiative. If there is ever confusion about a duty that needs to be taken care of, Dorothy has no hesitation to just do it. She encourages others to think the same way. Why wait for someone else when you can do it yourself? Dorothy also is innately punctual which is an absolute joy for both employer and fellow employees. Knowing that you can depend on your co-worker speaks volumes to the success of Autumn Cove! She doesn't do anything for herself. She is a complete team player! She is also a very progressive thinker. She thinks of fun new variations of activities and exercises for our residents' enjoyment and she's always got her eyes open looking for ways to improve day to day duties anything to help other employees and residents. Last but not least is Ms. Dorothy's integrity. Just like all the other characteristics I've named this integrity is not demonstrated through words but by actions. The principles she possesses are seen every day here at Autumn Cove and I am so glad that I am lucky enough to be able to witness the works of this wonderful caregiver!
She's always smiling!
Read More Stories
|
Find Assisted Living
| Hire This Company:
Autumn Cove Retirement Community
---
Stay Connected With Caring.com
Get news & tips via e-mail
---