Caregiver: Cathy M.
A Caring Champion 2013 Nominee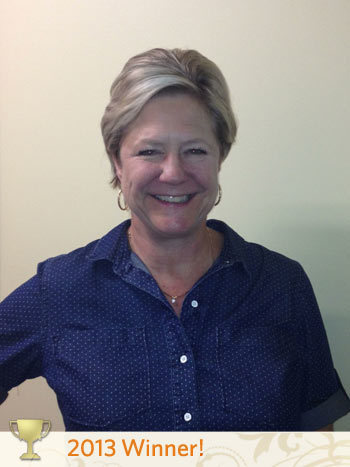 Employer: Emeritus at Woodstock
Location: Woodstock, Georgia
Inspiration for this Nomination:
Cathy is the first impression of Emeritus at Woodstock when our guests enter the front door of our community. When they come to visit, they are immediately welcomed into our homelike community and asked "How can I help you?" We couldn't imagine our lives here without Cathy and neither could our residents and/or could their family members!
Caregiver's Best Skills and Attributes:
Cathy is really our concierge/receptionist but is a caregiver in so many ways. Our residents depend on her being at the front desk to answer their day to day questions about what's going on, what's the weather like, whose caring for me today, etc. She assists them in calling their families, hand delivers their mail daily, leads their exercise program daily and anything else they ask of her. Cathy has been a huge asset to our community since the day she arrived over 2 years ago!
Feedback About This Caregiver:
The residents and family members of our residents LOVE Cathy. She is the go to person for any question that may be asked...Cathy most often knows the answer or will go above and beyond to answer it. Myself the Executive Director, has been told many times, "Cathy is such an amazing person, my Mom loves her!" The residents come looking for Cathy if she isn't in the back prepared to start the exercise program at 10am sharp!!! The program increased from approx. 7-10 participants to almost 25 since she's been here!
More About This Caregiver:
What others have learned from this caregiver: Patience. I have never seen a caregiver/employee have SO much patience with our residents who have dementia. Sometimes, they ask Cathy the same question 10 times a day or they lose the same thing 10 times a day...Cathy still shows them the same respect every time they return with the concern. She will assist them to their apt. to look for the item or act as if the story she's hearing is just as important as it was the first time!
Cathy is PASSIONATE about her position here in our Senior Living Community...I would hate to think of not having her as the first impression of our community/her being the first person our guests see and are greeted by when they enter! She is such as asset to our community and our Senior's are SO much more active in being able to come up and converse with her everyday. Cathy truly deserves this award!
Read More Stories
|
Find Assisted Living
| Hire This Company:
Emeritus at Woodstock
---
Stay Connected With Caring.com
Get news & tips via e-mail
---