American House Carpenter Senior Living
3470 Carpenter Rd., Ypsilanti, MI, 48197
Talk to a Family Advisor: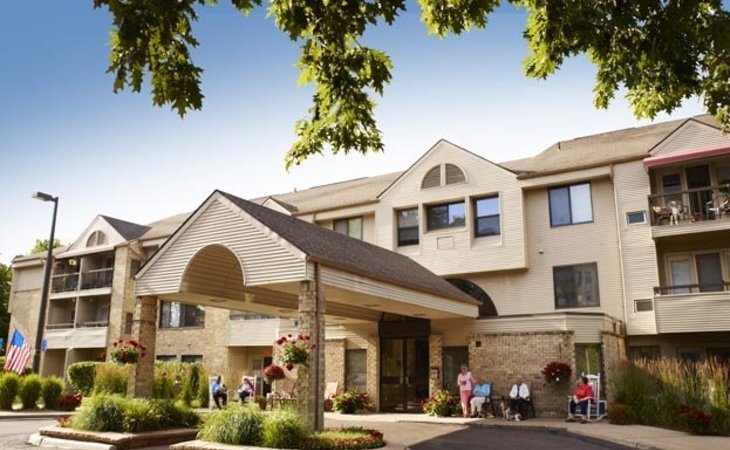 Top nearby Assisted Living Facilities
Reviews of American House Carpenter Senior Living
---
Linda415153
November 22, 2016
I visited this facility
I visited American House. The people were wonderful. The dining room was set-up for 3 meals. It was less expensive -- which was great -- but the part that I didn't like was where it was located. Even though it was very close to my home, it was across the street from a trailer park. My mother would not want to live in place across a trailer park, even though it was a very nice trailer park. It had nothing to do with the living place; I just knew my mother. The rooms were very nice. They had one bedrooms, and she would have loved the one bedroom. We sat down and had a chat with the woman. She showed us the facility and offered if we wanted to eat anything. She took us around the rooms that were available. It also seemed like it was more for couples. They served 3 meals a day. They had activities that were really cool. They had activities. They had places to get your hair and nails done. They did exercises.
---
Mark103227350
May 11, 2016
I visited this facility
American House Carpenter was good but a little bit older. The facility itself wasn't new and crisp looking. We only interfaced with some of the staff there, and they were fine. We didn't talk directly with any of the residents.As we were walking around, things didn't impress me. I saw residents going up and asking for things, and it looked like the staff was a little bit exasperated. They had to ask for things many times and still not get taken care of. The dining room seemed fine. It was just a quick walk-through there, but nothing I saw was good or bad.
---
Dennis37
February 16, 2016
I visited this facility
American House Carpenter was very nice. It was good on all points. They showed me a couple of rooms, and there were different kinds. This facility was very good. It was very nice, and I did consider choosing it.
---
Loving Daughter25
January 19, 2016
I visited this facility
The reason I looked at the American House is because it's around the corner from where I live and I thought it would be great because I could see my parents as often as I wanted. However, it was not the caliber that the others I saw were, but what I did like about it was that the residents were happy people. There were a lot of residents that were active and doing things and were excited to be going out. They were going on a little trip, and they all seemed to know each other. There were all sorts of activities going on. I did think that it was not as clean as the other places, but it was OK. And again, the only reason I was looking at American House was for convenience, and it was the first place I looked at.
---
Shafox
November 30, 2015
I visited this facility
I think American House Carpenter would be very nice for a senior-living situation. They can provide some assisted living services, and it seemed like a nice setting. The staff were able to address all of my concerns during my visit. They have activities going on. In fact while we were there, they just finished their activity for the Patriot Day. They had entertainment; somebody was singing and playing the guitar.
---
Darlene R.
November 16, 2015
I visited this facility
I liked American House Carpenter a lot. I liked the food and the staff was friendly. I saw their rooms, and they were good, but I could not afford it, which is the only reason I didn't move in.
---
Paula38
December 14, 2014
I visited this facility
My parents will be moving into American House. My visit there was fine. It was pleasant. They took us through, and they answered our questions. They have an apartment that works for my parents because of their dogs. Their apartments were of good size. We had a meal there, and it was fine. They had bingo, a pool table, and a community area. We visited other places before, but we just liked this one the best.
Provider Response
I'm so happy your parents will be joining our community, and that they'll be bringing their dogs with them! We are very much all about family here — and that includes our four-legged family members! If your parents or you ever have any questions, please stop by anytime.

Sincerely, Debbie Adams, Executive Director
---
Denise28
October 18, 2014
I visited this facility
I also liked American House. They were renovating, but I liked their set up there. They had month-to-month rent. The deposit that I would have to put down was refundable if dad ended up not being able to stay there. They were easier to work with. They were very flexible. They were renovating, so I couldn't comment on their dining room and rooms.
Provider Response
Thank you for leaving your feedback. Hopefully you'll be able to stop back by to see our completed dining room, and let us know what you think of it! And if you have any questions or would like to get your dad set up here, please contact me directly and I'll be glad to help you out.

Sincerely, Debbie Adams, Executive Director 734-677-0071
---
Caring0187
May 12, 2014
I visited this facility
I was very impressed with American House Carpenter Senior Living. It was homey, and the lady was very welcoming. We enjoyed our conversation with her. Everybody we met was personable and friendly. I can't say enough good things about it. It was my preference of the two places we have visited. Their dining room looked a lot like my dining room. I mean, they are very traditional, very attractive. The room that they showed us was done beautifully. I'd assume any place would do that. They got to decorate it rather than the individuals who are living there, and then, because my mother wanted to know what the other options were besides one- and two-bedrooms, they knocked on a door and asked one woman if she would show us her place, and she was very willing to do that. Very pleasant. I was altogether very impressed with them.
Provider Response
I love hearing when our visitors are impressed with our community! We like to have plenty of options for our residents. Don't forget to let your mother know about all the activities and events we offer here -- in-house, and away from the community, too. Should you or your mother ever have any questions, please call me personally and I'd be happy to discuss them with you.

Sincerely, Debbie Adams, Executive Director 734-677-0071
---
Tammy9
February 28, 2014
I visited this facility
Overall, American House Carpenter is just a really nice place. It would be good for a senior citizen. The rooms were very nice and the staff has good attitude.
Provider Response
I appreciate you taking the time to leave your feedback - thank you for your recommendation. If I can ever answer any questions for you, please feel free to call me personally.

Sincerely, Debbie Adams, Executive Director 734-677-0071
---
Caring76899350
January 31, 2014
I am a friend or relative of a resident
We chose American House Carpenter basically for its compatibility of the rest of the residents, the activity schedule, proximity to my house, and the warm and caring sense that I got from the management. Their dining room is very nice. They have different activities like bridge club, cribbage club, and bingo. They take people out to the plays. They also take them shopping for groceries and/or incidentals.
Provider Response
Those are terrific reasons, and I'm happy that you chose us! We work hard to provide plenty of activities and events so our residents enjoy living here. If you ever need anything, just stop by my office and let me know. Thanks!

Sincerely, Debbie Adams Executive Director 734-677-0071
---
Sissy2
August 13, 2013
I am a friend or relative of a resident
American House was recommended by the VA Hospital for my brother and his wife who are disabled vets. Although younger than most residents, they have been treated with utmost respect and compassion. From the managers to the cleaning staff, I believe they have gone out of their way to make them feel welcome, always available for questions even if they had already been asked. They have been particularly considerate and patient when dealing with the extended family who must work with the staff at American House in coordinating care for my brother. They are very pleasant, patient, and understanding of our situation and needs. The apartment was beautiful when my brother moved in, freshly painted, clean, new carpeting...looked brand new! When I recently called to ask if dinner could be taken to their apartment, my brother told me the office person had already come to them within minutes of my call to get their menu choices. You can't get better service! The only recommendation I would offer is that the library be equipped with a computer for the savvy residents who do not own their own computer. Maybe this is available and I am not aware, but I will say that this has been a trouble free, seamless transition and I would highly recommend this facility for our loved ones.
Provider Response
Thank you, Sissy2, for leaving such wonderful feedback! I'm very happy to hear that your brother and his wife are very pleased living in our community here. We're constantly looking for ways to integrate technology to better serve our community, so I appreciate the suggestion! If you have any other ideas, feel free to call me direct or stop in - or if your brother and his wife ever need anything, please remind them that my door is always open!

Thank you, Debbie Adams, Executive Director 734-677-0071
---
junjun
May 18, 2012
I am a friend or relative of a resident
They were all nice, My grandfather did not do to much so he was not much of an effort for them either. When entering the property it was quiet and kind of hospital like (more so then expected) which surprised me. I did not get to see the activity rooms The property was nice as we took my grandfather on a few walks as well. The rooms were decent but it is very expensive compared to the room. I did not see any staff when I was there besides what seemed to be an office with people looking at me like I was lost, but no one tried to help me either way. From what I hear my grandfather was taken care of there and was happy there. I would have likes it to be a bit more personal there tho, as in no one seemed to want to meet his family or seemed to care about him and his life before that place.
Provider Response
Dear junjun,

Thank you for taking the time to leave your feedback about your experience with your grandfather. We are pleased you heard he was taken care of and was happy. We strive for balance at American House Carpenter - with a relaxed atmosphere and a variety of activities going on in different areas to keep our residents engaged. We believe in providing options to help empower our residents. While we try not to intrude on private family time, we truly care about all of our residents and their families and appreciate you reaching out to share your impressions. Your grandfather is our first priority and we want to ensure our relationship with him and his family is all it can be. If you're willing, I would appreciate more information to better understand how we can improve. Please feel free to call me directly at your convenience.

Sincerely, Debbie Adams 734-677-0071
---
From American House Carpenter Senior Living
---
Bringing American House quality and value to Washtenaw county near the crossroads of U.S. 23 and I-94, American House Carpenter is ideally situated near family friends, shopping, and familiar medical professionals in Ann Arbor, Ypsilanti, Saline, Superior Township, and Pittsfield Township. American House in Ypsilanti is also located close to hospitals including University of Michigan Hospital, St. Joseph Mercy, and Veterans Hospital Ann Arbor. Carpenter Senior Living in Yspilanti provides Independent Living with assistance available.*
Apartment options at Carpenter Senior Living include studios, or 1 and 2 bedrooms - all with full kitchens and private baths. Property amenities include a dining room, beauty salon/barber shop, private park with trails, gardens, and ponds, and much more.
Restaurant-style dining is available for breakfast, lunch and dinner. An Activity Director plans a wide range of cultural, social and recreational activities and trips. Resident Services also include 24-hour on-site management and scheduled transportation. Laundry and housekeeping services, medication reminders, and strength training programs are also available.
*Medical support services provided by a third party not affiliated with American House.
Reimbursement
Private Pay
Property Amenities
Dining Room
Beauty Salon & Barber Shop
Beautifully landscaped private park
Resident Services
Restaurant-Style Dining Available for Breakfast, Lunch and Dinner
Available housekeeping services
Active Social and Recreational Programs
24-hour staffing
Scheduled Transportation
Activities/Recreation
Beauty/Barber Shop
Chapel Services
Gardens/Outside Patio
Facility Parking
Guest Meals
Pharmaceutical Service
Separate Therapy Room
Pet Permitted
Apartment Features
Kitchenette
Temperature Control
Emergency Call System
Private Bathrooms
Additional Assistance Available
Fall Prevention/Strength Training programs
Medication reminders
24-hr personal care assistance
Location of American House Carpenter Senior Living
---
Request Info
Get full access to reviews, cost information, and amenities