Five Star Premier Residences of Yonkers
537 Riverdale Avenue, Yonkers, NY, 10705
Talk to a Family Advisor: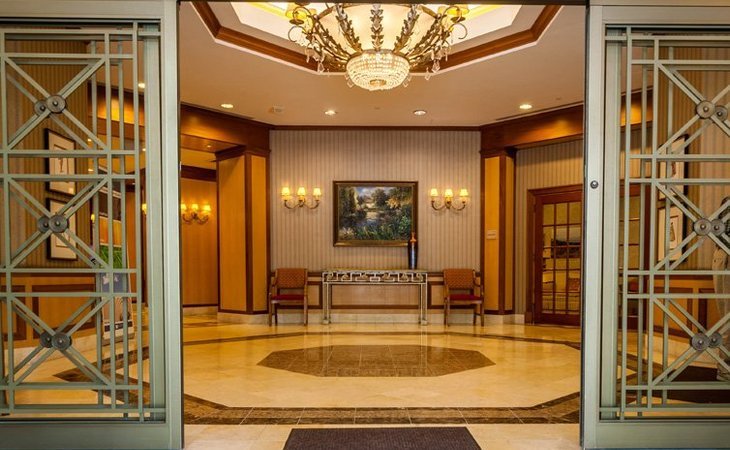 Top nearby Assisted Living Facilities
Reviews of Five Star Premier Residences of Yonkers
---
Robin R
December 27, 2015
I am a friend or relative of resident
The Yonkers property has been declining. Residents' happiness is no longer a priority. Here's why: staff turnover is high. Management turnover is higher. Dining staff is fewer and service is slower. Happy hours are fewer. Entertainment is lower budget and getting lower. No longer is someone on staff around on holidays to greet people and make sure the residents are happy at home. To have a guest for dinner now there is a 10 day notice requirement for 3 people. The dining supervisor made my mom cry when she turned away the grandchildren for dinner. Never happened before but now it is acceptable and management is fine with it. Corporate won't respond to suggestions. Please find another kinder, more caring community - we wish we did. (Rent increases every year about 3%)
---
Andrew22
May 24, 2015
I visited this facility
Five Star Premiere Residences of Yonkers was the first facility we've looked at. The people working there looked satisfactory. The dining areas were well kept. It was nice, but it had lesser activities than the other facilities we've looked at. It seemed more or less like an apartment building that served meals.
Provider Response
Thank you for taking the time to visit and write a review about Five Star Premier Residence of Yonkers. I would like to speak with you regarding your comments on our activities. We are delighted that our parent company Five Star Senior Living has a launched new recreation program, Lifestyle 360, which supports the social, wellness, cultural, emotional and spiritual needs and interests of our residents. Please call or stop by and we can discuss the selections that you would like to see on our calendar with myself and our Lifestyle 360 Director. We welcome your suggestions. John Hunt, Executive Director.
---
Caring95848950
October 07, 2014
I visited this facility
I was able to visit Five Star Premier Residences of Yonkers and the facility was very elegant, but it was too big for us. It does not have family or homey setup; it's like a hotel. The rooms were of average size. We didn't eat there, but the staff members were very friendly. They have a full schedule of activities.
---
Caring96671950
July 30, 2014
I am a friend or relative of a resident
Five Star Premier Residences of Yonkers is fine. The care is generally fine. There had been a couple of snafus here and there, particularly in the beginning, when we were coming and I told them to please be ready with a wheelchair and they were not, and so I had to keep my mother from falling on the ground. There were other issues, like the billing was not clear from the beginning, and there are some issues that we are still trying to iron out. I guess the most important was that they had told me they could rehab her, and they started two months after she got there. She has an apartment and I had made it very clear for some weeks that we were looking for a larger apartment than a studio, and then the day that we were moving in, the head of sales comes up and says, "Oh this one just became available, this one-bedroom." But, it was clear that it had not just that moment become available because they had put carpeting in at least a day before, and it made a big difference in the move-in. It meant that a whole bunch of stuff that had been put in storage had to be taken out of storage. Even if we had known about it for hours before, it would have made a big difference in the costs and in all the stress and so forth. That was not well done. There are systemic problems where communication between the doctors and nurses and the care staff is not perfect. They point fingers at each other a lot. They have more of a range of assistance that they will provide than the last place my mother was at.
---
Charlotte15
April 21, 2014
I visited this facility
Five Star Premier Residence (Five Star Premier Residences) was extremely nice but very expensive. I spoke to the lady who was in charge for the rentals, and she gave us a tour of the facility. As far as the staff was concerned, I only knew from the people there that they were excellent. I understood that they were top-notch. I was not able to eat there, but we saw the dining room that was set up for the holidays; they had set up a beautiful table for the people who lived there, and it was very impressive. The marbled floor and the wood were shining. Everything was clean, and there's no doubt about it. They had all kinds of activities.
---
Wendy20
March 27, 2014
I visited this facility
Five Star Residences would have been very nice except the weather. I really trust the Five Star Corporation. When you're in the New York area, the rooms are smaller. There are less grounds, but it looked like they have people coming and going to a lot of activities. It looked bright and elegant. If I were to have my parents live closer to me, I would definitely consider that would be the place. That's my only experience, and it's all positive.
---
Caring74212050
November 27, 2013
I visited this facility
We visited the Premier Residences in Yonkers and the facility is very nice. The staff are very good. The rooms were large and more comfortable. Overall they were fine, but they were just cost prohibitive.
---
severely concerned
August 19, 2013
I am a friend or relative of resident
Everything was quite nice at this facility where my mother has been for two years. They switched ownership last october and the new owners gradually through out the old staff and instituted big sevice cuts. The quality of food didn't just decline - it really just got almost awful. The twice per month outings to New York City became once per month. The management has begun to treat the residents somewhat scornfully and dismissingly. They don't monitor the maids as they really don't get much done at all. This went from being a great place to a serious problem and now we are faced with having to move my aunt, as she has become unhappy, as have most of the other residents, who tell us the same in hushed conversations and in the elevators
---
Dedicated God-daughter
August 13, 2013
I visited this facility
This facility certainly lives up to its name. It is a secure community- security is at the front entrance. The tour included visits to several size apartments. There is the ability to participate in activities throughout the day, and participation is encouraged on the Assisted Living floors. The staff was cordial and acknowledge the residents during our tour. Staff members were also polite. The amenities that are provided compare to other residences I visited, however, this is in my opinion a residence for those that want to enjoy sophisticated living. Brochures and a thank you for touring gift concluded our visit.
---
doctorjax
February 15, 2013
I am a friend or relative of resident
My aunt has been a resident here for several years. While the while the building and grounds are lovely, the new operators of the property, Five Star, seem to be singularly uninterested in anything but maximizing profits. Food quality has deteriorated, dining room hours shortened. Resident attention has diminished with corporate bean counters have replaced long-term staff who were friendly and helpful. Was a much better environment before the change in ownership. These new operators don't seem to care about the residents.
---
caringcounts
January 25, 2013
I visited this facility
I have visited several time. The facility is beautiful and impressive. Residents are friendly and seem generally pleased with 5 Star. Cocktail hours with live entertainment is a staple and a great time for all. Staff that attend to the residents directly were great: respectful and professional. Behind the scene staff a big let down. Having had to interact with recreation staff on events planning I found them to be exceptionally incompotent and unprofessional.
---
maestra96
July 23, 2012
I am a friend or relative of a resident
The facility is really beautiful, with well-appointed areas for various activities throughout the day. I visit my good friend who has been a resident there for a number of years. The nursing care is minimal as this is not a nursing home however, some residents do get their medicines administered by the nurse on duty. Others, such as my friend, have their medication in their room and self-administer every day. The facility is composed of individual apartment units and my friend is able to carry out minimal housekeeping duties because of physical limitations. Her apartment is frequently not up to par because the facility does not provide housekeeping personnel to individual tenants therefore, the apartment doesn't always get cleaned. I help some when I visit however, I cannot do it all. This is one of the drawbacks. The dining facility is spacious and cheery with small tables with tablecloths and savory meals being prepared by the chef and served by waitresses. The dining room is also a good place for socializing. Another drawback is the not so varied assortment of field trips to museums, libraries, cinema and/or theater. Most of the activities that my friend tells me about and I witness when I visit, are indoor activities such as movies, cards, trivia games etc.. The staff is friendly and helpful. There is a concierge at the entrance and they are also very helpful. The facility has parking which is certainly a plus. Family members and significant others are promptly notified when there is an emergency. I am mostly satisfied with the living environment and the assistance my friend is receiving at this assisted living.
---
stokfeg27
June 23, 2012
I visited this facility
The appearance of the facility was beautiful and had so much detail though it was just the exterior of the facility. I was amazed when I entered and saw the interior of the facility. There was more detail in the inside of the facility and the colors of the interior looked great. It is not just the appearance that made me want to rate the facility 5 stars. The staffs were the other reason why I rated this facility 5 stars. The staff were well prepared for any question that someone could possibly ask. Because it was my first time visiting the facility I had tons of questions to ask. Personally, I don't like the type of staff that would look at a book for a minute or two, or would have to keep to you waiting while they asked the other staff the question you had asked them. I did not expect to ask such wonderful staff members questions. It only took a second or two to get a response from them. I would use the staff as an example of the type of staff people you would want at any place. Everything over at that facility was great. There was so much to do over there. They offered a lot of clubs and groups that you could join. The facility would give you all your needs.I feel like anyone that was a resident of the facility could not be an angry person. You would be satisfied with whatever they had to offer. The facility is worth having a second visit at any time. I wish I can go to the Classic Residence in Yonkers Facility soon. I hope whoever reads this is persuaded to visit the Classic Residence in Yonkers Facility because using all I have experienced in this facility I can assure you that you will not regret going to the Classic Residence in Yonkers Facility.
---
zeetaa
January 28, 2012
I visited this facility
The facility has been personally visited by me. I have found it a neat and clean setup, where life is at its best. Residents are living with utmost respect and honor. Quality of life provided by the organizers is really of a high standard. Activities have been planned in a manner that all residents are involved to generate a healthy spirit and an atmosphere of love and care. Staff employed on duty has always been forthcoming to look after the needs of residents and providing them every facility they desire. Persons are treated as family members and they really enjoy the relationship of trust. I have talked to the residents who all very extremely happy. They shared their thoughts and experience of living here and were satisfied. Diet schedule is very balanced and nutritious. Additionally, the patients have been extended an opportunity to follow the diet program as prescribed by the physician or nutritionist. Overall, I would rate this facility very high and recommend it.
---
From Five Star Premier Residences of Yonkers
---
Five Star Premier Residences of Yonkers offers compassionate senior care in Yonkers, NY. We strive to create a home-like atmosphere where you and your loved ones can feel secure. Our warm, well-trained staff works closely with our residents to provide the utmost care and comfort. As part of the Five Star corporation, you can be sure that everyone at Five Star Premier Residences of Yonkers shares the Five Star Values, and is committed to a high level of caring in all that they do. Please schedule a visit to see why we are the first choice in senior care in Yonkers, NY.
Features of Five Star Premier Residences of Yonkers
---
Costs
Minimum rate:

$3890/month
Diet
Diabetic
Low Fat
Low Salt
Vegetarian
Location of Five Star Premier Residences of Yonkers
---
Request Info
Get full access to reviews, cost information, and amenities