Sunrise of Lower Makefield
631 Stony Hill Rd, Yardley, PA, 19067
Talk to a Family Advisor: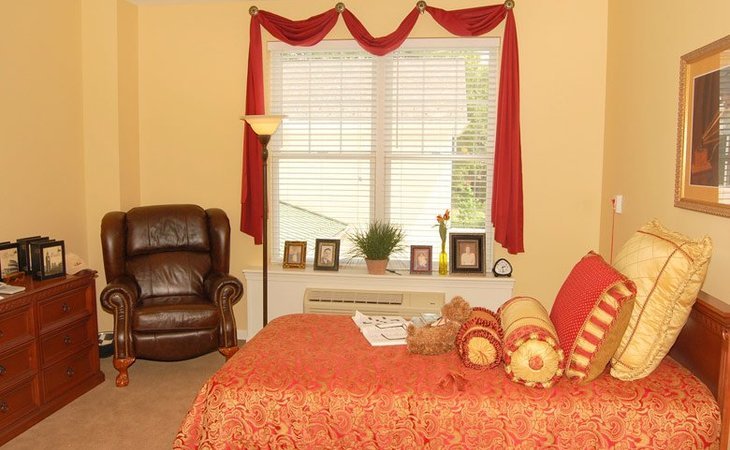 Reviews of Sunrise of Lower Makefield
---
NormanULICR
May 21, 2016
I am/was a resident of this facility
The staff at Sunrise of Lower Makefield is very good. The food isn't too bad. It's more like a nursing home. The staff works together as a team.
---
BILofK
April 08, 2016
I am a friend or relative of resident
I have mixed reviews about them. I went to visit my mother earlier this year on a weekend. I found my mother sitting up in a w/c. She was very pale & in obvious discomfort. She told me she had pushed the call bell numerous times over the past half hour & nobody answered. She told me she had pushed the call bell numerous times over the past half hour & nobody answered. She said she was in pain & has had diarrhea & had been sitting in it since then. I went to the Wellness Station & heard at least 3 female voices in a room beyond the anteroom talking & laughing. I called out to them at least 3 times before someone came & asked what I wanted. I told them that my mother had been calling for a half hour to get cleaned up & back to bed. We made her comfortable & the aide, Shakira, left when the room had been straightened up. When we were alone again, my mother related something to me that had happened before breakfast that morning. She had been asleep & was awakened by her CNA yelling at her, "WHAT DO YOU WANT FOR BREAKFAST?" My mother told me she was startled awake & told the aide not to speak to her like that. My mother said another aide came in & asked her why she was yelling at the other CNA like that. My mother was upset & was begging for me to take her out of there. My sister told me that she had a care conference scheduled for the next day & that she also had issues to address at that time.. The next day, my brother called & I was told by him that he got a call from this facility that I was interfering with my mother's care. I am a healthcare professional & all of these things are very disappointing to me since I have always had a high opinion of Sunrise & have referred many of my residents to your facilities in the past when their sub-acute stays were finished. My mother & father were on hospice & their last days were peaceful. The staff accommodated our large family & treated us well. My parents both passed with dignity & their care needs met. If it wasn't for the 1 bad experience, this would have been an all positive review,.
Provider Response
Thank you for sharing your review. Please know that we take all concerns, such as those cited about care and activities below, seriously, and would like to learn more about your experience. If you could please email us at Information@SunriseSeniorLiving.com with further details, we will be following up. Thank you, Sunrise Team
---
visitor122680250
March 30, 2016
I visited this facility
Sunrise is very nice and lovely but expensive.
---
Anonymous.son1
October 28, 2015
I visited this facility
I visited Sunrise of Lower Makefield. The young lady gave us a nice tour. The rooms were nice. They were actually making pizza for the residents while we walked through, so that's a nice thing. The facility was big and open, and there were lots of places where you can be by yourself, or if you want to sit with other people. The dining area was nice. They had a private dining room, which I think is nice if you want a family event there. The young lady was courteous. She answered all of our questions and was factual. Most of the staff did say hi as we walked by, as did a lot of the residents. This facility would probably be considered for my mother; however, it most likely would cost a little more than a few of the other places. However, it is not necessarily all about the price. The facility was clean, new, and well-kept.
---
Robert98173250
December 12, 2014
I visited this facility
I did not eat at Sunrise, but the dining room seemed nice and spacious. I don't think I saw any activity there. I saw the rooms, but I just didn't see anything at the time. I think their outdoor sitting areas and dining areas could use some expansion.
---
Caring93981850
October 22, 2014
I am a friend or relative of a resident
My parents are at Sunrise of Lower Makefield. It's has a Victorian-type of look about it. It's homey, and you don't feel like you are in a hospital. It's also like walking into a nice hotel. Their care is doing really well. All the staff is helpful and willing to do whatever you need them to do. They arrive promptly when my parents call for them and they are very patient. Mom and dad are 93 years old, so they just stay in their room most of the time, but I am seeing activities going on for the residents like playing bingo, baking club, and they also have a social everyday downstairs. They also have some kind of snacks given to the residents, and sometimes also they would have karaoke social. They also have outings if they want to.
---
Diane87790250
July 19, 2014
I visited this facility
Mom already had given a down payment for Sunrise at Lower Makefield and is now on their waiting list. The facility feels very homey, and so far, from what we've seen, it seems to do a pretty good job. They were able to answer all the questions that we asked. We really didn't focus much on the activities because my mom can't really see well.
---
Daria1
June 30, 2014
I visited this facility
Sunrise was spectacular. It was a gorgeous building sitting on a lot with maybe 6 trees. If you take a walk around Sunrise, you are exposed totally, and knowing that older people can only tolerate so much heat, that was a factor. As nice as the physical building was at Sunrise, I didn't get the feeling of personal care. It was like a tour for a house museum. We visited the dining room, beautiful. I didn't think the rooms were very large or airy. The facilities are out of this world, architecturally.
We ruled them out because it was going to cost my mother-in-law $3,000 a month more. Their furnishings in the hallways were just gorgeous, and that's what you pay for. The vase in the hall isn't taking care of our mom; a person is. The people we've talked to said the food was wonderful. We looked at some menus. It looked very nice. We went in and walked around the dining room, and not one dining room staff said hello to us.
---
Patricia74778950
December 30, 2013
I visited this facility
Sunrise seemed very nice. It had a very nice atmosphere when you walked in. It was very homey. I liked the idea that they had jukebox in one common area. I visited their memory care unit and it was very nice.
---
Russ4
November 21, 2013
I visited this facility
I had looked at Sunrise. The facility was very nice. Everything was clean and neat. The accommodation and staff seemed very nice. They were friendly and courteous. Everyone was very pleasant. Their rooms were also very nice. However, they did not have a secured memory care area and I don't think they had the specific care that my mother needed. If someone needed a home and had no Alzheimer's I would recommend Sunrise.
---
Sally J.
July 10, 2013
I am a friend or relative of a resident
I learned about Sunrise from a volunteer there so I visited the place. Two ladies came and interviewed my husband to figure out his level of care and I thought that was very helpful. It's a beautiful place and only five years old. The dementia unit is separate from the assisted living area. The staff is extremely helpful and loving. My husband has a private room, I have dinner with him every night in the dining room, and we spend our evening together. They encouraged that. It's a loving and caring place and I'm very pleased with it.
---
Caring5950
June 13, 2013
I visited this facility
Sunrise is a very clean and nice place. They are just too expensive for us; otherwise, I would love to put my father in this place.
---
From Sunrise of Lower Makefield
---
Step into a Sunrise Assisted Living community and you can?t help but feel at home. We stop at nothing to make your experience warm and inviting, from our homelike exterior architecture, to our comfortable community areas and choice of suites to our exceptional outdoor gardens and landscaping. Look around and you?ll notice fresh flowers throughout the residence, and you may even spot our dog or our cat. And of course, there are always the friendly smiling faces of our staff to ensure that each day spent here is a welcome one.
Location of Sunrise of Lower Makefield
---
Get Cost Information
Get full access to reviews, cost information, and amenities