Dodge Park Rest Home
101 Randolph Road, Worcester, MA, 01606
Talk to a Family Advisor: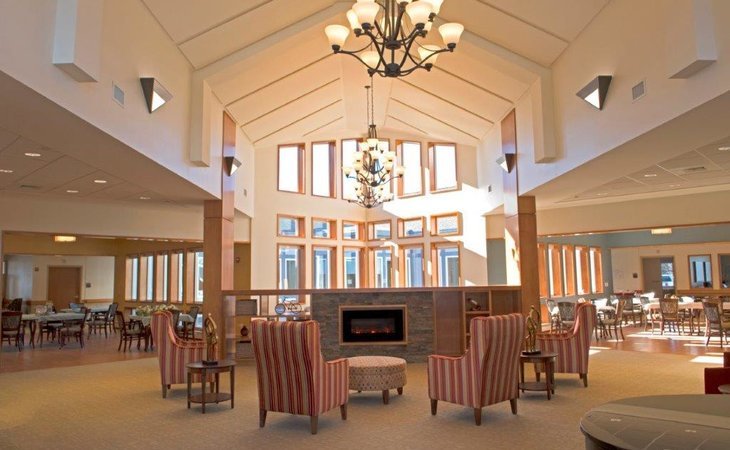 Reviews of Dodge Park Rest Home
---
Notebook Son
November 25, 2016
I am a friend or relative of a current/past resident
When my mother's dementia got to a point where she needed a safe place to live, we began the search to find a place that would care for her they way she deserved. After a failed attempt at that goal, we were referred to Dodge Park. It was a Godsent! The owners and staff there are the most compassionate and dedicated group you could ask for. My father visited with my mother everyday and he was able to observe and monitor her daily care and he would always come home feeling like Mom was is the best possible place we could give her. We are truly grateful for Dodge Park and the whole staff there. Thank you for all you do! If you are looking for a safe and caring "home" for a loved one, look no further. You have found the best in the area.
Provider Response
It is always our honor to service such wonderful family. To deal daily with such devoted family it is always a great feel. We never take for granted the trust family member placed upon us with their loved one. Each day we are looking to find a ways to do things better and serve our frail residents in a unique ways that will bring happiness and joy into their life. We all at Dodge Park are very grateful for this wonderful family and their willingness to work together as one extended family.
---
Crab
September 23, 2016
I am a friend or relative of a current/past resident
From the owners to the aides, housekeeping, kitchen and laundry personnel, they are the most caring and dedicated people to the residents of Dodge Park.
---
joe234
September 17, 2016
I visited this facility
My dad needed a facility that can provide his need and have experience with dementia care. Dodge Park name was given to us by a social worker at UMass memorial My dad still fully function on his own for some degree and can handle some dressing on his own. We were looking for a place that dad can stay if his condition get worst. I did not want to move him up again. I met Dodge Park facility owners Ben and Micha for a long first meeting. At the time of my initial visit they had no available bed but really took the time to help me find a temporary and suitable stay until a bed open up in a nearby nursing home facility. Ben went with me to the facility and introduce me to the administrator and director of nursing. What a service!!! My dad moved to this facility for the time being and I still hope and pray that a bed will open for dad sooner than later at Dodge Park. Both Ben and Micha followed up with me and check how is dad doing. You don't find this kind of service anymore. Both Dodge Park owners did show a true and real interest in my dad well being before any discussion about money ever done. I can not thank them enough for all of their support during a very difficult time few weeks ago.
---
Sara C.
September 16, 2016
I am a friend or relative of a resident
I found Dodge Park almost as a last resort. My husband had Alzheimer's. He had fallen at home and hit his head in May 2014. He went into the hospital for 5 days. He was so agitated that they wouldn't let me bring him home. Dodge Park came and said they would take him. So we were very grateful that we weren't left hanging in the wind. He was there for 18 months and they took really good care of him.
However, he went downhill, though we've been known about it for 15 years, and you don't know what course it's going to take. He became more frail. He was a bit agitated when he first got there, but it was only about 25 minutes away from home, so I could go almost every day to see him. I highly recommend Dodge Park. I actually miss the people there, because they've become part of the family. All of the aides were professional and good. They did a great job. It's a well-oiled machine. Having so many people in their care is amazing and how they handled everyone.
---
Saran C.
September 14, 2016
I am a friend or relative of a resident
My overall experience with Dodge Park has been exceptional. They are truly out of this world when it comes to caring individuals. We're Indian in origin. My mom's Alzheimer's/dementia was getting worse to the point that she had agitation, hallucination, and aggression. It was just very hard to take care of her at home, so we had to look for private assisted living facility. The first one that we went to was horrible. I was practically in tears.
I found Dodge Park during my initial search for assisted living. I met Carrie, an RN and head of nursing. Mom wasn't showing any aggression symptoms, but the other nursing home had kicked her out. Even before I had signed up, just out of the goodness of her heart, Carrie got a bed at Clinton Hospital. So my mom was at Clinton for 20 days and then they set her up to Dodge Park. And it didn't even end there.
Mom was still adjusting to the medication for passive aggressive issues, and they helped me find another therapy for my mother. Carrie didn't give up on my mother. She also worked with the insurance. She was truly like an angel. It was very hard for me culturally. Mom is happy now. She doesn't speak very fluent English, but they have accommodated that. They had to learn words of our language, so that they can better take care of her. They figured out how to dress her in the Indian clothes and even bring her Indian food. They had made her feel so much at home. I have never encountered so much humanity as I have encountered at Dodge Park. They were my savior.
---
Kellyjo1
September 10, 2016
I am/was a resident of this facility
My mom just recently moved to Dodge Park after a short stay at Assisted Living in the Boston area. Due to her dementia. The facility was recommended to me by a geriatric physician in Boston. I have nothing bad to say. The experience so far is super great. Owners and nursing staff are very accommodating.
---
Marilyn H.
September 09, 2016
I am a friend or relative of a resident
My husband was at Dodge Park as a resident for under two years. To me, his safety was primary and found that it was number one on each caregiver's mind also.The cleanliness of the residents with three showers per week was important to me. Food was excellent and the kitchen staff tried very hard to accommodate each resident's taste and diets. Tables were set with white table clothes and the servers were very polite and patient.
Activities and special parties were always looked forward to by the residents. My husband loved the music very much and liked to share it with me. He also received much attention and affection from the caregivers and activity staff. It became like a large family for me as I visited each day.
Having medical staff easily accessible if needed was important also. Micah and staff try very hard and succeed in the care of each resident.
Provider Response
Thank you very much for your kind words. We do try to achieve 100% satisfaction dealing with our frails residents and those Diagnosed with Dementia and or Alzheimer's disease. It is very important to us yo caring for soul and social well being.
---
MaryM2016
April 05, 2016
I am/was a resident of this facility
My mom move to Dodge Park from home. Living with me for most part. Mom can be restless and not sleeping at time. I convey my concerns to facility administrator and director of nursing during my meeting and they both seem very comfortable on having mom at Dodge Park. I was very worry if she will be able to care for as few nursing home I visited told me they might have a problem with mom. I have to say, that now after 3 months at Dodge it could not been better. The staff member are very attentive. I am getting a detail report on regular base in regard to mom behavior. I know that the reports are very honest. I might don't like to hear many of the details of what mom is doing but I know in my heart that this is mom. I am feeling very relax when leaving mom. I know she is in good hand. It is so refreshing to see owners like Ben and Mike so involve with resident care. If you have a mom or dad diagnosedwith dementia, Dodge Park is the place for them.
Provider Response
Thank you for your notes. It is always a pleasure with dealing with devote family like your.Our commitment is to continue caring for mom in a unique way to provide as much as social life possible as she enjoy. Looking forward to see you around.
---
Mike126248450
March 31, 2016
I am a friend or relative of a resident
My experience with Dodge Park has been great! The caregivers treat my mom like their own mother. I like the overall structure of the place. My mom is very happy with the food. I also tried eating there with her and I can say they have good food.
Provider Response
Thank you for the kind word. At Dodge Park we are trying very hard to make every single member 100% satisfy. Every day is a fresh day that we are asking ourselves what we can do better. WE always available to meet and discuss any concern with a family member. WE invest a lot in our staff training prior to work and as ongoing year around. The dementia training is a big ticket for us and we provide over 20 hours a year of ongoing dementia training.
---
s/Ellen Boykoff Fisher
November 30, 2015
I am a friend or relative of a resident
I am writing this review to offer my sincere appreciation for a wonderful program offered by Dodge Park and coordinated by Elaine. My mother has been a resident at Dodge Park for about 3½ years. She came to Dodge Park after first moving from her long-time home in Florida to an independent living facility, and then to Dodge Park. My sister and I moved our mother to Dodge Park when it became clear to us that her physical decline coupled with her dementia had progressed to such a point that she was no longer able to care for herself even with daily help in her independent living facility. While her physical decline was difficult to deal with, our mother had dementia that was slowly but surely robbing us of the mother we had known all of our lives.
My sister lived in Colorado, which was an added difficulty. Because of the distance, she was not available on a daily basis to offer her support and to share the ever increasing burden of being there for our mother. It was during this time that I found the Alzheimer's Support Group. The Alzheimer's Support Group is a wonderful resource offered by Dodge Park not only for family members of the residents but also to families in the local community whose loved ones have Alzheimer's disease or other forms of dementia. Dodge Park sponsors the group and offers facilities for its meetings. The group is lead by Elaine, a social worker from the Jewish Family Service of Worcester. Elaine is a skilled social worker. One of the things that makes this group so special is Elaine's welcoming manner. Her caring and nurturing manner helps create an environment where each person in the group knows that they can speak freely. She makes every effort to make sure that everyone who attends the group on any particular evening has their concerns and issues addressed. Elaine provides a forum where caregivers feel at ease to express their feelings and seek help and advice from Elaine and from other caregivers who have had similar experiences. Elaine and the other caregivers also provide information about resources available in the community that can help families in need.
Some people attend each monthly meeting and others attend on a less regular basis. This mix of attendees continuously changes the group dynamic as well as the experiences, the concerns, and the issues discussed at each meeting. While we all know that Alzheimer's is a devastating and deadly disease, at the beginning of each meeting, Elaine mentions to those who attend that it is OK to use humor to help alleviate the seriousness of their issues. Elaine always reminds caregivers that they must take care of themselves in order to have the strength and where-with-all to take care of their loved ones. As I mentioned, the group is fluid in that there can be different and/or new people coming each month. But due in large part to Elaine's guidance and caring manner, one constant component in every meeting is the strong sense of comradery among the members. Each person in the group knows that everyone there is in this together and each participant provides support and compassion for each other.
In this season of sharing and giving thanks, I want to thank Dodge Park for sponsoring the Alzheimer's Support Group and thank Elaine for being our group leader. Having attended the Alzheimer's Support Group for three years, I know that I and those who attend the Alzheimer's Support Group are very thankful for this service that Dodge Park offers the family members of its residents and to the community at large. We are all thankful for and grateful to the group's compassionate and caring facilitator, Elaine, who gives family members much needed strength to do what they need to do in order to care for their loved ones.
The group meetings begin at 6:00 p.m. on the second Tuesday of each month. Prior to the start of the meeting at 5:30 p.m., a light supper is available for those who wish to arrive early and socialize before the meeting begins. Everyone who attends these meetings leaves feeling as if they are not alone in dealing with the kinds of issues they face and knowing that they have the caring support of the group behind them.
---
Roger30
October 22, 2015
I am a current client of this provider
My mom has been with Dodge Park for six and a half years. She has the best care that she could possibly have. She is cared for by an extremely dedicated staff and ownership that truly cares for its residents. I cannot speak more highly of them. They have been cooperative of every single aspect of the work that needs to be done for mom.
Dodge Park is very clean. We looked into a lot of other places back then but there were no other facility that came anywhere near the cleanliness of Dodge Park. There was none that came close with them.
I'm very, very happy with Dodge Park.
Provider Response
Thank you very much for the wonderful notes. We all working very hard at Dodge Park to deliver a one of a kind level of care and involve family members with all we do. It always a pleasure to have a dedicated family that fully committed to their loved one and a true partner to our engagement program.
---
Caring117483450
September 30, 2015
I am a friend or relative of a resident
I have nothing but high praises for Dodge Park. The place is immaculate and it smells clean. The people are always dressed and clean. The staff is very accommodating to the family members. They will keep you posted about how your loved one is doing. They always keep the family involved. I am very impressed with the level of care they are providing to the residents
---
Marilyn117483350
September 30, 2015
I am a friend or relative of a resident
Dodge Park is good. It's a very clean place. It doesn't smell at all. The staff is caring and helpful. They would let you know if your husband or wife is on a different medication and why it is so. They get my husband involved like talk to him or give him books to read.
They have a lot of activities for residents. After dinner every night, they have a little volleyball or kick ball as well as entertainments. They celebrate monthly birthday parties for the celebrators of the month.
The food is very good. They get a choice of two entrees at lunch and at dinner. There's also soup, salad and dessert.
Provider Response
Thank you for a very kind words.
---
isik12
September 28, 2015
I am/was a resident of this facility
The best long term care facility you can find anywhere in New England. Unique model of dementia care in a very social environment. It is feel like an a very elegant hotel with the old spice and the care is amazing. They did bring our mother back to life.
Provider Response
Thank you for a very kind words. It our pleasure and honor to serve your loved one and be the extended family.
---
Cheryl117381150
September 28, 2015
I am a friend or relative of a resident
My dad and I are very happy with Dodge Park. They provide good service. My dad is very happy with their food. The staff is very nice and accommodating. They are like family.
---
Harvey Meppelink
August 27, 2015
I am/was a resident of this facility
I came here as broken and ill individual. They have brought me back to having a good life! I'm restored again!
Provider Response
Thank you very much Pastor Harvey. It is our honor to care for you. You are a valuable member of Dodge Park family and you are touching so many hearts and souls in our community. I am wishing you for another 120 healthy years with us all.
---
Rosemarie11
June 23, 2015
I am a friend or relative of a resident
My mom has been in Dodge Park Rest Home for almost 12 years now. Before that, her sister had been there. In totality, we've been going in and out Dodge Park for 16 years now. We always feel welcomed. Whenever we had problems, we could discuss it with the owner. Also, the care they provide is wonderful. My mother recently had pneumonia. Since we couldn't be there, the aide she was familiar with sat and talked with her. My mother loved it. I don't have enough good words to say about the community. I would highly rate Dodge Park Rest Home.
Provider Response
Thank you very much for your kind words. We all at Dodge Park trying very hard every day to deliver a state of the art care in home like environment. I am very happy that our efforts are well noticed within our facility and the community. Looking forward to the opening of the Oasis At Dodge Park which will allow us to serve even a larger population.
---
joelev2014
September 02, 2014
I visited this facility
My mother moved to Dodge Park from a local assisted living as per the primary care physician. I don't recall see mom so happy in months. At the assisted living she was very depressed, and barely participated in any activities. In her second day at Dodge Park she took part in music, painting with Thea and enjoy every moment. Facility owners, Ben and Mike are incredible. Every promised was delivered and more. They even drove mom themselves in the bus and help me transfer few of her furniture's. I wish I knew about this place few years ago. Keep doing the great job.
---
Mary92749450
August 31, 2014
I visited this facility
I visited Dodge Park Rest Home and the men that owned it visited with us, but they said my husband was too high level at that point, , and this would be six or seven months ago. I did not see the rooms, but everything that I saw was very nice. The people were very nice, and there was a lot of stuff, but l wasn't there that long.
---
Caring97040050
August 06, 2014
I am a friend or relative of a resident
My husband used to be in the day club but he is now a resident of Dodge Park Rest home. The staff there is very wonderful and caring. They are like family. I am so happy with the care my husband is getting there. When he was still in the day club, I know that they did baking, sculpting and painting. There was also music involved which my husband loved. He moved in May this year. The facility itself is very nice and clean. The staff keeps the residents active. They are always doing something to keep the residents happy. My husband has a room by himself. The only time I tasted their food was during barbecue a year ago. I would say that the food was excellent. It must be good now because my husband eats everything served to him.
---
Betty93589950
June 02, 2014
I am a current client of this provider
My mother came to live with me very unexpectedly. My stepfather died very suddenly. She has dementia and I took her in the minute he died. It was very traumatic for her. I can't put her in a home because she was going through such a trauma. After a few months, I realize that my mother and I both needed something. She needed some time to be with people her age to be more engaged. I needed some time to have a time of my own.
I'm a nurse and my colleague mentioned Dodge Park and I Googled it. It was love at first sight! My mother loved it and I knew it was right for her. We were very happy we found the place. She enjoyed herself. Since she had dementia, it took her a few weeks to be very comfortable. Now, she wants to go everyday.
The reason why I like Dodge Park is because they have a range of levels. I know my mother is getting rest. There are people whom she can engage who are on her level too. She could play bingo and she still does. Dodge Park is just a perfect fit for her because the place is not that big. She does not get overwhelmed. It's a family environment. They love her. She hugs everybody. They make her feel very comfortable.
I like the fact that they treat me as her daughter, not a client or a nurse. They tell me how her day went and they observed. They gave her care with a personal touch and made her feel at home. I want this for her so I can work during the day. The staff keeps her safe, fed, challenged and amused. They know how she takes her coffee when she goes in the morning. They're just very, very personable. It feels like it's family. A very warm family.
---
Donna93589850
June 02, 2014
I am a current client of this provider
I live near Dodge Park and one day I went in to see their program for my mom. I have to say that it's one of the best places that I've seen. Everybody there is just wonderful. They treat my mother very well. My mother loves the place. She likes the activities and she just love to go there. They do exercise and games. She had manicures on Tuesday. They just do a lot of stuff inside. I'm very satisfied with their service.
---
Carol78386150
February 28, 2014
I visited this facility
Dodge Park was an older building, but it was well taken care of. The people were friendly, helpful, and answered our questions. They have a lot of activities that they would get people involved in. I didn't see any of the rooms or even the dining room.
---
joe2014
January 23, 2014
I am/was a resident of this facility
One of a kind facility. Mom moved to Dodge Park after she was placed at a very expensive "dementia special" unit. What a bad experience. Luckily we found Dodge Park through a co-worker that her mother currently reside at Dodge Park. What a small world. The owners were amazing. Micha (one of the owners ) met with me with a short notice on Sat night and on Sun morning (next morning) we all went to visit mom. We truly found a partner for care. I can call both Micha and Ben anytime on their cell phone and they always available.
---
Donna83847950
January 23, 2014
I am a friend or relative of a resident
I like Dodge Park. They're very personable, warm and family oriented. The place is absolutely well-maintained and well-kept. I can't say enough about the staff. They' kind and loving. They're all wonderful. They were very supportive during my mom's final days.
---
Caring25221
October 18, 2013
I am a friend or relative of a resident
Everything with Dodge Park is favorable. My father has been given a lot of attention. There's a lot of help around. Everybody has been there when we needed them. It's been a positive experience with them. Micha and Dan are very professional.
---
John77153450
October 12, 2013
I am a friend or relative of a resident
We found Dodge Park online. We were looking for a place that is able to deal with dementia and Alzheimer's. They were one of the two facilties that came up in Worcester. We really enjoy the place. We think that the staff is great. The place is very clean and well-kept.
The management is very responsive to all the questions and all requests. They're very friendly and helpful.
---
David48
October 12, 2013
I am a friend or relative of a resident
My girlfriend went to see Dodge Park and met a few people there. It seemed like a very relaxed atmosphere. We then met with the owners and placed mom there. The two owners are very good. The activites and the staff are excellent. The place is very clean and immaculate. They put in air conditioners in the rooms. My mother is very happy there.
---
MaineinMA
October 11, 2013
I am a friend or relative of resident
My mother has been a resident for over three years. The Home is secure, the staff is always kind and caring, very professional and responsive. I visit in a very irregular pattern, so I have observed staff working with residents at various time periods. I have always been impressed with the attention and kindness toward the residents, which was not the case with a previous facility my mother was a resident of.
Dodge Park owners are very hands-on, and are present in the building most of the time. I am notified of any concerns of the staff, and if my mother is having any issues I am notified.
The social events, games, and interaction have built a nice community, and the Rest Home feels more like a home to her!
---
Donna41
October 08, 2013
I am a friend or relative of a resident
It is with great appreciation that we write to thank the staff and owners of Dodge Park for the outstanding care given to our 82 year old mother as she struggled with the effects of Alzheimer's Disease. Our family first connected with Dodge Park when we looked at their day care services to give our father some relief from her care taking responsibilities. We knew Dodge Park was a perfect match for our family during the initial tour despite the fact that we had contacted several facilities in the Worcester area. Dodge Park feels like a home and not an institution. The staff offers unconditional kindness and support to the residents. Our mother received the best of treatment from everyone starting with the Day Care and continuing through her stay as a resident. The owners and staff have a remarkable but professional way to support and comfort the family and care for the resident. Our family faced some unique challenges during our mother's stay that would have spun into a crisis if it had not been for the support of Dodge Park. They gave our family a huge sense of relief knowing that our mother was getting the best care possible. It is without hesitation that we would recommend Dodge Park Rest Home and Day Care to anyone needing help with the care of a loved one.
---
Mary76453950
September 30, 2013
I am a current client of this provider
I think it's an excellent facility. I'm so appreciative of the staff and their care towards the residents. My husband is there. I feel very comfortable, relieved and know that he will be taken care off to the best of their best ability. I trust their support and the education that they are providing to the family.
---
John75729450
September 18, 2013
I am a current client of this provider
Dodge Park is close to our home. The first thing I asked them is the craziest question. I ask them if there's a smell if I walk into the their door and they told me that there's absolutely no smell at all. So I visited and the place is great. They are very good. I never had a bad experience with them at all. Everything is clean and decent. The food is good everyday. I don't have problems with their staff. They have plenty of activities to keep all the people busy and keep them on track in place. They take care of everybody. In fact, I recommended them to several people already.
---
Richard33
September 18, 2013
I am a current client of this provider
My wife has been going to Dodge Park for a year and a half now. The place is nice. She goes there 2 days a week. I came across them just by investigation. I went through a few providers and chose them. The staff is tremendous. They're very friendly and helpful to my wife. She gets more attention in a small group than in a large day care where she used to attend.
---
Priscilla3
April 09, 2013
I am a friend or relative of a resident
Dodge Park is near my parent's house. They were able to present very well. They're very accommodating and the support team was very positive. Every time I visit, the residents are always doing something. They are engaged in some activities. They have art projects, puzzles, movies and beauty care. The staff is very professional and I think they're doing a good job.
---
Mary36
March 01, 2013
I am a friend or relative of a resident
Dodge Park is an outstanding facility. I couldn't believe the attention to detail they give to my husband. The care could not be better. They're affectionate, loving, caring, and professional. I can't say enough wonderful things about their facility. It's beyond my expectation. It's beyond what I ever imagined. The help is unbelievable. The food was delicious and they do not give them sandwiches at lunchtime. They give them a hot, full course meal.
---
DonnaA1
February 25, 2013
I am a friend or relative of a resident
They treat your loved one as one of their own family members. My mom lives at Dodge Park. Over the holidays, my dad was hospitalized. Both owners gave me their cell phones and told me to call them if I needed help. We ended up needing their assistance and they were there for me. Even during holiday time! That is what made such a great impact on me. I would highly recommend them.
---
Debbie13
January 04, 2013
I am a friend or relative of a resident
My dad was in a hospital and the social worker suggested that I should look at Dodge Park. I told her that I've already been to so many places and I couldn't find the proper place to put dad. When I went there during my first visit, I knew it was perfect.
It all comes down to the staff and the policies of the owners and the way they run the place. It's just great when my dad can have friends come to visit and his friends can eat with him in the dining room with no charge. One time I asked the owner how they do that and he said that we will treat the place as my dad's home and if my dad has friends in his home he would invite him for lunch and he wouldn't expect him to pay. So they don't expect the guests of their residents to pay.
The staff are incredible. I can tell that they're very well trained. My dad is a constant challenge to people there. He has dementia and his behavior can be really unacceptable but yet they never seemed to blame him for it. They just find another way to approach him. They learn a new way that if they go in and become his buddy first and then give him a little time to get used to the idea, like it's time for him to take a shower, he would be more willing to go and take a shower. Sometimes little things can get dad very irritated to a point where he would swing his arms and kick his feet.
The main thing that I found with Dodge Park is that in spite of my dad having dementia, he is not stuck in just one part of the building like a lot of other places where they only deal in one area with people who have memory problems. With Dodge Park, my dad gets to go and roam out of the building safely because of the way the building is set up.
---
Chris16
December 31, 2012
I am a friend or relative of a resident
I like the fact that the clients that they have there suited what my mother needed. The facility itself comes with a great reputation of having caring staff as well as a very clean place.
The entertainment that they provide for the residents is wonderful. It gears toward the era that those folks have lived in. So for cognitively impaired adults that's just wonderful. My mother is an example of a quite ballroom dancer and a lot of the entertainment that they provide incorporates bringing in folks who play ballroom music. I can't say enough about the entertainment. My mother is a very social person so it's been a huge help to her.
The aides are very hands on toward the residents. I'm a medical professional myself and the care that the aides provide day in and day out is not phony. They are lovely and good to all of the patients including the tough patients. My mother would be the person to tell me if she was unhappy with something and she is beyond happy.
I never seen anything like Dodge Park Rest Home. I tell people all over the place about them.
---
Peter4
December 27, 2012
I am a friend or relative of a resident
The hospital in Clinton that my wife was in made a strong recommendation for Dodge Park. We felt that Dodge Park was best suited for her. My wife has been there for 2 years now. I have no complaints. They treat my wife very well. They're always friendly and cheerful to me when I go in to visit her. They always call her by her name. They watch her medication. Whenever she has a problem, they're right there to solve it. I have no complaints with the whole scenario. I'm very pleased with Dodge Park and I would recommend them to anybody. They're doing the same work today with the same cheerfulness that they did 2 years ago when we first went in there.
---
Gary7
October 10, 2012
I am a friend or relative of a resident
My mom was around 93 years old, she couldn't live on her own. She came over to my house maybe for 7 or 8 months and then I heard about Dodge Park's wonderful Day Club program. I went and visited since I didn't know much about Dodge Park. I've heard of it but didn't know much about it. They gave me a great tour and they were very welcoming and friendly. They told me about their Day club and their Rest Home too. I went on the tour and I met some staff members and volunteers too. I was very very impressed but of course my mother who had lived on her own for decades wasn't that keen on leaving our house during the day and be back at night. So I brought her down there and she took the same tour and she was very impressed. I did put her in the Day Club. I'd bring her in the morning and pick her up after dinner at night. She was there most of the day. She loved it.
She was with the Day Club for several month and then when she couldn't function well, I talked to her about moving in to Dodge Park Rest Home. She's already comfortable with the staff and the program and so she agreed to move in. She did spend most of the last months of her life living in the rest home. I always found the care to be excellent. All the staff from the the administrator staff, Michael, the nursing staff to the people who cooked the meals and who served them, to the volunteer staff, I was just so impressed with Dodge Park.
The facility is very very clean with no odor. It's very inviting and well-lit. It's well decorated during holidays. They kept the place safe and comfortable. It's a very relaxing place for the residents and for the visitors. The staff everywhere are so caring. You go in and they don't look the other way. They greet you.
When she was in the Day Club, I picked her up after dinner. I sometimes eat with her or sit with her there. The food was very good. She loved the food there. It surprised me because my mother is an old Jewish woman and when she's in a hospital or in the nursing home she didn't like the food. She never complained about the food in Dodge Park. She found most meals there very tasty and delicious. She looks forward to it. She always stayed for dinner and wants to be with her friends.
I went to functions there. They had like 3 functions in a year for a nice holiday and they always invited families. I get to see my mother and see our friends and the staff and spend some time there. The food is always good.
My mom was happier with Dodge Park than she was at home. When she was at home she had me and my wife. It's good but she only interact with two people. She didn't want to go at first but at the end she didn't want to come back here at home. She liked it there. It was her fear of change at first that made her hesitant to be at Dodge Park but she adjusted because they treated her well. They treated her right and took such good care of her. I always appreciate that. They took good care of my mom and they took good care of all the people I met there. I come everyday and stop by, might be 5 minutes or 2 hours. I get to know so many of the residents. I can see that it's a good place for the residents there; for my mother and all her friends. I was really amazed. I didn't know a lot about rest homes and nursing homes at that time, but I do know a lot more now, it's mainly because I got educated at Dodge Park.
People have asked me about Dodge Park and I always told them that it's a safe place to put a family member because they take care of them and treat them right. They introduce them to others and have good activities going on which was great for my mother. She was the never the type to get involved with activities on the different apartment complexes that she lived in but with Dodge Park they really encourage them to get involved with activities to use their brain. I always appreciate that. My mother liked the book club and the reading that they did. It was great! She surprised me that she liked the activities. Dodge Park surprised me by the way they took care of their residents.
---
Pam5
October 09, 2012
I am/was a resident of this facility
I looked at a lot of facilities and to be honest, they frightened me. They just looked like a hospital and they were impersonal but Dodge Park is like being in a home. It has a home-like atmosphere. It's like a group living situation in a home instead of in a hospital. I've learned that their objective is to keep as active as possible. At that time, my mother was coming out of a rehab and was in a wheelchair. Their objective was to get rid of her wheelchair which they did. Whereas my fear was seeing other people that I'd known and visited in nursing homes. Basically they just put them in wheelchairs to prevent liability and to protect the person. It wasn't their objective to get better, it was to protect them. I feel that with Dodge Park, their objective is help people get better. The thing that I find so incredible is that every single staff person knows my name, knows my mother, and knows where she is all the time. They genuinely care about her. Each one has a personal relationship with everyone of the residents. Say if I take my mom out for the day, when we come back someone always greets her at the door, takes her by the hand, takes her coat, ask her how her day was, knows specifically what she's doing and can ask her about that. Every single staff member cares and they treat my mother like a family member.
My mother shares a room now. She was in a room by herself originally. They very carefully selected a roommate for her and I think being together in that room has been an improvement for both of them. My mom is very happy there. She was in a hospital for a while and all she wanted was to get back to Dodge Park.
Again, the facility is very home-like with all the decor. They have photographs and very personal touches everywhere there. Not just in the rooms but in hall and in the dining room. It looks like you're going into somebody's house. I have eaten there also and I think the food is very good and my mom enjoyed it too.
---
Jackie3
October 03, 2012
I am a friend or relative of a resident
We chose Dodge Park Rest Home because they had the social model. The whole platform is to really fill the needs of the patients. Not to have patients fit in to what they have. They have such a genuine interest in who my mother was as a human being and what all her needs were with the most enormous amount of compassion. It was so good when we met them and we really wondered if it's going to be true, and it had been.
My mother had dementia. She had been in a continuing care place and she was not able to stay there. She was having sundowning at night. She was not able to live independently. They helped us transition her to Dodge Park. She had so much attention and so many people there for her. Every single person who is part of the staff really knows and cares about the patients. I can call anytime of day and whoever answers the phone is completely tuned in to exactly how things were going with my mother. They're so caring and such a heart level of professionalism. I think that my family would have been fallen apart if we have not found Dodge Park. She needed some medication adjustment and they have a fantastic psychiatrist who has a ward that would stabilize her, with just people with dementia. Dodge Park staff visited her while she was there. They were in touch with her and us at all time. I don't think there's another place like it. It's the real deal. Everything they say they are doing, and more.
The facility itself is immaculate. There's no odor. They were constantly improving the facility and they were putting carpets around the hall. The food is really excellent and healthy. I've had meals there with my mother. They have a lovely sitting area outside with the canopy on top with wonderful comfortable chairs for residents to be outside and get some fresh air. The have nice classrooms. There they have arts and sculptures. Their dining room is very attractive. They have a phenomenal computer system, and they have one downstairs that the residents can use. Sometimes they help my mother Skype with my sister in California.
I can't even imagine what my mother's life would be like if she were not at this place.
---
Seth23
May 09, 2012
I visited this facility
It was clean and friendly. When you walk in, you don't have that feeling that you are in a typical old folks home but rather in a nice community where the staff truly cares about the residents. I enjoyed my visit, and would definitely visit again if I had the chance.
---
From Dodge Park Rest Home
---
Worcester Rest Home and Day Club
Dodge Park Rest Home is a licensed sixty (60) beds residential care home in Worcester, MA licensed by the Department of Public Health (DPH) offering it's residents all the amenities of a modern facility combined with the quaintness of the original mansion. Licensed nursing staff and a medical director, who are available 24-hours a day / 7-days a week, allow Dodge Park to provide a very unique level of care – more than that ordinarily found in the average assisted living facility – for those who need more care but who are not yet ready for a nursing home.
Why Choose Dodge Park Rest Home?
Since Dodge Park is a Licensed Worcester Rest Home, our ability to provide care goes beyond that of area Assisted Living Facilities. Dodge Park offers: A Medical Model verses Residential Model.
24-hour care with hourly checks
Oxygen dependent residents welcomed
DPH Licensed to insure quality care
Medication Administration-NOT just monitoring of medication
Special diets and food consistency needs
Physician services 24-hours a day, 7 days a week
Privately owned and operated
The all inclusive rate which does NOT increase with the level of care provided
Many special activities including floral arrangement, exercise group, and outings to local restaurants
Private rooms available
Discover the Dodge Park Difference !
What Makes Us Special
---
Locally owned and operated. Unique dementia care in a family oriented facility. Nursing coverage around the clock and medical and mental health director visiting as needed
Features of Dodge Park Rest Home
---
Costs
Minimum Rate

$7950/month

Minimum Memory Cost

$7500/month

All Inclusive Rent
Entry Fee
Room and housing options
Companion Suites

We Offer Companion Suites

Housing Extra

Private Room, Shared Living
Dining options
Dining Room Shared Meals
Room Service For Meals
Features
Beauty Barber Shop
Computer Room
Resident Transportation
Party Space
Hiking Trails
Tv Room
Garden And Patio
Resident Parking
Security Gate
Spa
Features Extra

S Ecured Facility
Cleaning services
Laundry For Linens
Housekeeping
Laundry For Clothing
Technology and entertainment
Cable In Rooms
Internet Enabled Rooms
Wifi
Health services
Hospice Care
Medication Management
Physical Therapy
Activities
Offsite Activities
Music
Games
Stories
Religious Services
Lectures Discussions
Book Clubs
Wii Sports
Tai Chi
Fitness Room
Yoga
Gardening
Cooking
Arts And Crafts
Guest services
Guest Parking
Guests At Mealtime
General
Staff Patient Ratio

5 1

Minimum Age

65

Pets

No Pets Allowed
Licenses
Licenses

DPH License

State Licenses

1318
Location of Dodge Park Rest Home
---
Top Cities for Assisted Living
---
Get Cost Information
Get full access to reviews, cost information, and amenities