The Bristal Assisted Living at Woodcliff Lake
364 Chestnut Ridge Road, Woodcliff Lake, NJ, 07677
Talk to a Family Advisor: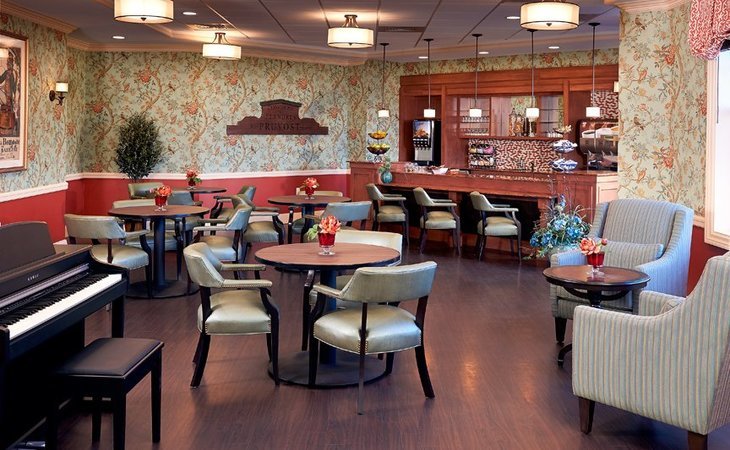 Reviews of The Bristal Assisted Living at Woodcliff Lake
---
YH
February 20, 2017
I am a friend or relative of a current/past resident
My mother recently stayed at Bristal for several months - unfortunately she wanted to return to her hometown, so we had to move her. As a facility, this place was fantastic - everyone should remember that it's always a tough transition, especially if someone is moving from full independence at a personal residence - but I think Bristal really tries their hardest to make it work for everyone. The staff was extremely attentive, and knew where my mother was at all times. It was such a relief as she suffered from Alzheimers, but I knew she was in good hands. Everyone there is so warm, kind and caring - from the staff to the residents. Incredible nursing staff! They have many activities and outings (only complaint is maybe they can have a few more active outings for those that can do more). They certainly did their best to keep Mom happy - she never had a complaint and had only good things to say about everyone.
---
Lauren428164
January 07, 2017
I visited this facility
Mother liked The Bristal Assisted Living at Woodcliff Lake, but she's just not ready to go. The staff is very attentive and very friendly. They seemed like they knew everyone, so they greeted them by name which was nice. The rooms were very nice and roomy. They showed us an apartment on the first tour that was bigger than my mother's apartment is now. The price is higher for bigger rooms, but even the small rooms were beautiful.
It's a very big place. It had a swimming pool, which was very nice. If you're in a room that's closer to where all the activities are, it's great, but if you're in a room that's down one of the many hallways, it's a lot of walking for the elderly.
---
Rudyharrigan
September 03, 2016
I visited this facility
My mother has dementia and interviewed with the Director of Nursing at The Woodcliff Lake location. The director came across as insensitive and uncaring. We have visited other facilities and were treated with kindness and compassion. The bottom line is this.....If your looking for Tender Loving Care, don't go to The Bristal at Woodcliff Lake, NJ
---
disappointmemt
September 02, 2016
I visited this facility
Just visited the Bristal yesterday with my mother who has dementia. The Nursing Director interviewed my mother and treated her extremely poorly. The interview was impersonal , insensitive and unprofessional. Having a family member with dementia is so difficult and requires TLC from the health care community. I asked the Nursing Director privately to be discrete with her questions because we have'nt told my mother that she was going into Assisted Living/Memory Care yet. I asked the Director if I could answer any questions to reduce the stress on my mother as I am a nurse and am the Health Care Proxy. She rudely told me that only my mother could respond. We sat down together and she quickly asked my mother if she had problems with ELIMINATION!!!!. She wanted to know if she had bowel problems or urination problems. My mother was taken back and began to get upset. She continued to fire questions at my mother as she went down her clip board in her cold hearted manner. My mother could have been evaluated without offensive questioning if this director had the skills to communicate with the dementia population. I was not pleased and the Bristal /Nursing Director rejected my mothers admittance. They stated that her dementia was more progressed then their cliental and they dont have the staff to accomodate her. I informed them that the reason people go to Memory Care is because they have dementia. And guess what? Their dementia cliental will all advance to severe dementia. What will they do then..remove them from their facility??? I have received feedback from 3 other Assisted Living/Memory Care Units in the vacinity . They have received patients from the Bristal because the families are dissatisfied with the care . Ironically, my mother has been accepted at a beautiful faciilty and a client from the Bristal is arriving today. The Nurse at this facility was lovely and kind. The 2 other facilities that I visited were appauled with the details of my Bristal experience. Here's the bottom line..If your looking for Tender Loving Care, you won't find it with the Nursing Director at Woodcliff Lake, NJ
---
Frank1
November 10, 2015
I visited this facility
The Bristal is a brand-new place. It's very nice, and the food was good. I will be considering this facility at some point.
---
Caring102252650
February 26, 2015
I am a friend or relative of a resident
Every day The Bristal has something like sing-alongs, arts and crafts, dance, and therapy. They have socials where it could be just a specific people together for ice cream social or they have a hot chocolate social. They have arts shows, and people come in to play the piano. It is a wonderful community. Every day there is something going on. They have movies at 2 and at 7 so it is wonderful. The place is spotless and beautiful. It is brand new -- maybe about a year and a half or 2 years old. Everything is still brand new, but if something breaks down or something is not going right, the maintenance people are there right away. My mother has called a few times, and they've been so good and kind to her. They fix things right away. The staff is lovely. They are very helpful and very friendly. They know every one of the residents by name. They have a lot of help. Just recently when it snowed and the people slept over, they had accommodations for their staff. There are always people there to help, and that made me feel good. They serve three meals a day, and the three meals are like gourmet meals. They have like five choices all the time at lunch and dinner. They have salads, sandwiches, hamburgers, and hot dogs if you want to choose that. It is really lovely. My mother keeps saying that you couldn't have picked a better place. It took her a month and a half to adjust, and she wasn't that happy in the first month, but once she started making friends, it was OK.
Provider Response
Thank you so much for your kind words. Our team really appreciates when they hear that the residents are happy in their home.
---
Anonymous92222050
February 16, 2015
I visited this facility
The Bristal at Woodcliff Lake was my first choice. I thought it was wonderful, and they were new. However, they were telling me all the things that they were going to provide like the activities, but they had not started them yet. They were not established yet. They had very few activities, and they did not have any porches. The rooms were clean. They were lovely, and they did not smell. It was a completely locked facility. I think the security was overdone.
Provider Response
The Bristal at Woodcliff Lake is one of our newest and loveliest communities, and we are proud to be able to bring this much needed quality Assisted Living experience to the people of Bergen County, New Jersey. As with each community we open, recreational activities gear up as the number of residents quickly grows. Today, now that we are nearly full, the recreational program at Woodcliff Lake is going full tilt, and during the summer, we will also be adding outdoor activities that take place in and around our pool and deck. The only secured area of The Bristal is our memory care wing, called Reflections. We integrate this measure of security for the safety and well-being of these care-dependent residents. Throughout all other areas of The Bristal, however, our residents are always free to come and go as they please.
---
Linda101439550
January 29, 2015
I visited this facility
My visit to The Bristal was great. They were very helpful. If my aunt decides to go in when we have to bring her somewhere eventually this is where she will go. Their dining area was very nice -- very impressive.
---
Caring101101750
January 18, 2015
I visited this facility
The Bristal was very nice. It was a beautiful place. They had full accommodation and three meals a day. They had all kinds of entertainments, exercise facility, and transportation to doctors and shopping. There was a bistro 24 hours, and you could help yourself without any charge to drinks and some small cookies or piece of fruit. It was beautifully decorated and was really top of the line. The food was magnificent. You would order from the menu, and if you had guests over, you could have your own private dining room. It was a minimal charge for the guests.
---
Sherry41
November 30, 2014
I am a friend or relative of a resident
My mother is now living in The Bristal Assisted Living. It is new, clean, and appealing. I will rate it very good; I mean there's always room for improvement. My mother doesn't think the food is particularly good, but they seemed to be working on it. It is in a very nice neighborhood.
---
Diane96144050
October 28, 2014
I am a friend or relative of a resident
I found The Bristal Assisted Living for my mother. In November, it will be 1 year old. From outside looking in, I thought we would be sending my mother to a hotel for the rest of her life. It is like a hotel. It has unbelievable decorations. That probably caught my mother's eyes -- how beautiful it was. The food is probably good because if she doesn't like something, she can send it back and get something else that she likes better. It is an assisted living place and a memory place. However, they need to improve on giving orientation. They could have been a "5" if they learn to orientate the people better when they move in. Nevertheless, they have tons of activities. They have a movie theater and a lot of people are walking. Also, they're younger. My mother likes to be around people who are younger. Even when they eat dinner, they don't ever have the wheelchairs or the walkers with them. Their aides take everything into the walker room and they bring them back to the table when they're finished. The residents looked like they're eating like normal people and they're having conversations. Also this place takes Medicaid, the other facility will not.
---
Caring95983950
October 17, 2014
I am a friend or relative of a resident
My mother has only been at the Bristal for a week and a half, but so far, everybody has been very, very lovely, very helpful, and very nice. The whole facility is very nice, and it's all new. It's not even a year old. Her room seems to be big enough except for the fact that some of the things are too high for her to reach.
My mother thought the food was very good. I've seen the dining room. It really is just nice. It's spread out. There are tables usually of only 4 at a time. They arrange for who's sitting with whom. They probably have way more activities than my mother will ever take part in.
---
Caring85928050
August 17, 2014
I am a friend or relative of a resident
The Bristal Assisted Living is a brand new facility. It is nice. However, they have a high employee turnover rate, which I found to be a little disheartening. Nevertheless, they try to do their best to take care of the residents there. When my mom wants some kind of coffee and toast and jam, that's what they get her. In that respect, it's pretty good. The nurse there is very attentive. She called me when my mom was having issues with something and she also recommended a new general care physician for her. My mom loves her and it is great. My mom has difficulty communicating with people, but this one works out well. The new nurse they have is a sweet lady. She is very attentive and intelligent. I hope she stays because there have been several who have come and gone. Overall, the staff is attentive. I did see what the residents are eating there and it is not junky fast food. The food is better than average. In terms of accommodation, my mom has a private room. It is like a one-bedroom hotel room. It has her bed, two armoires for clothes, and another drawer that she has other stuff in. They do have activities. They have movies several times a week in a separate room. They do coloring and reading. They have guests who come sometimes with animals and sometimes they play guitar and sing a little bit. They send out the monthly calendar and they have stuff for everybody everyday. However, my beef is that it is too expensive because it is really, really difficult to come up with $7,200 a month for one person. I would recommend this place.
---
caring8900
March 24, 2014
I am a friend or relative of a resident
I put my mother-in-law at The Bristal Assisted Living at Woodcliff Lake. It is brand new and everything is just beautiful. It's very good because there are not that many people in there yet. When we enrolled her, there were sixteen people, so it's a not a wait-listed property at this time. She seems to like the food. She seems a little bored with the menu, but then she knows how to ask the chef to make her something different, if they have the ingredients. She is in a full apartment and it has a kitchenette without a working stove, which is fine. It has a very large bathroom, very large walk-in closet, and her bedroom and living room are very similar to the apartment that she left before she moved into assisted living. The dimensions were almost exact, and aside from the window and the height, it's almost like she is still in that other apartment.
---
Caring79072050
February 28, 2014
I visited this facility
The Bristal Assisted Living at Woodcliff Lake is a lovely place and it is brand new. They told me that they require many years of private funding before they would put anyone on Medicaid and we were looking for a facility that accepts Medicaid. And because of that knowing it would not be an appropriate place for my parents, I cut the visit short as to not waste time.
---
From The Bristal Assisted Living at Woodcliff Lake
---
The Bristal Assisted Living at Woodcliff Lake is dedicated to enhancing the lives of seniors by encouraging them to enjoy and express their independence in a luxurious setting. We boast gourmet dining, beautiful surroundings, weekly laundry and housekeeping services and scheduled transportation to shopping, community activities and group outings.
When you enter The Bristal at Woodcliff Lake, you'll encounter a community of genuinely caring professionals who love what they do, excel in their skills and embrace your priorities as their own. What you feel is a sense of solid assurance, built upon the strength of years of success across many communities. Our staff keeps residents moving, laughing, sharing and enjoying with creative recreational programs — and the towns of Woodcliff Lake and cozy Ridgewood nearby are charming, inviting and agreeable.
There are ample shopping, entertainment, educational and worship conveniences close-at-hand as well as numerous healthcare providers. Aptly named, Woodcliff Lake offers many scenic ponds and lakes, quiet parks, and rolling wooded hills, and beautiful Saddle River is just a few miles away. Numerous transportation arteries make access fast and easy, like The Garden State Parkway, The Palisades Parkway, Route 17 and the Tappan Zee Bridge. The Bristal at Woodcliff Lake is only minutes from the Paramus Mall, and it's just a short scenic drive from Manhattan. Stop by and see for yourself.
Apartment Features
Furnished, Kitchenette, Temperature Controls, Private Bathrooms
Community Features
Activities/Recreation, Beauty/Barber Shop, Chapel Services, Internet Access, Private Dining Room, Fitness Room/Gym, Gardens/Outside Patio, Parking, Private Laundry, 24 Hour Security at Entrance, Guest Meals, Pharmaceutical Service, Separate Therapy Room, Transportation, Pet Permitted
Features of The Bristal Assisted Living at Woodcliff Lake
---
Costs
Minimum rate:

$4900/month

Minimum Memory Cost

$7800/month
Features
Beauty Barber Shop
Computer Room
Resident Transportation
Garden And Patio
Resident Parking
Security Gate
Location of The Bristal Assisted Living at Woodcliff Lake
---
Get Cost Information
Get full access to reviews, cost information, and amenities