Brookdale Lake Ridge
3940 Prince William Parkway, Woodbridge, VA, 22192
Talk to a Family Advisor: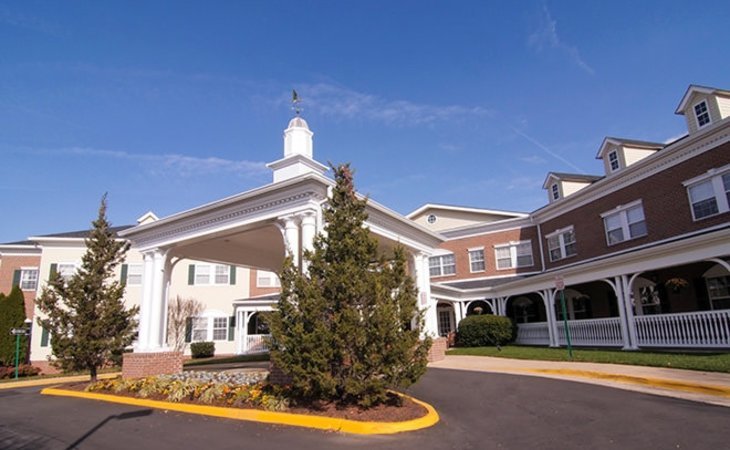 Reviews of Brookdale Lake Ridge
---
Anonymous875351
April 18, 2017
I am a friend or relative of a current/past resident
My wife has been at Brookdale Lake Ridge for almost three years now. The place itself is great. The only problem that I have ever had is that the staff changes so rapidly. I had already established a good rapport with the director of wellness and then all of a sudden, he's gone. I didn't know that he was gone until I asked three weeks later, which left me with not knowing who to discuss any problems that my wife had. Instead, I went and talked to the nurse, Samantha, who was extremely helpful, but one day I went to talk to Samantha, and they told me that she too was gone. My wife had a stroke and couldn't go to the dining room, so they used to bring the food to her room. They never asked her what she wanted and never brought her a menu until after Christmas because I complained. Then they started to bring her the menu so that she could pick the entrees and side dishes that she would like to have. It's been much better for the last three months. They bring in people who sing and do bingo, show movies, or have entertainment in the front lobby. The front lobby is always full of activity, which is not as conducive to the residents as if you had a special place to have those activities. It is always in the middle of the traffic. Other than that, the permanent staff is very nice and very understanding. My wife needs help bathing and sometimes they forget. Two weeks went by and my wife didn't get her bath. When I started to complain, the guy was gone and I didn't know who to talk to.
Provider Response
Thank you for your feedback. We are committed to providing the highest-quality service and care for each resident and would truly like an opportunity to discuss this with you personally. We hope you will call us at 877-400-5296.
---
Jay482518
March 08, 2017
I am a friend or relative of a current/past resident
I looked at six facilities and of the ones I looked at, the one I liked the most was Brookdale Lake Ridge. The staff seemed very attentive and knew everybody by name. The studio rooms were very roomy, had nice windows, and seemed to be very bright. They repainted the place and cleaned the carpets before my father-in-law moved in. They had on-site physical therapy and activities throughout the day. There's a beauty shop and barber shop on the facility. It seemed to be a very nice place.
---
Melinda C.367648
July 07, 2016
I visited this facility
I love Brookdale Lake Ridge, but it is not a place I could ever afford to go to. The monthly fee is more than I make in Social Security. The residents were mostly retired military government workers. I really like that place. Everything is very neat and clean. The staff is very friendly. They have transportation if you can't drive. The clientele is somewhat older, at least 15 to 20 years older than I am. But walking in the door, it's a very elegant place. For those who need additional or extra help, they generally have two-door rooms, and the outside area is enclosed so people could still go outside, but they can't get out. They have the park benches outside and a little garden area.
---
Ann738450
June 17, 2016
I visited this facility
We went to Brookdale Lake Ridge and saw that the place was not well maintained. They had overflowing waste cans and a lot of debris in their yard. It looked a little rundown, but overall, it was OK. The people looked friendly, and the staff was cooperative and nice.
---
Margery1
October 28, 2015
I visited this facility
Brookdale seemed like a very nice place, but I didn't really see a whole lot. It was very nice. We didn't see many people, unfortunately. Everybody was very nice and very pleasant. We didn't have an opportunity to meet residents or to tour around much. The four-star rating may be unfair; it could be much higher if we had seen more.
---
Karen109374850
July 13, 2015
I am a friend or relative of a resident
The apartment at Emeritus at Lake Ridge probably could have some more storage, but it does have a closet and shelves in the bathroom, which is a nice option. It has new carpet and new paint. The facility is being remodeled, and that's nice. It is fresh and bright. They have been receptive to try to meet our needs; it has been a positive experience. I also like that they have a hydration station. They have afternoon snacks available, and they have water machines, coffee, and cake as well. They also have an old-fashioned popcorn machine, so there's always popcorn that people can grab. They have fresh fruits, orange juice, cranberry juice, apple juice, and lemonade. They seem to have a good social calendar. My mom is not up to taking part with it right now, but they do have activities. They have a couple of different music programs in the dining room that looks well attended.
---
Maria46
June 21, 2015
I am a friend or relative of a resident
She was Emeritus at Lake Ridge for a year, and I wasn't happy with that, so I took her out of there and brought her home. First of all, my mother is basically Spanish speaking, the community didn't have too many people that speak Spanish, and my mother doesn't speak English. I put her there till her funds were running out and I couldn't afford to continue. The rooms were like closets, very small, and good only for a twin-sized bed and a dresser. The food was good, but they would just put the plate there, and if she ate, she ate; if she didn't, she didn't. I never saw her participate in any activity. She was always in her room. It was a nice place. It really is, but I don't really think that they fit her medical needs or anything like that.
---
Caring100358050
January 18, 2015
I visited this facility
I would say that Emeritus at Woodbridge probably needs more lighting. It seemed a little bit darker. The lighting is a little bit dimmer. I would recommend it to have brighter and more cheery lighting. Otherwise the patients seemed like they were being cared for by the staff. The staff seemed like they were engaged. They were friendly and helpful. My biggest thing is that it is clean and smells clean.
---
Caring104294550
January 12, 2015
I visited this facility
I can't afford to live at Emeritus Lake Ridge, but the people that are working there are beautiful. They gave me a nice meal. The setup of the dining area was also very nice. It did have a large room and a bathroom, and it didn't seem like an older place at all. The facility was very nice; I just couldn't afford it.
---
Caring94132750
September 12, 2014
I visited this facility
They were very nice at Emeritus at Lake Ridge. The one resident I talked to seemed extremely happy to be there. Her family had decorated her room really beautifully. At Emeritus, everything was very clean and very nice. The staff was very nice. They were very polite and very well versed. The cafeteria was like a cafeteria, but there were a lot of people there sitting down. The rooms were clean. The day I went there, they were having a barbecue, and I think families were involved. But they still accommodated me, considering all the confusion that was going on. The families were very nice. I talked to a couple of families and a couple of people who lived there, and they seemed very pleased with it. I would recommend Emeritus. This one was very clean and the people were very nice. They were very polite. They sat down and took the time to talk to me. They showed me all around and they didn't hide anything from me, so I saw every room in the place. They gave me the opportunity to go and talk to people that are there.
---
Caring78446350
March 27, 2014
I visited this facility
I looked at Emeritus at Lake Ridge, and I don't like it that much. This is a little bit depressing, and it's hard to get in touch with anybody. The staff has been rude to me before over the phone. Their rooms are not a good size; they have smaller rooms. They have a lot of dementia patients. Their activities are few, although I have never seen any when I have been there.
---
Harold12
January 31, 2014
I visited this facility
What I like about Emeritus at Lake Ridge is that they had all the amenities that we needed. It was virtually brand new and it was reasonable in terms of proximity to my own home. The staff there was genuinely concerned and very helpful. I was there when the residents were finishing up their meals; they seemed to be satisfied, contented and pleased with it. For activities, they have bingo and other group games. I think they have sing-alongs and a variety of religious observances. They were excellent.
---
support alzheimers
December 30, 2013
I am a friend or relative of resident
My mother has Alzheimers and has lived here more than two years. The nature of this disease requires nurses to be trained in this area as a caregiver so they know how to handle the difficult behaviors associated with dementia. Above all, communication needs to be passed along to the incoming nursing shift so they are aware of any changes that may have happened before they arrived. If a resident has a change of any kind or a need, it must be told to the next shift. Clear communication must improve with the dementia care since those residents cannot speak up for themselves. Bed sores? Injuries? New illness? Change in behavior or need?
---
Lori20
December 13, 2013
I visited this facility
I visited Emeritus at Lake Ridge. The rooms were nice, the staff was nice, and I was so impressed with them. They seemed to have a lot of crafts and they take people out to the malls and do excursions. They seemed to have pretty good activities. The best thing about them is I think the people that I talked seemed really sincere and they did a good job of following up.
---
Caring69006850
October 15, 2013
I visited this facility
Emeritus at Lake Ridge is well taken care of and generally clean. The community manager met me immediately, answered any questions I had, and gave me a tour of the living facilities. I didn't think this place had as much in terms of daily activities for the residents, but the people seemed to be in good shape.
---
SOS
April 17, 2013
I visited this facility
People at Emeritus at Lakeridge were accommodating as far as showing up. I always want to go into the memory care units because I know that's where my mom is headed for sooner or later. So that's really my big interest on how it is in there. They have a good one. They have two memory care levels and one of them is closed up because one of them had some kind of a virus. I like their setup. My mother likes the garden and get outside a little bit. They certainly have an area where you can go outside, just relax and do a little bit of gardening. They had a really good setup. But the location was really busy. I wasn't comfortable with the spot. It was close to the road and everything.
---
lovingfamilymem.
October 30, 2012
I am a friend or relative of resident
My mother has been living at Emeritus for over two years. She has Alzheimers. She is kept clean, her room is kept clean, and she is well fed. I've learned to lower my expectations. If you are going to place a relative in the memory care units, visit several times and observe. Check out the Calendar of Events posted on the wall. Are the activities happening? Is the staff interacting with the residents? Does staff seem experienced and trained in working with Alzheimers? How are they interacting with the residents?
---
JacquelinesDaughter
October 02, 2012
I am a friend or relative of a resident
My mother has been living at Emeritus for 2 years now. She has had Alzheimer's for about 8+ years now. She got to the point where she needed round-the-clock care. We looked at quite a few Alzheimer's facilities before we chose this one. One was near me and catered specifically to Alzheimer's, except for some reason they don't take care of people in the final stages of dementia?? We chose Emeritus because it is 10 minutes from my sister's house. It used to be owned by the Sunrise group, if you are familiar with them. It is a clean, attractive building. It has both assisted living as well as 2 separate Alzheimer's care units. One is for the earlier stages and has about 25 residents; then there is another unit for advanced stage Alzheimer's, which has about 8-10 residents. My mom is french by birth and as her disease has progressed she has lapsed back to speaking french all the time. Quite a few of the caregivers speak french so that works well. We visit her several times a week. I do think that it is important to be a strong advocate for a loved one living in a home like this, whether it's for general care, a different diet, or medication. The only drawback to Emeritus that I can see is that I wish they would be more interactive with the Alzheimer's residents. There is a lot of sitting in front of the TV when there are games and other things that the caregivers could be doing to stimulate the brain. Overall Emeritus has been a positive living experience for my mom, considering the difficulties that this degenerative disease entails.
---
Daisy10
July 06, 2012
I am a friend or relative of a resident
Emeritus is a very fine assisted living center in my opinion. It is clean, well-managed and comfortable for guests and residents. The lobby is very welcoming, with a reception desk and a large area for residents and guests to visit outside of individual rooms. Most weekends there were volunteers on hand and events going on - children's groups visiting, therapy pet visits, singing, small skits for residents. Special programs and decorations were around at holidays. The lobby had an aquarium and piano around which residents gathered. The dining room was always clean. Residents ate at staggered mealtimes but the room was also used for craft and other events when meals were not being served. The Center had a bus that transported residents to nearby shopping and appointments. My Aunt thought the food was really quite good and we enjoyed looking over the menu plan and discussing what the options would be for her next few days. My Aunt's room was subdivided into a sleeping area with a sitting/tv room. It worked well for her situation since she could get up and around on her own to some degree after her stroke. She had a small kitchenette with sink, refrigerator and small table/chairs. She couldn't cook in her room but she could have snacks. There were organized games like bingo, card and board games for residents. There was a library which was well-outfitted with books and comfortable seating. The Center received book donations from the surrounding area and the mix of books seemed to be upgraded frequently. The outdoor grounds are well maintained and the Center has good "curb appeal" - it is attractive and looks welcoming even from the outside. As you would expect, it is very accessible to person with walkers and wheelchairs. The facility has an upstairs Alzheimers wing that I did not visit, but was a part of their services.I never saw anything at Emeritus that I would view as negative. The staff were friendly and knowledgeable. I was always able to get my questions answered. I think highly enough of the facility to use it as my barometer for good quality care at assisted living facilities.
---
rdb4
June 30, 2012
I am a friend or relative of a resident
The staff was very friendly and very helpful. The activity room was nice with tv and books and they seem to have a lot of activities for the residents. I especially liked their Memory Care program that seemed to have helped my friend's grandmother with her Alzhiemers. I also like the focus on wellness and health. My friend said that they chose this facility because it was very close to where they lived and was very convenient. They also chose it because of the Alzhiemers program they have in this facility, which is top in Virginia. Overall it was a great facility.
---
SublimeMark
January 19, 2012
I am a friend or relative of resident
My mother-in-law was a resident in Summerville some years ago. I found the staff very nice and helpful. They were always willing to be flexible concerning our family's needs. Often we needed additional visiting hours or unusual visiting request and they were always willing to work with us, as long as it did not inconvenience other guests. The facility was always clean, and the interior design was beautiful. The lobby always had music playing, and smelled nice. They had many events planned for the residents each month, and encouraged family members to participate. When she was taken to the hospital from the facility they contacted us prompted, and were extremely professional. We would will always be grateful for giving us a safe home for our loved one at the end of her life.
---
C Martin
August 30, 2011
I am a friend or relative of a resident
I am a part-time, private duty caregiver and one of my dear friends was placed in this facility when her family could no longer provide 24hr care. My family and I visit her at least one Sunday a month and fine the place to be quiet, clean, and brightly lit. Whenever we visit, there is some activity going on in the main reception area. This can range from the residents watching a movie, participating in a joyous selection of hymnals or they may be dining. Several occasions, we have come at a time when a nursing sister was in the midst of providing care. I observed from at least three different nurses that they had developed a good rapport with my friend. On our last visit, one of the nurses came in to tell my friend that her alert light was on and offered her assistance. During that conversation, my friend mentioned that she wanted her hair combed and the nurse said she would gladly come back to do it later. All in all, I think my friends daughter made the right choice in putting her in a place where she is truly cared for.
---
From Brookdale Lake Ridge
---
We offer a home like setting and cheerful smiles from our professional staff who greet you every day. Our caring staff offers the assistance you need while respecting your independence.
Our peaceful setting, restaurant style dining experience, activities and beautiful setting combine to create a wonderful living environment everyday. Our genuine caring staff, home style meals, daily activities add to our residents' experience.
Through special events, activities, clubs and ongoing cultural enrichment programs, we offer unlimited opportunities for you to get to know other residents and us. Call to set up an appointment for a tour because we delight in showing you our home.
Amenities and Services
Daily assistance with bathing and dressing
Medication management
Dining assistance and special diets
Assistance with reminders and redirection
Escorts and assistance with walking
Emergency response call system
Housekeeping
Laundry and linen service
*Rates subject to change at any time. Level of care not included.
Features of Brookdale Lake Ridge
---
Room and housing options
1-bedroom apartments
2-bedroom apartments
Studio Apartments
Location of Brookdale Lake Ridge
---
Get Cost Information
Get full access to reviews, cost information, and amenities