Southfork
1345 Jonestown Rd, Winston-Salem, NC, 27103
Talk to a Family Advisor: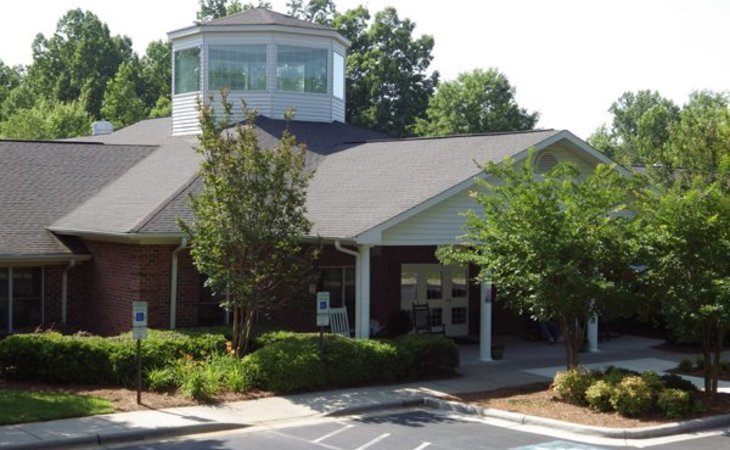 Top nearby Assisted Living Facilities
Reviews of Southfork
---
Terry33
August 17, 2014
I visited this facility
When I visited Southfork, the staff was busy. They were very business-like and not very friendly to the residents. The residents were all very quiet. They acted like they were just drugged or very, very sad because nobody spoke. They were all just sitting around in wheelchairs or chairs and nobody was speaking at all. The facility smelled of urine. It also smelled of poop. It was not very clean. They need to eliminate the smell throughout the facility. Their rooms were really small and dark. With regard to the activities, I didn't see anybody doing anything.
---
Warren5
June 10, 2014
I am a friend or relative of a resident
Southfork was nothing spectacular. My wife was there for 6 months. She got good care. She was in the Alzheimer's unit, and that is much different from the other unit. There was not as much interaction with the other patients because of her condition. They cared for her and looked after her well. It was a good facility. It was not one of the high-end facilities, but it was adequate, and the food was good, and they kept it up very nicely. They had a problem once or twice with bed bugs, which was beyond their control. They looked after that problem, but we were on very good terms with all the assistants, the nurses, the CNAs, and the people who served. They did well, and they seemed to love her. That meant a lot to me because they cared for her well-being. It was cafeteria style in the main dining room, and they had a variety of food. In the Alzheimer's unit, they brought the food back for them all ready in their place. There seemed to be some turnover in the med techs. Employee turnover is one of the problems that I saw there. That would be my only suggestion, if they could learn how to keep the employees a little longer. They had a lot of Medicare patients, but all in all, they did a good job for my wife and they always met my expectations. If I had a complaint, I'd tell them and they'd do something about it.
---
PGB
October 21, 2013
I am a friend or relative of resident
My mother is a resident at Southfork in the memory care portion. The facility is kept extremely clean and there is rarely an unpleasant odor. The assisted living area is very nice and there seems to be frequent activities for the residents. I am very disappointed with the lack of activities available to the memory care residents. There is very little ever available to them. Basically it is sitting at a table with a TV on for any stimulation. There is very rarely any music playing or provided for these residents or any other type of activity. Also maintaining personal belongings is a huge obstacle. I do my mother's laundry myself and still have a continual problem with clothing items disappearing. Also, personal items, such as dolls disappear and there is no concern to locate them. It is very frustrating and disheartening when your loved one's life has been reduced to so little to begin with. I find myself dreading to go see my Mom because I stay upset whenever I am there. Workers appear to have a lot of idle time.
---
mpreston
April 25, 2012
I am a friend or relative of a resident
My mother lives at South Fork assisted living and she really likes it. She gets excellent care including dressing and bathing. Her laundry and travel services are also provided to her at no extra charge. She is quite fond of their many activities as well. The facility in my opinion is a wonderful clean place to live. We looked at several other facilities before deciding on this one to provide care for my mother after she had a strokes. They give her twenty four hour care see that her needs are meet in a compassionate and timely manner. I feel good knowing that she has some one to care for her and keep her safe when I am away at work or school.I would not be able to care for her at home and knowing that she has good caregivers makes life so much easier. It also makes things more pleasant for her because she gets the things she needs and connects with others in a social setting as well.
---
Fallon Dupree
October 20, 2011
I am a friend or relative of a resident
I have had nothing but good experiences with this facility. My aunt has been living at Southfork living facility for over two years. My aunt was placed in the facility due to her age of 75 and her growing inability to safely care for herself in her own home. My aunt requires care but not to the extent of 24 hours worth. When my family was first considering placing my aunt in an assisted care facility we were very hesitant. We had heard so many horror stories of abuse and lack of compassion . Southfork has turned out to be a Godsend. The staff is top notch and attentive to the residents needs. We have often recommended the facility to many friends and family. The facility goes out of their way to ensure that its residents are well taken care of and host a wide variety of daily activities to keep everyone busy.
---
wolvesrone
August 12, 2011
I am a friend or relative of a resident
Clean and friendly community. All the staff are fantastic. They administrator is there outside of "normal business hours" and is always available. She makes the community a home for the residents.
---
happy63
July 08, 2011
I am/was a resident of this facility
My mother was a client in this facility for just over two years. She was placed in the facility due to her inability to safely care for herself. Upon first entering the building you will notice a few key areas that stand out instantly. First is that the facility extremely clean and pleasant smelling. Most of the facilities that I have entered immediately smell of urine . Next is the staff. The staff makes a point of welcoming any visitors with a smile. The staff is also quick to ask if you may need help with anything from parking to finding a vending machine. The care that my mother received at Southfork was nothing short of extraordinary. The clients are well cared for while allowing them to retain a sense of pride and dignity. After hearing many horror stories about assisted living facilities I was determined to be very picky when choosing one for my mother. At Southfork the family members are always welcome to stop by for a visit. At this facility I was even allowed to spend the weekend and share in the assisted living experience with my mother. I ave been so impressed with Southfork I always refer anyone in the market for a nice assisted living center . I also make it a habit of carrying several of their business cards with me wherever I go.
---
GraBristle
June 22, 2011
I am a friend or relative of resident
Southfork assisted living center is a one of a kind institution. Children dread the thought of having to place one or both of their parents in a Nursing Home. Nursing homes around the country have always gotten a bad reputation . Many homes are guilty of hiring undereducated staff and suffering the consequences. At Southfork my mother has gotten nothing but fantastic attention and care. Southfork goes beyond just providing for her basic needs. Southfork insures that my mother is well cared for as well as challenged mentally and physically each and everyday. I can honestly say I feel more at ease with her being in Southfork than at her own home.
---
---
Our community offers the comforts of home, a commitment to enhancing quality of life, and personal care services in a supportive environment that promotes independence. We add a personal touch to all that we do. Our community also offers a memory care unit for those with Alzheimer's disease and other forms of dementia. Our staff work closely with residents and family members to appropriately
Request Info
Get full access to reviews, cost information, and amenities