Brighton Gardens of Winston-Salem
2601 Reynolds Road, Winston-Salem, NC, 27106
Talk to a Family Advisor: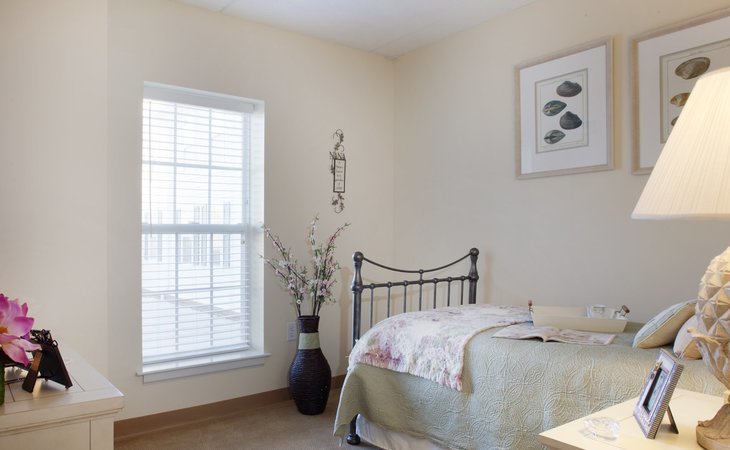 Reviews of Brighton Gardens of Winston-Salem
---
Alan806860
April 18, 2017
I am a friend or relative of a current/past resident
I was not too pleased with Brighton Gardens of Winston-Salem after I had transferred my mother because they had changed the company from Doctors on Call, and they did not tell us that they had changed my mother's doctor. She had not seen a doctor for over two months, and we did not know. They sent us a letter that they would change doctors, and we could keep Doctors on Call, but we found out that they had gotten rid of them altogether. The facilities were OK, and I didn't have issues with that. We were trying to get the right forms needed for transfer, which they did not have, so we ended up sitting in the lobby of the new facility where my mother will be transferring trying to find somebody who could give us the form. The one Brighton Gardens sent one over was over a year old. Their records and the way they take care of their patients were not very good at all.
Provider Response
We are sorry to hear about your experience at our community. We take your comments very seriously and would like to speak with you further. Please email information (at) sunriseseniorliving (dot) com with your contact information so that we can reach out to you. Thank you, The Sunrise Team
---
Rosemary213841
November 22, 2016
I am a friend or relative of a current/past resident
My husband is in Brighton Gardens of Winston-Salem. It is beautiful, very clean, very nice, and very caring. I am very pleased with it. The staff is wonderful. They are very caring and very helpful. They are very good. They have activities like bingo. He is enjoying it, and he is making new friends. The dining area is very nice. The food is good, and they have a good variety.
---
Beth48
December 29, 2015
I visited this facility
We visited Brighton Gardens, and it looked great. The room was average and had a separate bathroom. It was fine. The staff who assisted us was fine. The community was very nice and pleasing.
---
Anonymous113576850
October 31, 2015
I am a friend or relative of a resident
Brighton Gardens is fine; we have no qualms with them. They've certainly produced everything they said they would. It's never home for these folks, but I think they do every effort to make it feel like home. It's clean and welcoming; the staff of this community impressed us.
---
Angela21
September 16, 2015
I visited this facility
I visited Brighton Gardens. The grounds were very well maintained. The living spaces were a bit small, but the building was in a good repair, and the staff was very nice. It was an atmosphere where I felt the staff was very caring, and that they were looking after the residents very well. They had activities like art, music, games, movie nights, and outings. They had a little bit of everything. It was in a pretty commercial neighborhood. There were lots of stores and shopping centers. It was probably within 10 to 15 minutes to a hospital. It was a very nice facility, and I would recommend it.
---
Patricia110426650
July 15, 2015
I visited this facility
I like Brighton Gardens of Winston-Salem very much. The girl who was in charge of sales was the main one that my daughter and I spent the time with. I only saw one apartment there, and it seemed to be clean and well run, and there was quite a bit going on. I didn't have any objections to anything.
---
Sassy25
June 29, 2015
I am a friend or relative of resident
My mom has lived at Brighton Gardens for almost a year now and the care is not that good. The personalized, caring service they claim on their website and paperwork that we received is not really there. From the outside, everything looks nice, but when you have a relative live there, you start to notice the problems. While the management is open to listening to your concerns regarding your family member's care, nothing is ever done to remediate complaints and problems are never fixed. My Mom often has to wait over 10 minutes for someone to address her needs once she pushes her assistance button. I would not recommend Brighton Gardens to anyone as a place to have their elderly relative live. Really unfortunate.
Provider Response
Please know that we take all concerns seriously and would like to learn more about your experience at Sunrise. Please email Information (at) SunriseSeniorLiving (dot) com with further details so we may follow up. Thank you, Sunrise Team
---
Caring103996750
March 27, 2015
I visited this facility
Brighton Gardens was very nice, and my visit was a very good experience. The staff was very nice, very knowledgeable, and very efficient. I didn't observe any of their activities, but they discussed what was available. The surroundings were very nice, very clean, and very cheerful. The food was very good, very nice, and well-presented.
---
Dillie
October 01, 2014
I visited this facility
Brighton Gardens was very nice. I like the way it looked. She could have stayed there, but she's blind; she can't see the place anyway. She would have gone to the second floor there and she had to use the elevator to come down to the common area. They would help her, but I would imagine. The grounds were really nice. That was in a good area. They were well staffed and very very friendly. It could have been in the time of the day that I was there but I didn't see a lot of people out of their room. But there was odor down there. I told the lady, that I liked it all but I don't like the smell.
---
Deanna3
September 25, 2014
I visited this facility
Brighton Gardens is very nice. The staff is very friendly. The rooms look very nice.
---
Terry33
August 17, 2014
I am a friend or relative of a resident
We chose Brighton Gardens for my dad because they told me that they specialized in people with dementia. Also, they tried to allow my dad to stay in their assisted living area for as long as possible instead of putting him directly into a memory care unit. They have a very caring staff. Some of them are absolutely wonderful; some are really not that good. The first room we had my father in was very spacious and very nice. However, his dementia wasn't getting any better and they thought that a smaller room would be better, so we moved him into the smaller room. It had a lot of closet space, so it was still a pleasant room. However, we had to move him to the memory care unit and that room is very small and the closet is very small. With regard to the activities, they take them out to lunch once in awhile; they take them on sight-seeing trips; they take them to drive-thru zoos; and they also have Bingo and different Wii games. They do arts and crafts as well. The food is okay. It is certainly not gourmet food, but it is okay. Overall, what I like best about this place are the room sizes. I thought that was very nice. I also like the friendliness of the staff and the fact that they knew everyone's names. However, the reason I wouldn't give them a rating of 5 is because the cost of my dad's care has gone up over $2,500 in less than three months and he has been moved three times, with the room that he is in now being much smaller than the original room. I can't understand why it costs so much. Also, they need to improve the communication between the different departments -- for instance, the nursing staff should communicate with the people who are actually caring for the residents.
---
Caring83207250
July 31, 2014
I am a friend or relative of a resident
The staff at Brighton Gardens of Winston-Salem was so kind. It was a secured place; you couldn't just ease in and ease out. You had to be beeped in and they were quick to let us in. Once you are inside, the wall hangings were beautiful. The smell was a very clean and pleasant. About every ten feet that you walked, there was a dispenser for hand sanitizer. This comes to mind because when we were there, the home had been infected with some kind of intestinal bug. I believed that my mother-in-law did contract the bug and that was no fault of the staff because it just was in the air, but about every ten to fifteen feet you went, at least, in every corner you took there was hand sanitizer and, of course, being clean we used it. The lighting inside was not depressing. It was very happy and very colorful. There were residents who were more advanced in their situation and no one seemed to be neglected or just idly sitting there with nothing to do. They were engaged. The staff went out of their way to be very, very helpful and kind to the entire family, but especially to my mother-in-law in the two or three days that she was there. The room was clean; there was no dust and there was no smell. You could look out a sun-bathed window and see the winter time foliage and it was so pretty; it was very bright. The hardwood floors were so pretty. The thing that stood out to me was the friendliness of the staff. No matter how busy they were, they were cordial and professional in their demeanor. I mean from the upper management staff all the way down to the servers in the dining room.
---
Caring74378550
March 31, 2014
I am a friend or relative of a resident
The rooms at Brighton Gardens are exceptional. Eleanor is very, very happy in her room. I would say the staff, from her perspective, is good. Some are excellent, but I wouldn't say they all are. The administrative staff is extremely great about communication and getting in touch with us and letting us know how things are going, so I would give them an excellent rating. There were several group activities. I know they have card games, they have a reading club. I don't think it's a Red Hat Club, but it's something similar to that where all the women can get together and they play games and cards and things of that nature. They take them on shopping trips. I know that they also have a chapel and they hold church services every Sunday, which is really important to Eleanor.
---
Bonnie26
March 18, 2014
I visited this facility
Brighton Gardens was more formal with people; everyone was more polite and it did not have a sense of family. This was the next best facility for me. The staff ratio is seven to one. It was a very nice place, clean and neat, but they have extra charges. They have nice rooms.
---
Linda36
March 01, 2013
I visited this facility
I like Brighton Gardens. The facility is nice, everyone is very cordial. I didn't have any problem.
---
visitor3
October 18, 2012
I am a friend or relative of a resident
Everyone at the facility has a friendly attitude. Also, it is always very clean and in order on the inside and out. The food is delicious and their is a wide variety. Also they have a nice dinning area and a special dinner room if any of the residents want to have quest over. The apartments themselves are roomy and the walls are not thin so you are not bothered by other residents. Each floor has its own little diner the residents can use for family events, they are also stocked with food during the day. If you do not feel up to going down to the dining room to eat you can have meals brought to your room. The only real negative I have noticed over my visits are sometimes their is very little assistance when needed. The elevators stayed jammed when residents have a hard times getting in and out on their own. I have seen people caught up for several minutes without help and its almost always a visitor that ends up going over to help. Also, once on a visit the resident I was visiting had an emergency, we pressed the call button for help and it took well over an half an hour for them to get there. If the person interested in the particular place I would not be comfortable with them living there if you would not want them living at home alone.
---
From Brighton Gardens of Winston-Salem
---
Brighton Gardens of Winston-Salem is an assisted living home in North Carolina that focuses on providing seniors with high-quality care. The emphasis on quality of life is part of the community's mission, and is displayed in the home decor, home-cooked meals, and abundance of on-site activities available.
FACILITIES AND AMENITIES
Brighton Gardens is a pet-friendly community that offers three home-cooked, well-balanced meals a day, plus healthy snacks around the clock. Residents can choose from a variety of menu items during each mealtime. A pureed diet plan is also available for seniors with this dietary need.
Housekeeping comes to each residence on a weekly basis, and trash is picked up once per day. Laundry is also cleaned each week. Otherwise, each residence is designed to feel like home, offering all of the comforts residents would find in their own house.
HEALTHCARE
There are several healthcare facilities located near Brighton Gardens of Winston-Salem. Forsyth Hospital and Wake Forest Baptist Hospital both offer licensed medical staff who are trained to assist elderly patients with a variety of ailments. Additionally, medically trained staff members are available to assist residents 24 hours a day. A licensed on-staff nurse visits with residents of Brighton Gardens once each month to check in.
HEALTH PROGRAMS
Brighton Gardens offers Alzheimer's and memory care in addition to assisted living. Short-term stays, or respite care, are also available, providing family members caregiving assistance during any unplanned circumstances that may arise. Temporary residents have access to the same amenities as permanent residents.
The assisted living features of this community are ideal for people who value their independence but also need some help with day-to-day activities, such as bathing, dressing, and taking medication. The community encourages its residents to maintain their independence.
ACTIVITIES AND EVENTS
All Brighton Gardens residents have access to daily physical fitness activities, in addition to creative and social outlets. On Sundays, the community offers a worship service, and each day residents have the chance to take part in some form of organized physical exercise, including workouts with pool noodles and walking.
Residents also get together to discuss current events, create ceramics, and participate in brain games to keep the mind fresh. All residents are invited to take part in the community's crockpot cooking club, art classes, afternoon bingo games, and movie nights.
Brighton Gardens staffers organize regular outings to nearby sites such as Reynolda Gardens at Wake Forest University, the Grand 18 Movie Theater, restaurants, and shops. Community outings inspire social and learning opportunities not found at home.
Location of Brighton Gardens of Winston-Salem
---
Get Cost Information
Get full access to reviews, cost information, and amenities