The Bristal at White Plains
305 North Street, White Plains, NY, 10605
Talk to a Family Advisor: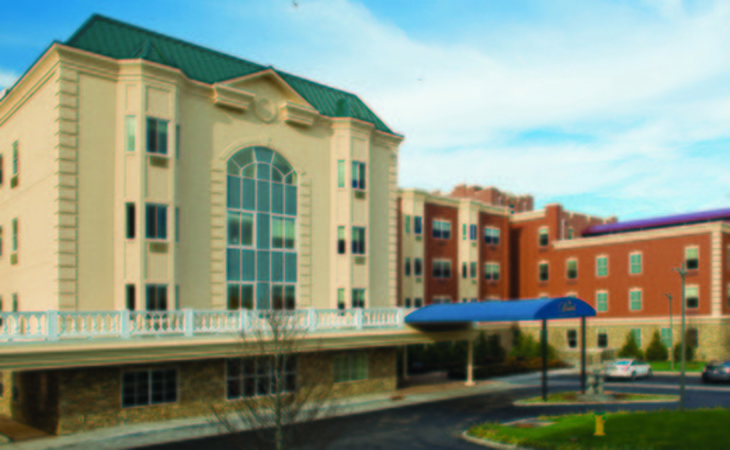 Reviews of The Bristal at White Plains
---
Tish305
October 04, 2016
I am/was a resident of this facility
I have been a resident at the Bristal White Plains for the past 15-months and it is an excellent Community. The staff is very caring and competent. Faraz kayani, is an outstanding executive Director. He knows his residents and their families well and he strives to accommodate them whenever possible; and goes to great lengths to see to it and that their needs are met. I have always felt safe and secure here as i live each day in this warm and friendly atmosphere.
---
Jane524550
September 30, 2016
I visited this facility
The Bristal at White Plains was beautiful. The people were nice and very helpful. I don't have any complaints, but my mother has decided to move to Massachusetts where it is much cheaper. The facility was completely redone and very contemporary. They gave me a list of activities, and it looked like there were lots of things for residents to do. The dining area looked very nice and very clean. The people seemed very attentive. I made an appointment at the spur of the moment, and they were very helpful, but it was very expensive.
---
Rudy8
February 24, 2016
I visited this facility
We visited The Bristal Assisted Living at White Plains, and it was a very nice place. My mom liked it. I think the staff seemed attentive and have a lot going on. The place itself is accessible. Their dining room is nice, and their menu looked good. Overall, it seemed fresh.
Provider Response
Thank you for taking the time to review our community. We're happy to hear that you had a good experience.
---
Norman17
February 24, 2016
I am a friend or relative of a resident
My wife is in Bristal at White Plains, and we are extremely pleased with everything about the place. It's absolutely beautiful and kept immaculate. The caretakers are excellent, and the food is exceptional. The activities are interesting and plentiful. The Reflections Unit where my wife is only has 32 residents. The staff gets to know each of them extremely well, so their care gets very personal.
---
Bengal Rick
February 03, 2016
I am a friend or relative of resident
My mother has lived at the Bristal at White Plains for 2 years. She started on the independent side and moved to the memory unit (Reflections) 7 months ago. I can't say enough positive things about her experience. The staff have been uniformly kind and caring to Mom and responsive to any request that we have made. The staff is well trained and genuinely friendly. While none of the assisted living facilities we visited could be called inexpensive, we have found the Bristal to be a very good value. The entire facility is clean and cheerful, the food is consistently good and the programs are inclusive and engaging. Most importantly, my mother is well cared for and happy.
---
Visitor118818050
January 23, 2016
I visited this facility
I like The Bristal at White Plains a lot. The facility was very nice. All the staff that we spoke to was very polite and cooperative. The facility was colorful. We spoke to the CEO and he was terrific. The rooms are of nice size and well laid out. The gym, the spa, the recreation areas and the theater were all nice.
---
Caring109407050
September 29, 2015
I visited this facility
The people who gave me the tour of Bristal was very pleasant, very nice, and very knowledgeable. They took me to all areas of all the different stages. I saw beyond middle stage Alzheimer's, and I really appreciate that I got to see that. No matter how despondent they were, they were still trying to engage them in activity. The one thing I didn't like about The Bristal at White Plains was the décor. It was purple and green, weird colors and weird wallpaper. Everything else about it was nice. Everybody was lovely and they all followed up. They can improve on the price and the decor. I just didn't think my parents would like it mostly because of the decor and it is in the city area because they're used to the country.
---
Eileen29
July 04, 2015
I visited this facility
It was clean and lovely. Everybody we met was fabulous. I wish my in-laws could afford The Bristal at White Plains. They would love it. I loved the little café, the dining hall, and the activities. I loved that there were pianos everywhere because my mother-in-law plays piano, and she would've loved that. I loved that they had movies every night in a little theater with popcorn. They had a reading room, a library where they can read the newspaper and sit with their friends. It's like living on a cruise ship for the rest of your life.
---
RogerS
June 29, 2015
I am a friend or relative of resident
My Mother, who is 89, moved in to the Bristal back in October 2014. Having lived in a single family home for almost all her life it was quite an adjustment. With the help of the Bristal staff she has assimilated into her new lifestyle very well and is now very happy. Facilty itself is very nice, modern and clean. The food is also very good.
---
Andrew22
May 24, 2015
I visited this facility
The Bristal at White Plains had a lot of activities going on like bingo, and they had movies almost every night. There was a real sense of schedule. They had shuttle buses that take the residents shopping. They also had a nurse on site.
---
Caring101701750
March 07, 2015
I visited this facility
The Bristal was lovely. They had a pool and everything, but it was not for us. It used be a hospital, but they knocked it all down and built this magnificent new building.
---
Caring101134650
February 23, 2015
I visited this facility
The Bristal is a beautiful place. The place is a grade A. It is beautiful and immaculate. No matter how beautiful the place is, my mother doesn't want to live there. My mother wants a nice size apartment with a kitchen. She found out that she can't cook there. The staff was very nice though. It was really good, and they have everything there.
---
Rosaline1
January 24, 2015
I visited this facility
The Bristal at White Plains is very nice. It used to be an old hospital, and we were surprised at how good the renovation was. It would have been a great location for my mother until we went to another facility and liked it more. It was beautifully decorated, and the staff seemed really nice and caring. I liked the apartments – they were really nice – and mom liked everything about it.
---
Caring95364450
November 01, 2014
I visited this facility
Last summer I went over to a place here called The Bristal for an hour. The woman who took me around was extremely nice, very helpful, and very forthcoming. She introduced me to some of the residents who were functioning pretty well and they seemed quite pleased with the place. I didn't meet anybody who is really sick because they were probably in their rooms. The only thing is that it's very large sort of like a big hotel with four floors, quarters and elevators. I felt that anybody who easily gets confused might have trouble getting around in there. At least it might take quite a few days for the person to get used to it. You have to go out of your room, down the hall, turn the corner to get to the elevator, and you have to go down to a certain floor to get off to go the dining room. I would have preferred a place that was smaller and maybe on one floor and easier to find her way around. Otherwise it seemed very nice; they had a little swimming pool and a little garden even though it is in the middle of the city. The reason I went is that it is very close to my house. I considered it, but one of the main problems was that they had a two week minimum stay and we weren't sure that we wanted to put him there for two weeks. It is a possibility that in the future we might consider. When people are sick or when they are failing in some ways, they are very individual. They have individual needs and the person that I was considering it for needs a little more personal care than I think they could offer there, but he is not in the condition to go into a nursing home. I was nervous leaving him there for two weeks because I was afraid he might become too isolated. I don't think he would have had the personal care; they probably would have had somebody come in. I was going away and he probably would have had to have somebody come in to his room every five hours to make sure he has got the dinner and just to make he was OK. But the woman was very nice about all that. She said that they would have aides who could do that, but I was still a little nervous about it. As for the way I was treated and shown around it would be a 5; they were excellent. She was very good about taking me around. But as for suiting my purposes I would not give it a 5, but that's not because there was anything wrong with it. They have these medallions that they wear around their necks which were good. I am sure of the security; it was a very good system. I got the feeling that it was an excellent system that they had for security. It was very well appointed; they had a lock there. It was big with locks of quarters and elevators. It is good for people who are functioning quite highly and who were ambulatory and can find their way around, and it seems like a very nice place for certain people.
---
assistedreviewer
October 06, 2014
I visited this facility
Very nice accommodations and staff seemed helpful and quiet but not bubbly or overly attentive - something elders should have. Food was ok, but very small portions and lack luster presentation. Food is the one thing residents should be looking forward to. While we were told residents can ask for more food - they should not have to at this age. Again, portions were the smallest I have ever seen in any facility. This is a major turn off. The facility also seemed understaffed. No staff members in hallways or interacting with guests. There are better places out there.
Provider Response
The philosophy behind our SmartChoice Brain Food Program at The Bristal is that an essential part of healthy living is a commitment to healthy eating. Our chefs have made it their mission to present our residents every day with more nutritionally-conscious choices — from breakfast to dinner to snacks in between — but never at the expense of enjoying the simple pleasures of eating. They've created smart and seasonal new recipes that focus on foods that promote healthy brain function and improve cognitive ability. Fresh herbs and spices enable us to be more fun and creative with our seasonings, especially when preparing meals with no salts added or concentrated sweets. We educate residents on how smarter eating is paramount to promoting better health and well-being, especially at advanced ages.
---
not happy with virus
February 23, 2014
I visited this facility
Visited theBristol last week AND was not told there was a virus going around with the residents and employees. How dare they put me and my family in possible bad situation. Shame shame.
Provider Response
At The Bristal, we pride ourselves in meticulously maintaining the most clean and healthy environment possible for our residents, staff and all persons who visit. On the extremely rare occasion when a virus might affect any one of our communities - which, of course, can occur in any environment that regularly comes into contact with the public - we swiftly and thoroughly implement stringent Department of Health protocols to control the situation, prevent the infection from spreading and generally mitigate its impact.

In terms of how this procedure specifically protects visitors, we immediately display signs and notices in prominent places - including the front door to the community as well as the concierge's desk - to inform any visitor who is considering taking a tour that a virus is present at the time, and the choice is theirs to continue with the tour of the community or, if they prefer, to reschedule. In addition, all persons are notified verbally of the situation before we allow them to commence any visit.
---
Caring67458950
January 31, 2014
I visited this facility
I like everything about The Bristal. They have everything. They have a library and a movie theater. For activities, they have group sessions, programs, and exercises. They have studios, one-bedrooms, two-bedrooms and some of the units have a den. The staff was very helpful. Any questions that you had, they were very free to give you the information. Food was excellent. You can pick from their menu. If you didn't like what was on the menu, they offer you something else.
---
Wendi1
November 26, 2013
I visited this facility
The Bristal at White Plains was a new facility; it hasn't been opened for a year. I've come across this place, probably while I was looking for facilities in my area. During my tour there, I felt that it was a very big place. The building as a whole was overwhelming, but it was new and clean. However, I didn't like the memory care community. It didn't feel like a happy place. It was depressing. The views from their rooms were just that of their parking lot. Also the people working there didn't seem to be happy as well. The only thing I like about the entire facility was that it was a clean community. However, for memory care, I would not recommend this place.
---
David71336450
October 26, 2013
I visited this facility
The Bristal is a fairly new facility and very well managed. I like it because it's part of the main road and it had ample parking space. They have very enthusiastic employees. The rooms were very nice. The amenities that came with it were very nice and the availability of everything throughout the place was excellent.
---
The Platinum Move
May 03, 2013
Other
As senior move managers, we are often asked by our clients for the "inside" track on Assisted Living communities they are considering for their family member or themselves. Having moved two residents into The Bristal of White Plains, we have had the privilege to watch our clients bloom at their new home. Visiting them during their activities, at meal time and in their apartments, we see smiles on their faces as they socialize. It is truly remarkable how much their lives have changed for the better. The staff is qualified, personable, truly caring and understand the enormous life change their residents have to face and are 100% available to see that all their needs are met. The Bristal of White Plains is a shining star and welcome addition to this growing market in Westchester.
---
From The Bristal at White Plains
---
The Bristal at White Plains
- Welcome Center Now Open
Unparalleled Performance in Assisted Living Comes Home to Westchester County.
Welcome to The Bristal at White Plains
Elegance with ease. A community engaged. Senior living at its best. For over a decade and counting, The Bristal Assisted Living has represented our area's unrivaled standard. The Bristal strikes the ideal balance between independence and assistance, allowing our residents the security and freedom to live with confidence and grace. Today, we are privileged to offer this lifestyle to families throughout White Plains.
Making Everyday Life Anything But
A broad array of spacious suites and other resident spaces for rent reflect the level of care and commitment we bring to everyday life. Whether cozy and quiet is the speed you seek or a day filled with fun activities, we offer as many options as there are people and personalities to enjoy them. Plus, you'll find all the amenities and extras that make living here a truly uncommon experience... including an outdoor pool and putting green, a bistro and card room, a fitness center, a country club dining room, library, gathering nooks, even an onsite cinema and salon. And our staff arranges creative recreational programs to keep residents healthy and active.
We Love What We Do - And So Will You!
Most of what sets The Bristal apart is how personally we love what we do. Residents here live fully and confidently, because the one-on-one personal attention we deliver frees them of life's daily cares.
For some, as seniors continue advancing in years, even the simple tasks of life can become more difficult to manage. Dressing, bathing, cooking, cleaning activities of daily living. When everyday chores prove too much to handle, or when an occurrence or unforeseen circumstance becomes a life-changing event, The Bristal at White Plains helps you provide a healthy and happy next step. We describe our commitment to senior living as Care Beyond Compare. You'll simply call it... home.
Features of The Bristal at White Plains
---
Costs
Minimum Rate

$5800/month

Minimum Memory Cost

$8200/month
Features
Resident Transportation
Security Gate
Technology and entertainment
Location of The Bristal at White Plains
---
Get Cost Information
Get full access to reviews, cost information, and amenities