Sunrise of Westtown
501 Skiles Boulevard, West Chester, PA, 19382
Talk to a Family Advisor: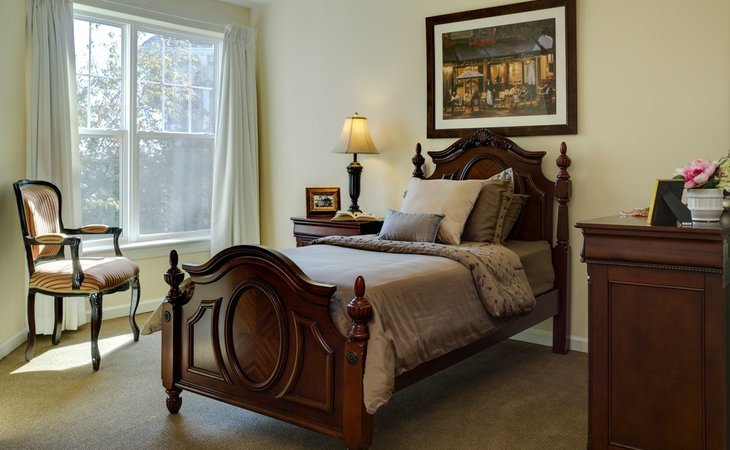 Reviews of Sunrise of Westtown
---
Jane200555
April 13, 2017
I visited this facility
I don't think that the people of Sunrise of Westtown are as attentive to the residents as they should be. They are on the smaller side. I have not checked out the food yet because we are going back on Saturday with my mom to see if she even likes it. The room is nice if you have a corner unit, but other than that, they are very narrow and dark.
---
Audrey605654
January 26, 2017
I am a friend or relative of a current/past resident
My father is at Sunrise of Westtown. The place is very clean. The staff seems attentive and provides a high level of communication, but they have a high turnover. They have good-quality food that's much better than the rehab place he was in. Pricing is right where it should be as it fluctuates based on his level of care.
---
Son of ResidentPBACL
May 11, 2016
I am a friend or relative of a resident
We moved my mom to Sunrise of Westtown. They do a great job in helping her with all activities of daily living. This was the best place that we saw, and it almost feels like a resort.
---
BBP
January 16, 2016
I am a friend or relative of a resident
My mom stayed for a year in Sunrise of Westtown. Our experience with them had been very good. I have nothing bad to say about it. The rooms and dining room were nice, though I thought the food was not great, just decent. They had someone to come in and play the piano and also had bingo. Sometimes they would work in the garden and sometimes they would bake cookies. Overall, I liked Sunrise at Westtown. They needed to improve their food, but I would still highly rate them.
---
653568
January 19, 2015
I am a friend or relative of resident
In this day in age it is hard to slow down and appreciate the little things. Whenever I visit, I find the staff to be constantly engaging with the residents and their family members mo matter how small the conversation may be. Management is warm, understanding and on point. Some residents are tough to please but this facility seems to have great knowledge, skill and caring on how to help each eldery person who lives there.
---
anonymous104292150
January 12, 2015
I am a friend or relative of a resident
My father was in Sunrise of Westtown before he passed away, and I was very pleased with it. They were recommended to me by my neighbor and my husband's cousin. They both have loved ones in various other Sunrise facilities. I was very pleased with the people and the quality of the care. I highly recommend it. The thing that impressed me the most was the staff. They were very caring and compassionate. They have exercise classes in the morning, and he was a part of that. They also have bingo, and they watch football games on TV every Sunday with popcorn. It is just a very nice facility.
---
Caring76590750
January 18, 2014
I visited this facility
Sunrise of Westtown was the best of the facilities I went to. The girl who showed us around gave us so much information and did a wonderful job. I told her about the money situation with my sister and yet she kept on presenting the place the way she should have. Unlike with the other facility, their presentation was more professional and well done. The place itself I felt was nicer, a little cleaner and more kept-up. Everything was fine. The living environment for the dementia patients was fine. In comparison to their dementia patients, I don't feel like my sister is that bad. Most of their patients there were like they really had no idea where they were and what's going on. We were there around lunch time, so we didn't see any activities. Their dining room seemed very nice. Their rooms were nice and very homey. They're not institutionalized at all. They have something on the wall outside of each patient's door, so they can recognize their room. They might have pictures of family, pictures of their interests like flowers, etc. That part is nice. Also each room has a little window that looks out to the main area. So if they were in their room and wanted to shut the door, they could open up the curtain and just look out and see everybody. I thought that was a nice idea too. In this facility, security was good. They use a key pad and they have a pass code that they put in there. That seemed fine. Overall, I would recommend this facility.
---
caring09121
December 31, 2013
I visited this facility
My visit at Sunrise of Westtown was pleasant. I like some of their rooms because they were very nice and spacious. People there were very nice and pleasant too. They have activities that residents can enjoy. I like everything about Sunrise.
---
Caring75441850
December 17, 2013
I visited this facility
The staff at Sunrise of Westtown seemed very friendly and welcoming. They showed a lot of respect for their residents. They have several room arrangements where you could either share a room with one other person or have a place by yourself. I liked the idea that the rooms in the dementia wing were exactly the same as the rooms in assisted living, so if you have to make a switch, you could switch to something of the same size as what you had before, you don't have to down size. I liked the outdoor area that they had for the dementia wing where people could walk outside and sit on benches and enjoy the garden. I liked the fact that the caregivers followed their clients from the area where they live to the dining room, and they actually serve the residents that they are in charge of at mealtime, so they could watch their behavior as they ate. So, it's really good quality of care.
---
Vince3
September 26, 2013
I visited this facility
We passed by Sunrise and my partner decided that we look at the place. The place is new and nice, but it was small. The rooms felt very small. The dining room and the lobby area was much smaller. Walking from the lobby to the dining it felt very crowded with tables and the residents sitting around. It felt tight in there and the facility is expensive.
---
Thomas6513
July 31, 2013
I visited this facility
Sunrise of Westtown was very nice, well maintained and cared for and it has very pleasant surroundings.
---
pinkfrog876
July 31, 2012
I visited this facility
The whole facility was very clean and polished. The decoration was professional, with paintings, beautiful vases, small little statues all over, and board games or a chess game setup in a corner or two. The cafeteria was operated smoothly by the staff and seating was comfortable. Moving into the apartment was a breeze as the buildings offered wheeled carts that fit into the elevator. Mirrors were plentiful in the hallways which made it all look larger, classier, and less suffocating. The front receptionist was very kind and helpful in pointing out the directions to rooms. She treated my grandmother who can be very forgetful with much needed patience and kindness. She told us about the various services and we learned they offer both assisted living and independent living. There is a nurse who is always on call for emergencies. The landscaping is breathtakingly beautiful and great for short little walks.
---
shersher1
July 21, 2012
I am a friend or relative of a resident
I 'm actually a relative of a former resident. Sunrise markets the facility as being able to care for you loved one, especially alzheimers residents, until death. NOT SO. When my mom got into the violent stage they had to ship her out to a psychiatric unit for meds. She got a cellulitis on her toe because she was a "pacer" and because they have so much furniture etc in the hallways she stubbed her toe and it got infected. I pointed it out to them and told them she needed antibiotics. I was away for a couple of days and came back and they were just going to start her antibiotics because they "hadn't gotten them in yet" By that time the cellulitis was all the way up her leg to her knee and she was beyond the point of oral antibiotics. I ended up taking her to the hospital ER myself and she got admitted for a week of IV antibiotics. They use what they call med techs for medication administrations, not nurses. They were constantly crushing meds that were not supposed to be crushed, I reported it to the director and nothing changed. My mother ended up having seizures because I found out they were also crushing her long acting antidepressant. When she had a seizure one of the other techs stuck a tongue blade in her mouth, which has long been shown to be dangerous. Another time she gave her morphine, which is not a drug used for seizures, BY MOUTH, when she was unconscious. There is no nurse in the faciltiy after 5pm, just run by caregivers and med techs. Most of the caregivers were young college kids with minimal training so they send the residents out to the hospital for everything, even if they have a do not resuscitate order. My mom was even on hospice when they sent her because she fell out of bed onto a fall mat with no obvious injury. At meal times in the Renaissance unit it is so incredibly noisy that the residents get agitated.They blend any pureed foods there and they young kids are constantly talking among themselves as if the residents aren't even there. Then they have their version of oldies on the radio, which to them is 60"s music. When they show you the place it looks very pretty & they market that it is homelike. It is just truly filled to the brim with furniture and nicknacks that get in the way. It is way too crowded with the residents constantly bumping into and tripping over furniture. They also got end tables at one point with sharp square edges and wouldn't change them until I pointed out the hazard. So if you get the feeling that I am totally displeased with this place, I am. I would suggest you find a facility that is continuous care so that if your loved one has to go from say assisted living to an alzheimers or skilled unit you at least know the staff. Be very very careful when choosing a facility, check their staffing levels, their ability to care for complications of the disease and with the progression of it.
---
SarahG
May 26, 2012
I visited this facility
The staff were courteous, sensitive and welcoming; they were clearly accustomed to people who had recently lost loved ones, and who were dealing with difficult life transitions. The facility itself is attractive. The furniture is the same throughout, which sometimes gives it the feel of a nice chain hotel, but it was bright and very clean - no smell of urine or people rocking in the hallways. We did not see this personally, but they described a full schedule of activities to keep seniors mentally engaged and socially interactive, as well as trips to the mall, restaurants and shows. It is also conveniently located on a major road, so very convenient from Phoenixville, Kimberton, Lionville and the surrounding area. The downside is that it is quite expensive. I would not recommend starting your search at Sunrise unless you are certain that you can comfortably afford it. It was the most home-like and welcoming of the assisted living and nursing facilities that we viewed. The others seemed quite depressing in comparison.
---
ann454
May 09, 2012
I visited this facility
Sunrise and their staff were always very and warm and welcoming. The staff was friendly, outgoing, and caring. They always tried their hardest to make sure that the resident was happy and satisfied. Their dining room was nice and the food was decent. They also had many activities and trips for the residents to partake in. The whole ambiance of Sunrise is very cheerful and bright. The facilities were clean, and organized. The staff always worked hard to ensure that the families were content with the care of their loved one. If an issue did in fact arise they were always there to try their best to sort it out. We ultimately had a great experience with Sunrise. However, their dementia unit, I think could be a little more secure. The lock doors just do not seem to be enough. Residents can still wander out of the unit if visitors are coming and going. My Grandfather, instance was one of the residents that was able to wander out of his unit. He was left wandering a near by neighborhood for house before they found him. He easily could have been mistaken for someone from another unit or outside guest visiting a friend in the dementia unit and whoever let him out probably did not know he was actually a resident of the dementia unit. I understand the doors are kept locked but maybe if someone was stationed near the door they could better keep an eye on or if they see a resident walking towards that area stop them. I understand things do happen and accidents and mishaps occur, but I feel that we are paying a high price for the safety and well-being of our loved ones there should more security.
---
stowle
May 09, 2012
I visited this facility
The staff members that I worked with while I was volunteering were helpful and friendly. They seemed to actively participate and engage the members of the facility. The building was large and spacious, yet still easy to navigate. Many of the individuals living at the facility were lively and happy to greet new visitors. For the most part, all needs were met in a timely manner. Occasionally, however, staff member would avert attention from the community member in order to focus their attention on non-relevant tasks, such as talking on the phone or having a conversation with another staff member. This was uncommon, however, and did not seem to interfere too much with the general flow of work within the facility. Sunrise of Westtown is one of the more attentive and amiable assisted-living facilities I have volunteered at and I plan on doing more work with them in future.
---
MM729
July 29, 2011
I am a friend or relative of a resident
The facility looked so nice when we first visited and after talking to the Manager, we decided it would be a great place for my parents to live. After they moved in the first month seemed to go smoothly, but after that the quality of care deteriorated. Their apartment was not cleaned often, there was feces all over the toilet, the charges kept increasing, the quality of the food was poor and some of the management was extremely rude. If my Mom needed to be wheeled to her room, the staff would be told "she can wait" by the management and my Mom would sit in the lobby for a few hours. The staff would be sitting in the next room and Mom said you could see they felt badly but they were afraid to go against their manager. When you enter the lobby, the person at the front desk never even acknowledged you, she was too busy searching the internet. She was also rude to the clients, I heard her yelling at them a few times. I would avoid this place at ALL COSTS! We removed my parents a few months ago.
---
SpunkyKyle
June 23, 2011
I am a friend or relative of resident
My Grandmother lives there and as I am not far away from this facility, I visit her often (about 6-7 times a month). My grandmother has Alzheimer's and has difficulty with her memory. They are staffed with people who understand Alzheimer's and are patient and helpful. They often give me updates on her condition and her general well being. The facility is located in a very nice area with good scenery and the building is always cleaned to perfection. I am very happy with where my grandmother is living.
---
---
Step into a Sunrise Assisted Living community and you can?t help but feel at home. We stop at nothing to make your experience warm and inviting, from our homelike exterior architecture, to our comfortable community areas and choice of suites to our exceptional outdoor gardens and landscaping. Look around and you?ll notice fresh flowers throughout the residence, and you may even spot our dog or our cat. And of course, there are always the friendly smiling faces of our staff to ensure that each day spent here is a welcome one.
Features of Sunrise of Westtown
---
Costs
Rent Plus Care Fees
Entry Fee
Features
Computer Room
Resident Transportation
Garden And Patio
Resident Parking
Security Gate
Health services
Nurse On Staff

40 Hours/Week, On Call 24/7

Pharma
Guest services
Guests At Mealtime
Overnight Guests
Diet
Diabetic
Low Fat
Low Salt
Renal
Location of Sunrise of Westtown
---
Get Cost Information
Get full access to reviews, cost information, and amenities