The Waterford at Virginia Beach
5417 Wesleyan Drive, Virginia Beach, VA, 23455
Talk to a Family Advisor: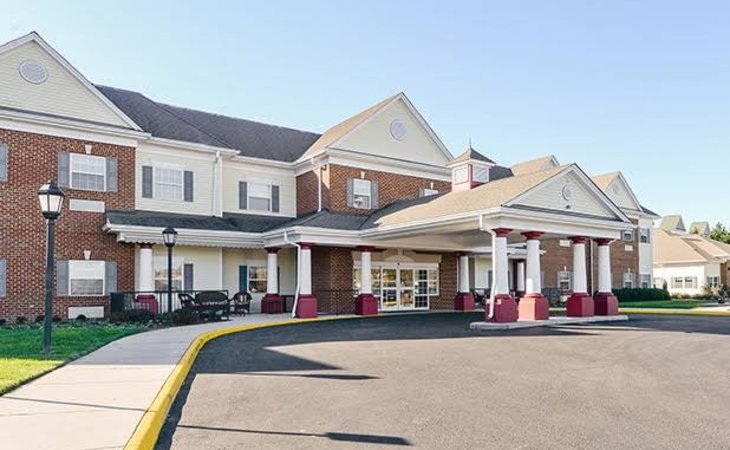 Reviews of The Waterford at Virginia Beach
---
Jim482277
January 06, 2017
I visited this facility
The Waterford was too far away from where I worked, expensive, and not that private. A lot of the rooms were left open to face the hall because some of the people were in assisted living, so they had people going in and out of the rooms. I didn't particularly like how open everything was. There wasn't many staff. However, the girl that ran the place was nice.
---
Albert366422
November 05, 2016
I am/was a resident of this facility
Everything is going fine here at The Waterford. It is pretty much first-class in both the dining and the individual housing facilities. We are satisfied. Our living facility is quite nice, very roomy, and well-arranged. The community is attractive and well-run.
---
Pamela450835
October 18, 2016
I am a friend or relative of a current/past resident
We chose The Waterford at Virginia Beach for my father. The first time I walked into the place, I knew this was the place I wanted for my father. They worked with me, and I was very fortunate to placed dad here. The staff was very accommodating, the place was beautiful, and my father is very happy there. It has truly been a blessing for me
---
Wonda750312
September 11, 2016
I visited this facility
The Waterford was nice. I was looking for memory care. The one I was supposed to meet wasn't there. The location was very convenient, but the price was high. I saw the sections where they do activities.
---
Tyrone407828
September 11, 2016
I visited this facility
The Waterford is OK, but it was more assisted living, and I wanted an independent style. I saw the dining hall, and they showed me the exercise room. The staff was friendly.
---
Judy765870
August 22, 2016
I am a friend or relative of a resident
My parents are in The Waterfords. I love the facility. The only reason I am leaving them there is because the apartment is a very nice size. The staff is very nice and very accommodating, but they have not been able to manage medication appropriately.
---
AnonymousWCAJY
May 11, 2016
I visited this facility
I visited the Waterford for my mom. It was very good, and the rooms were very nice. There was a salon, dining room, game room, and bistro. The dining area was nice, like a restaurant.
---
Wants the best for my parents
February 23, 2016
I am a friend or relative of a resident
My dad was placed in the Waterford, and he's doing well. We thought that they were just going to take care of our dad, but it's the little things that make them great, like how they empty the trash in his room every single day. We feel like the food is of a better quality than most places. My father said that his food is always warm now that he lives there, which broke my heart. My dad had a little, complicated situation, and they worked with us and resolved the problem. We feel like the care level is great, and the price is very reasonable. My dad loves the room, the facility, and the staff. We are very impressed with them.
---
Fran21
October 28, 2015
I am a friend or relative of a resident
We placed my father in Pacifica. The facility is about 10 to 12 years old; however, Pacifica has owned the facility for two years, and it looks brand new. The rooms in the center have courtyards with doors going outside and chairs for those residents who face the courtyard. My father actually faces another, beatuiful courtyard. They have amenities and the activities, but my father is 97, so he is actually happier having his meal, going back, and watching television, or going outside in the morning or at night. It is a very nice facility. It is a two-stories, so they have two sessions of meals. He is on the first floor, so he goes to the first session. They not only have the one main entrée, but they also have alternates, which I think most facilities do. They can even get sandwiches if that's what they want to eat. He said the food is quite good. We were given some food passes to come and have lunch, dinner, or breakfast with him, but we haven't had a chance to go yet.
---
Eunice3
September 29, 2015
I visited this facility
Pacifica is a really nice place, it's very big, and it has a memory care. It was very clean, and I really liked the director of activities. They have a smaller section for memory care; they have been doing all kinds of activities, and that was pretty impressive. The rooms were nice size, and they are of different sizes. They have several gardens where they can have different activities outside, and they have chair activities and yoga.
---
Caring112123750
August 31, 2015
I visited this facility
Pacifica senior living didn't smell, people were friendly, and it was close to where I live. It was nice, modern, and clean. They played cards, they have crafts, and they were playing Wii when I got there. I thought that was rather cute.
Provider Response
Thank you for your great review! We take great pride in our communities and our residents. We also have a Facebook page that we update with new photos of our residents and the communities. Here is a link to our website for more information. http://www.pacificavirginiabeach.com/
---
Phil17
July 31, 2015
I visited this facility
Pacifica did have the same amount of activities as with the other facilities, but it felt more like a hotel. It was not as homey as some of the other ones. I think they need to make it more homey. To me, it felt like a hotel mentality, and I think that's because it has three floors. The apartments did have plenty of room though.
---
Caring109912350
July 15, 2015
I am a friend or relative of a resident
I just live across the street from Pacifica, so a lot of people in my general neighborhood end up going there. I know some people have apartments, others just share a room, and some have a private room, so I've seen all different kinds of arrangements. Sometimes, it is very nice, and everybody is healthy and well and looks good. In other areas, the poor people are having health problems, and that is a little depressing. But it is always clean, and the people are always friendly. You do have to sign in. I have eaten there, and the food is delicious. The staff is always friendly, and one of my friends -- who is no longer there -- is indigent and some of those people even gave her clothing and things like that. So I think this would be a place that I would consider. I have a friend who put her mother there, and they were very well satisfied with it. I was in my friend's room, and it was clean, so I think that everything seemed clean, and there was no odor. Downstairs, there are flowers, and there is a place to sit and wait for somebody to pick you up if somebody is going to. They have an atrium or a square in the middle that has flowers and carpets, which is very nice. There are some people who make good friends, they'd go places and do things together. One of the guys I know is a man, and he has three or four other male friends; they play poker and go off sometimes for lunch and things like that because one of them drives.
---
Verysadformymom
June 28, 2015
I am a friend or relative of resident
Awful....my mother in law was there shy of 2 years. She lost sooooo much weight, skin and bones. High turn over rate with caregivers/staff. Not trained only a few pinoys that are efficient memory care side. Director Erica is non empathetic, basically told family will have mom reevaluate for dementia then calls us later to tell us she's has been terminated from facility because of aggression. Unprofessional, food is awful, 4800 for half a room on the dementia side. Please save your family the heart ache and go elsewhere
---
Ken41
May 02, 2015
I am a friend or relative of a resident
The staff of Pacifica Senior Living seem to be very confident. They know what they are they doing. They assisted my dad and mom in getting ready to come in and set up their room. They've been there for about a month now. The rooms are nice. They have a bedroom, a living room, and a kitchenette. The dining room is nice. They have bingo, movie nights, and other functions.
---
Lia1
April 25, 2015
I am a friend or relative of a resident
Pacifica is an extremely great place -- pleasant, terrific, and amazing; it's like being at home. They have a real dining room with differently colored plates which gives it a cozy feel. Everybody's room is very personalized. It's like being in a giant house. The staff is exceptional. I would definitely recommend them.
The place was amazing; I wish I could live there. They have a record player, they let the residents use laptops, and when they logged in, it shows like a bubble and it will have their name on it. They have to click it, and their page will show a design for them. It's not confusing and easy. They have radio, music time, bingo, movie night, and arts and crafts. They have a beautiful outdoor area. They have a lot of activities, and they take them out to places too like doctor's appointments and weekly outings
---
Caring103581150
March 31, 2015
I visited this facility
The first one that I went to was Pacifica in Virginia Beach. This was for my mother. It was the newer one of the four that I went to, and their price seemed to be reasonable as compared to the others; for a newer facility, it seemed to be reasonable. It seemed like a nice place. The staff was courteous and professional. I just got to see some of the people who lived there, and they had like a game room where they were all together playing games and stuff like that.
---
Caring102033250
February 12, 2015
I visited this facility
Pacifica would have been my second choice. I felt the staff was very good there. In the facility that they have for the memory care department, I thought they had a lot of interesting activities for the residents.
The lady that I talked to there was very friendly and informative, and it was really a hard choice between the two of them, but I think that I chose the right one for my husband. They had a tool box; if somebody was interested in electronics, they had interesting setup that they might sit down and work with.
---
Caring92567350
September 10, 2014
I am a friend or relative of a resident
My wife is at Pacifica Senior Living. The staff is not trained. They don't have medical knowledge. They're just not friendly. The rooms are fantastic. The environment and the facility are very good, but it doesn't do any good unless you have a good staff. The food used to be pretty good, but now it is terrible. The activities are good though. They really do a good job. In fact, the activities lady is A1. She is very compassionate, very loving, and she keeps them busy. She is really good with them. Overall, what they could improve on, their management needs to do more supervision of their workers. They need to come through there and see what their workers are doing.
---
unhappie
September 09, 2014
I am a friend or relative of resident
My father was at the Pacifica and I am very disappointed with the level of care he received. There was no communication between staff. It is a shame to be paying that much money for your loved one to be taken care of and to feel like no one really gave a crap. Thank goodness he always had a family member with him.
---
Caring92271350
August 13, 2014
I am a friend or relative of a resident
My wife is at Pacifica Senior Living Virginia Beach. It has a nice atmosphere. The rooms are nice. The activities are good. The staff doesn't have enough medical training. But some of the people there are just fantastic.
---
Caring86822050
June 30, 2014
I visited this facility
Pacifica Senior Living is very upscale and looked like a hotel. The cleanliness was fantastic. The lady who showed me the place was very nice. She showed me the different places where they do the activities, which were really nice. They had a gym area, and if you didn't want to eat in the main dining room, there were cafes on two or three different floors that you could actually go and order from.
---
Caring84182750
May 22, 2014
I visited this facility
I would have gone with Pacifica Senior Living Virginia Beach, except that it was much more money; it's more than a thousand per month. It's actually quite good. Everything was cheerful and upscale. The staff was excellent. They were knowledgeable, and more than that, they were compassionate. The administrative staff was better than excellent, seemed like they knew their business. They have smaller patients, I think only 35 to 40.
---
David33
August 01, 2013
I visited this facility
Pacifica Senior Living Virginia Beach wasn't really forthcoming with a lot of information. They kind of blew us off because we didn't have our appointment time right. They didn't bother calling me back to try to make another appointment and get me in. I didn't seem too important to them.
I would still recommend them to others but they can improve the look of the place. It's not right upon the road. Even though there's a sign as we pulled up, we kind of got the feeling that there were several things about the building that we couldn't really identify. They basically told us to go away.
---
PRT3
October 25, 2012
I visited this facility
The Pacifica Senior Assisted Living Homes were beautiful. From the time you pulled up to the time you waled out to leave you felt at home. The grouds were very well kept and the staff was more than on par. Every one was friendly and eager to help. We toook a tour and discussed the programs and things that Pacifica had to offer. They offered all different styles of rooms, a pool, weakly programs for the seniors to attend and kep busyt and actiive. My grandmother did in fact end up deciding to reside at Pacifica in the end and I believe it is because of their expert staff and hands down grade A service.
---
Concernedfamily11
August 28, 2012
I am a friend or relative of a resident
My grandmother became a resident at Pacifica due to her worsening dementia and declining health. Deciding to move her to a facility was a difficult decision, but we could no longer provide home care that met her needs. My first impression was that the facility was a bit older and could use updating( furniture,decor, etc). Ultimately, we chose Pacifica due to the kindness of the staff. They were friendly and knowledgeable. They also have a separate unit specifically for memory care. Despite the dated decor, their medical supplies were all up to date. Towards the end, my grandmother did nit recognize us. It was during this time that I came to value the staff the most. They would come in to chat with me and were very good at explaining what was happening and offers tips and strategies I could use with my grandmother. Watching a loved one turn grow old is very difficult and I truly appreciate the advice and support of the staff at Pacifca.
---
JBVABCH
June 29, 2012
I visited this facility
The grounds are beautiful and the location is easily accessible from most areas of Hampton Roads. I was pleased with the level of security, amenities for residents with limited mobility, and friendliness of the staff. The only real negative I saw was that there could be some improvement in the level of communication between staff members. A big plus is the very secure outdoor area. I came to this facility to get infomation of assisted living facilities in my area as my mother was considering transferring care of my father to me. I needed to make sure I knew all my options before a decision was made. He had dementia and psychological issues secondary to alcholism and brain injury. Because of his tendency to become agitated and violent easily I didn't feel that this was a good fit for him but I would be great for patients that simply needed help with daily tasks and/or protection from the outside world. That is not to say that I don't believe the staff had the knowledge to handle him. My concern was just physical capability as he is a large, strong man despite signifcant weight loss in recent years. Overall, though, I do feel that this is a great facility and would feel comfortable leaving a relative here.
---
granddaughter2
August 08, 2011
I am a friend or relative of a resident
My grandfather is a resident at Pacifica Senior Living in Virginia Beach. Our family had cared for him at home for several years, but as his Alzheimer's disease progressed, it was evident that we needed professionals to care for him. However, we wanted him to be close to us, and also continue to live as much of a stimulated and active life as he could. We have been so blessed to have Pacifica as his new home. He lives in the Memory Care unit, and is well taken care of beyond our expectations. The facility is clean, the nurses are fantastic and diligent, and we have even gotten to know some of the other residents and families through meetings and events. We now have many different traditions in our family, such as attending holiday functions at Pacifica. The coordinators there create an environment that is kid friendly and welcoming to families. Though my grandfather's Alzheimer's has progressed, I believe it is the consistency and fantastic care of this facility that has helped each transition into various stages of the disease happen with as much ease as possible.
---
From The Waterford at Virginia Beach
---
Live life to its fullest in The Resort City when taking up residence at The Waterford at Virginia Beach. Our community in Virginia Beach is the perfect retreat for seniors looking to settle down in one of the most charming cities in the country. From thoughtfully designed floor plans to world-class services and myriad recreational and social opportunities, residents may just find that we have thought of everything. Boasting unique features such as a coffee bistro, on-site beauty salon/barber and beautifully manicured grounds, our Assisted Living and Memory Care community makes it easy for residents to relax, practice their favorite hobbies and socialize with neighbors and friends. Cozy apartment homes offer full-size kitchenettes, spacious bathrooms with walk-in showers and large picture windows for an abundance of natural light. Upscale, a la carte and planned meals in our tastefully decorated dining room are served with multiple seating times so our residents can enjoy fresh foods, snacks and desserts on their time. When seniors are in the mood for a shopping spree or meal out, we offer scheduled courtesy transportation to a variety of popular local destinations. We also offer recreation and entertainment programming throughout the year so residents can enjoy their time on-site. The Waterford at Virginia Beach is staffed 24 hours a day by compassionate staff members, so residents are never far from a helping hand when needed.
Since 1990, Capital Senior Living has grown to become one of the largest senior living providers in the United States. With a goal of offering affordable housing and an enriched lifestyle to thousands of seniors, our dedicated team of professionals succeeds in providing quality care in each of our unique communities.
What Makes Us Special
---
The community offers 2 spacious outdoor areas, that are beautifully landscaped with a fountain center court. There are also 5 common areas for our residents, where they can spend time with their family and visitors. We have a newly renovated bistro where
Features of The Waterford at Virginia Beach
---
Costs
Rent Plus Care Fees
Entry Fee
Fee Structure Extra

We Offer A Month To Month Rental
Room and housing options
1-bedroom apartments
Companion Suites

We Offer Companion Suites

Studio Apartments
Dining options
In Room Kitchenette
Dining Room Shared Meals
Features
Beauty Barber Shop
Resident Transportation
Coffee Shop
Party Space
Tv Room
Garden And Patio
Resident Parking
Features Extra

Library, Fitness Room/Gym
Cleaning services
Laundry For Linens
Private Cleaning Services
Housekeeping
Laundry For Clothing
Technology and entertainment
Wifi
Technology Extra

Emergency Call System
Health services
Medication Management
Physical Therapy
Nurse On Staff

Yes

Pharma
Activities
Offsite Activities
Music
Games
Stories
Religious Services
Lectures Discussions
Wii Sports
Fitness Room
Gardening
Cooking
Arts And Crafts
Financial guidance
Home Sale Assistance
Va Benefits Consultation
Financing Advice
Guest services
Guest Parking
Guests At Mealtime
Overnight Guests
General
Staff Patient Ratio

1 To 8

Respite Care
Minimum Age

55

Pets

Small Pets Allowed
Licenses
Licenses

Assisted Living and Special Care

State Licenses

ALF-1104075
Location of The Waterford at Virginia Beach
---
Get Cost Information
Get full access to reviews, cost information, and amenities