Brookdale Hawthorn Lakes
10 E Hawthorn Pkwy, Vernon Hills, IL, 60061
Talk to a Family Advisor: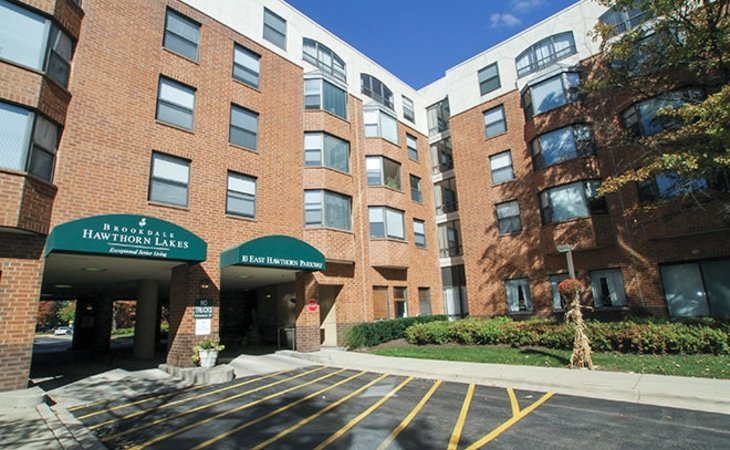 Reviews of Brookdale Hawthorn Lakes
---
Charles581226
October 13, 2016
I visited this facility
We visited Brookdale Hawthorn Lakes. It's very excellent, but the other one was better. It was same price, but the other one was much better. Brookdale Hawthorn Lakes looked very nice. It's fine. I wouldn't suggest any improvement. The rooms were all very excellent and very comparable to the other place. The apartments were very small. The staff was fine. They're excellent and professional. They're friendly and good. The landscaping was very nice. The location was very nice. There's some path and some parks around there, which were very attractive for walking or bicycling.
---
10sunnyday20
August 17, 2016
I am a friend or relative of resident
Grandma finally decided to take the leap and move in. The apartment wasn't completely ready. Maintenance keeps putting us off to finish things that should have been completed before she moved in. Now she is wondering if she made the right choice. I'm very disappointed and wondering if we made the right choice.
---
Anonymous118611050
December 31, 2015
I visited this facility
I'd say the advantage is where Brookdale Hawthorn Lakes is located. They were located very close to a lot of nice shopping areas. It's right next to a large mall; there are lots of Target stores and food around there as well. It is right by a little lake. They were very accommodating, very flexible, and very willing to meet with me and showed me around.
---
Christine116983350
November 30, 2015
I visited this facility
Brookdale staff was very pleasant and welcoming. The place was nice and seemed very well kept.
---
Kathy90675050
August 13, 2014
I am a friend or relative of a resident
My mom is in the independent living at Hawthorn Lakes for six years. She is in a room with a small kitchen, a bath, a bedroom and a living room. They have group activities. They have movies. They play bingo and Wii. They have outside activities. However, they have a lot of change on staff there over the years.
Provider Response
Thank you for taking the time to share your thoughts about our community. Your feedback is always considered and appreciated!
---
Hopeful1234
June 21, 2014
I visited this facility
The place was very pretty but we just didn't feel the apartment was overpriced for how small it was. The Sales and Marketing director was the one who gave us a tour. She was rude and seemed a little desperate to make a sale. We felt very pressured by her and even caught her lying about a couple things. She said hello to a couple residents and obviously called them by the wrong name. Would have loved to move my mom here but the sales lady was just plain bad.
Provider Response
Thank you for your feedback! We will be passing this information along to our management for review.
---
Caring83609350
May 29, 2014
I visited this facility
Hawthorn Lakes was nice. The staff was very friendly. The rooms looked like they were well maintained.
---
B Fields
April 27, 2014
I am a friend or relative of resident
My parents lived here for 4 years and it was the best place for them. Although the later stages of life bring many challenges, I have more happy than sad memories of their days living here. Great food, wonderful, caring staff and lively and interesting entertainment. The physical therapy department helped my Dad walk again, after a terrible bout of spinal stenosis. I couldn't thank Hawthorn Lakes enough.
---
Caring65656850
October 26, 2013
I visited this facility
I like the location of Hawthorne Lakes because its near shopping and there are a lot of restaurants in the immediate neighborhood. We had a couple of dinners there and the food was very good. We attended a religious service that my wife liked. The staff were very nice people.
---
Barbim42
September 29, 2013
I visited this facility
I loved Hawthorn Lakes. My mother-in-law lived there for 12 years. She liked it very much and I liked the atmosphere when she was there. While we were there for a visit, we ran into one of the maintenance people who remembered my mother-in-law. He even remembered what apartment she was in. They had big, very bright and cheerful apartments. They had a nice, big kitchen with an actual stove, an oven and a microwave. It had an atrium all the way up and nice walking areas. As people were moving out and they were remodeling the rooms, they placed a shower instead of a bath tub which I thought was great because elderly people do not have to try to step into a bath tub. The lady that showed me around was marvelous. They had a lot of activities. They had a bus that would take people out on outings. It is an old community but they were gorgeous.
---
Maureen6
September 25, 2013
I visited this facility
It seemed to be a very nice place. The staff was very caring. The food was good. However, the residents were a little less self-sufficient. They might need a higher level of care and it didn't have the same homey feeling that we got from the facility that we chose. The decor of the apartments needed refurbishing. But I would recommend them to others.
---
Melissa6
August 27, 2013
I visited this facility
The rooms at Hawthorn Lakes were much bigger. There were more choices of two-bedroom apartments and that's where we would probably go because we have lots of furniture. The staff was great. Everybody was very friendly and welcoming. The food was very good. They had art class, entertainment, exercise and shopping trips.
---
silenthush
November 02, 2012
I visited this facility
This facility is best describe as an alternative home for people who need 24-hour care and assistance. The facility itself, is huge and clean. It has all the amenities needed. Reception, receiving area, dining room and entertainment area. Even grocery, for easy access in buying basic necessities. People working there are professional, respectful and very courteous. They do provide good service to the seniors. They have time to pray and play. A lot of outside sponsors like caregiver agencies provide the seniors with free entertaining activities. I have a great time touring around the building, they have all the services needed. Very interesting. Families and friends are all welcome to come and visit their loved ones. People working there are all friendly and approachable. Caregivers and CNA's are very polite. Nurses are well-trained and respectful. Receptionist is courteous and helpful. Officers-in-charge are responsible and well-organize. The environment is safe and neat. The parking area is well-organized. It is huge and has enough spaces for visitors (family, friends, workers and suppliers) to stay.My client loves to stay here. In fact, she lives here for two years already. She's happy and contented. The rate per month is reasonable, too. She said she gets all she wants. Everything is accessible and everyone is helpful.
---
king1
September 13, 2012
I am a friend or relative of a resident
Very clean comfortable facility. Good amenities with great staff and atmosphere. Really felt like home.
---
Gardener86
June 30, 2012
I visited this facility
The immediate feeling of this facility was that the location was optimal for our family and the grounds were well kept and relaxing. This was especially important for my grandmother's often day to day condition and the relaxing atmosphere facilitated more "good" days than "bad" and made her "bad" days less severe. The staff was knowledgeable and very accommodating, showing my family every aspect of their facility showing fully transparency of their operations. We immediately felt safe and welcome amongst the staff and fellow residents who seemed in good spirits and well cared for. We were shown the rooms, dining facilities, recreation areas and, most importantly, their state of the art medical facilities, which was an important concern for us. Our only minor complaint was that the room appointments were rather bare, but with a little tender love and care could be made more comfortable for my grandmother who has always been use to a very homely atmosphere.
---
Catherine3
June 24, 2012
I am a friend or relative of a resident
I think this facility is great. The size of their apartments is very nice. The location is also good because it's very close to both family members. My mom had been there for only a week but there are a lot of things to keep her busy and already met some wonderful residents. She's just very happy there. We've eaten there and she loves the food. She gets 16 meals per month. It's operated like a restaurant and it's very nice.
---
Lorryn
April 14, 2012
I am a friend or relative of a resident
Hawthor Lakes was the only facility that I visited that I felt safe and secure sending my father to. It was clean, a ton of activities. The staff I spoke to were genuinely caring and warm. My Father has been well taken care of and seems really happy. I feel he is in much better care at Hawthorn Lakes than at home as the staff know how to best handle his alzheimers. He has made many friends. I was so worried about making a choice like this but now I know with Hawthorn Lakes he is at the best place! I hope they are around when it is my turn!
---
MichAsp
June 22, 2011
I am a friend or relative of resident
I was really touched by the way the staff took care of my uncle in this facility. From what I have seen and observed here, they not only provide a huge number of facilities but also assist him in a very efficient and professional manner in everyday activities. My uncle himself seems to be very happy in his new home and tells a lot about all the health and internet facilities provided to him. I also was very impressed by the scenic views along with the clean and safe environment they have maintained in and around the facility location. The health report they provide for my uncle is also of great help. I will continue to recommend this facility to everyone so that others can also choose the right home for their loving ones.
---
From Brookdale Hawthorn Lakes
---
Brookdale Hawthorn Lakes provides assisted living residents with lifestyles, housing, and services in comfortable surroundings combined with exceptional amenities, programs, and care. Through Brookdale's signature Personalized Assisted Living, we customize our care offerings for the individual. This allows each resident at our community the freedom and opportunity to make choices that will ease their lifestyle transitions. Residents enjoy life with the support they need, coupled with the appropriate accommodations as their needs change.
We promise Respect for Individual Preferences by offering personalized care needs and providing an atmosphere that encourages each assisted living resident to live in health and longevity. We also offer special housing and care options for those who require assistance with the activities of daily living such as dressing, bathing and assistance with medication. We offer graduated levels of care based upon the individual need of residents, as determined by our continual assessment process. We are dedicated to enriching the lives of residents every day with signature services for those who value their freedom and independence, but desire or need services providing them with the highest level of quality, care, and value.
Features of Brookdale Hawthorn Lakes
---
Room and housing options
1-bedroom apartments
2-bedroom apartments
Location of Brookdale Hawthorn Lakes
---
Get Cost Information
Get full access to reviews, cost information, and amenities