Sunrise at Sterling Canyon
25815 McBean Parkway, Valencia, CA, 91355
Talk to a Family Advisor: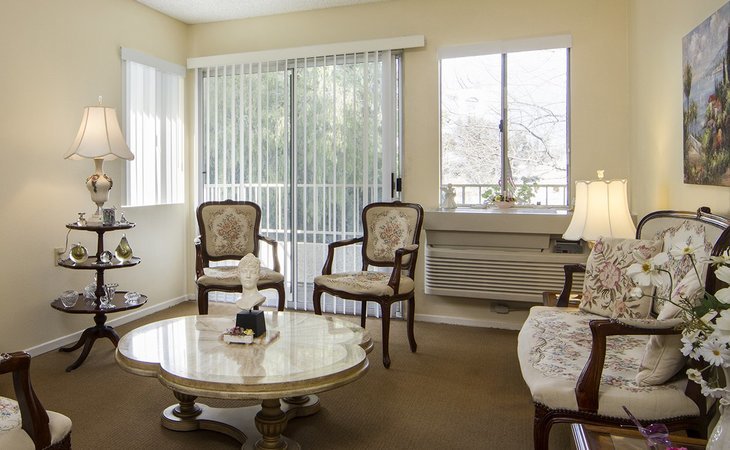 Reviews of Sunrise at Sterling Canyon
---
Care for the Caregivers
January 16, 2017
I am a friend or relative of a current/past resident
As with all assisted living facilities, Sunrise at Sterling Canyon has good and bad points. The caregivers are of excellent caliber, however, they are understaffed and overworked. It's too bad Sunrise Corporate doesn't do something about staffing correctly. It would be just about perfect if the Caregivers were given some care by the company they work for.
---
Nancy620273
November 05, 2016
I am a friend or relative of a current/past resident
Sunrise at Sterling Canyon just felt homier. There was a huge living room, people were in there, and they seemed so comfortable. My mom has been there for 2 weeks already. They seem really friendly, the staff is great, and every staff member has gone out of their way to be nice. Some would even ask for her, talk to her, call her by name, and help her. Even though they are not assigned to her, they will come and talk to her. We have no problems with the staff at all; they have been terrific. She is sitting down and eating meals, and she has three other people at the table with her so she is socializing more. She is going down for the social hours, she goes down for flower arranging, and they have lots of music and concerts; people come in and do concerts for them with a violin or piano. It has been great so far.
---
Anonymous543868
November 02, 2016
I visited this facility
My experience with Sunrise at Sterling Canyon was not very good. They did not really seem interested to even talking to us. The guy did, but he said, "We do not have any room anyway. I do not really know why you are here." He just did not seem to be very interested. The dining room was all right. The room seemed all right and larger. They seemed to have a fair amount of stuff going on. The facility looked old and needed updating. It would be nice to have somebody that did things for your business that was actually interested in talking to people and getting them interested in the facility. However, you did not have any room, then you would not really care, but it would have been nice to have someone more personable. It was pretty expensive. It was very convenient for me. It was near my home.
Provider Response
We are sorry to hear about your experience at our community. We take your comments very seriously and would like to speak with you further. Please email information (at) sunriseseniorliving (dot) com with your contact information so that we can reach out to you. Thank you, The Sunrise Team
---
Frank B.
September 13, 2016
I visited this facility
We had an excellent tour with Sunrise. It was an older facility, but The rooms were all studios and excellent. They offered three meals a day, social activities, and a little bus service that would take you shopping or on day trips.
---
GailOBTPW
May 17, 2016
I visited this facility
My mother had a larger place at Sunrise but it wasn't handicap ready in the bathroom, so that was not very good. She has a wheelchair and that was really hard. The shower is very small. They gave her a tiny shower seat, which was not very stable, and she fell off of it a couple of times. They were always understaffed. The director sometimes served coffee in the morning. I really didn't like the place very much at all. My mother didn't like the food. There was a urine smell in the elevators that I never liked. It didn't smell fresh and clean, but we had no choice because we signed the contract.
Provider Response
Thank you for sharing. Please know we take all concerns seriously and would like to learn more about your experience at Sunrise. Please email us at Information@sunriseseniorliving.com with further details so we may follow up with you directly. Thank you, Sunrise Team
---
Larry S.RRARB
May 11, 2016
I visited this facility
I visited Sunrise at Sterling Canyon. The staff was great. The place was a little old, but the price was reasonable.
---
Happy visitorBYHZH
May 11, 2016
I visited this facility
Sunrise was very good. The staff was very kind and gave me all the information I needed. The room was nice, clean, accessible, and included a bathroom.
---
Anonymous108756350
July 31, 2015
I visited this facility
Sunrise at Sterling Canyon was wonderful. The staff was very friendly, and it was very clean. The residents were very nice. The chef also came out and greeted us. It was a nice place.
---
cplush
May 22, 2015
I am a friend or relative of resident
MUST READ!!!!! This is by far the worst senior care living facility I have ever experienced in my life, so bad I must say that we are currently talking with a lawyer and may take these issues I will list to court. My wife and I had moved my dad into the Sunrise at sterling canyon, Valencia only to remove him a few months later. We had discovered that he was not getting adequate care so much so to the point that he had not showered for days on end and he had developed sores and a bad rash. I have talked to other family members of residents in this facility that have had similar experiences and they have even said that their parents had laid in their own urine and feces for hours before someone had eventually had time to change them and get them clean. I have talked to some of the sunrise care workers there to find out why my dad and several others had been treated so poorly and the most common response is that they are incredibly short staffed most nights and do not have time to visit all the residents even when they do page for help. Oh and when my wife and I brought up the issue to the executive director who's name is Igor he was completely rude and denied all of what I had just mentioned above and pretty much tried to silence us. SO IF YOU HAVE ANY HEART AND LOVE FOR YOUR PARENTS DO NOT MOVE THEM INTO THIS PLACE IT IS HORRENDOUS!!!!!!!
Provider Response
Thank you for your message. Please know that we take all concerns seriously and would like to learn more about your experience. Please email us at Information@SunriseSeniorLiving.com . Thank you, Sunrise Team
---
Ben9
December 30, 2014
I visited this facility
We were able to look at Sunrise at Sterling Canyon, and my wife seemed to like the outdoor area. They were larger. The staff was knowledgeable, and the room was slightly larger. They have different activities like piano recital, movies a couple of times a week, they have a guy that comes in and does model building, and they also have a fairly decent exercise room.
---
Diane97510450
December 09, 2014
I am a friend or relative of a resident
Sunrise is located near my residence. They are taking good care of my aunt. She is doing well, and it is good. They have different options available, but she chose the smallest one, and she's happy.
The reason why my aunt chose Sunrise at Sterling Canon is because it isn't he most modern and beautiful inside, but it comes down to the money. It is a thousand dollars a month cheaper than the other facility. It is affordable.
---
Caring93979550
October 19, 2014
I visited this facility
I was able to visit Sunrise at Sterling Canyon, and I was treated very well by their staff. He was a very nice man, and he answered all my questions and took me on a tour. If I went there, I know I would be pleased, but I know my husband would not be. They did have transportation and showed that they went to places.
---
Judy89072350
August 30, 2014
I visited this facility
Sunrise at Sterling Canyon is right across the street from a grocery store, CVS, restaurants and banking, but the street is a very busy street. Outside around it is more residential versus the other two facilities. The facility was a little bit larger and the rooms were a little bit larger. Practically all the rooms have a sliding door along with their front door where they could be outside. So that was kind of something a little different to have the two doors like that, and have that little bit more open space.
---
Caring85798450
May 30, 2014
I visited this facility
We visited Sunrise. Their rooms are really nice. They were playing games when I was there. In the memory care unit had a good feel to it, and they had some music. They had some quiet area with some nice music playing, and it just seemed like a little area available for people who didn't want to participate in big groups. There were some well-decorated private areas for people who wanted to hang out there.
---
wrnout
April 21, 2014
I am a friend or relative of a resident
My mother is now at Sunrise at Sterling Canyon. I love this place. For one thing, it is off the road a little bit, and it is close to me; that's why we chose this for her. Also, it is not close to a busy street or too close to the road. It is a very big community. The staff is wonderful. They're so good to my mother. She has plenty of room in her room. I eat there, and the food is good. The dining room has plenty of room for the residents. They have a lot of activities for the residents. They are going to a bear show this week. They would take them to Granary Square, which is right across the street. They would also take them to Walmart. They would also go to a movie or something for an activity. They play bingo and blackjack. They have pianists come in, and they have sing-alongs. They do all kinds of things with the residents. They always have something going on; they never get bored. They're really good for an ALF. The only thing is maybe they could be a little quicker with their response to the residents when the residents call for help.
---
zakp
November 23, 2012
I visited this facility
I was very impressed with the staff and accommodations at Sunrise assisted living. From the first week I started volunteering there, I could tell that the staff were well trained and genuinely interested in the well being of the residents. All of the residents I came in contact with were happy and well taken care of. There were constantly activities being put on for their entertainment, and there never seemed to be a dull moment at Sunrise. I myself set up for card games and bingo a number of times, and the staff were always extremely helpful in aiding my volunteering efforts. The rooms and accommodations seemed spacious and nice, and all of the residents definitely felt at home at Sunrise. The food was also far better than what I had experienced at other assisted living facilities I had visited in the past. Overall, I would give Sunrise top marks.
---
NicQH
March 16, 2012
I am a friend or relative of a resident
I was very happy with the care my grandfather received at Sunrise. The caretakers genuinely seem to care about the residents and make strong efforts to comfort them and help them feel at home. Other nursing homes we had visited didn't seem to mind if their residents stayed isolated in their rooms all day, but not Sunrise. When my grandfather was a resident they encouraged him to play his guitar, attend field trips, and dine with other residents and be active and vibrant. His caretakers always expressed how much they enjoyed listening to my grandfather's stories, and it made me happy to know that they really were taking time to get to know my grandfather. The staff always knew his whereabouts whenever I stopped by to visit and they voluntarily updated me with any news regarding is well-being, especially when his dementia became worse. He lived his final days at Sunrise and it was a comfort to know that he was cared for by compassionate people.
---
From Sunrise at Sterling Canyon
---
Located in the heart of Valencia, California, Sunrise at Sterling Canyon is situated next door to Henry Mayo Newhall Memorial Hospital, across the street from Granary Square and just blocks away from Valencia Town Center Mall. Sunrise at Sterling Canyon sits just around the corner from the beautiful Vista Valencia Golf Course and within minutes of the Valencia Paseo walkways with access to any of the five parks in the Valencia park system and to local shopping centers. We pride ourselves as Santa Clarita's finest senior living community, featuring both independent and assisted living.
Our innovative programs provide each resident with the opportunity to enjoy a home-like environment while having access to 24-hour professional staff. For those who need assistance with daily living tasks such as bathing, dressing and grooming, administering medication, incontinence care and/or ambulant care, we offer an assisted living program which is personalized to meet the need of each resident.
Features of Sunrise at Sterling Canyon
---
Features
Resident Transportation
Garden And Patio
Resident Parking
Security Gate
Health services
Nurse On Staff

Available During Business Hours
Location of Sunrise at Sterling Canyon
---
Get Cost Information
Get full access to reviews, cost information, and amenities