The Fountains at La Cholla
2001 West Rudasill Road, Tucson, AZ, 85741
Talk to a Family Advisor: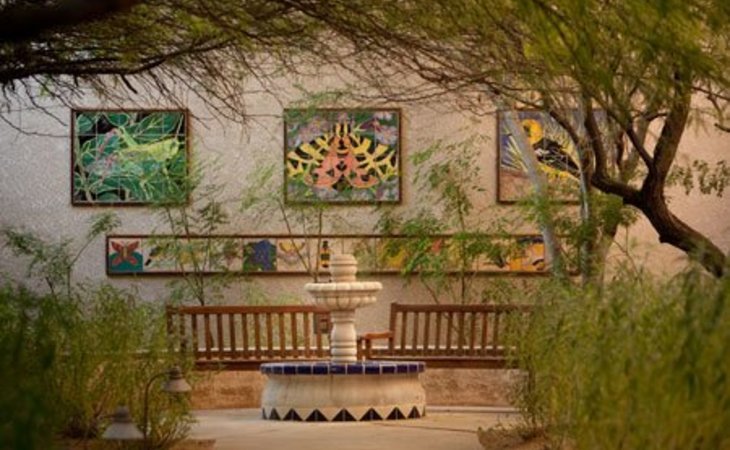 Top nearby Assisted Living Facilities
Reviews of The Fountains at La Cholla
---
Chris342773
November 13, 2016
I visited this facility
The Fountains At La Cholla was very clean, and it's a very good one here in town, but it's very high-priced. The staff was very nice. The rooms were clean and of decent size.
Provider Response
Thank you for taking the time to review our community. I'm glad you were pleased with the staff, cleanliness and residence sizes. I'm sorry you found the rates to be above your expectations. Let us know if we can answer any questions and thanks again. Sincerely, Fran Donnellan, Executive Director
---
Judith124543350
May 11, 2016
I am a friend or relative of a resident
We decided to let mom stay at The Fountains at La Cholla The place is very clean and very neat. They have independent as well as assisted living program and that is in a different area. They also have a hospice care. They do have activities and the staff are very friendly. The food is very good. They have buses that takes the residents shopping and to doctor's appointments. They have arts and crafts and movies as well.
---
Caring DaughterRPYZA
May 11, 2016
I visited this facility
The Fountains at La Cholla is a much larger community with a memory care unit and a separate assisted unit which we didn't see. It has a large, couple-story-high building with a lobby, the dining room, and the independent living department. When you go in, it's like coming into a hotel lobby with a lot of people coming in and out. It looked very active. The staff was very professional during the visit. They have some puzzle set up in one area as well as a library, a game room where people can play cards, and a hair dresser/barber shop. They have everything there that the residents would want.
---
LS2
December 30, 2015
I am a friend or relative of a resident
My mom used to live at The Fountains at La Cholla. It's a great place that always smelled nice. They had good food and nice people. My mom had a beautiful private room. They had just gone through remodeling, so the rooms had nice carpet and new furniture. The atmosphere was very positive, and everybody was happy. They were just a busy, little community. The staff seemed to like their jobs, were very nice, and interacted with the residents all of the time.
---
Anonymous115387650
November 08, 2015
I visited this facility
I like the Fountains, but the individual cottages are away from the main building which is not good. The parking was inadequate, too. The facility was fine; it was clean, the staff was helpful, and the rooms were average. However, they have a lot of educational activities like writing classes, artist classes, and stuff for people to get involved in. They go on field trips, as well.
---
Anonymous118885850
October 31, 2015
I am/was a resident of this facility
We have been here 15 months and are very happy and satisfied. We enjoy many activities, such as exercise classes, dancing, and education sessions. The quality of all is excellent.
---
Anonymous118885750
October 31, 2015
I am/was a resident of this facility
I like to live alone, and I like my apartment. I feel safe, and I am very happy here.
---
Charlene25
September 20, 2015
I am/was a resident of this facility
I've moved in at The Fountains at La Cholla. I really like it. I'm almost in and settled, so everything is just fine. I'm perfectly satisfied. My apartment is all decorated, and everything seems really good. The staff has been wonderful since I've been here. I don't have any complaints at all. They have just been wonderful to me. The food is OK. I'm very particular with what I eat. I buy my own groceries, so I eat all organic. I eat some of my meals downstairs, but mostly I cook in my apartment because I don't eat fatty fried stuff, but the meals that I had down there had been alright. I have met some really nice people here and enjoy visiting with them. I think all is well. They're topnotch as far as I'm concerned. The place is clean. The staff is friendly. I don't have any complaints whatsoever. I think it is a marvelous place to live.
---
Valerie25
April 27, 2015
I visited this facility
The Fountains was nice, and we enjoyed it, but it was too far away from where my folks lived. They want something close to where they lived so they could be familiar with the community and something with shopping nearby. At the Fountains, there was a big hospital complex, but it didn't have shopping close by.
The rooms were very fine and satisfactory. We would have liked it if they had dryers in them. The washing was down the hall. The food was great. They had good meals. It looked like there was variety and options.
There were nice grounds. You had a place to walk around, and they had nice options inside for exercise, games, and different things.
---
Laura105212150
April 21, 2015
I visited this facility
I really like my visit at The Fountains at La Cholla because it wasn't such a hard sell kind of thing. Some people I got calls from were really pushing for the hard sell. They put me on the waiting list. When I walked in there, they were having a big musical gathering in the dining room which I know my mom would love. Their one bedroom unit was really nice. Their dining is kind of like a restaurant style menu with tablecloths. The price was also very reasonable.
---
Caring106519850
February 22, 2015
I am/was a resident of this facility
I have friends here in The Fountains at La Cholla, and I shopped around among about six other facilities before I chose this one. The staff are very helpful. The rooms are wonderful, beautifully cared for, and beautifully made. With activities, you name it, they've got it. They have a recreational program, and they have a free bus service to various shopping areas, to some of the downtown places, and other places of interest around the city. What impressed me most is their friendliness. It is very well secured, 24/7, 365, complete security and people on duty every minute of every day.
---
Caring95805550
January 12, 2015
I am a friend or relative of a resident
My mother-in-law visited four or five other facilities, but she chose The Fountain. She is in the Independent living. The biggest reason she liked it was because the place has a fault monitor built in. If somebody for whatever reason needs to call the paramedics, they have somebody 24 hours that will stay with the patient until help arrives. They provide two meals a day. There is a continental breakfast and your choice of lunch or dinner. They have a pretty nice menu although she is not always happy with it. She is diabetic and has a lot of food restriction. But she can prepare her own meals in her apartment's kitchen. They also have a cafeteria style or deli style where you can order custom sandwiches. She only moved there less than month ago and is still getting used to the people and how they do things. They go out to different locations like the desert museums. They arrange trips to see plays and so on and so forth.
---
Maxine4
November 26, 2014
I am/was a resident of this facility
Upon walking into the lobby there is an immediate good feeling. Everyone -- staff and residents alike -- are smiling and welcoming. The food is very good and nice variety, maintenance problems are taken care of quickly, and the staff is quick to lend needed assistance and is caring and friendly. Love it!
---
Stan7
November 11, 2014
I visited this facility
We were able to look at The Fountains at La Cholla, and it was very, very nice. Their units were very nice. The lady that ran the place was excellent and was really efficient. The cafeteria was good and clean.
---
Stan6
August 13, 2014
I visited this facility
The staff of the Fountains at La Cholla seemed to be fine. I had no complaints at that time. One thing I liked about it was that it is close to a hospital.
---
Florence10
August 13, 2014
I am a friend or relative of a resident
The Fountains at La Cholla is very nice and the people running it are very compassionate. I think that my sister gets very good care there. She has a private room, which is not the smallest room available. It has a little kitchenette with a refrigerator, a sink and a microwave, a bedroom, and one bathroom. The staff is very nice and very cooperative. They hesitate to move her or to suggest moving her because she is content there and has never asked to be moved. She has been in one place and she was adamant about leaving it. I consider the food very nice. They do provide rides around Tucson to interesting places. There are a wide range of activities such as Bingo, games, and movies -- that sort of stuff. They have classes in painting, current events, and various subjects that the groups might be interested in. They have intimate groups for conversation or dialogue. I don't know if she gets all the medical attention that she needs, but all of her personal needs are met.
---
David82129050
April 09, 2014
I visited this facility
We visited The Fountains La Cholla with my mom. She felt that it was too large and too expensive. She'd probably get lost inside the facility. The rooms seemed nice, but they weren't as large as other facilities. The staff was very helpful, and they were also very nice to her and offered a lot of assistance. I thought it was very attractive and almost luxurious. Mom felt like it was a large hotel, but she wanted something homier. I thought it was a very nice facility.
---
Lauri1
March 28, 2013
I visited this facility
I visited the Fountains and thought it was very nice. The staff seemed very helpful. We ate there, and the food was average to above average. The facility was reasonably priced. The original building could use some upgrading, but the newer facilities were very nice.
---
040
November 20, 2012
I am a friend or relative of a resident
My grandmother stayed in this facility when my grandfather passed away. The staff were very professional and courteous, not only to myself, but to my grandmother and any visiting family and friends. My grandmother did pass away only a few weeks after staying here, but not due to any fault of theirs. She enjoyed her stay and in her last few moments she told me that she had a great life and loved everyone around her, she included some of the staff members when she told me about this. When she finally passed, the staff helped me and my family to cope, a lot more than I thought they would, and they also attended her funeral. That was something I had never heard of or seen before and it was felt throughout the family.
---
carlygoods
July 23, 2012
I visited this facility
In Tucson there are several different assisted living facilities to choose from. The Fountains has one of the best reputations for having to most to do and having the greatest grounds. I was very impressed with the rooms and the overall cleanliness of the whole facility. The staff seemed very friendly and knowledgeable. The activities available were also very impressive. Not only did the facility offer a wide range of activities on site, but they also provided transportation to other activities off site. My Grandmother was very impressed with the beauty salon that they had on site for guests. I think this made her feel at ease to not have to replace her old salon. The only negative that we could find was the price. Everything was top of the line and very impressive and I am sure they are able to do that with how much each guest is paying to live there.
---
From The Fountains at La Cholla
---
Located in the foothills of Tucson, The Fountains at La Cholla is a rental retirement community providing Independent Living, Assisted Living, Memory Care on a beautiful campus with sweeping views of the Santa Catalina Mountains. With eleven floor plans from which to choose, from cozy studio apartments to deluxe 2 bedroom Casitas, you are sure to find a new home that just fits your tastes and lifestyle. Meals are enjoyed restaurant style, with optional wine service. Near Northwest Medical Center, Foothills Mall and great dining, as well as such natural wonders as Saguaro National Park, The Fountains' location offers convenience and natural beauty. Casitas are available for the on-the-go lifestyle. The Fountains offers an ongoing course schedule of mind-expanding and body-toning classes through Watermark University. A Watermark retirement community.
Location of The Fountains at La Cholla
---
Request Info
Get full access to reviews, cost information, and amenities