Brookdale Ventana Canyon
5660 North Kolb Road, Tucson, AZ, 85750
Talk to a Family Advisor: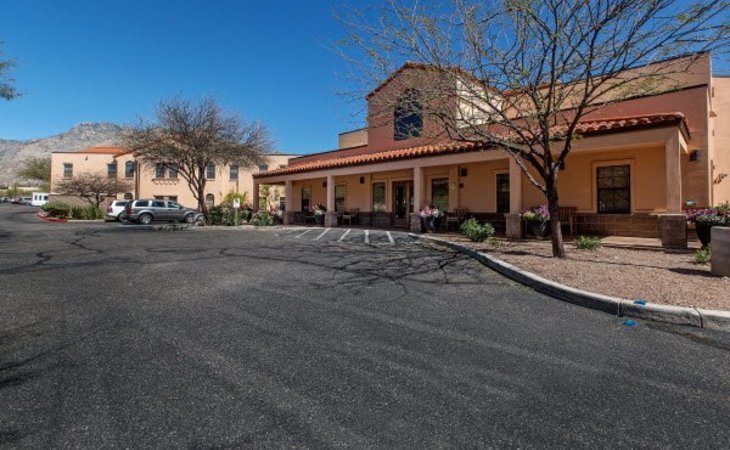 Reviews of Brookdale Ventana Canyon
---
unhappy with them
January 04, 2017
I am a friend or relative of a current/past resident
We moved a family member in to Brookdale approximately two years ago things were really run well at that time it was awesome but that changed a few months ago when a new director took over her name is Cathy. Most of the good care givers and the Med-Tec. who really ran things quit. The quality of care went down, long wait times now and poorly trained caregivers.
---
LIM
March 15, 2016
I am a friend or relative of resident
My dad, 96 years old, has been there for over a year. In the beginning, he wanted to go home, which is pretty typical. Now he loves it! He says he's living the life of Riley. The staff is warm and caring, and he has friends, exercise, and socializes. This has been an excellent move for him and a HUGE relief for the family, to know that he's well taken care of there. His apartment is nice and the right size for one person, and the bathroom is well outfitted for seniors. I highly recommend this place and so does my dad. He's trying to get his brother to move there now.
---
A Fellow Reviewer120240150
February 29, 2016
I visited this facility
Brookdale Ventana Canyon was upscale and very nice. The staff was very nice. We saw a studio apartment and it was quite nice. It was a fairly good size. We were invited to eat a meal there, but we did not choose to do that but they sent us home with a freshley baked pie from their facility. It was wonderful. They seemed to have a nurse available and they did have a doctor that comes to the facility, so that was nice. It was very good.
---
Mark101630950
December 22, 2015
I visited this facility
The staff at Brookdale Ventana Canyon was very friendly and congenial. The rooms were very good too. They had a number of activities as well, such as bingo and card games. They also took people once a week for shopping and other trips. My visit there was a good experience.
---
Caring112729350
September 07, 2015
I visited this facility
My parents were at Brookdale Ventana Canyon, and we haven't been really impressed. Their rooms are pretty tiny, but they feel homey. The facility itself is fairly institutional. There has been a long time waiting in terms of responsiveness. There have been a lot of interruptions in the quality of the care provided; that's just my observation.
---
Anonymous103730050
March 31, 2015
I visited this facility
Brookdale Ventana Canyon was small. The staff was friendly. They were primarily assisted living where the rooms were small. So it was not something that we would be interested in at this point.
Provider Response
Thank you for visiting and taking the time to share your thoughts about our community. We realize that our rooms are smaller than many expect. Most of our residents are downsizing, which can be a difficult transition. Residents do not need as many items in our setting, as we provide many items and activities!
---
James102503550
March 11, 2015
I am a friend or relative of a resident
My father is in Brookdale Ventana Canyon right now. The apartments are very nice and clean. The staff are very attentive and supportive. They do all the work and they do his laundry. They have activities almost everyday. They take them out on day trips. They play bingo and cards, and they have movie nights. Their dining room is very clean. The waiters know all the people and what they like. It's a nice setup. They serve food all day long. They have three meals plus you can go down there anytime between 7:00 a.m. and 7:00 p.m. and get a sandwich or anything you want. They have security.
---
Caring102365750
March 08, 2015
I visited this facility
I did visit Brookdale Ventana. They didn't have any single rooms; that's why I didn't choose it. If they would have a single room that my husband could have moved into, I would have taken them. It was all good. The rooms were nice, and the people were nice. They seem to have a good attitude towards their patients, and I liked it. I wasn't there that long, but I thought the sanitation seemed good.
---
Caring102472150
February 25, 2015
I visited this facility
Brookdale Ventana has really nice people as well, but the whole vibe wasn't as well as the other facility. It was a really nice looking place although I did not care about the room. It was very small, and it would have been congested with furniture in there. The room was too small for me. That was pretty much my clincher.
---
familymbr
November 04, 2014
I am/was a resident of this facility
This is a nice assisted living community. I highly enjoy the staff. They are always very helpful for me and really seem interested in my mom. I rate a 4 star. The problem I have, is the memory care unit has a much larger and better outside area then the assisted living area. I believe Ventana Canyon should expand their outside patio for their assisted living residence who can get outside and would like more space. In my opinion their two patio (memory care and assisted living) are reversed or at least needs to be enlarged and updated so mbr's have more space and more access during the day and evenings.
Provider Response
As a valued family member and resident, what you and your mother think is important to us. By giving us your feedback, you are helping us to understand what we need to focus on improving. Your feedback is always appreciated and will be reviewed.
---
Jack26
August 30, 2014
I am a friend or relative of a resident
We moved mom to Freedom Inn last July. It had a program for dementia called Clare Bridge which we thought was excellent. It has a small number of residents -- around 23 total. They always have four or five staff members on the premises at all times; one is either a registered nurse or LPN. There were a lot of physical and mental activities, not just games. Some residents go on short trips outside. They have a story telling activity, movie night with popcorn, physical exercises, and Bingo. My mom had a roommate in a companion suite and she liked that. They had the biggest rooms than the other places we visited. They serve three meals a day and snacks in the afternoon. I've seen the menu and it was fine; it had a good selection.
---
Lawrence13
July 31, 2014
I visited this facility
I visited Freedom Inn. The staff treated me very well. They were very friendly and very informative. The rooms were like a little hotel. They were spacious, clean, brightly lit and it was all you could ask for. They offered me food, but I didn't try it, however, the dining area was like a hotel's restaurant. It was very nice. I had talked to a couple of residents and the activities director. They had a lot of activities and they seemed to be active and happy.
---
Caring84555050
June 10, 2014
I visited this facility
The rooms in Freedom Inn have a countertop right next to the door when you come in. They have a microwave and an apartment-size refrigerator and a sink. They have nice fixtures. The bathrooms were nicely done, and they installed grips that you can hang onto in case you fall. They have an emergency call button. I think they have more than one dining room. The food is at least as good as you can find in a good restaurant.
---
Tucsonan
January 24, 2014
I am a friend or relative of resident
My mother was a resident of Freedom Inn for over four years. I've had a very good experience with them throughout, even though changes have stirred things up in the last half year. I start with the care-giving staff because they are front line, and all were kind, compassionate, and genuinely caring. Dining menus were creative and varied, the staff was accommodating and helpful. Wellness was appropriately involved and professional. The front desk helped everyone that came through, both residents and family. The facilities seemed well maintained and clean - rarely an off odor or neglected mess. As other reviewers noted, they are undergoing a lot of changes right now, but I think the outcome will be wonderful. The management turmoil was unsettling but I believe has been resolved. Even in the worst of that I felt like the staff maintained their professionalism as best they could. I never felt my mom was unsafe or ignored, and I have the highest regard for the patience and caring that everyone gave, not only to my mom but everyone that I saw there. If I had to do it again I would not hesitate choosing Freedom Inn.
---
jmoreno1
January 02, 2014
I am a friend or relative of resident
There has been nothing but turmoil at this property in recent times. In the past year there have been three different directors. The person in charge of "wellness" (the caretakers, nurses, etc.) was let go. The person in charge of the dining room was let go, and they were a long time without a replacement. The sales director left and has not been replaced. The business manager left due to a promotion. The turnover in caretaking staff is high. Some of the caretakers are excellent, but others are rough when transporting people and they ignore residents' complaints about it hurting if they are jostled too much, etc. Some of the residents complain about long wait times to get assistance when they buzz for help - especially during the night. Parts of my relative's room are not adequately cleaned (no dusting, kitchen area isn't cleaned). There are a lot of people dealing with memory issues who are in the main population, awaiting the opening of the memory care wing. Most all of the people who are "with it" complain about the food on a daily basis. On top of all that, the building is undergoing a major renovation. It's going to look really nice when it's finished, but please examine things carefully before you choose this place.
---
Janice9
June 19, 2013
I visited this facility
I was very unhappy with the apartments in Freedom Inn Ventana Canyon. They were more like closets, they were so small. The whole facility did not impress me.
---
maryland500
December 29, 2012
I am a friend or relative of resident
Wonderful looking from the outside but I stayed there 3 nights as a quest and it was awful! Residents buzz for help and are ignored. The in-house doctor is a joke. Look for another place for your loved one.
---
marie not happy
October 04, 2012
I am a friend or relative of resident
I came to visit my grandmother and overheard whom i believe to be the boss? only because she was upset and kept saying it in the hallway. I heard her treat an employee their ( a nurse or something close) like a child. She was so inappropriate and really embarrasing. They don't have many people their. I counted 3 cna's and they seemed very unsettled and frantic in passing almost like there was a fire somewhere. My grandma doesn't complain, but I am going to keep my eyes and ears open! I'm not sure i like this very well. My grandmother is getting up there in age and I can't remember her saying a cross word to anyone, I can't believe the unproffesional manner this 'boss' possesses..
---
gatheringsteak
July 11, 2012
I visited this facility
The Freedom Inn Ventana Canyon is a very clean assisted living facility that seems to have enough staff available to assist seniors when they need it. The staff all seems very professional and like they care for the well being of all of their residents. The assisted living facility also has shuttles available that regularly take the residents to shopping centers, or out to do site seeing activities. The location is very convenient as it is within walking distance of a pharmacy, grocery store, and many fine restaurants. Overall I would say that this assisted living facility appears to be cleaner, more caring, and better prepared than most of the competing assisted living facilities in the area. I would recommend this assisted living facility to anyone that is currently looking for a place to put their older loved ones that need some more attention or assistance doing tasks around the house.
---
Brigie
November 17, 2011
Other
Clean and well lit. Food is excellent. Variety of activities for all abilities and interests. Religious services for many faiths -- all welcome to any service. Two floors with elevator. Various levels of assistance. Laundry facilities for self use or paid laundry service in house. Well run -- managers available for consultation. Nursing staff turn-over a little high.
---
cccullins89
September 16, 2011
I visited this facility
Freedom inn was very warming, welcoming. From the minute we walked through the doors we were welcomed and provided wih drinks went on a tour of the lovely fecilty. They were very well staffed in which the caregivers werent rushing any the residents and they were very carng and gentle.
---
From Brookdale Ventana Canyon
---
Brookdale Ventana Canyon provides our residents with lifestyles, housing, and services in comfortable surroundings combined with exceptional amenities, programs, and care. Through Brookdale's signature Personalized Assisted Living we customize our care offerings for the individual. This allows each assisted living and Alzheimer's care resident the freedom and opportunity to make choices that will ease their lifestyle transitions. Residents at enjoy life with the support they need, coupled with the proper lifestyle and care accommodations as their needs change.
We promise Respect for Individual Preferences and offer personalized care needs in an atmosphere that encourages each resident to live in health and longevity. Our residents enjoy life with the support they need, coupled with the appropriate assisted living and Alzheimer's care accommodations as those needs change.
Our community is dedicated to enriching the lives of our residents every day with signature services for those who value their freedom and independence, but desire or need services providing them with the highest level of quality, care, and value.
Our Clare Bridge Place program serves those with Alzheimer's disease and other forms of dementia. Each day, we promise to work to deliver Daily Moments of Success for each resident. The Clare Bridge Daily Path provides structure and activities each day designed to meet specific needs of those with dementia, while the Clare Bridge Dining Program, designed by a gerontologist and registered dietitian, helps residents in need of Alzheimer's care retain the ability to enjoy and master the daily dining experience.
Features of Brookdale Ventana Canyon
---
Features
Beauty Barber Shop
Computer Room
Resident Transportation
Garden And Patio
Resident Parking
Technology and entertainment
Health services
Nurse On Staff:

Onsite 24/7
Location of Brookdale Ventana Canyon
---
Get Cost Information
Get full access to reviews, cost information, and amenities