Atria Campana Del Rio
1550 East River Road, Tucson, AZ, 85718
Talk to a Family Advisor: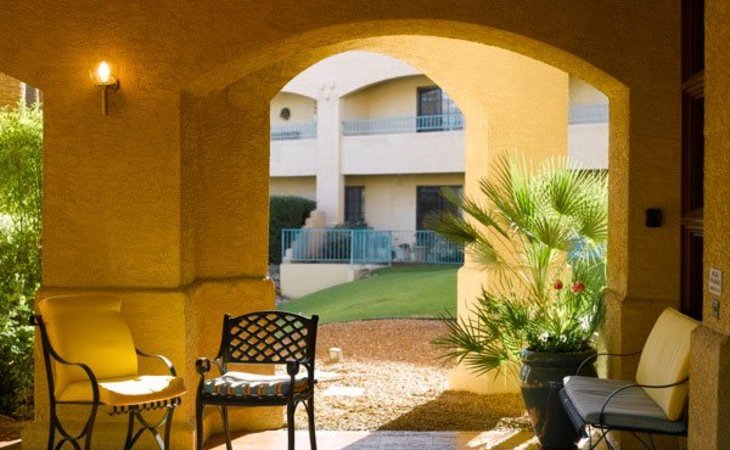 Reviews of Atria Campana Del Rio
---
Barbara721001
May 10, 2017
I visited this facility
We really liked Atria Campana del Rio. It's modern and clean, and the staff was really pleasant. There were a lot of positives. The food was great, like it was from a professional restaurant. They had a church area, gaming area, and a dining room.
---
Dianna072314
May 06, 2017
I visited this facility
I visited Atria; it was very modern and very well-kept up. The staff was very helpful and friendly. The facilities were really nice with beautiful open outdoor areas. However, it didn't meet the criteria that I needed for his care.
---
Leslie133616
March 06, 2017
I am a friend or relative of a current/past resident
We chose Atria Campana as it had everything that we needed. The people were very nice and informative. They had an apartment that was exactly what my in-laws needed. They had great food and services. They had everything available for those who live out of town to make sure that their needs are being met, so we felt really good about that.
---
Patricia845880
December 16, 2016
I visited this facility
Atria Campana del Rio was beautiful. The rooms were very nice and exactly what we wanted. The staff was kind and concerned. The dining area was very nice. It seemed like it met the needs of the clientele very well. It was a little far away but worth it for the quality.
---
Nevita
November 01, 2016
I visited this facility
I visited Atria; it was a nice facility, and I've nothing bad to say about it, but it was not a good fit for my aunt. Their staff to patient ratio was 1 to 10. They have a set fee for the level of care, but every single thing needed is an added cost, plus they're the ones that would decide if the level of care needed to be increased, and I didn't like that. Also, they only provide 2 meals and not 3.
---
Eunice841850
October 21, 2016
I visited this facility
I very much liked Atria Campana Del Rio. It was clean and the people were respectful. I liked how they showed us around and the way they had their activities going. I think my mom would like it there, and I liked the way they handled their elders. The place was new and kind of modern.
---
visitor122187750
March 27, 2016
I visited this facility
We were looking at the Villas at Atria. We liked them, but some were facing River Road. Even though there's a wall, you can hear the traffic, so we were trying to get one away from the road. It was appealing to us because it was very close to a bike trail along the river. The staff was very nice, and we met some residents, too. They had a pool and a very nice dining room.
---
Mark101630950
December 22, 2015
I visited this facility
During my visit in Atria Campana del Rio, the staff there was very good. I had lunch in there wonderful dining room. The food was exceptional. They had lots of activities, like bingo and singing, too. They had a long list of other activities. They also had a swimming pool. The rooms were clean and were set up nicely. It's a little costly but a good community.
---
Lynn110479750
July 29, 2015
I visited this facility
The visit at Atria was nice. The lady was very knowledgeable, the rooms were nice, and they were of good size. They had separate buildings that had walkways connecting them, but in some cases you had to actually go outside in the building and go to the other buildings for some activities. I am pretty sure each building had a dining area. They had linens, but it wasn't like a really classy restaurant; it was more of a coffee shop. There were some people playing cards, and I believe they had a billiard room. I didn't see a lot of people doing stuff, but again, it was around lunch time. There were some people waiting for transportation to go some place, it was nicely landscaped, and the common areas were furnished nicely.
---
Lindsey3
June 01, 2015
I visited this facility
We like Atria Campana del Rio very much. It was very cheerful, and it had a nice, bright, and open feeling. The residents there seemed to be very happy, enjoying, and engaged. Croft -- the director who showed us around -- was incredibly helpful and very patient and answered tons of questions. It was very well-maintained, and it had a lot of light. I really liked the activities that they had, and everybody was very helpful and patient with us.
---
Anonymous103730050
March 31, 2015
I visited this facility
Atria Campana Del Rio was very clean and very neat. The rooms were a little bit smaller than what we were really looking for. People seemed to be very friendly and the staff was very knowledgeable. I really liked the place.
---
Caring102356650
February 25, 2015
I am a friend or relative of a resident
My mother knew somebody in Atria; that's why we chose it. Cleanliness was fine; however, it charges too much. They have continued to raise their fees every year since she's been there. The services remained the same, and the food is not as good since she moved there. They also have an enormous amount of theft. They have lots of activities for the residents. They have different evening activities you can go to around the community.
Provider Response
As an organization, we want to create a one of a kind experience for our residents by doing things the right way, and that means cutting corners isn't an option. This commitment to you and all of our customers is why rate adjustments are necessary. In regards to food, we would like the opportunity to hear suggestions of how you feel we can improve your dining experience at our "Food for Thought" meetings which occur monthly. As always, you can email us directly at customerservice@atriaseniorliving.com, including "Atria Campana Del Rio" in your subject line so we may quickly include the right people in the correspondence. We are here to help.
---
Robin39
November 29, 2014
I am a friend or relative of a resident
I had mom at Atria Campana Del Rio. The main reason we had her in there was financial because it was the least expensive. The staff were fine. They do have a small pool and an exercise area. I think the facility needs some updating. The kitchen needs new cabinets, and I think it was time for them to spend some money for updates.
---
Caring96889950
October 31, 2014
I am a friend or relative of a resident
Mom was in the assisted living at Atria Campana Del Rio for two weeks. I can't say anything bad about them; they were wonderful. They were the ones who told my brother that she really needed memory care. It's very near to shops, walking distance to churches. There is a public transportation right there and they also have a shuttle from Atria that takes them to the malls, movies, and other activities in town. They would have taken her to church and picked her up from church, but she didn't want to "bother them." The facility is immaculate. The food is wonderful. It's like being in a 5-star hotel.
---
Gloria8036
June 30, 2014
I visited this facility
Atria has been around for a number of years. It was clean, and it seemed to be nice. The rooms were small, but they were very efficient. They had a small kitchen and a bathroom. One efficiency room that I saw had a separate bedroom. I like the whole facility. I like the way it was set up. They had a library and a swimming pool. They had various activities like crafts, etc. They had a cafeteria, and they served two meals a day. We didn't taste the food, but they did give us banana bread, and that was good. The dining room was a beautiful and very nice area. The staff was very friendly and very nice. They were knowledgeable.
---
Donna6443
June 30, 2014
I visited this facility
If my father-in-law had to go somewhere and I had to choose, I would choose Atria Campana Del Rio. It was close to us. The room we looked at was a two-bedroom unit. The room was nice. It had bathroom and a kitchen; however, it was on the second floor, which really didn't fly for my father-in-law. They had us at lunch, which was nice. The dining room was nice too. It was all central, like a big dining area in the center. It was very good. We had a lady who took us there, and she was very nice. The staff seemed nice, the little bit of time we were there. They had activities scheduled, but I don't know what they were.
---
Harvey6370
June 26, 2014
I visited this facility
Atria was nice. I had lunch there, and I found the food very good. As we walked around, one lady resident said, "I wouldn't live any place else." I also watched a group playing bridge there, and I love to play bridge.
---
Caring86048750
June 19, 2014
I visited this facility
We went to Atria Campana Del Rio. It's a pretty big facility, but it's beautiful and clean. I think it would be a lovely place to live. They were very thorough in explaining the things that they had. They were very helpful in laying out all the programs, and it depended on the level of care that the person was receiving. For each level of care, they had activities that were appropriate for them. They took them to the store, bank, and mall. There were lots of outings available. They offered church services, and they would even take them out to church if they wanted. They offered bingo, movies, and TV. I know that the independent living even had a pool. They invited us to have a meal, and it was delicious. The menu had everything for everybody. It had a wide selection of meats, salads, vegetables, and desserts, so anybody who had a special diet could pick something out of that menu. My mother had a stroke, and she had difficulty in cutting her meat with her right hand. They offered to cut her meat for her, and they brought her meat already cut. So, if you specified that you needed something like that, they would fix it to suit your need. However, it wasn't quite what my father needed.
---
Caring87002850
June 17, 2014
I visited this facility
Atria Campana Del Rio was very nice. They have assisted living, independent living, and for those who need it, Alzheimer's care. They have very nice facilities. It seemed very comfortable and very clean. They have a community room where they can watch TV or play cards. They also have a workout facility. They have a lobby, so people who want to visit with their family and friends can visit there. The rooms were beautiful. The one we saw had a balcony that looks out to the garden. Overall, it was a very beautiful and very lovely place. Food was great. The staff was wonderful and very gracious. The only thing we didn't care for was that it was very large. Also, they have a lot of extras that were very expensive, like if my mother needed assistance taking a shower, they charge $35 extra each time, so that was a lot.
---
Caring84555050
June 10, 2014
I visited this facility
Atria is a bit downscaled from the other places I've seen. It was a better deal for your money. If price is a major factor, I would definitely say check out this place. The staff is very nice and very pleasant.
---
Caring81112950
April 26, 2014
I am a friend or relative of a resident
My mother-in-law has been at the Atria for two months. She's happy. So far, there seems to be very good care. It was cost-effective from where she was. They have nice facility, amenities. The rooms are very nice, roomy, handicap-friendly. She has a nice view in her room. It's very elegant. The grounds are well-maintained. It's nice and clean.
---
Caring74323750
January 30, 2014
I visited this facility
Atria is in a very nice section of Tucson but it's not close to the hospital. It had plain decorating and the location is nice. Hopefully when I move in that they'll have the same chef because the chef was excellent, the food was excellent. I liked everything about it. The marketing person was very, very nice. What they show you is a 1-bedroom and it was a nice size. I liked the size for myself. They just show you the activity room, it looked like it was very satisfactory. They give you a copy of their month's activities and they seem to have a lot of activities. Every single day you have a choice between 6 and 8 different activities that you want to participate in. If someone ever asked me, I would recommend it.
---
Dorothy28
October 23, 2013
I am a current client of this provider
great food great help great rooms lots to do!, very warm & cozy NOT dreary as some!! The price is right!
---
Alice10
September 23, 2013
I visited this facility
Atria Campana del Rio was beautiful. It was a great place. It had a landscape and the facility was clean. They gave us lunch and it was very tasty. The whole experience was good. However, we weren't able to put mom there because mom was not going to live much longer.
---
Chris26
August 10, 2013
I am a friend or relative of a resident
My mom was at Atria Campana Del Rio. The facility was very big. The grounds were very nice. Every room was nice. It got a nice view but other than that, I didn't see any a lot of interaction with people there. They were not keeping enough staff to take care of the people that were there. They got a new director who just changed all kinds of stuff. My mother was really, really unhappy.
Provider Response
Thank you for your review and I apologize for any issues your mother experienced during our transition to a new director. I would like to assure you that we have taken staffing very seriously and have made the necessary changes to ensure that our care team is always available to our residents when they are needed. If you have any questions, please contact us at customerservice@atriaseniorliving.com and include the Atria community name in your subject line. You are also always welcome to come for a visit to check in with us.
---
Antoinette1
August 01, 2013
I visited this facility
It was clean and it had a really nice environment. I liked that it seemed like a hotel in a way. Everyone was so inviting. The residents I met all seemed to like it there.
---
Caring06081
June 19, 2013
I visited this facility
Atria Campana Del Rio was really nice. My mom fell in love with it, but she couldn't afford it. The community was great. Everything was set up. It has really nice grounds and the rooms were nice. It felt more like an apartment living. The staff was friendly. The food was really good. They also have an exercise room, computer room, arts and crafts room, and a library.
---
GeckoGirl
September 11, 2012
I am a friend or relative of a resident
The staff was wonderful and caring (and VERY patient!). The facilities were clean, lots of fun activities for the residents and very professional.
---
TS
May 03, 2012
I visited this facility
We had a chance to tour the place, though my grandmom decided to stay where she is. The place in nice,clean, and safe. The people are fine, they welcomed us heartily. And yes, I will recommend the place to others as well.
---
Aremat
July 28, 2011
Other
My Caregiving business has 3 clients that we serve. I have come thru many days, different hours, weekends and have never been disappointed, in the service my clients recieve. Not only my clients are treated with dignity, but I am treated like family everyday. Each department is different, and I don't know everyone, but staff always pass with a cheery smile and greet myself and my client (s). There is always a list of activities and events, in the Activity department. I have gone on many events, even joined in one or more lunches. The prices are excellent and affordable, and you can ask Activity staff any questions about upcoming events. One of my favorites are the ladies, that control the mighty Atria, the front Lobby Receptionists. That work hard, with no thank you! They do because it is their job. Thank you for doing this job, so well. "Thanks Tina, for that extra smile, and special touch". This is my good experience with Campana Del Rio. I hope you have the chance to visit yourself. P.S.- Don't forget the Dining Room, the cleanliness and kindness of their hard workers, will impress you and your loved one. Thank you Chefs. It is a good experience everyday, and I hope to be able to work with this Respected company for a long time. Atria also has the happiest Residents. Very friendly senior people.
---
From Atria Campana Del Rio
---
At Atria Campana del Rio, you'll discover a welcoming senior community nestled in the bucolic foothills of the Santa Catalina Mountains in Tucson. The area's Spanish-style architecture is reflected in the red-tile roofs and soft desert colors throughout each spacious apartment and townhome. There's also an entertainment lounge, a movie theater, chapel and two well-stocked libraries.
Atria Campana del Rio offers the following services:
Staff available 24 hours a day
Choice of apartments
Anytime Café
Full-time director of events and activities
Emergency call system in every apartment
Daily restaurant-style meals
Housekeeping services
Maintenance of apartment, community and grounds
Medication assistance
Scheduled transportation
Memory Care - Life Guidance
Atria Senior Living is a leading operator of independent living, assisted living, supportive living and memory care communities in more than 180 locations in 28 states and seven Canadian provinces. We are the residence of choice for more than 21,000 seniors, and the workplace of choice for more than 13,500 employees. We create vibrant communities where older adults can thrive and participate, know that their contributions are valued, and enjoy access to opportunities and support that help them keep making a positive difference in our world.
Features of Atria Campana Del Rio
---
Costs
Rent Plus Care Fees
Entry Fee
Fee Structure Extra

We Offer A Month To Month Rental
Room and housing options
1-bedroom apartments
2-bedroom apartments
Companion Suites

We Offer Companion Suites

Studio Apartments
Housing Extra

Cottages
Dining options
In Room Kitchenette
In Room Kitchens
Dining Room Shared Meals
Room Service For Meals
Features
Beauty Barber Shop
Computer Room
Resident Transportation
Coffee Shop
Party Space
General Store
Tv Room
Garden And Patio
Resident Parking
Pool
Spa
Features Extra

Library, Fitness Room/Gym, On Site Dog Park
Cleaning services
Laundry For Linens
Private Cleaning Services
Housekeeping
Laundry For Clothing
Technology and entertainment
Cable In Rooms
Technology Extra

Emergency Call System
Health services
Medication Management
Physical Therapy
Activities
Offsite Activities
Music
Games
Stories
Religious Services
Lectures Discussions
Book Clubs
Wii Sports
Tai Chi
Fitness Room
Yoga
Gardening
Cooking
Arts And Crafts
Activities Extra

Computer Class
Guest services
Guest Parking
Guests At Mealtime
Overnight Guests
General
Minimum Age

None

Pets

Small Pets Allowed
Location of Atria Campana Del Rio
---
Get Cost Information
Get full access to reviews, cost information, and amenities