Atria Hillcrest
405 Hodencamp Road, Thousand Oaks, CA, 91360
Talk to a Family Advisor: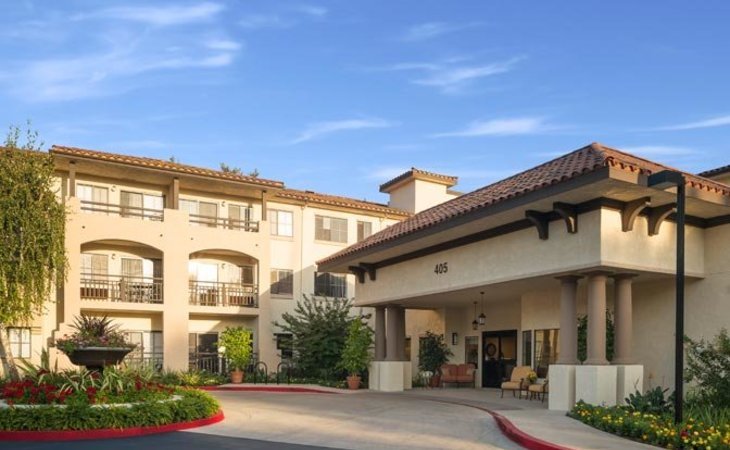 Top nearby Assisted Living Facilities
Reviews of Atria Hillcrest
---
Jill584743
November 14, 2016
I visited this facility
Atria Hillcrest was luxurious and hotel-like, but they didn't have a room big enough for both of my parents. The rooms were quite small. Everyone was very gracious, and I observed the staff working with the folks who lived there; it seemed like everybody was very caring, friendly and always trying to engage people to come and do activities. Nobody passed by anybody without saying something. Everyone always paid attention when they passed by a resident and talked to them for just a minute before they went on to their duty. The staff really is very engaging .
---
Pat760545
November 01, 2016
I visited this facility
Atria Hillcrest is very nicely laid out and has a kind of quiet place. It's easy to get into and out of. The food was good, and it seemed it offered less regimented meals. You had a little bit more possibility for taking meals differently at the regular times. The rooms are small but comfortable-looking. It's pricey especially if you're looking for 2-bedrooms. You're limited to one car.
---
Monique245603
October 13, 2016
I am/was a resident of this facility
My mother moved into Atria; it was beautiful, and well-maintained. The staff was wonderful and very sweet. Mom has a beautiful room, but the problem was the heating and air conditioning system doesn't turn itself off, and the windows get heated up, but they're addressing that. Other than that, the people are awesome, the food is good, and the doctors come into the facility. I love it.
---
Carol107087350
May 22, 2015
I visited this facility
Atria Hill Crest was wonderful. Everything was located on the main floor which was perfect for my brother-in-law. There was a room that he did like very well. However, he will not be going there because he found what he wanted in another facility. The salesperson was absolutely outstanding and was in contact with me the whole time. She even called Saturday to see if she could do anything for us or in the future. The thing I liked about them was that they had several levels of care.
---
Caring106528250
May 03, 2015
I visited this facility
Atria Hillcrest was very professional with beautiful décor. Maintenance was impeccable. They all smelled good. The food smelled and looked good. They all seemed very clean. The restrooms were clean. The apartments were quite small, but it was a beautiful place.
---
been_around_the_block
April 14, 2015
I am a friend or relative of resident
Make sure you know what your needs are. Assisted living means "you're on your own," like living in an apartment downtown, except here you get are some basic services such as incontinence care, laundry, help with grooming and dressing, medication administration, and a decent social environment. The food is good, the staff is friendly and the place is clean, but for $7,000 a month the rent is high. That's for a middle-level of assisted living care. There is no medical care on site. You can't get a bandage changed or even a flu shot. Transportation services are limited to nearby doctors and dentists only, on Tue and Thu only, and that means they'll drop you at the door, no escort service, and nobody will pick up your prescription later. If you have a panic attack or a fainting spell, it's the ambulance and the ER for you. Know what your needs are. This is assisted living, without medical care. Communicating with Atria staff is Kafkaesque. Double and triple-check everything you are told because it's probably wrong. Get it in writing. They don't talk to each other so don't assume any instructions or advice you give will be followed. They have trouble keeping track of prescriptions and medications. They can't even give a straight answer on what services they offer at what prices. Except for the appalling communications problem, it's a nice, airy, clean, safe and pleasant facility for an eye-watering price.
---
LoveyourElder
September 19, 2014
I am a friend or relative of resident
My Mom has lived in this facility for 11 years. We moved her to the new "Life Guidance" floor last year - she was one of the first residents of the new floor. She has been a guinea pig from the start. The have had five different directors on the floor since it's inception. They have not come through with the level of care that was promised. We are paying $6800 per month - that is "Rolls Royce" level care. We are receiving -at best - Volkswagon level care. The memory care unit is grossly understaffed and staff quits on a weekly basis. (As do there Directors - as I stated above.) Call the Atria and when you are put on hold - listen to their "glowing description" of what the Life Guidance floor has to offer. It is a complete joke. We are currently being forced to relocate my Mother due to the gross lack of care.
We have been waiting since September 14th for any one in management to contact us about our concerns. They have not. We went in at 9 am today - there is not one level of management in the entire building - AGAIN.
Run, don't walk - to find your loved one a different place. You will be doing your loved one a great service to NOT have them live here.
Provider Response
We apologize for the communication complications you have experienced and welcome the opportunity to speak with you personally to gain a better understanding of your situation. Please reach out via customerservice@atriasen… and if you would kindly include "Atria Hillcrest" in your subject line, we can quickly include the appropriate directors in the correspondence. We are here to help and hope to hear from you soon.
---
Susan92205750
August 27, 2014
I visited this facility
Hillcrest was nice. People were very friendly, and the facility was very nice. The floor plans were very odd. The grounds were nice, but they could improve their floor plans to make space more useable. I did not like the floor plans of the unit. The rooms are odd-shaped. I don't think they had a stove.
---
ruthnelson1949
March 29, 2014
I visited this facility
Atria Hillcrest was very nice. I have an older friend who has lived there for like three years, and she likes it very much. I just don't have the money for any of these places. I've looked into how I can afford it, and I can't. The staff was friendly. I would say that the environment was bright, friendly, and cheery. My friend is happy there. I didn't have any meal when I visited, but my friend likes the food, so I'm kind of going by her impression. My friend's room was nice, pleasant, and homey. She had a lot of her own fixtures and things in the room. There are furnishings by the facility, but she had pictures and personal things there. It was of average comfort.
---
Wanda9
December 31, 2013
I visited this facility
The grounds at Atria Hillcrest were nice and the rooms seemed adequate. When we visited, I did not see a lot of the staff but I did not have a bad impression with them.
---
George35
August 07, 2013
I visited this facility
Atria Hillcrest was good, but they were also very expensive. Their special deal was that they had a nurse there 24 hours a day, however I felt it wasn't needed. The facility was very nice, but it was small and there was no ground level. The room that they had for the same price where my mom is now was a lot darker and smaller.
Provider Response
Thank you for your review. We always appreciate feedback from our families and visitors. I will be sure to share your comments with the appropriate staff who can help make sure that are apartments are bright and welcoming. Please contact us at customerservice@atriaseniorliving.com and include the Atria community name in your subject line if you have any questions.
---
Caring 8393
June 17, 2013
I visited this facility
We visited Atria Hillcrest, the place is clean and well-kept but their business model is very old. The apartments are very small and it's meant for people in assisted care situation. They are what used to be popular, a smaller apartment for a single person or a survivor of a couple for instance. I find that very restricting and that's not at all what my wife and I are looking for.
---
g. rose
August 30, 2012
I am a friend or relative of a resident
The facility was very clean and appeared to be well run. My father had a nice room. The food was quite good and he always seemed to enjoy it. Most importantly, the staff who worked with him were almost all very helpful and friendly. He was quite scared and worried when he first moved there, but they quickly made him feel at home and provided him with the help that he needed. Unfortunately, after a couple years, he needed a higher level of care which they were not able to provide and he had to move to a skilled nursing facility. We have been quite happy with that facility also, but I know that my dad still misses Atria, the assisted living facility where he was previously.
---
satisified family member
July 11, 2012
I am a friend or relative of a resident
With the exception of one front desk employee the staff was very friendly, welcoming, and helpful. Always made a point to say hello and seemed to remember us each visit. The manager was very helpful and always there to help if needed. The facilities were a bit outdated and in need of remodeling. The food was pretty good, and I loved the little cafe with sandiwches,chips, yogurt, coffee, etc. Always had cookies and refreshments available on the way in/out. There always seemed to be some activity, either cards, movies, Wii, or some form of entertainment. Always wanted to partcipate in activities and other residents were welcoming and friendly. I would highly recommend this facility to others looking for a peaceful, fun, clean facility for loved ones.
---
---
Discover exciting NEW enhancements at Atria Hillcrest, including a custom-designed movie theater, upgraded spa offering manicures and pedicures, a modern bistro, redesigned patio and outdoor dining, custom fitness center, visiting physician's exam room, library, WiFi and Saflok&reg security system.
We are also proud to introduce our new Life Guidance&reg memory care neighborhood, where we provide innovative, specialized care in a secure, structured setting for those living with Alzheimer's or other forms of dementia.
Beautiful Atria Hillcrest is a comfortable, elegant community tucked away among oak trees in sunny California. Recently remodeled, Atria Hillcrest features serene gardens and walking paths as well as a complete social calendar, including weekly happy hours. Atria Hillcrest is just one hour from downtown Los Angeles.
Atria Hillcrest offers the following services:
Staff available 24 hours a day
Choice of apartments
Anytime Café
Full-time director of events and activities
Emergency call system in every apartment
Daily restaurant-style meals
Housekeeping services
Medication assistance
Scheduled transportation
On-site general store
Memory care - Life Guidance&reg
Atria Senior Living is a leading operator of independent living, assisted living, supportive living and memory care communities in more than 180 locations in 28 states and seven Canadian provinces. We are the residence of choice for more than 21,000 seniors, and the workplace of choice for more than 13,500 employees. We create vibrant communities where older adults can thrive and participate, know that their contributions are valued, and enjoy access to opportunities and support that help them keep making a positive difference in our world.
Features of Atria Hillcrest
---
Costs
Minimum rate:

$4729/month

Minimum Memory Cost

$8119/month
Licenses
Licenses

License #565800366

State Licenses

565800366
Location of Atria Hillcrest
---
Request Info
Get full access to reviews, cost information, and amenities