Stone Ledge Manor
12006 McIntosh Road, Thonotosassa, FL, 33592
Talk to a Family Advisor: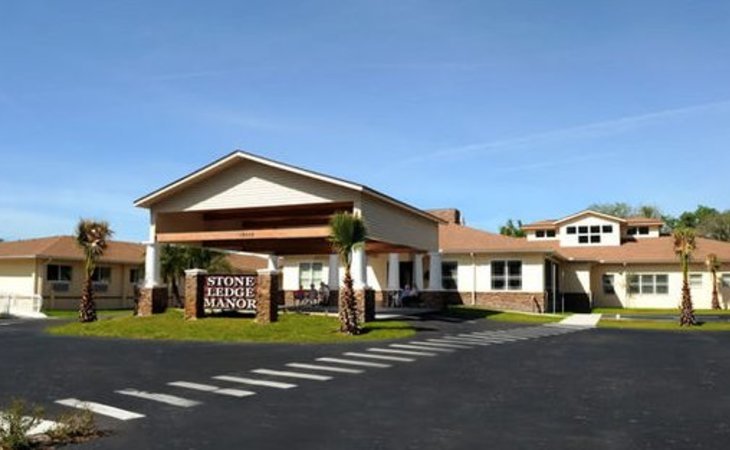 Top nearby Assisted Living Facilities
Reviews of Stone Ledge Manor
---
SY704600
March 29, 2017
I visited this facility
Stone Ledge Manor has a bus to take clients to appointments. It's not as fancy as where my sister is moving from, but it still had the amenities that she's accustomed to. She'll have a living room, a bedroom, and a bath that will be hers, and they'll also have somebody that will give her medicine handed to her all day long instead of giving her a box of medicines to be sure that they're taking it at the appropriate time. There will also be people who will go in and check on her every two hours.
---
the3rdone
December 15, 2016
I am a friend or relative of a current/past resident
My mom as been there almost a year ,we have a some problems , we had her moved because her room mate required a lot of help to go to rest room , visited one time and found her in her closet urinating in garbage can ,that's when we had her moved ,also found her in room on a Sat. morning about 10;00 she had not left room for breakfast .but staff said she had ,she was still in her PJ no bra on hair not comb ,right now we are dealing with a rash that we found ,also we know she is not bathed when we ask staff ,we know this by taking pictures be for we leave of shower and bathroom. visit often and bring your phone for pictures ,good luck ,I hope this note has helped everyone including SLM staff and management.
---
Peggy017655
August 17, 2016
I am a friend or relative of a resident
My mom is currently at Stone Ledge Manor. She likes it because she has a room to herself as well as a private bath. She is in assisted living with a nice dining area. The place is very nice, even if it's expensive.
---
Kathryn104523
June 29, 2016
I am a friend or relative of a resident
Stone Ledge Manor is very good because of the amenities that they have for my sister, the fact that they have a nurse in the facility that oversees the medications, and the fact that she has a TV, little kitchenette, and a private telephone in her room. The staff was very friendly, and she's very happy now. She's very happy that she moved there. I would recommend them because they are an outstanding facility.
---
Happycare333
June 10, 2016
I visited this facility
I have been going to Stone Ledge Manor for the last two months and have been happy with each visit to this community. The location is convenient to the highway but offers the residents a nice country setting. The staff really cares about the people who are there and make sure they are well taken care of. The food tastes amazing and the rooms have so much space! I could not believe all the activities they had on the calendar to keep everyone busy and engaged. If you are looking for an assisted living or memory care, look no further! Go see this place...You won't need to look any further!!
---
Acreativemom
February 01, 2016
I am a friend or relative of resident
Run away from this place. They treat their non-memory care residents like they can't think for themselves. There are bugs and the food is terrible and unhealthy. There are much better places that are even less expensive and offer more amenities included in the base price. Our loved one was there less than 6 months and we had so many issues that we could no longer let her stay there. The food alone almost put her in the hospital. If you love your loved one look for another place.
---
mikrum
September 11, 2015
I am a friend or relative of resident
It has been 3 years since my father went to give blood and ended up never coming home. After hospital stays, rehabilitation, and therapy we determined that he would be best cared for in an assisted living facility. Stone Ledge Manor is 3 miles from my home and driving by was an almost daily occurrence, so we as a family checked their facility first. Wow! What a gem that we have in our area!! My father initially began in the Assisted Living side of the facility and was moved last year to the Memory side due to his increasing dementia issues. Since residing at Stone Ledge he is no longer on insulin because his meals are well balanced and regular. When I have visited at mealtime I have joined him because the food was so delicious. The staff and administration are top notch! If Dad shows signs of anything medically, they are attentive and professional and notify us every time. When you make a decision as a family that one of your own needs care in an assisted living facility it is difficult. However, Stone Ledge Manor is now part of our family and we couldn't be more happy with their care for my Dad.
---
Daiseypittman
May 22, 2015
I am a friend or relative of resident
My grandmother and my family made the hard decision of pitting her somewhere that could help take care of her. When we started looking at assisted living facilities, Stone ledge was the first and last place we visited. It was an extremely hard decision but as soon as we walked in and met the staff we loved this place. It's cozy, the staff cares, they go above and beyond the call of duty there. My grandma has now gone into the memory ward because her Demetria is getting worse. It was very stressful making that decision, and the staff helped the transition go smoothly. I love talking with the staff, they're easy to approach and talk to. The meals are awesome. The cook does an amazing job with the food. I feel as though stone ledge employees have become a part of our extended family.
---
mbs1977
May 07, 2015
I am a friend or relative of resident
I chose this place for location, cleanliness and seemed like a caring staff. My mom had to go into their secured unit since she has dementia; they didn't inform me that you had to have a Doctor's order for every single thing, even a veggie plate. They were constantly losing her walker, her clothes, her prescription reading glasses and the residents were constantly getting SERVED COLD MEALS cause the aides didn't get the residents to dining room before meal cart was brought to the secured unit from the kitchen. 3-11 and weekend shifts were the worse, the aides on these shifts were not doing their jobs. I found my mom on 2 occasions with something sticky in her hair and it would also be matted. One Saturday she was still in her pajama pants at 12:30 and that was one of the days her hair was matted and sticky. This same day the meal cart was sitting in staff area with covered plates; it was 1:30 before they were served their lunch. The secured unit also has no chafing dishes or microwave to warm the food up after it has sat so long. This is uncalled for and just because the residents can't voice their concerns doesn't mean they can fed late, bathed late, etc. I have also seen aides getting residents up out of chairs and beds in the wrong manner. They should not be PULLING on the residents hands to get them up, they should be wrapping their arms under the arms of the residents to get them up. The aides could hurt the residents arms, break a bone or even hurt themselves. My mom's walker went missing for 6 days at one time and mom had only been in this facility for 2 months.
---
Large Angel
March 08, 2015
I am a friend or relative of resident
Stone Ledge Manor provides EXACTLY what they say they will. The staff are all friendly, caring and helpful. My family is extremely pleased here, consider it home, and are well cared for and loved. I searched for a long time in the area for just the right place, and found it at Stone Ledge. Words cannot really do this place justice. There is no salesmanship, no shading of the truth, no hiding of flaws. Are there flaws? Yes, such as will be found anywhere. Are they monumental? No, certainly not. The owner and his management team are always available, pleasant, and willing to listen. When you come for a visit, be sure to talk with the residents as well as the staff. If you have to move your loved one to an assisted living facility, this place makes it easier to do.
I give this facility a five star rating!
---
Mark Parker
October 28, 2014
I visited this facility
Lovely facility. Excellent Meals. Attentive Staff. Particularly suitable for residents with memory issues
---
karynk
May 08, 2014
I am a friend or relative of resident
My Mom was in this facility until she passed. They are excellent. Very clean, good meals, activities and a very attentive staff. When her memory became really bad there was an area that was secure so she could have freedom but not wander off, this area is monitored more closely. I would highly recommend this facility to anyone who is considering a assisted living home.
---
HappyFamilyMember00
March 17, 2014
I visited this facility
This facility is beautiful . The people that work here are so caring and treat you as family. The facility offers a cafe, formal dining, activities throughout the day, a caring nursing staff and much more than you can ask for. The location is minutes from I4 and minutes from Plant City. The property provides not only a safe and caring environment but also a place for the residents to socialize and enjoy life!
---
BBCROP
July 04, 2013
I am a friend or relative of resident
This is a beautiful facility (looks like a resort). It is well maintained and all the staff a wonderful...from the administrative to maintenance to care staff. The residents at this facility are all charming and helpful to other residents. There is a lovely dining room and my husband and I enjoy visiting his Mother during meal times and have a wonderful time visiting with all the residents. Any concerns are addressed immediately and staff is always available. I would highly recommend this place
---
My review
August 23, 2012
I am a friend or relative of resident
This is a beautiful facility, but this doesn't make up for the constant change in staffing, the apparent lack of training the staff in receiving, and being unable to reach a human being when calling the facility. You reach an answering machine, and on the weekends it's impossible to reach anyone. I will not go in to specifics, but I would not reccomend this facility to anyone, Doctors order have not been followed on numerous occasions causing harm to my loved one.
---
virtual reader
November 30, 2011
I visited this facility
As I was pulling into the ample parking area I thought the facility looked similar to a ski resort. The outside was beautiful and well cared for. As I entered the front area, I was escorted by several female residents. Everyone including staff were very friendly and helpful. When I walked into the main seating area, it was very cozy and comfortable and even had a fireplace. Each resident room was very spacious and had their own ac/heat controller. The rooms have their own private bath as well. I noticed that several of the residents have their own pets living with them and I noticed that the pets were very friendly with other residents as well. Stone Ledge Manor ALF offers a coffee bar café, a library, beautiful walkway with benches along the path. The facility also offers physician visits, optometry and podiatry visits for residents. There is a beauty shop and barber shop. There are many activities offered for the residents such as walking clubs, bingo, cards, arts and crafts and many more. This facility is an ideal country setting
---
---
tone Ledge Manor awaits your arrival offering luxury, hospitality and peace of mind in a quiet country setting. Our members enjoy a well-deserved independent lifestyle, while benefitting from a full selection of on-site nursing and health care services. Our daily calendar is full of fun and interesting activities so members always stay engaged. We are committed to providing a safe and secure environment that fosters dignity and individuality for each and every resident. Options for relaxation, learning and fun abound and our gracious concierge is always available to assist.
Location of Stone Ledge Manor
---
Top Cities for Assisted Living
---
Request Info
Get full access to reviews, cost information, and amenities