The Forum at the Woodlands
5055 West Panther Creek Drive, The Woodlands, TX, 77381
Talk to a Family Advisor: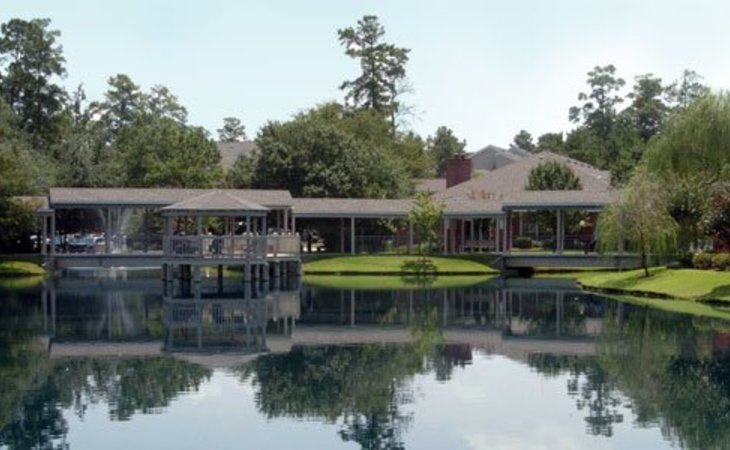 Top nearby Assisted Living Facilities
Reviews of The Forum at the Woodlands
---
Denise045206
April 10, 2017
I visited this facility
I did not like the Forum at the Woodlands at all. All the buildings were separate, so there were covered walkways that were not protected on the side. So, if it is raining, like it does in Texas, you are going to get wet. Your apartment is in one building, and the dining room is in another, so there is a lot of walking. In the building that we saw for the apartments, the hallways were very spare. When they have their scooters out, there is not enough room for another scooter to go by it. We went to three different floors and two of the floors smelled really bad. It was built in the 1980s and looks like it. Outside, there was a lake with ducks that was pretty. They weren't prepared for us. We had an appointment, and they called us a day before, but when we got there, we had to wait 30 minutes for them to get the paperwork together and get somebody to see us, which was not good.
---
Walter131231
March 27, 2017
I visited this facility
My experience at The Forum was great. The staff was very engaging and very kind. The apartments were great, and the ambience was outstanding. The price was competitive too.
---
Jack464646
March 04, 2017
I am/was a resident of this facility
We are in The Forum. The services and the facility are great. The friendliness and willingness to help of the people are good. The facility is clean, and the food is good.
---
Michael735275
February 26, 2017
I am a friend or relative of a current/past resident
The Forum is very clean, spacious, and has lots of amenities -- just the best facility we visited. The staff was very professional, attentive, great service, and accommodating. The apartments were fully modernized with new appliances, new countertops, cabinets, and carpeting. She enjoys the food very much.
---
Clara462868
December 02, 2016
I visited this facility
I really liked the Forum. The concept of the whole place was awesome, but it just took me too long to get there and too long to get back home. It was just too far for me. If you are an old person and you wanted to retire, that's where you want to be. They had activities, homes, senior apartments, and assisted living. There's a beautiful lake there, too. It's a gorgeous place.
---
Dwaine W
November 26, 2016
I visited this facility
We visited The Forum. It had more grounds and little living areas where you can go and sit down. We liked that one the best, and they provided transportation to different places. They were very friendly in showing us around. The price was comparable.
---
Tina581585
October 21, 2016
I visited this facility
My experience at The Forum at the Woodlands was very good. The atmosphere was very nice, and the rooms are average compared to others. The food was awesome, and the staff is very nice, helpful, professional, and friendly. There are a lot of activities available. They can improve on help or assistance because they had to be able to go up and down the stairs without assistance if they want a 1-bedroom; otherwise, they had to be in a studio, and we didn't like that idea. Compared to other place, price is good, and the location is very convenient because it was close to me.
Provider Response
I am the Executive Director and I am delighted with your praise for our niceness, professionalism, friendliness, activities, pricing and "awesome" food. Thank you! I would also like to address your comments regarding assistance. The state of Texas has Type A and Type B regulations. All Assisted Living communities must adhere to these regulations as a means to address resident safety. We find that our residents basically use their apartments as a sleeping and resting area. Their preference is to socialize with others and enjoy the programs and dining that happen in the large common areas. The positive attributes that you mention are the factors that make life here enjoyable. My suggestion is to come for a short stay so you can experience all that we have to offer and then make a decision.
---
Roger441402
October 06, 2016
I am a friend or relative of a current/past resident
My parents moved into The Forum at Woodlands. I like that the caregivers seem to be qualified. It is nicer and larger than the other places that we saw. They served three meals a day with snacks, had laundry services, and had transportation, but my parents do not use the transportation to the doctor because my sister takes them.
---
Merry332754
September 30, 2016
I visited this facility
The Forum at the Woodland is an excellent facility but it has numerous, several different buildings, and then you would have to go from that building to where you would eat breakfast, lunch or dinner or the activities which is something I am capable of doing. Another thing I didn't care for was there was no facility for a washer and dryer in each apartment; instead you have a central washer and dryer on each floor. That's a down. The rooms are beautiful and certainly large enough. I looked at a 2-bedroom and one of the cottages. I just sincerely recommend it to somebody as sort of an independent facility -- especially the cottages which were beautiful and there's more than enough room for 2 people or individuals if they had company. They're very nice. For activities, they have everything from going on trips to different grocery stores just about every day. They go out to eat, to the movies, and to the different activities in the Houston area, and you can also arrange for service to take you to doctor's or dentist's appointments, so it's very convenient and very good. You would not have to drive. There's also quite a large shopping center just right around the corner -- a strip center -- so it's an easy walking distance. One of the buildings that is for the independent living facility is just for people who have animals, which is kind of nice because if you have a dog or cat, you're sort of in your own apartments, so you wouldn't be bothering a next door neighbor. It's well-insulated, and there are sound barriers that you couldn't hear any noises coming from any of the apartments at all -- very unlike normal apartment complexes.
---
Happy Visitor12
May 11, 2016
I visited this facility
I was very impressed with The Forum at the Woodlands; I love the water environment. They serve 3 meals a day. It didn't have secured parking; the parking that was available was in a carport. They have a bus that takes you anywhere you would need to go. We spent quite a bit of time talking about the different rooms and the options available. They have a wide range of choices in terms of room configuration and building location. They're in multiple buildings so that means you have to walk between buildings. We get a lot of rainstorms and it gets hot humid in Houston so I could see that as being a bit of a disadvantage at times but it was very pretty; it was a lovely setting.
---
Julie106855150
May 26, 2015
I visited this facility
We looked at the Forum, and if we had to move today, this would be where we'd go. It was a very nice place. The experience was more pleasant than the others. They were pleasant; they had a patio or balcony, and the rooms are a nice size. I liked the ambience. They've got 23 acres of landscaped area around, which makes the whole facility very well done and very pleasant. They've got almost anything you want. They had exercise rooms, game rooms, a swimming pool, an arts and crafts room, and just about anything you want to do.
---
Caring1198
December 06, 2014
I am a friend or relative of a resident
My parents lived at The Forum at the Woodlands. It was large. My mother did not like the food there. There is a formal dining area. At that point in time, they were supposed to wear a jacket to the dining room -- a get more dressed up kind of thing. They also had a more casual dining area, and that is where they would eat usually. It was a series of about six buildings so you had to go outside of the building and into where the dining area was. It was spread apart. They did have carts so they could get from one place to the other. It was more expensive.
---
Caring97225650
November 15, 2014
I visited this facility
The staff was very friendly at the Forum at the Woodlands and very knowledgeable about the questions that I asked. They had everything that I think that you would need for independent living, they covered just about everything. The only problem is, I am really not ready to move from my house yet. I really liked most of the friendly staff -- the meals looked delicious and everything is clean. I like the gardens and the landscaping, I would recommend the facility and I liked it very much. There seemed to be a very full complement of things to do -- you would not get bored. They have apartments and cottages, and they were spacious.
---
Caring84960850
November 01, 2014
I am a friend or relative of a resident
My parents are now at The Forum. It is an older property, and it is very well maintained. It has a very pleasant atmosphere. My parents are in an apartment there. It is a two-bedroom-two-bath apartment, and it is adequate. However, the activities are not what they should be. I think it is kind of haphazard, you know, bingo every afternoon and sometimes movie on weekends, but not nearly as much I had thought there would be. Regarding food, my parents complained about it being bland. The independent living has a different dining room than the assisted living, but the food is prepped and brought in. So my mom complained that the food is usually cold and that they don't like the variety. Also my mom is on a gluten-free diet, and they don't offer anything for that. With regards to their staff, they're kind of a mixed bag. There are some excellent caregivers, and there are some that are difficult for my parents to understand.
---
Charles40
August 27, 2014
I visited this facility
The Forum is an old timer. It has an extremely good reputation. It's a fairly large complex. My wife is a wheelchair patient. All the two-bedroom units there are on the second floor and the structure is basically wood, so the fire marshal said that they could not lease to anyone who could not walk down the stairs by themselves. I know it's been there for 15 years. I've put both of our mothers in it, so I'm a little familiar with it. It's very pretty; it's spread out; it's not very commercial. It has a military store and everything is either one or two stories tall.
---
Diane90480950
July 30, 2014
I am a friend or relative of a resident
I moved my father to The Forum at the Woodlands. It was one of the few that had balconies and little porches on each apartment. It is expensive, but it is worth it because they screened in his balcony and put a fan up, and he has a view of the lake and the pool. This is our second week and he has a urinary tract infection, so he hasn't felt well, but once he gets settled in, he is really going to like it. I think it is going to be good and I haven't heard any complaints from him, other than what 97 year olds complain about all the time. He has a dog, and the home services people would take the dog out for a walk, and yes I pay for that, but they are so nice about it. Even the dog got sick and they called yesterday to let me know that they didn't think Sam was feeling well and I might want to check it out. Everybody seem very thoughtful. It has been pretty good. They have gone out of their way to accommodate some of the problems that dad was having.
---
Virginia26
May 20, 2014
I visited this facility
The Forum at Woodlands is amazing. But way, way too expensive. It was really good. I have a friend whose aunt was there, and that's the reason I went there. They treated her, and they did very well. I was really impressed. She sadly passed away, but it was a good experience. They did a really good job. They have lots of activities to do there. It's a beautiful setting. The staff does a really great job meeting the needs of their clients.
---
caring 0987
May 14, 2014
I am a friend or relative of resident
The Forum WAS a great facility;however, corporate headquarters has released the director who had been there for 14 years, and replaced her with someone from corporate headquarters. The quality of the food has declined, the caregiver's hours have been cut, and now without informing the family members , they are planning to let go most, if not all of the R N s on staff and replace them with med techs. This is so disappointing. They are sinking to the level of every other place like this. They USED to shine above the rest.
Provider Response
First, let me say that I am very concerned that your feelings regarding The Forum have changed. I would also like to express my appreciation for your comment that The Forum was "great". Our goal is to always be great! We are proud to be a long standing and respected member of the community and we are honored to have the trust and support of our residents and families. We know that we have to earn that trust and support each and every day. It is always difficult when a senior living community experiences a change in the Executive Director position, especially when the tenure has been long. I am the acting Executive Director and I encourage you to reach out to me personally so that I can understand your concerns and help to resolve them. I hope that it makes you more comfortable to know that I have been a senior living Executive Director for almost a decade. I do want to reassure you that we strive to meet or exceed the state and federal requirements for nursing hours and that we value the length of service and dedication of our nurses and care team members. Our Food and Dining Director has been with us for many years and is always eager to hear both compliments and complaints either individually or in our monthly Food for Thought meetings with our residents. Again, please contact me so that we can have a detailed discussion of all of your worries. The safety, comfort and happiness of our residents and families is precious to me and to Five Star. My hope is that we will earn your trust and you will decide again that The Forum at The Woodlands is great.

Maria Lynn, Executive Director, The Forum at The Woodlands
---
Caring79958350
March 31, 2014
I visited this facility
The Forum at the Woodlands was a nice place, but it was just too far from my house. The staff was pretty good. They were polite, and they treated me pretty well. I was given the information that I needed. The community was clean and well-kept. It was probably a modern place. They had a friendly and warm environment.
---
Caring88795750
March 29, 2014
I am a friend or relative of a resident
The Forum at the Woodlands is wonderful. Excellent in all senses that I've seen. The wings are very nice. It's a beautiful place. The food is good, and they're very attentive. The staff is excellent. They have lots of activities every day. They have lots of games, and there's a hair salon.
---
Neil4
March 18, 2014
I visited this facility
We're really impressed with the Forum and this is our first choice. It is two story with nice apartments. The grounds are beautiful and my father-in-law can walk around. It also has a little lake. The rooms, including the dining room. were beautiful, very clean and well taken cared of. The staff is great.
---
Tammi2
February 01, 2014
I visited this facility
The grounds at The Forum were really pretty. On the look and feel of this facility, I would say it's like a five-plus star, kind of a little bit more on the high-end. It was almost too good to be true. They were expensive though. It was like a five-plus as far as accommodations. They showed us like a model room and it was very nice. They did have an in-house salon. There was an area with chairs where they do like calisthenics. They did have activities for their residents. They have exercise class and Sunday Services. They also actually would go and visit doctors. They did have dining areas and they would provide different options for food and that was kind of cool. Also the staff was really nice.
---
Caring74154550
January 30, 2014
I am/was a resident of this facility
The Forum is very nice. We have two nurse visits a day and two housekeeping visits a day. My wife and I are 91 and 92 years old. The staff is excellent, they're very well trained and they're very polite. The food is marginal, it is well prepared but it's not to our taste. It's a lot of Tex-Mex and we don't like it. The Forum has a very nice swimming pool, they have a gymnasium. They have bridge games and bingo special. They bring in groups to sing and to tell stories. The general manager is a woman and she's very gracious and very pleasant.
---
caring77301150
January 30, 2014
I visited this facility
The Forum at the Woodlands seemed excellent, but very expensive. They seemed to have everything and took everything in consideration. It was clean. The people were very, very nice and helpful. They seemed to want to help as much as possible. They gave me a lot of answers, showed me around, and they took their time. They all seemed to be very caring. They were very polite to the residents. The residents seemed to be very active and they interacted very well with the staff, which I liked. The rooms were small with large windows and the view from the rooms that I saw were nice. It's the best place that I've seen.
---
Christine20
October 22, 2013
I visited this facility
I loved the Forum, it was large. It was a really nice community and you feel like you're in a little small town. I liked the fact that you can have different areas as your aging or mind progresses. You have the independent living and you can go into assisted or memory care. The grounds are beautiful and the food tables are nice and like in a cruise ship. The rooms were clean and spacious and the ones I saw have their own back porch which was nice. My friend there runs a beauty salon. You can get massages and your nails cut. That would be the place I would want to live.
---
caring6232
September 27, 2013
I visited this facility
The Forum at the Woodlands is very large, nice, well decorated with lots of activities, but the sales team is not accommodating at all. They let my dad stand in the waiting room for 25 minutes when we had an appointment and wait for the sales lady to come out. It was just a very, very, very bad experience with my dad. The rooms were okay, but they were not very updated and they told us that they are in the process of updating it. The facility did not look dirty, but it didn't smell clean.
---
caring1685
September 26, 2013
I visited this facility
We visited The Forum and the place was very nice. Their rooms are very spacious. There was no odor in the facility. It was our first option, but unfortunately they did not have any opening when we went there yet.
---
William13
August 01, 2013
I visited this facility
The Forum is an older facility. You have to go outside to get to the dining room and other facilities and my children did not like that when we visited the facility. We had lunch there and the food was okay. The staff were very nice.
---
Dave Ferguson
August 30, 2012
I visited this facility
When we were looking for a place that my grandmother could live, we visited The Forum in The Woodlands. Immediately upon arriving for our appointment, it was as if we were right at home. Most assisted living facilities that we visited felt more like hospitals than homes, but that was not the case with The Forum.Everything from the way that the staff interacted with the residents to the meals they offered in the dining room gave us the same feelings that we had always felt when we were visiting Grandma's house. The residents we met all seemed to really feel a sense of pride and ownership in their home, and that was very important to us.They seem to go on a lot of different outings, which was very appealing to us. Just because you are elderly doesn't mean you want to be cooped up all the time. But even for my grandmother, who now has fairly severe dementia and cannot leave the house much, the place was still ideal. The scenery is unsurpassed among other facilities in its price range, and is probably the most unique aspect of The Forum.Although this facility ended up being a little bit to high for our modest price range, it is still fairly competitive, and I would recommend it to anyone who is looking for an assisted living facility that feels more like a retirement community than a nursing home.
---
commercesd
June 03, 2012
I visited this facility
We went to visit the The Forum at The Woodlands assisted living facility since we were already in the region, looking at places for my brother's friend to live. They were very accommodating, despite our not having an appointment. The outside grounds included an extraordinarily beautiful lake, with very nice landscaping throughout the property. The walkway also featured a gazebo. The interior foyer was like something out of a large country mansion - very inviting, but more spacious. The facility offers plenty of amenities - like social enrichment activities with the community, arts and entertainment, festival and fair attendance and other gatherings. The restaurant style dining area offers many delicious choices. The lunch we saw was like you might find in an upscale diner. We could see that anyone would appreciate their menu options - since they included some really interesting choices. The private housing options featured spacious apartments, and a variety of floor plans to choose from, all with patios. Each was lovely and looked like they had been personalized. The library was one of the nicest ones we've seen thus far, with a fireplace and comfortable chairs. The staff takes residents on weekly outings for shopping and entertainment - and they also take short trips for overnight stays sometimes. The fitness area was well equipped and they offer exercise classes. There was also an Olympic sized pool for residents to exercise in and enjoy. This is a full service assisted living facility that offers residents flexibility and comfort. The staff is respectful and professional - yet still very caring and kind.
---
From The Forum at the Woodlands
---
The Forum at the Woodlands offers compassionate senior care in The Woodlands, TX. We strive to create a home-like atmosphere where you and your loved ones can feel secure. Our warm, well-trained staff works closely with our residents to provide the utmost care and comfort. As part of the Five Star corporation, you can be sure that everyone at The Forum at the Woodlands shares the Five Star Values, and is committed to a high level of caring in all that they do. Please schedule a visit to see why we are the first choice in senior care in The Woodlands, TX.
Features of The Forum at the Woodlands
---
Location of The Forum at the Woodlands
---
Request Info
Get full access to reviews, cost information, and amenities