Freedom Pointe at The Villages
1550 El Camino Real, The Villages, FL, 32159
Talk to a Family Advisor: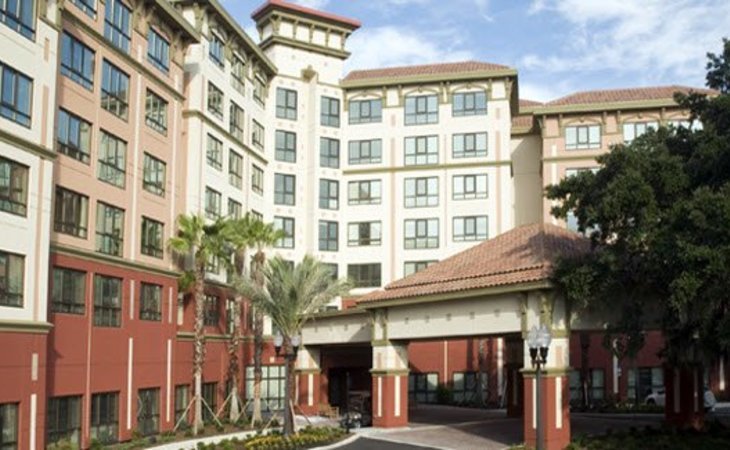 Reviews of Freedom Pointe at The Villages
---
Visitor122923550
January 24, 2016
I visited this facility
My mom really liked Freedom Pointe At The Villages but the problem is it's for rent only. The other thing is it is not the community that she wanted to be in. The facility is too big. She does not want to rent right now, she wants to purchase. The people were wonderful. They had multiple complexes. Each one has a grocery store, a library, and a bank. They had a main place for swimming and classes like arts and crafts.
---
Caring113185550
September 18, 2015
I visited this facility
I visited Homewood of Freedom Pointe. I was not too impressed with the hostess. I did not think she did a very good job, and I didn't like the apartments. They didn't have any verandas, which I thought would be very important. However, it was supposed to be the most beautiful one around.
---
Caring111264950
August 14, 2015
I visited this facility
Freedom Pointe is definitely a five. The only problem is that it is so expensive that I could not afford it. But they were very efficient; everything was extremely efficient. The food was even more excellent. I have been there several times for food because I have a friend who lived there, and occasionally I visited her. The facility is first-class. Everything in it is first-class, which is probably why I can't afford it.
---
James102455950
April 27, 2015
I am/was a resident of this facility
I stayed at Freedom Pointe for rehab for 3 or 4 weeks. There were some really good staff, but there were some that were not good and couldn't care less. I was sharing a room, the food was excellent, and the people really tried hard. The ladies waiting on the table were very good. There were a lot of good things also. They had movies. They had physical therapists, but they were so gung-ho on the exercises.
Provider Response
Thank you for taking the time to share your thoughts. By giving us your feedback, you are helping us to understand what we do well and what we need to focus on improving. Please be assured your feedback will be reviewed and used to help better serve our residents and their families.
---
Caring106739050
February 26, 2015
I visited this facility
We visited Freedom Point at The Villages, and it was a very nice facility. The lady that represented the place was very congenial, and everything was good. It has the best of everything, but it's probably one of the more expensive places. The dining room was really outstanding, sometimes they have an orchestra playing, and sometimes the people that lived there dress up on party nights and wear gowns and tuxedos. I would absolutely recommend this facility to anyone who can afford it.
---
Caring105933350
February 11, 2015
I visited this facility
We did see Freedom Pointe a while ago when we were starting to look around. It is a very big facility, and it is beautiful, but it is very expensive. It is much too much expensive for mom. We only met the one lady that was showing us around. She was very nice; obviously she wants to sell. It is a pretty place, and they have a lot of snack bars and things for the residents to eat in. But it wasn't for mom because it was very expensive. I didn't see the rooms or taste the food. As far as beauty goes, it is beautiful.
---
Caring100895450
January 13, 2015
I am a past client of this provider
I was looking for a facility for myself. Freedom Pointe is very impressive when you first walk in. It is beautifully decorated. The staff in general is accommodating and professional. I have tasted the food, and mostly it is pretty good. But there are some things that I find odd for a health facility like too much fried food and themeant they use is sometimes of a poor cut quality.
Provider Response
Thank you for taking the time to share your concerns. We are committed to continuous quality care and will share your feedback with our dining services team to address the issues you have raised.
---
Caring99489850
December 26, 2014
I visited this facility
I'm going to be moving in within the next six months to The Villages. The staff that I met have been professional and congenial. The rooms are quite generous in size depending on what you want. They are from one bedroom to two bedrooms with a den. They have many activities within the structures of the buildings and facilities including golf courses, swimming pools, and horseback riding available. What attracted me most was the flexibility of the clients there in terms of the size of the living space and also the flexibility of the establishment to accommodate my particular needs and my wife's needs.
---
Caring103322150
December 23, 2014
I visited this facility
I was able to visit Freedom Point at the Villages, and I like that they provide continuing care. What I didn't like about them was the cost. Their maintenance is very good, and they do have a lovely dining area. They have many available activities for the residents.
---
Caring102311850
November 29, 2014
I visited this facility
I went to look at Freedom Pointe at the Villages. They have different areas that you can stay in, and I like that. The staff that I talked to was nice, they explained to me the prices, and it was just so expensive for me. Everything was really nice and good.
---
Mary96657450
November 06, 2014
I visited this facility
We did go to Freedom Pointe, but we didn't like it all. The first floor was done beautifully, the rooms were not updated, and the cost was the most expensive. They're known as a party place and that wasn't a big draw for us. We did not care for what the apartment looked like for the cost and for what we were getting.
Provider Response
Thank you for taking the time to visit our community and to share your thoughts. Your feedback is always appreciated. We hope you will keep us in mind and return to our community to meet with our executive director and marketing director to resolve any concerns you may have.
---
Caring84091650
October 25, 2014
I visited this facility
Freedom Pointe at the Villages seemed too much like a hotel for me when I did visit the facility. Their dining area was fine, but the rooms are a bit small. I was able to meet with the marketing staff, and they are friendly.
---
Rita24
October 07, 2014
I visited this facility
We went to see Freedom Pointe and they were very helpful. They gave us all kinds of information including the costs. They had a good thing going on there, they really do. The assisted living was very clean, very nice, and it seemed well-managed and comparatively priced.
---
Deb12
May 11, 2014
I am a friend or relative of a resident
We chose Freedom Pointe at the Villages for our friend because it's in place that she lives, and that is where we felt we would get the best care. The staff treats her with respect. The rooms are clean and very nice. I am not sure with regard to their activities, but she gets her hair done, and she's got things that she does. They take her out a lot.
---
Janet72436550
April 22, 2014
I am a friend or relative of a resident
I visited her when she was in the nursing care at Freedom Pointe. It's very luxurious, and it looks very expensive. They have little villages where people eat their meals in small dining rooms, and they can watch them cooking. They had that there which impressed me. It's a beautiful place; it's very elegant. If you went there, you would feel pampered. You couldn't ask for a better place to live.
---
Richard83237850
April 22, 2014
I visited this facility
My friend and I went to Freedom Pointe. We were very impressed with it. The lady staff was really good. They have programs that go on all day long. They have an area for the women where they can fool around with clothes and sewing stuff. For the men, they have a little area with tools in it where they can do stuff. They play games, and they watch movies. They seem to keep them very busy. I would say the rooms were very adequate. They're not huge by any means, but they were very nice. The dining room was good. The one thing they had different than the other places was they had a little kitchen in the middle of the dining room so the residents can watch the food being made.
---
SantaBear
March 27, 2014
I visited this facility
We looked at Freedom Pointe, and I had never seen as nice and as clean a place as it is. The staff were very friendly, helpful, and answered all our questions. However, I was disappointed because I was out-voted, and the rest of the family moved my sister back to Indiana, and she's in the assisted living back there.
---
B Howard1
December 31, 2013
I visited this facility
Freedom Pointe was a very upscale and nice facility. It had privileges and amenities programs. However, it was too expensive. The buy in and the maintenance were too high.
---
Richard42
December 27, 2013
I visited this facility
Freedom Pointe at The Villages was a beautiful facility. It was really nice. However, I thought I got more value from the other facility. Nevertheless, the staff seemed very nice. I did eat there and their food was great too.
---
Pat38
November 28, 2013
I visited this facility
I didn't like Homewood of Freedom Pointe. I thought it was overpriced and I didn't think it was particularly attractive or welcoming. The woman that I spoke to was very helpful, but they were very expensive. I didn't care enough for the facility, it's the layout or anything.
---
Jeanne7
August 01, 2013
I visited this facility
Freedom Pointe was very nice. I liked the decor. The dining room looked like an elegant restaurant and there was even a little pub. I wouldn't mind living there, if I had to live somewhere other than home.
---
Robert33
June 25, 2013
I visited this facility
I visited Freedom Pointe for my parents. It was a beautiful facility. It was also no more than 2 miles away from where I live. Their rooms were big and spacious and their staff seemed all nice. I would recommend this place in a heart beat. However it's beyond my parents' price means.
---
Tama1
January 24, 2013
I visited this facility
Freedom Pointe building was phenomenal. It probably is the Taj Mahal of assisted living. It's very nice, but quite costly. I remember the starting cost was over $5,000. And then if you needed additional care, it will go from there. They have a chef there on site. I didn't actually taste any of the food, but their menus looked good. They didn't have an all-inclusive price, and that was kind of what we were looking for.
---
pierceddeej
November 28, 2012
I visited this facility
my overall experience with the facility was great! They were very personable, patient,and kind with their interactions with the residents as well as with all of the visitors. The cleanliness of the building was superb, with shiny buffed hallways, impeccable rooms and bedding. Sheets were changed twice a day, and the activities they had for the residents were not only socially stimulating, but also great exercises in physical and mental capabilities! They even had a Wii for bowling and other motion - related video games! The food at the location was great, including a wide variety of options that kept you entertained and excited to eat. Vegetables were fresh, and were not frozen like most hospital locations. The cafeteria was very sunny and friendly, and overall it was a great location that helped get my wife's grandmother healthy again. While she still has and always will have Alzheimer's, she is not living back t home and enjoying the Florida retirement she always deserved!
---
missholly
February 16, 2012
Other
I was very satisfied when I visited the establishment. Very clean and friendly, and organized. Our group the Victorian Tea Hat's went there to have a tea p;arty put on by your recreation director. It was very nice but not equiped to drink tea in a tea cup or pour from a tea pot.
---
From Freedom Pointe at The Villages
---
Freedom Pointe at The Villages provides a full range of choices for today's seniors. Choosing a senior living community represents a lifestyle choice and we understand that our residents are choosing much more than a comfortable living environment to call home. Brookdale Living's The Villages, FL community delivers Inspired Independent Living, with the promise of Exceptional Experiences Everyday. In choosing this community, our residents have made a conscious lifestyle decision designed to deliver enhanced opportunities for pursuing health and life fulfillment through the exceptional independent and assisted living services, amenities, and opportunities we offer. And, the residents at Freedom Pointe at The Villages can rest assured that as their needs change, we provide a variety of ancillary services and a Personalized Assisted Living environment that encourages residents to continue to live as they please while respecting individual preferences.
Optimun Life&reg and Celebrations provide an all-encompassing way of life that touches the lives of the residents of this independent and assisted living community, their families, and associates alike. Optimun Life&reg is a journey of self-discovery including services, features, and benefits that allow each resident to pursue their peak level of health, wholeness and fulfillment while balancing six key dimensions of personal wellness: emotional, intellectual, physical, social, spiritual and purposeful. As part of Optimun Life&reg, the mission of Freedom Pointe at The Villages is to encourage our independent and assisted living residents to celebrate life each day. Inspired dining and vibrant lifestyle activities come together in our Celebrations program filling the monthly calendar at Brookdale Living's The Villages, FL community with themed experiences, special events, and group activities that highlight different cultures and cuisines in a common venue of camaraderie.
Our Clare Bridge Place program serves those with Alzheimer's disease and other forms of dementia. Each day, we promise to work to deliver Daily Moments of Success for each resident. The Clare Bridge Daily Path provides structure and activities each day designed to meet specific needs of those with dementia, while the Clare Bridge Dining Program, designed by a gerontologist and registered dietitian, helps residents in need of Alzheimer's care retain the ability to enjoy and master the daily dining experience.
Features of Freedom Pointe at The Villages
---
Room and housing options
1-bedroom apartments
2-bedroom apartments
Studio Apartments
Technology and entertainment
Location of Freedom Pointe at The Villages
---
Get Cost Information
Get full access to reviews, cost information, and amenities