Cambrian Assisted Living
333 N Occidental Highway, Tecumseh, MI, 49286
Talk to a Family Advisor: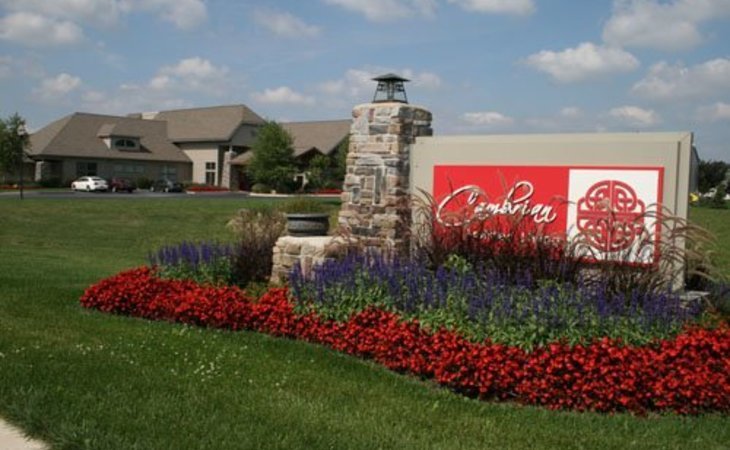 Top nearby Assisted Living Facilities
Reviews of Cambrian Assisted Living
---
Sandy324561
April 25, 2017
I am a friend or relative of a current/past resident
Cambrian just opened, and my dad was one of the first residents to move in, so the place is brand new. I didn't notice any problems or hiccups with the new staff coming in because they trained at another facility in Tecumseh, Michigan. Everything has been extremely positive. I do not have one negative thing to say about this place. He's been there for about six weeks, and everyone that I have met so far has been really caring and loving to him. The place is kept absolutely immaculate. My father eats an extreme amount of food compared to the other residents, and they gladly serve him up seconds and thirds and whatever else he wants. It is very affordable and located on a large street that's easy to get to and about three miles from a medium-sized, rural city that has everything you could want. There are a lot of grocery stores, pharmacies, and hardware. I chose Cambrian because it was a good place and all of my family could get easily go and see him. The activity room is right across the hall from his apartment, and there is something going on in there all the time; people are laughing and having a good time. They do a lot of field trips and are trying to have a good mix of activities that men like. Most of these places are tailored to women because they are the ones who mostly live in these places, but they have more men here. They are going to do more sport-oriented activities, like going to baseball games, showing games on the big-screen TV, and things like that. They have a full-size refrigerator in his room.
---
Dusty J.
March 19, 2016
I visited this facility
Cambrian was pretty good. They offer activities like a wood shop to build bird houses, crafts, and more. I liked that place, but my uncle didn't like it. They have a memory care building that is separate from the assisted living. We just visited memory care and didn't go into the assisted living at all.
---
Brian37
March 08, 2016
I visited this facility
The people at Cambrian Assisted Living were very friendly, and the atmosphere was very nice. The rooms were very nice and average sized. It was a newer building, so it was very clean. I would recommend them.
---
Anonymous120386650
February 23, 2016
I am a friend or relative of a resident
We have my father-in-law in Cambrian Assisted Living. It is close to our home, so we can go visit him. They have excellent care there. We are very pleased with the place. It is a very safe environment for him because he is 94. They have quite a few activities. Everything is really good. We don't have any complaints. They are on the ball and do everything that they have to do to care for him.
---
Shafox
November 30, 2015
I visited this facility
I love Cambrian Assisted Living. We really like the setting and the people there. I like their attitude. The dining room is very nice. The only negative thing there might be about it is that they do assigned seating. I like everything about that place except for the price.
---
Marilynn3
October 19, 2015
I visited this facility
Cambrian was my favorite place. It would have been very adequate and aesthetically more pleasing. It was suitable and everybody was very helpful. They talked to me about my mom's financial situation. All the people I talked to were very nice and they had beautiful rooms there. In the memory care they had walk-in showers that you didn't have to step over anything. They were big enough to put a wheelchair. I would highly recommend them. I would go there myself if I need to. The staff was very helpful and nice. She gave me a brochure that has a different pricing in there. It had a basic price and then more services that my mom would require.
---
Caring111954550
August 21, 2015
I visited this facility
I visited Cambrian Assisted Living. The facility itself was very nice. The staff was lovely. They gave us a tour, and we saw the whole facility. They answered all our questions. They were very gracious. The rooms were not spacious, but they were clean and well appointed. We went to the dining hall, and there number of things posted on the board as we entered. It looked like they had many things going on. I would recommend it. I thought if someone was looking for a facility, that was a very nice one.
---
Caring100450750
February 11, 2015
I am a friend or relative of a resident
My father-in-law is in Cambrian. It is a beautiful place. People are very nice and very helpful. We are very happy with it. The building out in front is an assisted living, but we are not there for that. They build a brand new section that just opened up in September for memory care. It has very good security. The doors are locked. You have to buzz, and somebody will let you out. There are always people around if you need someone. I am not sure what the number was as far as the ratio of the help to the patients, but it seems like there is a lot of help.
---
Anonymous101194950
January 30, 2015
I visited this facility
I thought the Cambrian was nice. They had a lot of meeting areas. It seemed like every corner had a living room type area for family to meet. I thought the rooms were a little expensive. They had a nurse on staff which was nice, and one gentleman took me on a really nice tour of the facility. Probably the biggest thing about it was I thought it was kind of pricey. My son-in-law's grandmother who was there did not like it but that does not mean my dad would not like it as well if he was to live there. The staff was very accommodating. Everything but the price was good.
---
Judy78730250
December 29, 2014
I am a friend or relative of a resident
Cambrian was the only place that got back to my folks. They had a dual occupancy open, and so my dad -- even if there was nothing wrong with him mentally -- is in the same room with my mom. But it is so gorgeous, and the staff is phenomenal. They are so kind and respectful to my parents. My mom with her Alzheimer's can sometimes be so frustrated and irritable, but they just still laugh and joke with her, and she is joking and laughing back with them. My dad would beep them, and they would just come and take care of everything. They are eating their meals and eating better. All the aides and the nurses are just wonderful. They take care of all their medications and are taking care of it all; they made everything smooth for us. They have puzzle therapy that's on the table all the time to work on and game closets too. My mother said she didn't want to do anything, but to my knowledge, they are already taking her for wheelchair rides and walks through the place and taking her down, sitting, and talking with her. They have crafts and other activities. It's only been two weeks, but they've been encouraging, and mom is going to be having physical therapy and occupational therapy, so that is going to take some time too. We had such a hard time getting mom to bathe, but they have a gorgeous bathroom, and she loves it now. I am just thrilled. It has been mostly personal care right now. They take them out when the weather is better and on excursions and stuff. They also have an enclosed courtyard that is really lovely, and in the spring and summer, they take the residents outside almost every day.
---
LoveCambrian
June 28, 2014
I am a friend or relative of resident
My relative lived their for over 8 years. The staff is wonderful. The care is outstanding. They have many activities for the residents. The food is great. Excellent communication between Staff and Resident's Family Members.
---
Happyresident
June 28, 2013
I am a friend or relative of resident
Fabulous caring staff, very responsive to resident. All of the staff seem like they truly care about the residents and treat them like family. This is assisted living and they strive to help residents keep their independence. The facility is beautiful and well-kept. Lots of activities for everyone, love that staff even come on days off to visit residents and participate in events.
---
Lucy3
October 18, 2012
I am a friend or relative of a resident
Cambrian Assisted Living keeps it's residents independent and mobile! My aunt lives here and often goes to activities and enjoys socializing with the other residents. It's almost like a dorm for the elderly! Everyone is friendly and likes to chat, including the staff. Each staff member makes you feel like you're the only other person in the room! The lady I talked to was very friendly and knowledgeable. You could tell she really cared about the people she worked for and with. This facility also invites the elderly in the surrounding areas to come over for dinner and meet the residents. They provide great food and always invite you to come back. Some people have told me that assisted living homes dent the residents' independence, but Cambrian Assisted actually enables them to remain quite independent. It's a very beautiful home with lots of nice furniture. The only negative thing is that my great aunt had to wait a few weeks to get in here as it is often at full capacity and is a popular, affordable facility.
---
Christine B
August 24, 2012
I am a friend or relative of resident
Very caring staff. They go out of their way to help and make sure mom has what she needs. The food is very good and the dining staff makes sure the residents are happy and have what they need. They are always very welcoming to guests.
---
Overloaded
June 21, 2012
I visited this facility
Great food, aides were very nice and pleasant until health declined. Most of the aides were not patient or trained to handle anxiety, OCD, or depression. They made resident feel like she shouldn't be there and told her she needed to be put in nurseing home. This was not for them to judge. This made the situation even worse for resident and family.
---
From Cambrian Assisted Living
---
Cambrian provides a special combination of accommodations with personalized support services and health care designed to respond to the individual needs of those requiring assistance with activities of daily living. You can reach them at: (517) 423-5300.
Location of Cambrian Assisted Living
---
Request Info
Get full access to reviews, cost information, and amenities