Golden Living Taylorsville
2011 W 4700 S, Taylorsville, UT, 84129
Talk to a Family Advisor: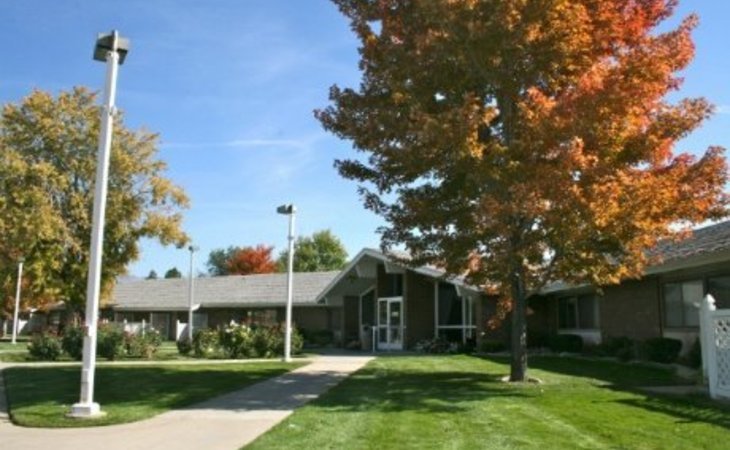 Reviews of Golden Living Taylorsville
---
judith487055
May 23, 2017
I visited this facility
Golden Living Taylorsville was OK. A woman welcomed us. They seemed to have a full activity schedule, but it didn't seem like everybody was participating.
---
Sharon144722
April 12, 2017
I visited this facility
I loved Golden Living Taylorsville. I thought they had a lot of good activities. They had people from the community who came in and interacted with everybody. They had great shows, entertainment, and menu. They were very friendly. I liked the way the community was laid out. It felt like it would be easy to get around.
Provider Response
Dear Sharon, It's so wonderful to see you had such a positive experience with us! We do our very best to provide top-notch service, so it's great to see we're living up to this goal. Sincerely, Team Golden Living Taylorsville.
---
Colleen882800
March 29, 2017
I visited this facility
Golden Living Taylorsville was very nice, but they didn't take my dad's level of care. It would be more assisted than he could be, so we could not place him there. I thought the rooms were very nice. The people were very nice, and you could tell that the residents are taken care of. If they had taken his level of care, I probably would have placed him there. It was just a short visit, but I thought it was good. I didn't see any problem with it. They have a game room, a theater room, and a very nice dining room. They have a really nice lobby or front area where they had a grand piano.
---
Charlie317106
March 13, 2017
I visited this facility
Golden Living Taylorsville was pretty nice, and the staff was friendly. It looked like they maintained and remodeled the place. They had a lot of activities, and the cafeteria looked really nice. There was a lot on the menu, but it looked like a rotation of the same stuff. The rooms were really nice and neat, like they had just been remodeled.
---
Daniel527086
March 06, 2017
I am a friend or relative of a current/past resident
The staff at Golden Living Taylorsville Senior Living is very accommodating, very friendly, and very professional. They're very kind and understanding of the personal situations and needs of the residents. The community is very clean. They have all kinds of different stuff to do, like coloring, movies, and exercise programs. Marilyn's room is very accommodating and can clearly meet all of her needs.
---
Jerrold
February 14, 2017
I am/was a resident of this facility
I love this place and the people in it. The way I'm treated is my favorite part of living here.
---
AlanG.
January 31, 2017
I visited this facility
I toured this facility looking for a place for dad. The staff was warm and welcoming. I got random smiles as I went through the building from staff and residents. And they even had bingo going! Was very impressed overall. Would encourage anyone to take a tour. You'll love it :)
---
McKinlaymom
January 23, 2017
I visited this facility
I visited this facility and was impressed with the friendly staff. The building was clean and nicely decorated. Everyone was helpful and knowledgeable.
---
Anonymous374420
January 16, 2017
I visited this facility
Golden Living was close to my house. It was an organized place. The staff was very attentive, knowledgeable, and friendly and showed us a couple of rooms that were adequate.
Provider Response
Thank you so much for taking the time to provide us with this great review! We're extremely happy to see you received such exemplary service from us and we promise to continue this level of service in the future! Sincerely, Team Golden Living Taylorsville.
---
Ash_gardner
December 29, 2016
I am a friend or relative of a current/past resident
Best Facility.. I am a hospice and home care nurse and work with several facilities across the wasatch front and this is one of the best!!! I have my own family member living at Golden Living!!!
Provider Response
Dear Ash, Thank you so much for taking the time to provide us with this great review! We're extremely happy to see you received such exemplary service from us and we promise to continue this level of service in the future! Sincerely, Team Golden Living Taylorsville.
---
charlieS
November 10, 2016
I visited this facility
I works as a heath provider and frequently visit Golden Living and many other assisted living facilities, the staff is always welcoming and good to talk with. The residents are even better, they have a great community and this is one of the best places I get to frequent. The food is pretty good to because I have been there on a couple of activities as they seem to always have something going on for the people living there
---
BHig
November 02, 2016
Other
As an Office Manager of a home health company Golden Living is great to work with! Their staff takes great care of our mutual patients and communicates well with our staff when needs arise.
Provider Response
Thank you so much for taking the time to leave feedback for our team! We are so happy that you had such a great experience with Golden Living Taylorsville! We strongly believe that the power of caring and thoughtfulness is what helps make Golden Living Taylorsville special for so many people. Thank you again for sharing your experience and for the opportunity to provide excellent service in the future! Sincerely, Team Golden Living Taylorsville.
---
Dianne364644
November 01, 2016
I visited this facility
Golden Living was an older place, and it seemed nice. However, the rooms were too small, and they did not have a shower in the bathroom, you had to go down the hall to use a shower. The staff was nice and accommodating. The dining area looked nice.
Provider Response
Dear Dianne, Thank you very much for taking the time to leave us a review! We are sorry that you felt the apartments were too small for your needs. We are built like a house, so we are laid out a little differently than most places. Everyone uses the common areas like they would their own home and just like a house, they rent a nice bedroom and their shower is down the hall. The showers are spa-like and one can enjoy their complete privacy when using the various ones throughout the community. We do have larger bedrooms in the community, but because we are always full, a lot of times they are not available. Please feel free to ask for a printed layout of our largest rooms and you are always welcome to get on our waiting list. Some of those large rooms do have a shower in them. We are happy that you thought our community was nice. It is over 30 years old and so, you might have noticed that we are completing a very large renovation. We are very excited about how much we have been able to complete thus far in the short time since we purchased the property. Please feel free to drop in from time to time to see our progress. We love to show off our new style! Sincerely, Blue Harbor Senior Living
---
Vickie350674
October 27, 2016
I visited this facility
I was not impressed with Golden Living Taylorsville at all. It was not clean. It had a kind of a weird smell when you walked in the building, and it smelled more like urine. The atmosphere was weird. My mom wanted to get out of there as soon as she could. I felt like it didn't seem like they were helpful with some of the people, so I didn't want that for my mom. The rooms felt OK. It's just when you walk down the halls and some of the areas, it is very hot in there. It was like the air conditioning wasn't working or they didn't have it on. I was sweating terribly there. It felt like they weren't paying attention to what was going on in the building or paying attention to what needed to be done.
---
amvincent15
October 15, 2016
I am a friend or relative of a current/past resident
It is never an easy decision to look for assisted living for those we hold dear. Golden Living made it very easy, however. Their facility is pleasant and affordable. The staff is incredible. They helped to make the transition seamless and easy. Wonderful attitudes and helpful people make this an amazing community. I have never had to worry about my mother's care and applaud Golden Living for their dedication to ensuring that this is not a facility, but a home for my mother.
---
Used to be pleased by now disappointed
October 12, 2016
I am a friend or relative of a current/past resident
A relative of mine was a resident until recently. It was good at first but management changes, failing facilities and rent increases that well-exceed social security increases changed our opinions. Special dietary needs aren't accommodated, scheduled events don't occur because the event leaders don't show up, air conditioning doesn't work in the summer and, in some rooms, the heat doesn't work in the winter. They used to have a waiting list to get in but rooms are now vacant for much longer periods than they used to be. It's too bad because it used to be a pretty good place.
Provider Response
Hello and thank you for your review. We sincerely appreciate any and all comments as they help us to stay our best! We are happy to report to you that the most recent management change that occurred about two years ago was due to a well-deserved promotion. That is always a good thing. We are also happy to report that the new Executive Director was also a well-deserved promotion from within. Someone who had been at Golden Living and had done a wonderful job for everyone. She has since earned Golden Living a prestigious deficiency-free care survey for 2016 from the State of Utah and other awards as well. We are sorry if at any time you have had concerns regarding this change. Please feel free to reach out to us at the Blue Harbor Corporate office at any time (503) 684-7585. When we purchased Golden Living a few years ago, we were aware that a more than 30 year old building may pose some challenges, and indeed it has had a few. However, we were excited to meet these needs as we know that it enhances and enriches the lives of our residents and visitors as we bring it up to our own standards. Since we have purchased Golden Living, we have poured a significant amount of resources into the physical plant, as I'm sure you might have noticed, and although it is nice to see beautiful things on the inside, sometimes it is the things that you cannot see that can require the most attention and can affect one's enjoyment the most. We knew that the air conditioning and heating was not functioning properly when we purchased the property, but have since started a very extensive repair and replacement of the giant system. We are excited to report that we have already completed the lion's share of this project, but as we finish up, there will be a few temporary units that will be visible to keep everyone comfortable. Completing the project in sections helped with keeping any resident disturbances to a minimum. As for our food program, we do offer a comprehensive meal program which follows our award-winning "Tailored Preferences" program. This program won the "best of the best" from the Assisted Living Federation of America (ALFA), which is now called "Argentum." The program is all about conforming to our resident's lives, not the other way around. We pride ourselves on catering to custom requests because it is the core of our brand. We would be happy to work with you on providing any custom options that you might have. Just let us know. Finally, we wanted to address your concerns about rent increases. According to our research, we are in line with (and usually below) what the industry average has been. We are always happy to work with residents and families on a case-by-case basis, and as the need arises. We encourage everyone to keep open communication if finances ever become a concern. I hope this has been helpful. Again, we are sorry that you did not have a good personal experience. We are excited about how far the community has already come and we can't wait to give you more wonderful improvements! Sincerely, Blue Harbor Senior Living
---
edjrmail
October 06, 2016
I visited this facility
I had the opportunity to take a tour of Golden Living. The atmosphere is warm welcoming and homelike. The said hello to me as I walked through the halls. Not at all what I was expecting from an assisted living!
---
Matt Wilson
May 13, 2016
I visited this facility
First, I have never walked into an assisted living facility and felt so welcome. When you arrive at Golden Living Taylorsville, you will see quickly that the residents are well taken care of. When I arrived, the lady at the front desk was so informative and genuinely friendly. I then met Emily VonGunten, the executive director, she explained to me how they view care and that they treat each and every resident as family. She knows how to facilitate care on a level that is extremely rare in assisted living facilities. I had the pleasure of speaking with some of the staff and was impressed that they all had a very similar view about their "family." Shauna Stimson, the community relations director, goes out of her way to help people. Shauna is energetic, friendly, and very caring about everyone in the facility. Finding a place for yourself, mom, dad, or relative that is clean, welcoming, and provides phenomenal care, can be an extremely difficult thing to accomplish. Golden Living knows how to care and has the resources to help you plan financially for that care. If I were in a situation where I was forced to find an assisted living facility, I would be happy to call this place my home.
---
LH4
May 11, 2016
I am/was a resident of this facility
We chose Golden Living Taylorsville for mom because it was close to her family. The staff seemed real nice. Mom likes the food, and the dining area looked nice. She plays bingo and goes to church.
---
Carol103310750
April 07, 2016
I visited this facility
We were going to go to with Golden Living, but then we decided that my mother wasn't well enough to be by herself. Everybody seemed happy and enjoyed being there. One lady told us that at first, she was grumpy about being there, but she loved it now.
---
Golden Home Health
March 16, 2016
I visited this facility
Great atmospher! The staff is so delightful and a pleasure to work with. The activities are fun and the attention to the residents needs are never overlooked.
---
Mountain Land Home Health
February 25, 2016
I visited this facility
Being someone who visits a lot of ALF's I was blown away by the instant good vibes presented by their residents. As soon as you walk in the front door you are introduced to a community of genuinely happy people; including staff and residents!
---
Sturgill
February 22, 2016
I am a friend or relative of a resident
Mom was in Golden Living Taylorsville, which has level one care of an assisted living facility. They did a pretty good job overall. It seems to me like they need to be more involved with the patients.
---
Stpuffer
January 29, 2016
I visited this facility
absolutely love this facility. As a healthcare professional, I have the opportunity to work with many Assisted Living Facilities in the Greater Salt Lake area, and this one has captured my heart. The staff has a way of treating their residents as family, and it shows in the way the families and residents interact with each other. Our company has provided home health and hospice to many residents, and it is a breath of fresh air when we see Golden Living allowing their residents the ability to age in place when at all possible. The love that is extended to all who enter is appreciated. Thank you!
---
AMNielsen
January 27, 2016
I visited this facility
As a home health occupational therapist, I always appreciate when an Assisted Living Facility works hard to ensure that its residents feel as at home as possible. This was my experience at Golden Living with one of my patients who had very unique needs. Golden Living went out of their way to make sure that he had the absolute best case scenario for his needs. I was impressed by their compassion.
---
Kristina McAfee
January 12, 2016
I am a friend or relative of resident
Deciding to place your loved one in an assisted living facility is an extremely hard decision. Reviewing, visiting, and contemplating about which facility is the best is even more daunting. As we walked into the Golden Living, we met with the director, who not only shared with us what the golden living has to offer, but offered care, concern and understanding to us as family members. The staff welcomed mom immediately and quickly the transition to feeling like home was accomplished. Although mom has good and bad days, I have never seen the staff lose patience with her. They are kind, considerate and thoughtful. The activities are great, the food is great, the housekeeping is great, what more can be said...THEY ARE GREAT, I would look no further until you make a trip to Golden Living, you'll be glad you did!
---
Debby9
October 30, 2015
I visited this facility
Golden Living Taylorsville is a beautiful place, and it's well-maintained. The dining area is huge and very warm. Their food is excellent, with many choices you can choose from. They offer different activities every day. They have music, bingo, and people come in. They have been very helpful to me.
---
Simone B
October 26, 2015
I visited this facility
Whenever I go into Golden Living in Taylorsville, it feels warm and inviting. It's clean and fresh with wonderful smells coming from the kitchen- just like Grandma's house!
---
BeckyMcMae
October 26, 2015
Other
I have only recently moved my mom to this facility, but I am very pleased and my mother is happy and that is really all that matters.
---
cathyquinn
October 25, 2015
Other
As a home health home care provider, I am in many facilities in the Salt Lake Valley - when I needed to find an Assisted Living Facility for my parents, I was more concerned about the staff than how fancy the facility was. My parents were on a limited income so that was also a consideration. I chose Golden Living, and found that it was a good fit for my parents. The staff was attentive to their needs and contacted me promptly with any problems they encountered with my parents. They responded promptly to my parents calls for help. Mom was upset that there was no yogurt provided for breakfast, and the facility quickly resolved and accomodated this request. I thought the management was approachable and cared about the residents - when my parents health declined and they had to go to a higher level of care (skilled nursing) our need for a quick move was accomodated and we were not financially penalized. If you are considering a facility for your family member, it is worth your time to go visit this facility and see what they have to offer
---
Debbie G.
October 20, 2015
I visited this facility
Golden Living has a wonder caring staff!
---
Caring113366550
September 29, 2015
I visited this facility
I visited Golden Living Taylorsville, and I like the people that were running it. The staff was friendly. I didn't go in any of the rooms, but I like the atmosphere.
---
tony newman
September 18, 2015
I visited this facility
I occasionally see patients as a home health physical therapist at Golden Living. I also see patients every day in many other assisted living facilities all over the valley. I go to the most expensive places in the valley and the cheapest. Golden Living is, without a doubt, my favorite. Not only is their staff involved on a deep level of care for their residents, but there is such a welcoming feel right as you walk in the building, every time. Part of this is the staff, part of this is the layout, decor of the building/property and part of this is the residents themselves. It's all of these factors that makes this diverse community a family. And I think that is the most important factor when making the difficult decision of moving from your long-time home to your new one: family. I highly recommend Golden Living as a destination for you or your loved one.
---
Linda WC
September 15, 2015
I am/was a resident of this facility
I have been a resident of Golden Living since February 2015 and absolutely love it here. I'm really impressed by everything they do here. The food is good, the staff is wonderful, and everybody knew my name the day after I moved in. The activities are varied and so much fun. I especially like the scenic drives and the offsite picnics. I like the walking club and the exercise activities. The care staff is wonderful. If they haven't seen you during the day, they come and check on you. Every 3 months I have a care conference with the executive director and the nurse informing me of my progress. At this time of my life, I wouldn't want to be anywhere else.
---
Richard112234950
August 27, 2015
I am/was a resident of this facility
I'm currently at Golden Living Taylorsville. It's a nice and clean place. The food is good. The dining setup is fine. They have lots of activities. I have a studio apartment. What I like the most about this facility is the care that they do here. It is really good. However, they could use a chef. I know they just have cooks here.
---
Dsasay
August 19, 2015
I am a friend or relative of resident
My sister is a resident at Golden Living. I was impressed with their facility when I was touring different places and they haven't disappointed me at all. The facility is a little outdated with it decorations but it is very clean compared to many places I toured. Their staff is very professional, knowledgeable, and friendly. My sister loves her room and having her own furnishings. It feels like home to her. She has meet many people who have become friends and she enjoys the activities that are provided. The staff has even become her friends. She loves the women that helps with her room and laundry. She also enjoys the meals. I have also become friends with the Director, Rob, the Relations Director, Shauna, the housekeeper, Anna and some of the other residents. They all have my sisters best interests in mind and give her great care. I highly recommend Golden Living.
---
paintlady
August 17, 2015
I visited this facility
Shauna and Dennis at Golden Living are awesome. They made my Mom comfortable and answered her questions clearly. This wasn't easy since she is quite deaf and reads lips. Shauna took the time to make sure she understood everything and didn't ignore her because her family was easier to talk to. The facility is clean and the staff is extremely friendly and seems to care about the residents. It actually feels more like 'home' than some others we visited. My Mom put herself on the waiting list.
---
epoplrak
August 13, 2015
I am/was a resident of this facility
After nine months at Golden Living, I have settled in and am enjoying myself. We have meals and house keeping provided, plus many activities are offered every day. My room in comfortable, quiet, and easy to maintain. The nursing staff keeps me on schedule with my medications and monitors my vital life signs. One of the features that feels essential is the wifi that is provided, allowing me to keep in contact with my family and friends, as well as keep up with current events and do all the research and learning that I want. I have used the Internet to research a music appreciation class that I present each week to the residents here.
---
pieatchel
June 23, 2015
I am a friend or relative of resident
I have a friend living there. When looking for a safe place for my friend to move to, I contacted a service that referred me to Shawna at Golden Living. What a blessing that turned out to be. She invited us to lunch and for a tour. It is a beautiful home and the staff is very attentive. Beautiful grounds with places to sit and enjoy the outdoors .So grateful to find such a wonderful place for my friend to call home.
---
AubreeZ
May 28, 2015
I visited this facility
I have volunteered at several activities at this facility and the staff has always been extrememly friendly and helpful. The community is clean and very well run. I have always been impressed with the variety of activities they provide for their residents.
---
MarkMKS
May 08, 2015
I visited this facility
As a service professional, I was greatly impressed with the level of care and concern that Golden Living has for their facility and their residences. They have a continual stream of great activities with community involvement to compliment a very warm atmosphere with extremely caring professionals. This is home.
---
Shandra1
January 21, 2015
I am a friend or relative of a resident
We choose Golden Living Taylorsville for my mother-in-law because of its location. My husband and I both have a lot of family right there, and we are familiar with the area. When I talk to her, she loves it there. She has a great time getting to know people. She's been on some of the bus rides and activities with the residents. The staff is great for anything that she needs. It is very homey and attractive. When we walk in, it is just remodeled, and it is nice. She is in a studio apartment, and she has the biggest one that they offer. We are able to fit everything that she needs in it, and it is comfortable enough. She kept her dog at first, but then decided it wasn't working, and they let us cancel the dog deposit. They are very helpful. They know me by first name, and I have only spoken to them a couple of times. They are quick to get back with phone calls, so it has been super good.
---
Tony19
November 05, 2014
I visited this facility
The staff was very helpful and cooperative at Golden Living, but we ended up keeping my mom at home. They rooms were very nice, they had bingo and a lot of activities for the residents.
---
Caring95114250
October 17, 2014
I visited this facility
I thought Golden Living Taylorsville was nice. I like it. It has both levels of care, independent and assisted. The staff was nice and friendly. There weren't really any problems with it. It was a good place. However, it wasn't perfect for my parents' needs. If my parents were further along, it might be more perfect for them. They did give us a list of some of the things that they get into, and they were like excursions.
---
Caring87207450
June 27, 2014
I visited this facility
Everything seemed lovely. We received flyers of what they're having, like '50s nights. I like that it is close to our house.
---
sadsally
May 13, 2014
I visited this facility
I toured this facility when looking to move my husband. They're a level 1 facility, and my husband needed level 2, so we chose another care center. But I was so impressed with the staff and administrators. They made phone calls and gave us lists of places they'd recommend. Even 2 weeks later, I still receive calls to see how we're doing and if we found a good place for my husband. After having had a very bad experience with our last care facility, it's refreshing to see that there are still great care centers that truly care for their residents.
---
Jeff19
April 12, 2014
I visited this facility
Golden Living Center was an older place but it was really nice. You can just tell when the furniture has been lived in. They had nice brochures with the services they provided and that I could have shown my mom. It was a smaller facility, so any area was small too. They had an activity room and meals -- meals from the menu and meals from entrees you can choose on your own. The place I was looking at had a nice view and was in the middle of a remodel. The bathroom had a four inch lift before getting into the shower.
---
Caring81130850
March 21, 2014
I visited this facility
Golden Living was very nice. But it was a little different. The ones they showed me didn't have private bathrooms. They have like a spa area, that has a regular spa tub that you could go in and use all by yourself. The room wasn't ready yet. It had a lot of furniture in it. It looked fair sized and big enough. But I couldn't really go in, there's a lot of stuff in there. The staff is very nice very helpful. I felt like it would be a nice place for my friend to go. The environment was good. It was comfortable, homey, nice atmosphere, and more plain.
---
Walter V.
September 18, 2012
I am a friend or relative of a resident
The facilities at Golden Living were a welcome site. I had gone to visit other assisted living housing before but Golden Living was by far the one that felt more like home. I was truly amazed at how observant and caring the staff was to all of the seniors within the confines of the home. They gave the best treatment to my friend until the very end, and I am grateful for how happy they made him feel in an uncomfortable and uncertain time in his life. To know that someone that certainly needs help is being looked after so well gives comfort to those who cherish their loved ones living in Golden Living. I know there's a growing stereotype towards assisted living and so on, but seeing the happiness in my friends face personally testified to me that living in Golden living is a great place to live and I almost look forward to the time in my life that I am able to retire to said facility.
---
From Golden Living Taylorsville
---
Listening. Serving. Caring.
These things matter to you, and to us. We offer more than just a beautiful place to live. We offer a lifestyle that embraces our residents independence and offers high quality care and assistance where needed.
Our goal is to enhance the quality of life of our residents and make sure they live their lives to the fullest. We recognize that our residents require varying levels of care and assistance. We promise to tailor our community and services to the needs and preferences of each individual resident, ensuring that they continue to lead the life they want. Visit us today to start living your life to the fullest!
Features of Golden Living Taylorsville
---
Dining options
In Room Kitchenette
Dining Room Shared Meals
Dining Extra

Private Dining Room For Special Gatherings
Features
Beauty Barber Shop
Resident Transportation
Garden And Patio
Resident Parking
Features Extra

Library
Cleaning services
Laundry For Linens
Housekeeping
Laundry For Clothing
Technology and entertainment
Cable In Rooms
Technology Extra

Emergency Call System
Location of Golden Living Taylorsville
---
Get Cost Information
Get full access to reviews, cost information, and amenities