Loretto's The Heritage
750 East Brighton Avenue, Syracuse, NY, 13205
Talk to a Family Advisor: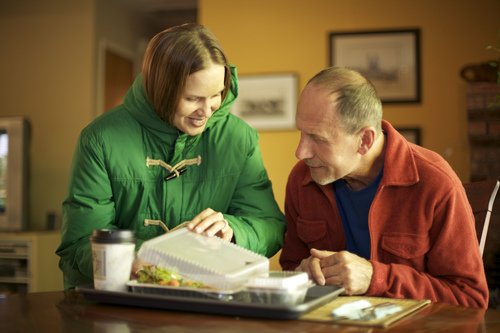 Top nearby Assisted Living Facilities
Reviews of Loretto's The Heritage
---
Silverfish
September 13, 2012
I am a friend or relative of a resident
Overall, the facility was excellent. The entranceway was welcoming and well-kept, with friendly staff waiting to help guide you through the facility. The lobby was well-decorated and didn't feel like a hospital; it felt more like a hotel. The nurse who was with us was also the nurse who was caring for my great-grandmother, and she was pleasant and friendly. There were a few staff members that seemed to be less pleasant, but we did not have a direct experience with them. The rooms were simply furnished and were a little dull. There wasn't a lot of room for personal belongings. However, they did feel nicer than something like a hospital room. Out of curiosity, we tried some of the food and found it to be surprisingly good. We looked into some of the services and facilities provided and found that were plenty of additional amenities for those able to take advantage of them, such as an entertainment room with various activities, and a swimming pool. The only major negative of the facility is that the care staff seemed to have a slow response time, though that could have been due to understaffing.
---
MarBuzz
August 27, 2012
I visited this facility
I had visited Loretto this month (Aug 2012). This place was suggested from a very good doctor. I toured the place and I was not impressed. I am looking for my mom. This was not warm, friendly nor inviting. Like others everyone was just sitting or sleeping and no aides were conversing with any of the residents. No activities going on nor was anyone in official capacity to speak with. I was willing to have the short tour by the receptionist. She was very willing to try to help me. I am not sure this is a place for mom. It is way too sad and Alzheimer's is sad enough. It might be ok but I do not want to take a chance.
---
WillClem
April 17, 2012
I am a friend or relative of a resident
I wish I was able to give this place a higher rating, as some of the employees and facility ideas were wonderful, but unfortunately my grandmother's experience was not a pleasant one. Once you were inside, the dreary hospital-like look of the place combined with the bored, unhappy faces of the residents made my family feel like we had walked straight into the place where the elderly waited to die. It seemed hard to imagine how one might be inspired to feel truly alive there. The employees overall seemed untrained and unsure about how to treat the residents, either talking to them like children or speaking so quietly their words were inaudible. Several of them were flat-out rude when asked for help or information. They ignored my grandmother's insisting that the diabetes medicine they switched her to made her feel bad until her blood sugar dropped so low she nearly slipped into a coma over night. Fortunately a very responsible employee noticed and my grandmother got the proper help and medicine afterwards. I think the majority of issues we may have with Lorreto can be chalked up to their being understaffed and under budgeted, which sadly seems to be the case for every affordable assisted living community near the area so it's hard to fault them for that. Still, I'm grateful we found a better alternative than Loretto for my grandma.
---
ness
March 31, 2012
I am a friend or relative of a resident
This facility has 3 floors with various wings, each containing private rooms, a sitting area with a TV, and a dining area. The private rooms have a sink, cupboards and an area for a table and chairs or small couch and chair. A partial wall separates the sitting room from another room for a bedroom and a large closet. Cable and phone optional in their private room for a separate charge. A separate bathroom with shower. Residents are checked on every hr. Medications are given at assigned times. Bathing schedule, special dietary needs, help grooming and dressing etc.
Three square meals provided in the dining area of their wing. Laundry services once a week and housekeeping, bedding changes as needed. There is a calendar with daily activities and a chapel available with weekly masses. Staff comes and gets the residents and encourage them to attend daily activities. Three to four outings to area concerts, restaurants etc are scheduled ea. month. Holiday parties are held for family and friends to attend, and visitors may participate with the residents in any daily activities including mass. You may sign out your loved one for a day outing. There is a code and keypad along with an alarm if a resident tries to leave unattended with a secretary stationed just short of the door.
There is both private pay rooms and a Medicaid reduced rate.
Out of 5 ***** Stars
Staff is friendly and helpful Rooms are kept clean Residents are attended to and kept clean and dry Food quality Activities and Recreation Cleanliness of the facility Decor of facility * Could use some updating, but that is more for outsiders point of view, residents appear comfortable.
---
From Loretto's The Heritage
---
Loretto's The Heritage is the first residential program in Central New York created specially to care for those with Alzheimer's disease or other dementia. Operating since 1992, The Heritage has the experience, the knowledge, and most importantly the commitment to provide the quality of care and safety you want for your family member or loved one. Particular attention is given to the safety, security, and emotional needs of our residents and their families.
Location of Loretto's The Heritage
---
Request Info
Get full access to reviews, cost information, and amenities