Sun Towers Retirement
101 Trinity Lakes Drive, Sun City Center, FL, 33573
Talk to a Family Advisor: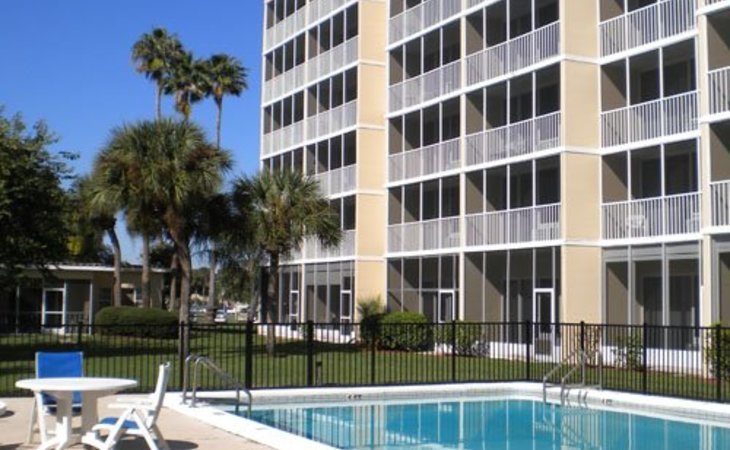 Reviews of Sun Towers Retirement
---
lindro
May 17, 2017
I am a friend or relative of a current/past resident
I want to thank Laura for the incredible service she provides the residents of Sun Towers. It is always a wrenching decision to move from an independent free-standing home to a facility that provides so many services - the adjustment and understanding of how things work can be overwhelming and confusing. Her role as a transitions person is invaluable and her empathy and efficiency in fulfilling this role was greatly appreciated by me and my family. Our family is grateful to so many: Tosha; maintenance for their solutions to getting internet, phone and tv service to the apartment; the nursing department; Heidi in housekeeping; TJ for his role in relocating the remodeling equipment to another location once my parents moved in....everyone was so helpful in getting my parents settled. Except for the fact that the residents are a generation older than me, I would move to Sun Towers in a heartbeat! I will certainly recommend Sun Towers and its team to anyone I know.
Provider Response
We can't thank you enough for your kind words. It is so helpful to others who may be considering a move to our retirement community. We're thrilled to have your parents with us and when you're ready, we'll make a place for you too! Debbie Caneen Director of Admissions
---
Richard Clelland
November 29, 2016
I am/was a resident of this facility
Laura and Tosha have been extremely helpful during the transition into The Towers. They worked with us to find an appropriate apartment. They explained the leasing process as well as the amenities. During and after the move, Laura checked to see if everything was ok, and coordinated with maintenance to perform some tasks. They helped to make the move easier, and both are a delight. I also want to commend Angel for going above and beyond. My rollator was delivered to my door, and at my request, Angel not only unpacked it, but also assembled it. This took Angel only a few minutes, but made a huge difference to me. Therese, the nurse, is also a great asset to Sun Towers. She's very competent, efficient, and yet takes the time to talk with you while performing her duties. She is outstanding! Laura H. is an excellent problem solver. She has helped me to get any number of situations resolved to my satisfaction. One of these was the timing of my laundry. She worked with the nursing team to schedule this to better fit with my preferences, which made me happy. She focuses on improving residents' experiences, which is much appreciated.
---
Kathy8290
November 11, 2016
I am a friend or relative of a current/past resident
My mother recently moved into the Memory Care Unit at Sun Towers. Prior to selecting Sun Towers I researched too many to count facilities in Bradenton, Sarasota, Ruskin and Sun City Center. I selected Sun Towers because of the positive attitudes of every employee you meet! My Mom is 94 years old with Alzheimer's disease and my prayer is that she experience joy at least once a day. In the past two weeks she has participated in a lot of activities, been fed good food, and had her personal needs handled with dignity. - all equaling many spurts of joy throughout he day! My siblings and I feel we made the right selection - Mom is safe and we see her happy for the first time in a long time!
Provider Response
We are blessed to have your Mother with us! Every resident is family to our team and we appreciate your words of encouragement. Thank you so much for sharing. Your comments will certainly assist other family members in search of the perfect place for their loved one. Debbie Caneen Director of Admissions
---
James767453
October 11, 2016
I visited this facility
We have selected Sun Towers Retirement. The residents all seemed happy and smiling, and that wasn't true at the other place that we went to. The rooms were just high quality. It's an older building, but it is well maintained. Everything that we saw was very good. They have the same activities there.
Provider Response
Congratulations on your decision to join our family. It will be our pleasure to welcome you to your new home. Debbie Caneen, Director of Admissions
---
Nancy G350400
September 30, 2016
I am a friend or relative of a current/past resident
Sun Towers Retirement is modern, clean, and easily accessible, and the people are very friendly. They have a small pool and an activity room, and people come in and they do activities for the residents.
Provider Response
Our pool is a great asset in many ways. By utilizing it for aquatic therapy, our licensed outpatient therapy team assists residents in remaining active. We really do have very friendly residents and team members. Glad you noticed! Debbie Caneen, Director of Admissions
---
Marie B.
September 19, 2016
I am/was a resident of this facility
I cannot list any one thing -- I am very grateful for everyone I have come in contact with during my stay here. Thanks to all!
Provider Response
We are so pleased you feel that way. Thank you for the kind words!
---
Michelle184216
August 17, 2016
I visited this facility
Sun Towers Retirement was nice and pretty decent. The staff was very polite and good. The apartments were medium-sized with enough room for one person. They had a lot of activities and transportation available for the residents. Food was served three times a day.
---
Alma303087
August 16, 2016
I visited this facility
My experience at Sun Towers Retirement was good, and the tour was nice. They showed me the facilities that I would be occupying. The one I was interested in was a two-bedroom unit with a full kitchen, living room, and little balcony. They provided different things like tours and field trips, and they'd take you to the doctor, shopping, or any place you needed to go. They had dining areas on every other floor. There was nothing I could see that was wrong. They have one-bedroom apartments and furnished apartments. They also have kitchenette apartments if you don't want a full kitchen.
Provider Response
We couldn't be more pleased with your review and are excited to have you join us!
---
Family member11
January 28, 2016
I visited this facility
My in-laws are moving into Sun Towers at the end of the month. The staff who toured us was absolutely wonderful, they're very professional, and caring. My in-laws are comfortable enough to agree with them to move in. They were offered a one bedroom, 2 baths apartment which was perfect, of good size, and tastefully decorated with window treatments and neutral carpeting. The only thing I had a problem with is the kitchen was rather small and with no counter space, however, all the meals will be served. There's a sink, stove top, and refrigerator. It was the lowest price of all the places. Their main dining area reminded me of a cruise dining room. There was a piano for entertainment. Breakfast and lunch is a buffet, and you actually have to dress for dinner.
---
Marcia26
December 22, 2015
I visited this facility
I liked Sun Towers, but it wasn't what my aunt wanted. Nevertheless, I thought it was terrific. The facility was clean enough and nice. The residents were very friendly, very nice people. They had their own pets there. The dining area was fine, nice and large and looked like a cafeteria.
---
Caring114201050
October 28, 2015
I visited this facility
The Towers (Sun Towers Retirement Community) was OK. They seemed to give you the best for your dollars, but then again, you might have to live on the eighth floor or something like that. I think they were fairer than the other facility. They have activities. They have a nursing home connected with them, which was made it more enticing.
Provider Response
We're happy to offer the same price for our apartments regardless of the location within our community. With screened in lanais on each unit and wonderful views, all locations are great choices. Having our skilled facility "Sun Terrace" is indeed an added plus in providing a community where our residents have the ability to "age in place".
---
Judy P.
October 09, 2015
I visited this facility
I moved into Sun Towers 2 years ago. I lived in Dover, DE for 53 years. Although I miss Dover, Sun Towers makes me feel at home. The staff is always courteous and helpful. I have made many new friends.
---
Caring112444150
September 30, 2015
I am a friend or relative of a resident
My in-laws are now settled in Sun Towers. They have more options, and they have lots of different floor plans. We are impressed by the staff and by the facilities. My in-laws say the food is very good. They have a one-bedroom, but they are on the waiting list for a two-bedroom unit. They had a full range of activities. It is by far the best of the facilities that we have toured.
Provider Response
I am so pleased to hear that they have already settled in! We are happy to have them and look forward to getting them settled once more into the two bedroom home of their dreams.
---
Deejay3
July 14, 2015
I am a friend or relative of a resident
Studio apt. is very nice with screened in area overlooking a lake and swimming pool. Staff are wonderful, always providing great service and loving care.
---
Patricia108268550
June 14, 2015
I am a friend or relative of a resident
Sun Towers is a little older, but big, and lots of activities. It's almost an activity point for anyone in town. I go there every week -- once a month for Parkinson's support group -- and yesterday for an Alzheimer's group. They offer things to the community even though it's an assisted living. I know some people who live there, and they think the staff is very friendly, but the food could be better. The people are helpful. It has assisted and independent units, and it does have one floor for memory care. They have a pretty large outside area with a pool, a pond, and a duck. It has 250 clients, so I didn't think that was the place for my husband. The size of it would not be good for somebody who needs the care. A lot of them had kitchenettes, and I didn't want my husband anywhere near a stove or a microwave. They offer different floor plans, and their pricing is less than other places.
---
MaryLou_Resident
February 26, 2015
I am/was a resident of this facility
I am now in my second year at Sun Towers. I am frequently ask if I am happy with my move to the Towers. My answer is always yes, I made a good choice! The staff and residents are caring and friendly and it is nice knowing I am never alone and can get help if ever I need it. There are many activities and sometimes special programs to enjoy. I can be as busy as I wish, or just be by myself and relax in my apartment. Is life at the Towers perfect? No life just is not perfect where ever you are, but as a famous quote says, "Perfect is not normal, nor is it interesting."We have many positives here for all the above reasons. I am happy to call Sun Towers my home!
---
GrampasHome
February 26, 2015
I am a friend or relative of resident
My husbands Grandfather is a resident of Sun Towers. We moved both him and his parents here from Arizona so we could be closer to them as they are getting older. We had him in an assisted living facility in Arizona that was very upscale and expensive. We only wanted the best care for him in the world and new he was a bit fussy and difficult. He was NOT eager to move out of it at all and very reluctant to move to Florida for that matter. He was a bit tricky to work with so it was very important that we had a facility that could handle his mood swings and temperament. Even though his apartment in Arizona was very nice, he seemed to not be happy much of the time which made us determined to find a suitable place that would be able to work with him. After looking at a number of available apartments, we decided on Sun Towers. The price was very reasonable for the level of service and care and the staff seemed to be very eager to help. Well, all I can say is we made the best decision ever! He couldn't be happier with his arrangement at Sun Towers. He absolutely loves it and his attitude about Florida and his housing have been nothing short of a miracle. He RAVES about how the staff spoils him all the time. I visit him every Friday and he is always telling me how well they care for him and how they come up to his room just to chat. I almost can't believe that these words are coming out of his mouth. He is so happy here. I can't thank the staff enough for how kind and supportive they are and how pleased we are with the attention he gets and how welcome and friendly they are toward him. From the food to his apartment, everything is professional in an "at-home" sort of way. Whenever I go in there, I feel this way too. Thanks Sun Towers for making a difference in all of our lives!
---
Roy B. Winn
February 17, 2015
I am/was a resident of this facility
In September 2014, while going to breakfast, I had a heart attack. I took a nitroglycerin tablet. Returning to my apartment, I had another heart attack and I took another pill. Reaching my apartment I phoned my V.A. Case Load Home Base Manager, Mrs. Russell and informed her of the attack. Feeling better, I went to lunch with my son. Arriving back at my apartment, I had another heart attack, I took another pill and laid down. I don't remember answering the phone. Mrs. Russell, unable to make any sense in our conversation hung up and called the nursing station here at Sun Towers. Katrina answered the phone and came to see me. She put me in a wheelchair and took me to the lobby and put me in an ambulance and sent me to the hospital. She saved my life. In the hospital for the next five to six weeks, I had a heart overhaul. Cleaning it up, cleaning the stents that were there and adding more as necessary. The electro-physiologist doctor replaced my pacemaker with a new type of defibrillator which can reprogram my heart. The staff here at the Sun Towers are really great, from the everyday worker to the top CEO, Mr. Nelson. If it were not for all of these wonderful people I would not be here now.
---
Barbara Oliver
February 17, 2015
I am/was a resident of this facility
I recently returned from a month's vacation to Connecticut for the Christmas holidays. I was amazed at the welcome I received from my dinner friend and others who noticed I was missing for some time. I especially was thrilled that Michael, in the dining room was so happy to see me back and was worried about me. A fine gentleman.
---
Martha39
January 13, 2015
I am a friend or relative of a resident
We chose Sun Towers as first of all they had availability, and that was the biggest thing. It goes from independent to assisted living care. The rooms were nice and big. They had social activities for the residents which was important for my husband. Everything is nice and clean. Maintenance is kept up to date. There is a happy hour, and my husband plays cards, so there is card playing, and they go out for meals once a week.
---
Barbara35687050
January 31, 2014
I visited this facility
Sun Towers is very nice. It's just that it's a rental. If we move in there it would be about the same price a month with our current place. However, when we ran out of money they would take us out and we can't afford that. The place itself is attractive. They give you 3 meals a day if you need them. The people there are friendly. They have therapy, a fitness room, library and other amenities. I only saw their smallest room which was quite adorable and most of them have a little porch.
---
JCooper
January 29, 2014
I am a friend or relative of resident
I am ecstatic that my father has found a permanent home at Sun Towers! He requires a high level of hands on care around the clock, and they are able to provide that for him. He moved in from Sun Terrace where he received excellent rehabilitative services. When he went into Sun Terrace he was wheelchair bound and could not support his weight. When his rehab was completed he was able to walk small distances with only assistance to stand. We were very limited in our choices of facilities that could provide the level of care that my father needs because he is insulin dependent. Sun Towers is able to check his sugar and give him his shots at any time because they have licensed nurses on staff 24 hours a day! The nursing staff is very kind and gentle with him. He loves it there, and tells everyone that he feels like he lives in a fancy hotel.
---
Norbeck family
November 18, 2013
I am a friend or relative of resident
The care they provided my mother in her 2 years there until her death in Junes was exceptional. All my questions and concerns were dealt with promptly. Tosha and TJ in the Towers and Christine and the physical therapists at the Terrace were so helpful. It eased my mind greatly as I was 12 hours away but knew my mother was in excellent hands and dealt with her eccentric ways. cheerfully.
---
Michelle25
July 24, 2013
I visited this facility
The rooms were really nice and very spacious in Sun Tower. They were friendly; they answered all the questions and they followed up and called back. They had a beautiful dining area. There seemed to be a lot of activities going on. But they just have a long waiting list.
---
Caring5697
April 30, 2013
I am a friend or relative of a resident
We like everything about the Sun Towers. It's clean and the staff is really good. There's a lot going on every time you walk in. It's just kind of upbeat with all kinds of activities every day. The food is good and they have a nice, big dining room.
---
Fond Family Member
August 30, 2012
I am a friend or relative of resident
I am the family member of a resident of Sun Towers. I cannot put into words how happy I am that I placed my mom in their facility. Not only does their staff go above and beyond the normal call of duty, but as my mom bounced back and forth between independent and assisted living (WITHOUT HAVING TO SWITCH APTS!!!) they were on top of things and she got the immediate care and therapy she need post haste! The support groups have also been a blessing. In dealing with the loss of my dad, I was able to attend their grief support group with her and was thrilled to learn of all the other resources that Sun Towers offers! I will always recommend Sun Towers as I know they will take the absolute best care of my mom until her final days. I take security in knowing that.
---
mikenick
June 29, 2012
I visited this facility
I felt like this company was ran the wrong way at times. The staff were sometimes rude and not caring to the residents. I have noticed some of the staff seem to not fully do their job as their job title stated. Althought the physical therapists were great, they always care for the residents they were assisting and they always wore a smile on their face. I feel like if I were to look for a location for a family member of mine I would choose somewhere else to take them. I know that somethings have changed here a little like the new lockdown unit but I still think they have a ways to go.
---
From Sun Towers Retirement
---
Sun Towers is the most desirable retirement community in Florida. We accommodate the evolving health and social needs of our residents, all for one very affordable price.
Assisted Living
We customize our a la cart services to suit your individual needs while allowing you to age in place right in your own apartment. You can add or discontinue services at any time. At Sun Towers your safety and comfort are our first priority. Sun Towers offers all the independence you want with the security of having all the assistance you may need.
Apartments are available for either short term or long term residency
Assisted Living Amenities
Three meals per day (light breakfast, lunch and dinner)
All utilities (except telephone and internet)
Cable TV (basic channels)
Weekly routine housekeeping/annual deep clean
Flat linen laundry service
Unlimited complimentary use of laundry facilities
On-Site Physician's Clinic
Heated Swimming pool
Scheduled activities & planned social / recreational events
Private mailbox
24 hour licensed nurse supervision/assistance with medication, bathing, grooming and dressing
Additional storage space available
Computer room
Concierge Services
Small pets are welcome
Memory Care
At the Private Suites within Sun Towers, we have taken the extra step to seek the best for your loved one. By receiving training from the USF Byrd Alzheimer's Institute where they are conducting innovative research, our certified nursing assistants will provide the most up-to-date compassionate memory care available in a secure environment. Our residents are given individualized activities based on their assessed needs in order to offer a customized level of care.
Our comprehensive memory care program will include much needed Extended Congregate Care services to allow our residents to truly age in place.
It is our privilege to assist you through this transition and to offer the highest quality Alzheimer's and Dementia care for your family member.
Advantage Program:
The Advantage Program is an Assisted Living program that allows you to receive up to two assisted living services at individual pricing. It includes all of the Independent Services plus two Assisted Living Services selected from the table below.
Assistance with monitoring medications
Every two hour courtesy and bed checks
Assistance with Showers
Assistance to Meals
Dressing Assistance
Personal laundry service (includes bed linen change 1/week)
Bed making
Respite Care (Short Term Assisted Living)
ServiceFlexibility for a short stay for recuperation
A fully furnished apartment, television, basic cable, and local phone service
What Makes Us Special
---
You've grown accustomed to an independent lifestyle. That won't change at Sun Towers. Maintain Your Independence with access to our continuum of long term care services.
Features of Sun Towers Retirement
---
Costs
Minimum Rate

$2734/month

Minimum Memory Cost

$3921/month

All Inclusive Rent
Rent Plus Care Fees
Room and housing options
1-bedroom apartments
2-bedroom apartments
Studio Apartments
Housing Extra

Shared Living
Dining options
In Room Kitchenette
Room Service For Meals
Features
Beauty Barber Shop
Computer Room
Resident Transportation
Party Space
Golf
General Store
Tv Room
Garden And Patio
Resident Parking
Security Gate
Pool
Features Extra

We Offer A Heated Pool And Aquatic Therapy
Cleaning services
Laundry For Linens
Private Cleaning Services
Housekeeping
Laundry For Clothing
Technology and entertainment
Health services
Skilled Nursing
Hospice Care
Medication Management
Physical Therapy
Psychiatric Care
Activities
Offsite Activities
Music
Games
Stories
Religious Services
Lectures Discussions
Book Clubs
Wii Sports
Tai Chi
Fitness Room
Cooking
Arts And Crafts
Activities Extra

We Offer Line Dancing With A Balance
Financial guidance
Va Benefits Consultation
Financing Advice
Guest services
Guest Parking
Guests At Mealtime
Overnight Guests
General
Staff Patient Ratio

Depends On Care Level

Pets

All Pets Allowed
Location of Sun Towers Retirement
---
Get Cost Information
Get full access to reviews, cost information, and amenities