The Gardens of Sun City
17225 N Boswell Blvd, Sun City, AZ, 85373
Talk to a Family Advisor: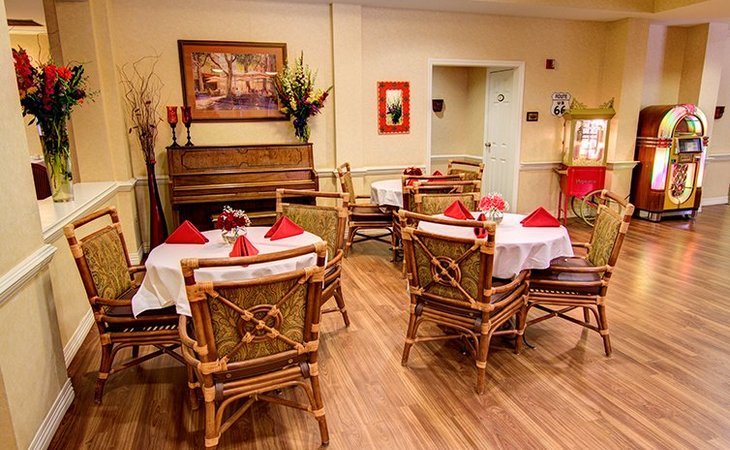 Reviews of The Gardens of Sun City
---
Coleen338260
December 17, 2016
I visited this facility
The Gardens of Sun City and its rooms and staff were very nice. I really enjoyed talking with the staff. The dining area was beautiful and impeccable. The grounds were wonderful and beautifully kept up. I could not ask for any better. I really liked it.
---
Louise784373
November 22, 2016
I visited this facility
I liked the location of The Gardens at Sun City. It was a little bit on the smaller size, and I liked that. I really liked the fact that inside it they had a skilled nursing section or like a rehab. They took their residents off site like a tour in Arizona. Of all the places I saw, they were like the No. 1 or No. 2 of where I wanted to put my mom if she wanted to move. They served 3 meals a day plus snacks. They had like a rec room, and they had a refrigerator and they had food available like yogurt. Sometimes they had ice cream socials and movie nights. They had some doctors that came to the facility to see people, they had a shuttle van, and they allowed 4 visits a month to transport their patients to their doctors. The staff was very informative. They were able to answer every question that I had.
---
Bev188108
November 21, 2016
I am a friend or relative of a current/past resident
My husband had stayed at The Gardens. The staff there was wonderful. I couldn't ask for any better. When I walked into the place, there was never a bad odor. They were well taken care of. My husband couldn't get up and walk anymore. They just made sure that he joined in everything that happened at least one special time.
---
Christopher644633
October 27, 2016
I visited this facility
The tour at The Gardens was excellent, they were well prepared, and they gave a great presentation. It was nice and had everything except that the memory care unit was small; that's the reason why we didn't go with that.
---
Debra463318
October 19, 2016
I visited this facility
The Gardens of Sun City was really good. The staff was very helpful. The rooms were big, and the dining room was pretty big as well. However, the price was something we could not afford. They had activities like bingo, entertainment, and movie nights.
---
Sharon733133
September 01, 2016
I visited this facility
I don't like The Gardens of Sun City where my mother is now. The caretakers are great, but the management is terrible. My mother hates the food. It is very poor. My mother is 96, and I need skilled care for her. When a staff member went to evaluate my mother, he said that she only needed assisted living. Well, she had pneumonia and kidney failure, and I can't see how that is possible. I was there almost three weeks trying to get her moved up to skilled care. She is still considered assisted living only she is at a different level, they said, and that she is at a more caring level. Well, she is not, and I can tell she is not getting the care that she needs. The rooms are nice and very small, but when somebody is just confined to their room all the time, you don't really need that much room.
Provider Response
Dear Sharon, I am the Executive Director and would like to thank you for bringing your concerns to us. Here at The Gardens of Sun City, we offer Assisted Living, Memory Care, Rehabilitation and Skilled Nursing. In order to determine where a new resident should be placed, we rely on the expertise of our nursing staff to perform a thorough evaluation. We always strive to maximize our residents' independence, and residents and families typically want to be placed in the most independent neighborhood in our community (assisted living). Therefore, when our nurse decides that we can meet the resident's needs, our company's standards, and state regulations in a specific neighborhood, this our recommendation. Our goal is always to keep our residents happy and healthy and to give our families peace of mind, and I'm sorry if we were not able to meet your expectations.
---
skittlebits
February 09, 2016
I am a friend or relative of resident
We moved our Grandpa to this beautiful facility for the skilled nursing care they provide. Everyone there from activities, marketing, social, kitchen, nursing, and even the other residents made us feel like family. We had to iron out a few wrinkles when we first arrived but once that was all worked out, everything ran smoothly regarding his care. We had a peace of mind that our wonderful Grandpa was receiving the best care possible. The time he spent there at The Gardens of Sun City was worth the investment. They gave us back our Grandpa in his last days. We have priceless memories we will always treasure. We will always remember and cherish everyone at The Gardens of Sun City. Thank you so much! God Bless You!
---
Joseph119631550
January 31, 2016
I am a friend or relative of a resident
My mom is at The Gardens of Sun City. They have activities there. My mom is on the second floor and that's considered special care. I usually go there about once a week and my mom has been doing OK. The people that are working there are really nice. It is a whole area for those people and each one has their own room. They only use their rooms when they go to sleep at night, but during the day, they're in the main area, which doesn't look like a hospital at all. It looks like a hotel. They sit around and talk to each other. The food looks and smells good. Moreover, they wanted to do paperwork for long-term, and I asked if we can just go month by month, and they said it's OK, so we go month by month.
---
Anonymous119056450
January 26, 2016
I visited this facility
The Gardens of Sun City have their own units. They have washers and dryers. They can go to the stores because they have transportation. Everything is there. There are a lot of people, so it must be good. The staff was courteous. They'd take you around, and they're good.
---
Kathy116445650
January 14, 2016
I visited this facility
I visited The Gardens of Sun City. I liked the consistency of their programs and very nice staff.
---
cat17
November 24, 2015
I visited this facility
I liked the size, the staff ratio, and the personal environment of The Gardens. The rooms looked comfortable. They residents were playing cards and doing one-on-one things. It looked OK.
---
Kelly32
October 29, 2015
I visited this facility
The Gardens was a very pretty place. I like the person who showed me around. It was very well-appointed, very clean, and well-maintained. The people were so nice, and the elderly people that live there were very happy people. But the main reason I didn't consider it is because if the person wanted to go outside, he had the option of a living-room-sized patio upstairs, and that was it. They were on the second floor, so they can't just go at will. They take them on activities, but that's on a schedule. I would have definitely chosen it if it had walking grounds.
---
Debby8
October 29, 2015
I visited this facility
I liked The Gardens of Sun City. I was impressed with the director I met with. They had 45 people for their memory care unit. It was a small apartment type thing with a bed, a refrigerator, a sink, and a microwave in there. I met the nurse and she seemed fairly knowledgeable. It was quite a bit more expensive than the place we chose. They had directed care and they had games for the memory patients that were in there.
---
Don's girl
October 09, 2015
I am a friend or relative of resident
If asked for one word to sum up our experiences at The Gardens of Sun City, that word would be 'kind'. My Dad moved into The Gardens in September 2014 and was a resident until his passing this past September. He had a long list of medical issues, but the staff was wonderful and caring while they worked with him to keep him in his apartment in the assisted living wing. Dad, like most people, of course wanted to go back to his longtime home, but barring that possibility he had a wonderful time with the very caring and loving staff members. The activities were wonderful- lots of musical and theatrical entertainment, card games, crafts, parties and puzzles. Jose, the chef, served excellent tasty meals. The staff members became like family. Everyone knew him and knew his interests, always having a kind and helpful word or pat on the back. Residents are welcomed at monthly meetings and their input is welcome. As Dad progressed to hospice care and moved to the attached Skilled Nursing unit, he had daily visitors from the assisted living staff. Susie, a receptionist, used to take Dad out to sit in the sunshine in the lovely garden courtyard and Gary, the transport driver, came to visit nearly every day. The entire staff from the Executive Director to the nurses to the activities staff including Tracy to Norma, a wonderful CNA in skilled nursing, to the housekeeping department were so kind and friendly to all of us- not just Dad. I was also impressed with their honesty and personal integrity, sometimes lacking in other facilities. Dad often told us how much he loved living there. As he began to fail, he knew he was surrounded not only by the love of his own family but also the love of his Gardens family. Of course there are always a few glitches, but overall we found the staff to be caring, responsive, and receptive to working to fix any problems that came up. I would not hesitate to recommend The Gardens to family members looking for a new home for their own loved ones.
---
Dolores18
September 30, 2015
I am a friend or relative of a resident
My uncle is at The Gardens of Sun City. The place is nice, and the staff is warm. It is smaller, which is conducive to what he would appreciate. It is clean and decorated nicely. It has a beautiful courtyard. The people seem happy. The staff is very nurturing.
---
Anonymous112029750
August 21, 2015
I visited this facility
I did go to the Gardens, and I liked this one very much. I thought it was very good, and they were very active. When we went in, they were having a musical show for the people, and then it was being served with lunch. I liked the feeling that we had just going in and looking around, it seemed very friendly. I did like the rooms. I was looking for a part-time kind of respite place, so I was looking at different places at that time, but my daughter and son-in-law have decided that it would be the best thing for me to be with them.
---
Slyvia1
July 04, 2015
I visited this facility
We liked The Gardens of Sun City. It's a little bit smaller and more personal. It's very clean and nice. The rooms are small, but they are nice. They do have everyday activities for the residents. The staff who took us around was very helpful and answered our questions.
---
Anonymous106763250
May 17, 2015
I visited this facility
The people who live at The Gardens of Sun City were very cordial. The staff showed us the premises and several of their facilities. What we did not particularly enjoy was the rooms. They were more or less set up for one person rather than two. It did not quite fit what we needed. At the time that we were there, they were having a piano recital. Someone was entertaining them, and I thought that was very nice.
---
Vi1
May 16, 2015
I visited this facility
The Gardens of Sun City is a very lovely place. The people were wonderful and nice. To me, it is quite homey and nice. They had like a restaurant style where you ordered everything you needed there. I had a meal there, and it was very good. Mostly I like vegetarian food, and they even had that on their menu. The staff was wonderful, and my daughter likes the people there too.
---
Betty Higginson
April 17, 2015
I am/was a resident of this facility
I have been here nearly two months and it has been a wonderful experience being here. The staff has been very kind, considerate, helpful, and loving. I will highly recommend the "Gardens of Sun City" facility to anyone.
---
JamesG12
February 06, 2015
I visited this facility
Beautiful community. Very clean with excellent staff engagement. Spacious room size with lots of entertainment and activities for the residents.
---
Caring58702450
December 30, 2014
I visited this facility
The Gardens was very nice. Everything was fine in that place. The staff was all right. The food was good.
---
Minnie FB
October 03, 2014
I am a friend or relative of a resident
Your staff was courteous, helpful, and knowledgeable. They helped make a difficult time nice. My mom like every one of your staff. I thank all of you for making this transition pleasant!
---
The Radford Family
September 26, 2014
I am a friend or relative of a resident
The accommodations are wonderful. But more importantly, the friendliness and caring nature of the staff is amazing. After 4 ½ years in another facility,, we can see the difference of this well maintained and staffed home. Thank you so much. It means so much to have our loved one cared for like we would a home.
---
Douglas4
July 19, 2014
I am a friend or relative of a resident
The Gardens is all very positive. The staff is very friendly, caring, helpful, and truthful. My sister and brother-in-law got a private room. Initially, it was a room that was a furnished room by the facility, but they just moved into their own apartment, where they brought some furniture from home. It's a larger apartment. They like that a little bit better. They really enjoyed the entertainment and everything that the facility provides. They play bingo every day that they can. They listen to the piano with the music and really enjoy that. They love the food at the restaurant, and the people in the restaurant are very, very wonderful. They serve very graciously. I have eaten there; it's pretty good. It's certainly better than what you would refer to as hospital food. I think if they could be a little less expensive, and it would be better.
---
Vickie3
September 27, 2013
I visited this facility
I liked The Gardens at Sun City. The staff have all been very accommodating. The rooms were small, but I liked it for being an assisted living. I just need to put my dad into a bigger facility to get him more involved with things and this facility is a small one.
---
Kate10
March 18, 2013
I visited this facility
Finding a place for a loved one is extremely difficult and stressful. There are very few resource people knowledgable and willing to honestly advise you of the best decision. The people I met at the Gardens: Marcus, Tina, and Judy were very profesional, knowledgable and caring. Their focus was on patient centered care and helping me make the best possible decision for my Mother. They had a very comprehensive understanding of the diseases of old age and end of life issues and were willing to educate otheres (family members,etc.). I found them to be better informed and more commnicative than most physicians and social works and infinitely more interested in the overall health outcomes. The facility is outstanding: well decorated, immaculate. It has an element of elegance in keeping with resident needs. Its presence says "wellness" and promotes participation in the good things life still has to offer. Clearly, there is life wth dignity.
---
Emmyrose
January 04, 2012
I visited this facility
This a medium sized facility. The buildings and grounds are nice. They have lots of greenery and trees. The courtyard has gazebos, a pstio, benches, walking paths, and flowers.It is very beautiful in my opion.
They offer housekeeping and laundry.
The interior is nice. They have a nice main dining room with restaurant style. the food is good.They have a beauty salon, sitting areas, activities room, and fitness room.
They do all three lebels of cre and Alzheimer.They have a house doctor and nurses on duty. There is an emergency call system. They do transport to doctors. all caregivers are certified.
They do lots activities with exercises, aerobics, bingo, outside entertainment, wine and cheese socials, and parties. They do outings as shopping, restaurants, and other events.
The staff seems great from what I saw and it is a nice place.
---
Concerned About Caregiving
July 29, 2011
I visited this facility
The location is easy to get to, near the Loop 101, but space is very limited for visitors, who must park across the street and walk over to the facility.
The first impression is that the facility is very nice and upscale. The building used to be a hotel, so the place still has the look of that. In three floors, it offers a range from independent living to skilled nursing and memory care. Overall, it is clean and decorated with tasteful furniture and other nice touches.
The dining room has a homey look and feel; the tables are set nicely, and the residents are allowed to order off a large and varied menu. The kitchen is small, but adequate. And some complain that the food is bland and all served at room temperature.
There is an activity director and an assistant on staff. The director goes out in a van and accompanies the residents to movies, shopping, the zoo and other area spots. But a lot of the residents seem to be bored, huddled in wheelchairs around the nurse's station rather than engaged in doing something or interacting with one another.
And on a hot day recently, the facility was also very hot""as warm as 80 degrees in some of the rooms.
The biggest drawback is the quality of care. About half the caregivers seem to be there because they couldn't find another job; others seem to be doing their best, but feel overworked. Many of them complain openly about their need for more help. And some are short with the residents who need assistance.
Brighton Gardens is expensive compared to other facilities in the area.
---
From The Gardens of Sun City
---
The Gardens of Sun City offers compassionate senior care in Sun City, AZ. We strive to create a home-like atmosphere where you and your loved ones can feel secure. Our warm, well-trained staff works closely with our residents to provide the utmost care and comfort. As part of the Five Star corporation, you can be sure that everyone at The Gardens of Sun City shares the Five Star Values, and is committed to a high level of caring in all that they do. Please schedule a visit to see why we are the first choice in senior care in Sun City, AZ.
Features of The Gardens of Sun City
---
Costs
Minimum rate:

$2510/month

Minimum Memory Cost

$3100/month

Rent Plus Care Fees
Entry Fee
Dining options
In Room Kitchenette
Dining Room Shared Meals
Room Service For Meals
Features
Beauty Barber Shop
Computer Room
Resident Transportation
Party Space
Tv Room
Garden And Patio
Resident Parking
Spa
Cleaning services
Laundry For Linens
Private Cleaning Services
Housekeeping
Laundry For Clothing
Technology and entertainment
Health services
Skilled Nursing
Hospice Care
Medication Management
Physical Therapy
Psychiatric Care
Nurse On Staff

Available During Business Hours
Activities
Offsite Activities
Music
Games
Stories
Religious Services
Lectures Discussions
Fitness Room
Gardening
Arts And Crafts
Financial guidance
Home Sale Assistance
Va Benefits Consultation
Financing Advice
Financial Aid
Guest services
Guest Parking
Guests At Mealtime
Overnight Guests
General
Respite Care
Pets

All Pets Allowed
Location of The Gardens of Sun City
---
Get Cost Information
Get full access to reviews, cost information, and amenities