Brighton Gardens of St. Charles
600 Dunham Road, St. Charles, IL, 60174
Talk to a Family Advisor: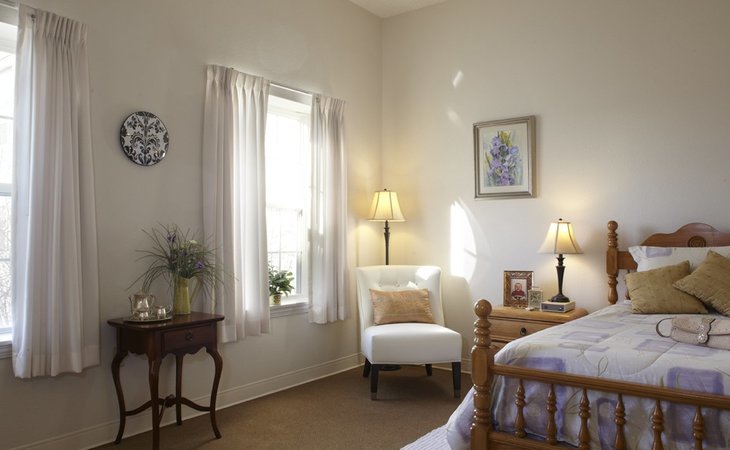 Reviews of Brighton Gardens of St. Charles
---
Dianne271153
November 08, 2016
I visited this facility
Brighton Gardens was nice; I didn't see the residents, but I saw one room, and it was rather small and dark. The staff was OK; she was good and fine. It was very crowded looking, they're lined up to grab a table, it's very scheduled, and it doesn't seem relaxing.
Provider Response
We are sorry to hear about your experience at our community. We take your comments very seriously and would like to speak with you further. Please email information (at) sunriseseniorliving (dot) com with your contact information so that we can reach out to you. Thank you, The Sunrise Team
---
Susan376613
November 03, 2016
I visited this facility
I liked Brighton Gardens of St. Charles a lot. They took their residents on outings. It was one of the closer ones. It was set-up more like a hotel because I think that's what it was originally.
---
Denise887001
August 17, 2016
I visited this facility
Brighton Gardens of St. Charles was great, and I loved the fact that my mom could stay with my dad. They had everything that we needed. The apartment was clean, fresh, nice, very spacious, and had good lighting. The staff was very good and personally engaged with the residents. They had exercises and therapy sessions. The dining area was clean and the menu was good. They said they could make anything that the resident wanted.
---
Visitor45
January 01, 2016
I visited this facility
Brighton Gardens was very nice, it was not as open and as lavish as the other facility, but they had a lot of interaction. They had several young girls that were visiting with the people, playing cards and games, and they had a dog that live there. The rooms were plainer but they were very nice. The staff was great, very friendly, and they seem to interact better with the people. It was just a happy place.
---
Donna C.1
December 31, 2015
I visited this facility
Brighton Gardens of St. Charles was a very friendly, very clean, and attractive place. It was just too far away from me, and I'm my sister-in-law's main caregiver. Again, it was a very nice place, very clean, and friendly staff. The residents all seemed like they were in a decent mood, and I didn't notice any unhappiness among them.
---
Karen118628750
December 31, 2015
I visited this facility
We were really impressed with Brighton Gardens of St. Charles. It was a very nice facility. It was very bright and very clean. The sales lady that toured us around the facility was very thorough and very professional. The dining area was open and large, and they did have tables that could accommodate up to six people.
---
kimzup
December 30, 2015
I am/was a resident of this facility
I moved my mother here after a year of independent living. The staff was responsive and attentive. I received regular updates on my mother's status. They were very proactive when she moved to memory care and finally hospice. I was always welcomed. I highly recommend this facility.
---
A caring daughter2
November 10, 2015
I am a friend or relative of a resident
My grandmother was in Brighton Gardens. They didn't take care of her the way they should have. When my grandmother had a wound on her stomach, they forced her to change it by herself, never helped her with anything, and forced her to move out when she got sicker. The staff was nice when I visited, but they didn't treated her the way she should have been treated. My grandmother had a nice, big room facing outside with a nice bed that had a remote to sit up with, and a nice bathroom. She liked the food, and they always had little food specials available. They have a Wii, and places where residents can get their hair and nails done.
Provider Response
We are sorry to hear about your experience and would like to learn more. Please know we take all concerns seriously; we ask that you email us at Information (at) SunriseSeniorLiving (dot) com with further details so we can follow up. Thank you, Sunrise Team
---
Anonymous112355350
October 29, 2015
I am a friend or relative of a resident
My mother is in Brighton Gardens. It is nice and the people are very friendly. She has a private room that is kind of small, but adequate, and has a nice-sized closet. We don't spend much time in there; we usually take her out of the room. I don't like the food for myself, but they give the people a lot of sweets and sugar with desserts every day, about which I don't know how I feel. They have quite a few activities; she keeps busy. The staff is very friendly and attentive. One of my friends has parents who are looking, and I would recommend this place to them.
---
Cheryl108804050
July 06, 2015
I visited this facility
I like Brighton Gardens of St. Charles. They're really friendly. They have a lot of activities. It was my second choice. The food was good. I looked at the calendar, and they have nice activities as well. When my mom went to visit, she played a game there and enjoyed it. They were very welcoming, and the residents were really nice and friendly as well.
---
Caring106002850
May 16, 2015
I am a friend or relative of a resident
My sister is in Brighton Gardens, and I am very impressed. The staff is marvelous. I cannot say more about them. They are extremely friendly, helpful, and attentive. She is in a studio apartment, and it is spacious and homey. It is perfect for her. Their food is wonderful. Their service is great. They have tons of activities; that is why I never get a hold of her because she is so busy. They do puzzles. They have a lot of entertainers that comes in. They do bingo and lots of arts & crafts. I will tell everybody to go there. My sister is happy there.
---
Caring100091450
March 19, 2015
I visited this facility
I visited Brighton Gardens of St Charles. I would rate them a 10 out of 10. I would have definitely moved my dad there, but the problem happened to be that my dad ended up pending for Medicaid. The rooms and dining room are great and wonderful. I would say the dining room is rather casual. It is more of a restaurant type. They were playing bingo or something like that. I think they knew more people by name there. The other facility they might pass them by or say hi but not know them by name.
---
Sandi6
May 12, 2014
I visited this facility
We went to Brighton Gardens of St. Charles. We were there for an interview, and for the couple of hours that they were there, I would describe them as excellent. The rooms were average. They were able to discuss that they do activities, but we were only there for a few hours, so I was not able to see them.
---
Caring77235650
February 28, 2014
I visited this facility
Brighton Gardens of St. Charles was very nice. However, it was a little more expensive and they didn't have a sink in the apartment which was important to my mom. Also they didn't have Medicaid availability. They didn't accept Medicaid.
---
Frankie2
November 24, 2013
I visited this facility
I like the location of Brighton Gardens of St. Charles because it's out in the country and that's very nice. It's a new facility, very bright and sunny. The people were very nice and all seemed professional. They are just very expensive.
---
Deggy
June 02, 2012
I visited this facility
I think the staff was friendly and for the mostpart competent. I did like the fact that when you walked in you did not smell "urine." I know that sounds gross but I have found that with other facilities. He was able to take part in activities although he did not always choose to do so. There was an issue with him being taken to the bathroom in a timely manner, however, part of that was his fault as he would wait until the last minute to buzz them. One thing I did like about the facility was that he was able to have a glass of wine. He was also able to go on "field trips." He went to Walmart (his favorite) and went to lunch and dinner. I think that helped the place feel not so much like a prison. His depression issues I think were because of the place. No matter how nice the place is and the people are, it is depressing to be thinking of your life as coming to an end. This is an individual decision for everyone. They did have a social worker who would cooridnate the efforts of the doctors, etc.
---
Marcia H.
July 31, 2011
I am a friend or relative of a resident
My relative has found a friendly, comfortable community at Brighton Gardens. The staff is attentive, friendly and positive. Most workers know my relative by name and seem to genuinely care about her. The facility is as "homey" as a facility can be with seasonal decorations and comfortable and clean common areas. My relative's room, too, is kept very clean. The food is pretty good -- a little too much pasta -- but nutritious and filling. Activities are abundant and the residents are encouraged to participate. Facilities like these can seem depressing, but not this one. It is a vibrant place to enjoy life.
---
From Brighton Gardens of St. Charles
---
Located just minutes from historic downtown St. Charles, Brighton Gardens of St. Charles is nestled in the countryside of the western suburbs. We pride ourselves in our special activity programs, customized service plans, wonderful staff and great home-cooked meals.
Discover our beautifully landscaped courtyard and gardens, enjoy our fine cuisine or join in an activity or social group. At Brighton Gardens, we have an abundance of ways to make your life here enjoyable.
Here is Assisted Living committed to comfort and care: tastefully appointed apartment-style living, attractive and spacious community areas and daily assistance from an attentive, caring and trained staff. At Brighton Gardens, we take care to consider your needs as well as your wishes.
Features of Brighton Gardens of St. Charles
---
Features
Resident Parking
Security Gate
Health services
Nurse On Staff Available During Business Hours
Location of Brighton Gardens of St. Charles
---
Get Cost Information
Get full access to reviews, cost information, and amenities