11320 Springfield Pike, Springdale, OH, 45246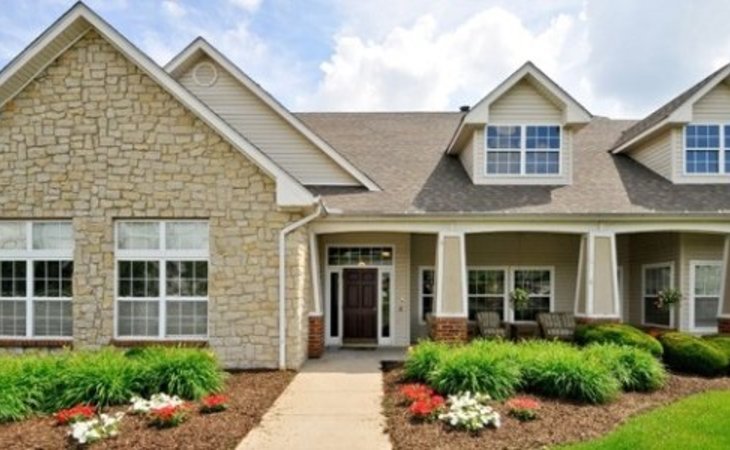 Reviews
of Brookdale Springdale
---
Overview of Ratings
---
March 29, 2017
I visited this facility
We visited this facility but found the common areas small along with a small TV for the residents to watch.
January 14, 2016
I visited this facility
Brookdale Springdale was one level and very nice but very close to a lot of traffic. We saw a very nice and spacious one-bedroom, but the location was not the best for us. They were very nice and very gracious, but it didn't fit our needs.
September 28, 2015
I visited this facility
Brookdale Springdale (Formerly Sterling House of Springdale) was a nice facility but it wasn't appropriate for my mother-in-law. It was more of an Alzheimer's type facility and she wasn't needing that type of care, but they were very warm, very friendly and helpful there. It was a locked down facility. Some rooms were apartment style but there were others that were more just like a room and they didn't have as many amenities. They did have areas where you could sit and visit but everything was on a smaller basis because there were fewer residents than the other one we visited. For a locked down facility, it seemed very nice.
May 01, 2015
I visited this facility
I visited Sterling House of Springdale. The lady that showed me around was a very nice lady, but she couldn't give me any pricing or anything because the person that was supposed to give me the tour was out of the office. The rooms were nice, but they're small. The size of the room -- for me -- was not nice, but for somebody else, it could be great. They showed me around the building, but we never saw anything as far as activities. Their dining room looked really nice and spacious, and it had a good atmosphere. I had to say the place, in that respect had a good atmosphere. Also, parking is good over there.
April 07, 2015
I am a friend or relative of a resident
My father is in Sterling House. He has not been there very long, but so far, they seem very caring. It is a secure facility, which makes us feel better because of the dementia. We are concerned that my father may wander. So, the fact that he will not be able to walk outside and get lost when we are not there definitely give us some peace of mind. The staff seems good and caring. So far, everything is going well. He has a one-bedroom apartment. It has a large doorway so somebody in a wheelchair can go in and out easily. It gives him a little privacy. He has a sitting area that is separate from where his bed is. It is small, but he doesn't really need a lot of space. He has a nice big bathroom with a walk in shower. He likes that he can just walk right in. They do come in his apartment when he is taking a shower just in case he needs help or something. It is nice. It has brand new carpeting. It is bright, cheerful, and clean. We don't have any complaints, and it has a tiny little kitchen area, which is not really for cooking. It has small refrigerator and a microwave, but I don't he will ever use it because he eats in the dining room or we take him out. We just have to sign him out when we leave so they know where he is. We let them know if we will take him to dinner or lunch that way they know not to be looking for him for that meal. I have not eaten there, but he says that the food, and the chef is good. I think they try to have a variety. I think each month they have kind of a theme, and they usually have multiple choices for them. They have some that are more basic options, but then they do focus on parts of the world like different types of food ethnicity, which is kind of nice just to give them a little variety, if they want. If they don't want that, then there is always more basic simple choices. They have different games. They have language or history lessons. They play bingo, and they have bible study. They are all optional if people want to do that. They have morning exercise type of program for them.
April 06, 2015
I visited this facility
I visited this community as I needed memory care for my dad. Clare Bridge is a nice, small, quaint area with only 12 rooms and very dementia/Alzheimer's friendly. We are moving my dad here this week. We looked at about a dozen communities and we liked this one the best due to the smallness or the community and the friendly staff.
March 30, 2015
I visited this facility
I went to Sterling House once, and then I took my father up to see it. Sterling House was neat, clean, and small. They only have 30 semi-beds in there and a lot of older people. The people there were more ill; they were sitting around and were not responsive. All the staff was very nice and very helpful. The rooms are clean and nice-sized. They had three or four different room configurations from very large to small. You could take your furniture in there. The dining room looked nice and clean. They had a kitchen where they prepared all the food. In the spring and summer, they had cookouts, and they showed us the patios. Inside, they had a movie theater with a popcorn machine and some table games.
January 05, 2015
I visited this facility
Sterling House would have been a great facility for my father. The facility is very clean, and the staff was very nice. The young lady who took me on the tour was very helpful. I would have selected that facility had my father not passed away. The room was big enough for him, not too big and very clean. The dining area was large. It was explained to me that they could eat in the dining area or in their rooms.
October 27, 2014
I visited this facility
I did visit Sterling House of Springdale and I really enjoyed this place as well. They were very polite and welcoming. I did take comfort in their secured facility. Their dining area was smaller than the other facility, but it still was a nice area. I thought the place was fairly clean. I think it was a very good experience.
October 16, 2014
I visited this facility
Sterling House is equally beautiful with the other facility I went to in Ohio, but from my perspective there was a different type of clientele, a little bit older, and had a few more problems, but it was also very nice and very accommodating. It's one that I thought was really nice although I did not eat any meals there. From the general appearance, it looked extremely nice, with restaurant quality service and food.
October 17, 2012
I visited this facility
I Visited this facility in january of this year. I was verry inpressed at how well the staff maintained the facility, It was verry clean and verry sanitary. Also verry relaxing. The staff was verry friendly. They made sure to answere all of my questions. They showed us around the facility and i must say it was nice my grandmother really loved it. she moved into the facility 4 months ago and has enjoyed it verry much. My grandmother says the staff and facility make her feel safe and at home. The staff sits down with her and has coffee once in a while they listen to her storys about her life and the staff is verry understanding and compassionet twards my grand mother. this is honestly a verry nice facility and it is also verry affordable. the have bingo night and all of the residence love it. And i must add the residence at this facility are very friendly. Its like one big family. So my overall expenriance with the Sterling house of springdale is verry good. They have a wonderful facility and i would recommend it to anybody.
August 28, 2012
I am a friend or relative of a resident
When my mother needed help and assistance in making a comfortable living for herself, I was very unprepared. I didn't know where to start looking. Luckily, a friend pointed me in the direction of Sterling House of Springdale. This is a facility that has its residents and customers in mind. This establishment is settled beautifully on a property that is well-maintained and lush. My mother and I knew exactly how much this place cared about their residents by the sheer amount of effort they put into their caring image. The staff could not have been more helpful. The food and amenities they offer are top-notch and made my mother feel very comfortable. Overall, if you're looking for a great facility that is maintained spotlessly and staff that are there for you always and care about you, Sterling House of Springdale is the perfect location for you or a loved one.
See all reviews (12)
See fewer reviews
Features of Brookdale Springdale
---
Room and housing options
1-bedroom apartments
Studio Apartments
About Brookdale Springdale
---
Brookdale Springdale provides our residents with lifestyles, housing, and services in comfortable surroundings combined with exceptional amenities, programs, and care. Through Brookdale's signature Personalized Assisted Living we customize our care offerings for the individual. This allows each assisted living and Alzheimer's care resident the freedom and opportunity to make choices that will ease their lifestyle transitions. Residents enjoy life with the support they need, coupled with the proper lifestyle and care accommodations as their needs change.
We promise Respect for Individual Preferences and offer personalized care needs in an atmosphere that encourages each resident to live in health and longevity. Our residents enjoy life with the support they need, coupled with the appropriate assisted living and Alzheimer's care accommodations as those needs change.
Our community is dedicated to enriching the lives of our residents every day with signature services for those who value their freedom and independence, but desire or need services providing them with the highest level of quality, care, and value.
Our Clare Bridge Place program serves those with Alzheimer's disease and other forms of dementia. Each day, we promise to work to deliver Daily Moments of Success for each resident. The Clare Bridge Daily Path provides structure and activities each day designed to meet specific needs of those with dementia, while the Clare Bridge Dining Program, designed by a gerontologist and registered dietitian, helps residents in need of Alzheimer's care retain the ability to enjoy and master the daily dining experience.
Map
of Brookdale Springdale
---
Get Costs