Atria Evergreen Woods
7030 Evergreen Woods Trail, Spring Hill, FL, 34608
Talk to a Family Advisor: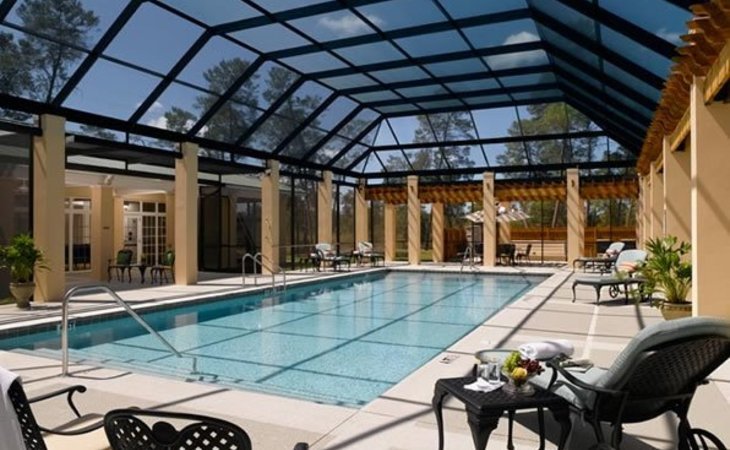 Promotion ends in 5 days!
The best time to choose Atria is right Now! For a limited time, you can lock in our current rental rate with no increases until at least January 1, 2019 - Details apply.
Reviews of Atria Evergreen Woods
---
PH653614
May 09, 2017
I am a friend or relative of a current/past resident
Mom has been at Atria Evergreen Woods for six weeks. She's not a really easy person to please, but a couple of days ago, I was talking to her and she couldn't say enough good things about this place. I was impressed when we went there, and they really helped us move in very quickly. They did everything possible to facilitate our move and even arranged for the movers. We were able to move in within a week. I was very happy to hear her say that she has a very nice place to live, and all of the people are extremely nice to her. They all know her name and treat her like family. They love her and hug her, and she's very happy there.
---
Ollie754546
May 07, 2017
I visited this facility
They were very helpful at Atria Evergreen Woods, but they won't accept my wife due to the kind of help she needs. I thought the rooms were small for two people. They showed me the dining hall and another place where you could get snacks different from the dining hall, and the courtyard.
Provider Response
Thank you for taking the time to tour Atria Evergreen Woods. I'm glad to hear that you had an overall positive experience at our community, even though the level of care that assisted living communities provide did not match up with your wife's care needs. I appreciate you sharing your thoughts with us!
---
Janet424718
April 14, 2017
I visited this facility
I liked Atria Evergreen Woods. It's 3 floors, and Mom doesn't like elevators because she's claustrophobic, but they had offered us a room on the 1st floor. I liked the person who took us around because she was extremely knowledgeable. The place was really pretty. When I was there, they were doing crafts, another group was playing cards, and there were several residents in the dining room eating snacks. There was a library and a billiard room.
---
Michele130415
February 11, 2017
I visited this facility
My grandfather was in the Atria Evergreen Woods, and we loved it. They had a private room in the back where you could have birthday parties. When my grandfather turned 80 and 90, they let us use the room for the whole family to come. The staff members were nice. I went there to look at this one right away because if my dad gets sick, some of staff members are still the same people from when my grandfather was there. I had to look at the memory unit for my dad, so it was a little different. The room that I looked at for my father was more of a secure setting and empty, wherein you bring your own furniture. My dad has dementia, so it was a locked facility, but it was different from the one my grandfather was in. My grandfather was in an apartment-type studio with a balcony, but the dementia unit did not have a balcony. They really try to involve the family, like on Easter time they do an egg hunt for all the grandchildren to come, and every holiday they do something to draw all the families in, which is much different than most of the other ones.
---
David485800
January 03, 2017
I visited this facility
Atria Evergreen Woods was very nice. There is a lot of staff and a lot of recreation for people in the community. They are concerned about the patients. They call you back when they say they were going to call you back. I liked the large amount of staff best. They were very courteous and knowledgeable. You ask questions, and they will certainly find the answers. The dining area was nice and spacious.
---
Rosemary702785
November 07, 2016
I visited this facility
Atria Evergreen was nice, clean, and took care of the residents. They do a lot of things, and the location was good
---
Lyn216685
November 01, 2016
I visited this facility
I was very impressed with all the different activities and amenities that the Atria Evergreen Woods had to offer. It was very clean and very organized. The apartments were small. The dining room was nice. Almost everyday, they had transportation to malls and to doctors.
---
David068402
October 04, 2016
I visited this facility
I didn't like the setup of Atria Evergreen; it was all confusing. I didn't like the building, and I just didn't like the layout. It looks more like a nursing home than assisted living. Its one level, but I would get lost. The staff was fine, and the people were nice. The admin were very nice and helpful too.
---
Sharon528758
September 13, 2016
I visited this facility
Atria Evergreen Wood was large and had everything you could possibly need, like a hairdresser and enough places where residents could get food. There was a lot of interaction when we were there between the staff and the residents, and that was a good thing. They had bingo, which my mother was a fan of, and different games. I mean, everywhere you looked, they had different rooms for different activities. They had outings that they scheduled and served three meals a day plus snacks. They were very nice and very informative.
---
Jackies daugher
September 09, 2016
I am a friend or relative of a resident
the staff is trained to learn every residents name, they greet them by name multiple times every day. there is a strong sense of community and caring for one another, many residents have been there a long time.. there is a wonderful swimming pool for physical activity in Florida's forgiving climate for water sports.
---
Demetri014613
August 22, 2016
I visited this facility
Atria Evergreen Woods was nice, and the people were helpful. The rooms seemed very nice and average-sized. The dining area was very good. They had different outings and activities being brought in to the establishment like different musical performances. Everybody seemed very pleasant and courteous. The place looked clean.
---
Penny207514
August 17, 2016
I visited this facility
Atria Evergreen Woods was very nice. The staff was very friendly during my visit. They had a lot to do. This might be the place that I choose. Their hallways were a little tiny, which kind of frightened me in case there was a fire. The rooms that I saw were very clean. Their food was very good, and they had a couple of different shifts for dinners. You always sit at the same table, so the residents would not get confused.
---
RHLCIIU
May 11, 2016
I am a friend or relative of a resident
Atria Evergreen Woods is in a very nice setting. The staff is great; all of them are really nice and very caring. They have three different rooms and allow pets. Mom really loves it there. The food is really excellent with an all-day menu and other menus for breakfast, lunch, and dinner that differ from day-to-day. They have over 200 activities there.
---
Roberta21
February 29, 2016
I visited this facility
We did visit Atria (Atria Evergreen Woods). It was lovely, but the person I'm assisting wasn't able to go to assisted living. She needed a nursing home. The ground was lovely. The place itself was lovely, but she never got well enough to go to assisted living. The staff was very friendly and very nice.
---
Caring Visitor11
January 28, 2016
I visited this facility
We toured Atria when we were down there over Christmas. My mother wasn't too wild about it. They had great amenities, but the place had the feel and smell of a nursing home, and that turned her off. They were very gracious and very nice, though. The staff gave us a nice tour. However, when you walked in, it smelled like a nursing home. It had that old smell to it. Their amenities were very nice. There were lots of activities and lots of things going on there, but my mother just had a feeling we would be shipping her off to a nursing home if she were to go there, and she is not ready for that. They did have many things that were positive. However, the appearance and the smell were real turn-offs.
Provider Response
Thank you for your review and for visiting Atria Evergreen Woods. Making the decision to move is a difficult one and I hope when your mother is ready that you'll visit us again. If you have any questions or would like to share more with me, please feel free to reach me directly at customerservice@atriaseniorliving.com.
---
Caring Relative7
January 27, 2016
I visited this facility
We like Atria Evergreen. It is a nice unit. They are one of the better ones, but they don't accept Medicaid. Everything looks quite adequate, though. It is very clean and big. They have dining areas with a chef. It is impressive. Based on a first impression, it is very good.
---
Fran20
August 14, 2015
I am a friend or relative of a resident
Atria Evergreen Woods is a good place. I think it came out as one of the five best facilities in the Tampa Bay area. Cleanliness is good.
---
Maureen19
June 13, 2015
I visited this facility
Atria was very nice, they gave us lunch and gave us a little dessert to go home with. The rooms were very nice, but mom felt that it was a nursing home too, and she is not going to anything like that. They all have their own rooms, but when we walked in, there were residents sitting around and on their walkers. The apartments were very nice. There is a bedroom, closet space, a bathroom, a little dinette, anda lanai. Their food was very good, and the jar of key lime pie that they sent home was delicious. It was nice and clean. They answered any questions; they were very helpful. They have buses that can take you shopping if you want.
---
Susan103730250
May 28, 2015
I am a friend or relative of a resident
My father has been in Atria Evergreen Woods since the 1st of February. He is in memory care, and I'm very impressed. He is sharing a room with a roommate, and it is too small for two people. The staff are very good, nice, sweet, and kind to him, and they take good care of him. Because he is in memory care, it is locked, but there is a nice area where he can go sit outside, walk around, and sit in the sun. It's very nice around the building. A couple times a month, he goes to the ballroom. They have musicians and singers come, and they dance, which he really likes. They have different activities that are good for people with dementia and Alzheimer's like exercising, and they get them involved socially. He is happy there. Everybody I talk to who works there seems happy and they enjoy working there. The food is probably a little bland, but appropriate. My father had not complained about it, and he seems OK with it.
---
Caring106802950
May 17, 2015
I am a friend or relative of a resident
The main reason why we choose Atria Evergreen Woods for our mother is because my brother lives by there. The place seems very friendly. They have good accommodations. It seems clean and nice. The staff is very friendly, very welcoming, and seems to very helpful. She's just been there for two days, and so far it is a nice experience. She is in a duplex studio right now. It is very clean and roomy enough for her. It is nice, and we really like the balcony. They have several activities every day. They also have bus trips every day, and there is always something going on. She has not taken advantage of it yet, but once she gets acclimated there, I am sure she will. It has a pleasant atmosphere, and it is accommodating.
---
Lynn45
April 22, 2015
I visited this facility
My husband has lived in Atria Evergreen Woods since July of last year. It's very nice. The dining facilities are very much to his liking. He loves it. They have a very classy service. His room is nice. He is well taken care of. He goes to a lot of the social functions and has a wonderful time with the musicals. He has made friends with a lot of the VA people -- the older men. They have different organizations, and they go on trips. Their activity schedule is just tremendous, which are stimulating. He gets to talk a lot and share things. He is pretty happy with that. It was a good choice for us.
---
Jeena
April 18, 2015
I visited this facility
The place that we liked best for my mom was Atria at Evergreen Woods. The staff were polite people, experienced, and knowledgeable. It was a nice place, and I would recommend it. The rooms were very nice, adequate, and similar to all the other places that we saw. They were clean and quite sufficient. I saw the dining room, and it was very nice. The menu looked good, but I did not eat there. They had a whole wall full of activities -- trivia, day trips out to different places in the community, they had an animal show that day. Security of the place seemed fine, and it was exceptional or exactly what we needed.
---
Jody7
April 17, 2015
I am a friend or relative of a resident
We choose Atria Evergreen Woods for my mother because of the quality of the staff, cleanliness, and general view of the residents. The facility is very nice. She has the largest room that they have. The food is excellent, and they have a selection. It is on a 20-acre compound so the neighborhood is irrelevant. It is in a wooded compound. She has a choice of 16 different activities a day. They have exercise classes, arts & crafts, entertainment, and education.
---
Caring98002150
February 11, 2015
I visited this facility
We went to Evergreen Woods. They're a little pricey. The food wasn't as good. I just was not comfortable there; I don't know why. The people were nice though. The staff was nice and upfront. I would recommend them to others if they have the money.
Provider Response
We are sorry that we did not end up being the perfect fit for you here and welcome the opportunity to share information about our other great communities in the area. Please reach via customerservice@atriaseniorliving.com and kindly include "Atria Evergreen Woods" in your subject line so we can quickly connect you with the right people to help!
---
Caring103807350
January 04, 2015
I visited this facility
Atria Evergreen Woods was an old place. When you went in the room, it had an old AC/heating unit, and it just felt old. We didn't taste the food, but it looked OK. The staff seemed very nice. Their dining area was also nice. However, I could never live there with that noise from that heater and AC.
Provider Response
Thank you for your visit and feedback. We apologize for the noisy heating and AC unit you experienced and are happy to report that a maintenance tech will be evaluating each unit in an effort to resolve any noise issues encountered. We appreciate you taking the time to let us know. If we can be of further service to your family, please feel free to contact us via customerservice@atriaseniorliving.com, including "Atria Evergreen Woods" in your subject line. We are here to help and wish you the best!
---
Caring99015150
December 28, 2014
I visited this facility
I liked the Atria Evergreen Woods, but when we got to the rooms, the bathrooms were not handicapped accessible because my dad is in a wheelchair. The staff was excellent. You name it, and they have it; they have pool, card games, and when we were there for the tour, in one common area, they were getting back massages. It was just beautiful. Some people there had dogs, and we saw dogs and the like. If their bathroom were handicapped accessible, that is where my father would have gone. I absolutely loved it there.
---
Caring95116750
October 16, 2014
I visited this facility
The people in Atria where extremely nice, and they took me to the whole facility. The people that were in there was friendly and seemed like they loved it there. The rooms were very nice, clean, and they had a lot of activities for the people. Their food looked better than what I make. They had several different dining rooms: the main dining room where they had their lunches and dinners, and another restaurant in there that they could go to with a very expensive menu and select their own food. Everything really looked top notch, and it's also the most expensive.
---
Caring90376750
August 13, 2014
I visited this facility
I moved my sister to the Atria Evergreen Woods and she has only been there for a week. It seemed fine when we went there and the people were friendly. The rooms were adequate. I have seen their pool -- it was quite large -- and it seemed lovely.
---
John91153450
July 31, 2014
I visited this facility
Everything about Atria was good. We spent a little bit more time there and my aunt actually interacted with some residents and it was excellent. In the game room, they were playing Trivial Pursuit and she was invited to join them. So we sat in on a game with the residents and the interaction was excellent. What I like about the place was the staff. My first impression of Atria was that it was a good place. I would recommend them. The rooms were very nice.
---
Caring72805861
July 29, 2014
I am a friend or relative of a resident
The one that we put mom into back in March was the Atria. They are the best on prices. When we got there, they decided they were going to put her in memory care, which I feel is a real stuck down. I wouldn't suggest to anybody doing the memory care there. She's in the hospital now, because she was complaining about her legs for 5 weeks. They filled up with water. It's just from not having the care she needed at the locked unit. The staff doesn't listen to concerns. It turned out that one department manager had quit, and another one came in, but she went on vacation, so somebody else was taking over. An assistant finally got back to me. Mom was finally taken into Brooksville Hospital on emergency. It took 4 days for them to let me know they'd taken her to the hospital. They do offer some activities. They used to take mother out for a ride twice a week in the afternoon. I've seen them a lot of times playing board games. The activities are there. It's just getting the people to participate, and my mother is one of them that's sort of shy. They have to go get her for meals even. She was supposed to have psychiatric care about 7 weeks ago. She still hasn't had it. They had a social worker come in to talk to her once a week.
Provider Response
Your comments regarding your mother's experience are very concerning to us. We take feedback from families very seriously and would like to discuss this matter with you personally to get a better understanding of the situation. Please email us directly at customerservice@atriaseniorliving and if you would kindly include "Atria Evergreen Woods" in your subject line, we can quickly include the appropriate directors in the correspondence. We are here to help.
---
Carolyn86217950
June 30, 2014
I am a friend or relative of a resident
My brother is in assisted living in Atria. They actually take care of all his needs. He can't talk and he can't walk because of the stroke, and they really take good care of him. His room is on the third floor. It is small, but it's very comfortable. He has a bathroom, a nice big closet, and a little deck where he can go out. He also has an air conditioner to keep the room nice and cool. He has two regular chairs and bed in one room. He is a social person, but I think because he can't talk it holds him back, but I know that he goes to the events because I am in touch with the recreations supervisor there. She is very good. My brother is a veteran, they have 70 veterans that live in the community, and they take good care of their veterans. They have pictures posted on their wall. They have happy hours. They go out on day trips to the movies or the mall, and they are friendly people. The people tell me, including the staff, that they really like my brother. The facility is very clean. The staff is very friendly. He has a med tech that delivers his medication three or more times a day, and they seem they want to help him. He seems to be settling in there now.
---
Julio2
June 23, 2014
I visited this facility
Atria is good but not that spacious. They're well-appointed, not so much in the woods, but closer to traffic. You don't hear the noise. It's very quiet. The staff was very informative. I saw one apartment, but they have various choices. They have a meeting room for everybody, and they have exercises
---
Caring81934750
May 29, 2014
I visited this facility
I liked Atria Evergreen Woods. It was a very clean and happy place. I didn't have any of their food, but it looked good. The staff was very approachable. They had a pool and transportation to doctors' visits. It is convenient to doctor's offices, and the hospital is just down the road.
---
Reeni
April 30, 2014
I visited this facility
You can really tell that the facility, Atria Evergreen Woods, had been doing business for a long time. They have an excellent dining room. They have a really nice pool in the middle. They have really good staff. There were very engaged. This facility might be too busy for Mom, but it's actually the facility that I thought one of the best that we saw.
---
Caring78723250
March 28, 2014
I am a friend or relative of a resident
Before my mother passed away, she resided at Atria Evergreens Woods. The facility was not updated. It was older, so it wasn't quite as nice as some places that I had seen, but the care that my mother got there was very good. The staff was the highlight for this community. They were very professional and caring. Mother's room was nothing special. It reminded me of a college dorm room to some extent, but it was clean and functional. Regarding activities, Mother really wasn't engaged in them because she was only there for a month, and a couple of those weeks, she was in the hospital, so she wasn't there very long.
---
Elizabeth32
March 21, 2014
I visited this facility
Atria Evergreen Woods gave us a goodie basket to bring home. I think they're excellent. I checked the rooms, but I did not like the way it was setup. It was a one narrow room with bedroom to the side and I did not like that.
---
Caring71624750
November 28, 2013
I am a friend or relative of a resident
I went to see a few places and Atria Evergreen Woods met my standards financially speaking and I thought it was a very nice-looking place. Also it was close to home and what they offer I did like at that time. My mother is fairly new there and for the most part, they're good. The place is clean and nice. They have a nice dining room. I think the food is delicious. My mom has three meals a day. She seems to like the food, although I don't know if she is eating enough. They bring her down to the dining room and they bring her back to her room. With regards to the staff, some are better than others. They do what they have to do, but they just don't do it enough. They're probably understaffed in that they have too much to do, but I'm paying full price and it is not a cheap price! So I have to be there just about everyday just to make sure that my mom is okay. Most of the staff is very nice, but it was those types of places that you have to stay on top of them. Currently it is still an adjustment period for us here in Atria. When we were there at the signing of the contract, they gave me a certain price and told us that they are going to administer her meds and put prescription cream on her. We told them that the prescription cream is very important and that it needs to be put on her legs morning and night. They assured me that it would be done and there wouldn't be any extra. Then when I got my monthly bill, they want to charge me $100 extra just because they're putting cream on her legs. Then they stopped doing it because I deducted it off the bill. So I'm not completely satisfied with Atria. They give you a price but you have to pay for everything and everything is extra in her care level. So as the care levels goes up, the price goes up as well.
Provider Response
Thank you for taking the time to provide feedback. I am sorry if you felt mislead in your interview or for any confusion in the level of care needed. We would like to speak with you further to determine what may not have been communicated well so that we may continue make improvements. Please feel free to reach out the Executive Director during your next visit to make sure your concerns for your mother have been resolved; or contact us at customerservice@atriaseniorliving.com and include the Atria community name in your subject line.
---
Tom HUsband
October 28, 2013
I am/was a resident of this facility
I live in an independant living unit on this campus, and immediately adjacent is a memory care unit. My wife had Alzheimers, and I am her "caregiver", but we are in our eighties, and I cannot cook or keep house well. She knows me, but is very forgetful, does not always remember how to eat, etc., and I can visit her, she can visit me, we're just about 100 yards apart. We share meals together, generally in her dining room, and she visits me and our dog in my apartment. The facility has some physical limitations, but the staff throughout is competent and caring, and they do a great job. I recommend it for similar situations, there are several couples who live here who share our situation. It is so painfule losing one to Alzheimer's, and Atria does a great job of helping a difficult situation
---
Sharon32
September 30, 2013
I am a friend or relative of a resident
My attorney recommended Atria Evergreen Woods for my aunt. This place has a nice atmosphere and I could not have probably found a more suitable environment for her. It also has everything that my aunt needs. I actually just got her there about a month ago. The location is convenient because it is close to the family and it is also very affordable. My aunt has a nice private delux suite with a small kitchen. She is in their independent living side but she receives assistance with her medication. The staff is really good. They're very friendly and very social. They're always saying hello and always ready to help. I have no problems with them. I absolutely recommend this place to others.
---
Peter11
September 26, 2013
I am a friend or relative of a resident
My mother-in-law is at Atria Evergreen. We were greeted by a number of people there. We toured the place and I am very, very impressed with the whole thing. The rooms have balconies. Everything is really, really nice. I was very impressed with how they care for the patients. The cost itself is competitive. The menu was outstanding. Their activities vary and they are suitable for someone like my mother-in-law who likes to play bingo. The staff is also very friendly. We talked to the chef and the lady that runs the beauty salon. We met the director personally. I like how the management treats their employees. I really like the leadership they have. If you are looking for a place that has crystal chandeliers, you can go over at Atria Evergreen.
---
Carol34
June 13, 2013
I am a friend or relative of a resident
When my mom required an assisted living facility, I chose Atria Evergreen for her. She has been here for three months now. The facility itself is clean and well-kept. The staff are also very nice and very good. They provide good quality care for my mom and she also likes the foods they serve there.
---
Caring9946
May 14, 2013
I am a friend or relative of a resident
My uncle is staying at Evergreen Woods and it's close enough so I can visit him. I chose this facility because they have lock down and they also have a program where they do current events. Even though they're not in their right minds, they remember the weather and they talk about all that stuff. I was surprised when I went to visit him that he even asked me if it's snowing at my house. I live here in Florida but that doesn't matter, at least he still says something about snow so something stuck in his mind. They provide excellent care and I have no complaints. They have caring and loving staff. It's a very nice facility and very well kept. They call me so I'm very pleased. I eat at the dining room every now and then also and the food is very good.
---
Jeana1
April 17, 2013
I am a friend or relative of a resident
We chose Atria Evergreen Woods because of the area and he's been there four months. We put my dad in a memory care home and my mom is not too far from there. We're trying to keep them close enough so she can go see him. They were fantastic, that's why I picked them. When they gave me a tour, I thought I was going to go on a cruise ship. The director of the entire place used to be a chef and once a month or so, and he cooks breakfast for everyone. It's a beautiful place. When I made an appointment and arrived, they knew I was coming and they came up to me and greeted me. At the memory care center, they're the same way. They seem to really want to get to know people, not just a name and not just a number. We were actually going to another place but changed our mind and ended up going with them because of the people and how friendly they were. They sing and have different daily activities and they try to engage everybody. My dad has Alzheimer's and one thing that I'm not happy with is he seems to leave a lot of clothes. Even if he labeled his clothes, they wash them but don't put them back so they disappear. For other people that also seems to happen all the time. If that continues I might have to move him, but I really don't want to because he's content and he's close to my mom. My mom's got cancer so we're just trying to keep them together for as long as we can. Continuity to me is very important. A lot of the staff in memory care have worked there for years. So it's nice that even if their headperson left, it still didn't have an effect on the staff and they still do their job and things go on.
Provider Response
Thank you for taking the time to provide your feedback. While we're very glad that you have been impressed with our community, I'd like to talk about your concerns with our laundry services. Please contact us at customerservice@atriaseniorliving.com so we can set up a time to talk. I will also make sure that the appropriate staff are aware of your review so that they may make improvements where necessary.
---
SisterGoldenHair
September 10, 2012
I am a friend or relative of a resident
I have been to this facility many times not only to visit my friend who lives there but they also offer conference and meeting rooms for local businesses and community organizations. When I visit the facility I notice that it is well staffed and clean and always has a fresh clean smell. The food is good and healthy and served in good portions and they do cater to their residents with special treats and parties at times. The staff is friendly and kind hearted and does not seem as if they dislike their work. The grounds are well maintained and the resident rooms are cheerful and well appointed.
---
momof42
August 21, 2012
I visited this facility
It seems like a nice place to live. The staff was all very nice and welcoming. The building was very spacious and elegant-looking. It seemed as if the residents had their choice of many different activities to do on a daily basis and when their lunch was served, they were served what looked like a gourmet meal. It is a definitely the kind of place I would want to live in if I had to live in an assisted living facility.
---
FLGrad88
February 29, 2012
I visited this facility
I visited Atria Evergreen Woods in Spring Hill, Florida as a volunteer in 2010. This is an assisted living facility (not to be confused with the nursing home also of the same name down the road). I had first volunteered at this facility as a teenager in 2004, at which time they were beginning to expand and develop their Alzheimer's care center. An entire wing of the facility was developed specifically for the Alzheimers and memory patients. It was interesting to return and see the property again six years later.The facility, as far as I have seen, is well kept. Staff at the facility appear to be professional and the ones I observed treated the residents with a great deal of respect. There are options at the property for both independent and assisted living, as well as more intensive care for Alzheimers patients. The facilities themselves were remodeled in past years, so the property has a much fresher look than I previously remembered. Residents were friendly and a joy to be around, and I greatly appreciated the opportunity to work with them for the weeks I volunteered there. Rooms for the patients, from the brief glimpses I saw, seemed pretty spacious and well appointed. Residents can also enjoy recreational facilities including a pool area that impressed me a great deal. Outdoor areas were landscaped and well maintained.It is important to me for a facility that houses our senior citizens to be clean, for the staff to be professional and for the residents themselves to be treated with respect. From my personal experiences at this property, as far as assisted living facilities go I was quite impressed. I obviously would strongly recommend that, if you are considering putting yourself or a loved one in any assisted living facility, that you visit for yourself and make your own conclusions and observations and not base it totally on another's review. But I can state without reservation, however, that this facility is certainly worth a visit, especially within Hernando County.
---
From Atria Evergreen Woods
---
Nestled within 16 wooded acres, Atria Evergreen Woods is one of our most welcoming independent and assisted living communities. A dedicated Life Guidance&reg memory care program is also available at this location. Enjoy amenities like the new pool, putting green, shuffleboard court, and nature trails, making senior living active and fun. Atria Evergreen Woods is conveniently located near fine dining, shopping, the beaches of Pine Island and Rogers Park and the Weeki Wachee Springs in Florida. Residents also enjoy delicious dining, dynamic calendars with more than 200 monthly events, and the freedom to choose which opportunities to explore next.
Atria Senior Living is a leading operator of independent living, assisted living, supportive living and memory care communities in more than 180 locations in 28 states and seven Canadian provinces. We are the residence of choice for more than 21,000 seniors, and the workplace of choice for more than 13,500 employees. We create vibrant communities where older adults can thrive and participate, know that their contributions are valued, and enjoy access to opportunities and support that help them keep making a positive difference in our world.
Features of Atria Evergreen Woods
---
Costs
Rent Plus Care Fees
Entry Fee
Fee Structure Extra

We Offer A Month To Month Rental
Room and housing options
1-bedroom apartments
2-bedroom apartments
Companion Suites

We Offer Companion Suites

Studio Apartments
Dining options
In Room Kitchenette
In Room Kitchens
Dining Room Shared Meals
Room Service For Meals
Features
Beauty Barber Shop
Computer Room
Resident Transportation
Party Space
Golf
Tv Room
Garden And Patio
Resident Parking
Pool
Spa
Features Extra

Library
Cleaning services
Laundry For Linens
Private Cleaning Services
Housekeeping
Laundry For Clothing
Technology and entertainment
Cable In Rooms
Technology Extra

Emergency Call System
Health services
Medication Management
Physical Therapy
Activities
Offsite Activities
Music
Games
Stories
Religious Services
Lectures Discussions
Book Clubs
Wii Sports
Tai Chi
Fitness Room
Yoga
Gardening
Cooking
Arts And Crafts
Activities Extra

Computer Class
Guest services
Guest Parking
Guests At Mealtime
Overnight Guests
General
Respite Care
Minimum Age

18

Pets

Small Pets Allowed
Licenses
Licenses

Standard AL License

State Licenses

ALF AL5007
Location of Atria Evergreen Woods
---
Get Cost Information
Get full access to reviews, cost information, and amenities