Vintage Senior Living at Sonoma
91 Napa Road, Sonoma, CA, 95476
Talk to a Family Advisor:
Top nearby Assisted Living Facilities
Reviews of Vintage Senior Living at Sonoma
---
Mike120584050
February 23, 2016
I visited this facility
At Vintage Senior Living, the hallways were dark. There weren't a lot of people smiling, and there wasn't a lot of activity going on. Some people were talking or watching TV, but it seemed lot less active than other places I visited. The facility was very clean and very well maintained. They had a nice place to get coffee and rolls any time of the day. The people were very nice. There wasn't anything in particular that turned me off about it, but I just thought the other facility I visited seemed to have more going on.
---
Jeff35
March 20, 2015
I am a friend or relative of a resident
Vintage Senior Living is adequate. It's doing fine for the time being. It is a very nice facility, and they offer a clean environment. They offer different options for your room, your board, and level of care. They have two different sides -- independent and full care. The partial care facility is for individuals who are able to fend for themselves. They have much better opportunities to enjoy the facility and all that it offers and live a better life there.
The gradation of help drops dramatically in the full care. I don't see them having staff that is knowledgeable in regard to details and understanding of this type of need. For instance, mother is in need of oxygen tank. The tubes that will come from the tank to go to her were found hanging off of her and not being applied or tank was empty. We will have to physically remind the staff to replace or to keep it on her. I was a bit disappointed -- everything from continence service to putting food in front of somebody and walking away from them. They expect that they would finish their food or even someone that has Parkinson's or has tremors that could barely keep a couple leaf of lettuce on their fork would be able to eat. They would need to have someone help them, and that isn't being done. They charge you substantially more, and I don't see the staff being fully capable in regards to which they promise.
---
Caring74015850
December 27, 2013
I am a friend or relative of a resident
Sonoma Assisted Living was okay. It worked out okay with my mom at first, but then she started wandering. They weren't a lockdown facility and right now that's what my mom needs. She's 92, still mobile and she likes to take a walk, so she needs place that has fences so that she can't get out. With Sonoma, it just didn't work for my mom. It was like the wrong situation for us. Nevertheless, everything there was good. It was a clean facility. Their rooms were good. She had her own room on the corner of the building and we even decorated it. They have activities. They have a piano there. The food was okay. Everything was good, it just didn't work for my mom.
---
Caring 7390
May 11, 2013
I am a friend or relative of a resident
Vintage Senior Living was a beautiful place where my husband stayed. He was in a studio-type room wih a window looking out a vineyard. The room was complete with a refrigerator and microwave. I thought the food was good and there were choices from a menu for every meal. The dining area was gorgeous as well. They cleaned the rooms twice a week and someone took out the trash everyday. The whole place was well-kept.
---
Csr1966
November 13, 2012
I am a friend or relative of resident
Vintage Sonoma has been anything but the perfect place for my family. From clients being locked in Elevators during Power Outages (where they didn't have the Keys required by law) to being too cheap to buy a back up Generator for Multiple Day Outages. Vintage Sonoma's Staff, welcomes your loved ones to a First Class Facility, then after you are in for about 6 Months, they start their games. I personally put a Nanny Cam into my fathers Room, which caught the Cleaning Crew, helping themselves to food and Drink, shifting through Drawers and acquiring many dear things. Then when the tape was shown, they, simply fired one person who was back within days. If God Forbid your loved one falls after hours, there is no one big enough to get them off the floor. The Local Fire Department will be called, which your family Member will be Billed for. Another game is laundry and washing. We buy additional bottles of detergent, they go through 109 load Boxes in 30 days. Which they only do laundry once a week. They also control your loved ones Medications by their Policy. Which is a mandatory extra charge. If they run out of the medication, which they are suppose to refill at all costs, to them, you will find yourself, your husband or kids taking time to run down to a Pharmacy again and again. To refill the Prescription. Which yes, they charge you again for. Finally, Vintage Sonoma's Food, was awesome and met the dietary needs of it's Clients, years ago, more so now, it lacks taste, high in Sodium or Sugars or generally upsets the older digestive tracks of many of the clients. They claim starting at $2999.00 a month but we have never paid less than $6000.00 and it goes up 15% on every Anniversary.
---
Caregiver4
September 30, 2011
I visited this facility
The vintage sonoma living facility was a theatrical play, with the main stage appearing flawless yet behind the scenes was a whole other story. When you walk in the you are created with high ceilings, decadent curtains, and fresh brewed coffee in a pretty pot. But on a second inspection you realize the coffee is the tge same instant from a gas station, the couches are full of stains, and the elderly faces greeting you, are those of confused individuals wheeled on by they're caregivers and left with their wheels locked to rot there all day. The dining area is spectacular but the food is worse than microwaved eggs from Denny's. One good aspect of the facility is the feildtrips they are able to provide for their residents and the many activities that are provided. Abs while the staff are trained to smile and greet each passerby, backstage most resent there job and the residents, and many take out their frustrations on ymthe elderly residents behind closed doors. Not all staff has a death wish for the patients, but if I were to have a lived one stay there, I would have a keen eye for any mysterious marks, or behavior changes in them.
---
zsnider
September 29, 2011
I am a friend or relative of a resident
My grandmother lived at Vintage in Sonoma for about 2 years. Her accomodations provided her with a spacious kitchen, large full bathroom, comfortable bedroom, and a living room for entertaining company. Sliding glass doors opened onto a modest patio sitting area looking out to the common garden area shared with the other residents. Grandma, who loved to cook, could make herself meals and even host my mom and auntie for overnight stays, which she was proud to do. When she didn't feel like cooking, she could eat breakfast, lunch or dinner in the cafe. My dad and I ate a few meals there with her, and although she herself was a fine cook and very critical of food not prepared in a home kitchen, she did seem to enjoy her meals there. Grandma also used a free transportation service available there at Vintage. A bus would arrive at particular times of the day that would transport residents to key sites around town, like the supermarket, post office and other places. By the time grandma moved into Vintage, she had already given up driving, and at least a few times a week she would run errands using this service. I remember only minimal encounters with staff, but the receptionists at the front desk were always helpful and friendly, assisting us with questions and grandma's various needs. Laundry people would show up at designated times to fetch her dirty clothes and return them to her washed, a much appreciated service and help to her.Oftentimes flyers advertising music/sing-alongs, exercise classes, and movie nights for the residents were posted around the common areas, but grandma almost never had interest in participating. Overall, I can say that grandma lived in at least 3 assisted living residences, and Vintage was the best of them. She lived in a very comfortable space, and the staff looked after many of her routine needs.
---
From Vintage Senior Living at Sonoma
---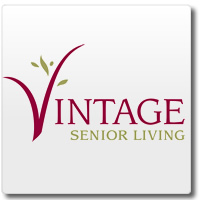 Independent Senior Living, Assisted Living and Memory Care in Sonoma, California.
Make yourself at home at the Vintage Sonoma in Sonoma, California. It's a friendly, flexible environment that celebrates your individuality and nurtures your soul. We recognize that each new resident has a unique lifestyle. So we've tailored solutions to match:
Independent Living, for our most active seniors
Assisted Living, when you need a helping hand
Memory Care, special care for those with memory challenges e.g. Alzheimer's and dementia
Short Term Care, for a respite or recovery period
Serving Sonoma, Glen Ellen, Napa, St. Helena, Petaluma, Boyle Heights, Novato and more towns throughout Wine Country
All options include:
A safe, secure environment
Compassionate, capable staff
Busy days, rewarding activities
3 chef prepared meals daily
Scheduled transportation for errands, medical appointments and field trips
Friendly people and a sense of community
Shopping and Dining:
Extensive fine dining nearby
Wine tours and tasting rooms in Sonoma and nearby Napa
Art festivals, cultural events and educational opportunities abound
Just one hour north of San Francisco
Medical:
Sonoma Valley Hospital
Community Hospital of Sonoma County
Kaiser Permanente hospitals in next-door Napa and Petaluma
Pricing:
Vintage Sonoma, a Vintage Senior Living retirement community, offers Independent and Assisted Living starting at $2,995 per month, depending on availability and floor plan.
Vintage Sonoma also offers compassionate Memory Care services and accommodations starting at $5,950 per month, depending on floor plan and availability.
License # 496801776
Features of Vintage Senior Living at Sonoma
---
Costs
Minimum rate:

$2995/month
Location of Vintage Senior Living at Sonoma
---
Request Info
Get full access to reviews, cost information, and amenities