Riderwood
3160 Gracefield Road, Silver Spring, MD, 20904
Talk to a Family Advisor: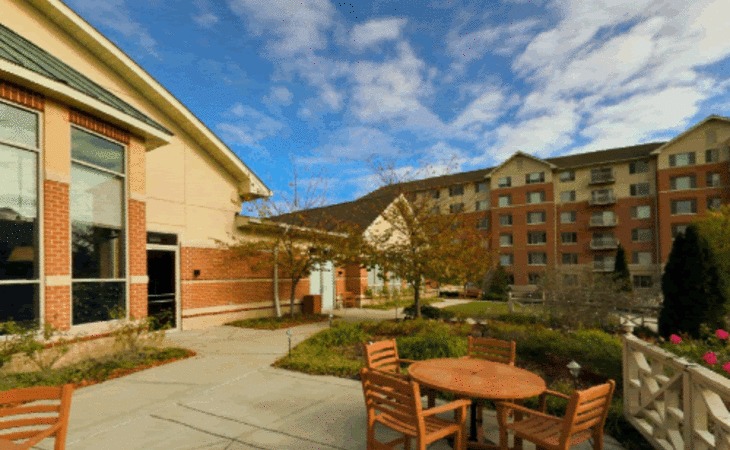 Top nearby Assisted Living Facilities
Reviews of Riderwood
---
Mary Ruth775402
November 30, 2016
I visited this facility
Riderwood was big and organized, but too big for us, and we only met one person. They had variety of activities, and I liked it the most.
---
julia726628
November 01, 2016
I am a friend or relative of a current/past resident
Mom lived in Riderwood; you have to come up with a bond for the place and a monthly fee, but you get that back when you left. They had a 2-bedroom apartment, with a sunroom, a dining room, and a kitchen. They had a pretty good size walk-in closet, they had 2-bathrooms, and they had a washer and dryer in the apartment.
---
jvs
August 19, 2016
I am a friend or relative of resident
My parents called maintenance about A/C not working. No one showed up after saying they would be there that day. With outside temperature of 100+, the temperature inside their apartment was extreme! This morning I had to call administrator's office. The excuse was afternoon thunderstorms caused power outages. There were lots of apologies, but that didn't help the unsafe temperature in my parents' apartment. I live in another state and moved them into Riderwood thinking they would be safe. They don't drive and we're stuck in deplorable conditions.
---
CreaturetheCat!
May 13, 2016
I visited this facility
Independent living was lovely, and my Dad quite happy. Now that he has dementia he is in assisted living. That is horrible. The food is terrible, the aides are not caring. He is so unhappy and no one seems to care. I've found a staff member asleep, and another one taunting a resident. And when I've written letters to the managers, nothing changes. If I lived in more than a one bedroom apartment, I would move my Dad in with me.
---
Caring113064950
September 20, 2015
I visited this facility
I visited Riderwood. It probably has more going on than the other facility in terms of more services for the people who are there. However, the staff was positive. They showed me around, and they responded to questions well. Overall, I was positively impressed by the facility and by the people there. What I was negatively impressed by was the cost of the entrance fee. If I'm rating them on the cost, I would probably rate them a very low 1, but if I'm rating them in terms of a nice facility and good people, I would probably rate them a 4 or a 5.
---
Rider1
May 28, 2015
I visited this facility
The community itself was very nice, but I did not like the surrounding area. It was Riderwood, and I was very disappointed as to where it was. The land itself was very nice and the community was very well structured, but the surrounding area was very congested and ugly. They run a nice place; it's just that I am particular about location. I think it really works for people who are from that area. The staff was wonderful, presented very well, and were sensitive. I would recommend that place especially for people who are from that area. It is beautiful -- almost like a college campus.
---
Genvieve_61
January 01, 2015
I am a friend or relative of resident
My mother has been a resident of Riderwood for more than 10 years. We've been alternately pleased and extremely disappointed over that time. As others have mentioned, the dining services are very good. However, the staff's attitudes and capabilities are extremely variable, and facilities are declining. Some of the very things we chose Riderwood for, years ago, no longer exist. At this stage, my mother doesn't drive, but she is still in independent living. There is no assistance for her in getting to doctor's appointments etc., beyond calling a cab. Two winters ago when we had extreme snow and cold, there was 2-in. thick ice on the sidewalks just outside the door that leads to the parking lots in my mother's building. We asked daily, for a week, to have it removed (and we brought our own salt and treated it), to no avail: mother nature finally took care of it. Hard to believe icy sidewalks aren't remedied at an elderly community, but we realized this was just an indicator of Riderwood's attitude in general. Services and facilities have been steadily declining, and we are now discussing whether to take the huge financial hit required to move my mother elsewhere.
---
bluebell2
December 23, 2014
I visited this facility
Assisted living and nursing care are together in a separate building, separated from the independent living buildings. Assisted living was definitely more of an institutional feel than independent living (the latter being more nicely decorated with multiple dining rooms; more of a college dorm atmosphere). Assisted living is of course always a little more dismal due to that population needing more care, but it was disappointing that assisted living residents don't seem to have easy access to convenience store, bank, or other amenities that independent living have (due to being in separate building).
I was also turned off by the fact that the employee who gave me a tour of assisted living was visibly very ill and kept coughing. In my opinion staff who work in nursing homes should be required to take sick days if ill - safety of the elderly residents should come first.
---
Elizabeth98967250
December 22, 2014
I visited this facility
I know quite a lot of people who reside at Riderwood Village, and they all love the facility. Personally, I don't like the surroundings because there's too much asphalt. The people I knew there all told me that it's an easy place to retire. They get animal therapy, movies, and trips.
---
Caring97650950
November 29, 2014
I visited this facility
The staff at Riderwood seems very good. It is closest to my son. The rooms are very pleasant and clean, and all the amenities are there. The dining room is very pleasant with a window on one side and plenty of lighting and stuff coming in. For activities, they have almost anything that you might be interested in.
---
Caring73849850
July 03, 2014
I am a friend or relative of a resident
The place is very positive. My brother's room is very attractive and great. He has a living room, dining room, and a separate bedroom. Their food is excellent. They have a good variety and quality of food. The staff is very caring, persevering, and patient. He participates to a lot of activities on a daily basis. He feels absolutely secure with Riderwood. I would definitely recommend this facility to others.
---
Caring74232150
June 11, 2014
I visited this facility
I was invited to an open house in Riderwood Village. They showed apartments - one bedroom, two bedroom or three-bedroom apartments. It was the usual sales pitch. Activities are the usual mix of things, depends on what your interests are. My wife has been in the rehab there in the past where she enjoyed playing the piano and the food was very good. The rehabilitation facility is probably the best in the county.
---
Caring83214250
April 24, 2014
I visited this facility
The people there were very helpful. I guess we came away feeling we didn't want to live in a high-rise, and Riderwood has about 6 about high-rises. So we're not going to put that very high on our list right now. We were shown all the facilities. The dining room is fine. They assured us that the chef could take care of my wife's needs. But we didn't get much in-depth discussion about it. They had a 2-bedroom plus a den.
---
easygoing
December 02, 2013
I am/was a resident of this facility
I lived at Riderwood and I found it to be a lovely place. They have nice activities like lectures and good old movies. They have religious services and trips to various places. They have wonderful food. The nice thing about this facility is that it understands the needs of the people and they really try to accommodate to their style.
---
Allan1
September 25, 2013
I visited this facility
What I like about Riderwood is that the food and the activities are superior. Under certain circumstances this facility would be right for a certain person.
---
Denny2
September 25, 2013
I visited this facility
Riderwood Village was about eight to ten minutes off the road where I lived. It was a nice facility. It have outdoor facilities that I could use and a lot of ground that I could walk. They have one or two meals a day.
---
Anne21
July 30, 2013
I visited this facility
Riverwood's surrounding was good. The rooms and the staff were nice. But it was not a facility who would take people with memory problem like my husband does.
---
HappyToVisit
July 24, 2013
I visited this facility
We were invited to stay two nights in Riderwood. There was something in the atmosphere probably the flameproof chemical that they used in the carpeting that I was allergic to and I developed eye irritation which took two days after we went home to clear up. I noticed that not only in the apartment but my allergy became worse in the dining room. Their apartments and kitchens were quite nice though and their activity program with a lot of opportunities for classes and intellectual stimulation appealed to us. But I just couldn't live there so we had to ask for our deposit back.
---
Caring5250
June 12, 2013
I am a friend or relative of a resident
I visited Riderwood which is an independent living facility with assisted living too, but my friend is in independent. She's enjoying it and she's okay. She's been staying there for about a year. They serve food there. The place is clean and they have separate apartments. If I don't move out of state, I'll move there.
---
Lydia 1
April 30, 2013
I visited this facility
We visited several assisted living facilities and the one place we liked was Riderwood. It's a combination of independent-living where my parents could get some care and didn't have to be completely assisted. They had about 125 different lay-outs, which were quite roomy, and surprisingly comparable in terms of the price. It was a campus-like environment with a thousand residents and various clubhouse buildings equipped with different facilities. For example, one had a big pool and another had a big theater in it. And these buildings were all connected by a walk-through, so that whether it's too cold or the middle of summer, you didn't have to walk outside at all. It was a complete facility and the people there seemed to be were very active. We did not see anybody sitting around or just sleeping. They had lots and lots of activities. There were people doing photography, they had different classes, and just about any activity that you can think of. They also had different pastors and people coming in from various religions, so they had quite a variety of religious activities too. They had transportation to take people out on trips. They even had a camping site. The variety of things and activities they had was amazing. But my parents aren't ready to move into any facility right now.
---
Caring9495
March 21, 2013
I am a friend or relative of a resident
Riderwood Village is a complete full care facility, which includes independent living, assisted living, short term rehabilitation and long term care. We chose it because of the activities involved, the food, and the proximity to our house. Overall the facility is very good.
---
ScottM2
December 29, 2012
I visited this facility
Riderwood is a great place. But the financial commitment that they have there are much higher than a lot of other places. The staff was great, I have no complaints. I was well informed during my visit. There's a lot of amenities there and it has a lot to offer.
---
Jonathan_M
October 18, 2012
I visited this facility
It is not the facility I would want for my relative. We had to call them few times just to schedule some time to visit the facility and when we got there the supervisor was very helpful but the staff looked extremely ruthless (like they were doing a favor for residents). Some of the staff was very abusive and it really made me feel upset for the residents who were living there. It seems like the staff in this facility cares about themselves more than they care for the residents. Only good thing about this facility is that they keep it clean and the rooms they have are pretty big with nice closets. They have gym, pool, lake etc so it is nice place to live. Only if the staff was more helpful and caring towards the residence. After we told about this facility to my aunt she didn't want to live there and we didn't send her there. I would not recommend it to anyone who I care about. 3 stars just for the cleanliness.
---
Disappointed dominate
September 27, 2012
I am a friend or relative of resident
independent living very good. Assisted living staff unresponsive - does not return calls. Staff highly variable. Some excellent and caring, others bordering on abusive at times. Staff convenience seems more important than happy residents....
---
ryanMkelly
July 24, 2012
I am a friend or relative of a resident
Riderwood seems adept at meeting the needs of its residents. The facilities are clean, modern, and spacious. The staff, for the most part, appears competent and helpful. My grandmother has been happy with her room and the meals provided to her, as well as the medical care she is able to receive on premises. When my grandfather began to suffer from Alzheimer's, he was moved to another facility on the same campus that provided greater care, where the rest of the family was still able to visit. The transition appeared to be seamless, and the nursing home facility also met their needs.
---
WilliamC
June 05, 2012
I visited this facility
Riderwood is a low rise, two-story facility. I really like the place and the facility but I'm still looking around for more options. The rooms have big walk-in closets, living rooms and a bathroom. I didn't taste the food. Oh, and it offers different activities. It has an indoor heated pool, fitness center, a lake or was it a huge pond of some sort and lots of neat activity areas.
---
elaineqp
May 03, 2012
I am a friend or relative of a resident
My grandparents and several of my friends' parents have lived at Riderwood for several years. I used to be nervous about assisted living facilities and had little faith that they were places that I, someday, would want to live. However, Riderwood has completely changed that image in my mind. The private apartments are beautiful--my grandparents live in one that overlooks a lake. There are also so many opportunities for both social interaction and continuing to stay engaged. My always social grandparents love the communal dining room where they have made tons of friends, and they've taken several courses taught by local faculty on subjects ranging from literature to music. When they have had health problems, the physical therapists and more hands-on assisted living staff have been wonderful. Their involvement in the community is wonderful as well, including the scholarship program offered to the local high school students, who are given part-time jobs as waiters in the dining hall. It definitely gives me peace of mind knowing that my loved ones are not only safe, but are happy as well.
---
Bowiegirl
November 17, 2011
I am a friend or relative of a resident
I have visited the Riderwood assisted living facility on numerous occasions to visit my husband's grandmother, who lives there alone in a one-bedroom apartment. My experiences at Riderwood have been completely positive. The community is filled with active senior citizens who enjoy a broad array of social and cultural activities, such as movie nights, opera classes, card games, and religious gatherings. Residents are able to have small pets and some apartments have access to private garden lots where residents can grow flowers and vegetables. All residents have a small shelf outside their doors that they can decorate and personalize. My husband's grandmother is very happy with the staff at Riderwood and often comments on their professionalism and kindness. She has been able to maintain a strong level of independence despite her health needs. I feel she is well cared-for at Riderwood and would certainly recommend the facility to others wishing to send their loved ones to a welcoming and caring community.
---
---
Our Silver Spring assisted living center gives you or your loved one extra support with the tasks of daily life. It's the perfect option for people who are in generally good health, but who need assistance with meal preparation, medication management and more. Other Silver Spring assisted living providers can't compare to our experienced team of caregivers. Plus, we offer private apartments in a variety of styles from studios and one bedroom designs, to two bedroom floor plans with attractive patios. You're free to decorate however you see fit. Residents of our Silver Spring assisted living center are encouraged to pursue their interests in the larger Riderwood community. Whether it's art, dining or travel - you'll find something for everyone.
Request Info
Get full access to reviews, cost information, and amenities