Brookdale Rosehill Assisted Living
12802 Johnson Dr., Shawnee, KS, 66216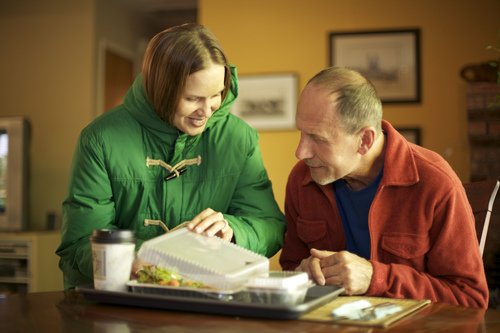 Reviews
of Brookdale Rosehill | Assisted Living
---
Write a Review
April 11, 2017
I am a friend or relative of a current/past resident
Brookdale Rosehill was a nice, clean place with a lot of nice stuff.
February 29, 2016
I am a friend or relative of a resident
My father is in Brookdale Rosehill. We choose it because it is close to my sister. I think the staff is good. I really like the place. It is very homey, is nice and clean. He really likes the meal. They even have a chef that makes cakes on Fridays and he really enjoys that.
July 27, 2014
I am a friend or relative of a resident
Mom spent 2 weeks at Sweet Life Rehab and went home after that. They were excellent. The care was very good, and the rehab was great. People were very courteous and friendly. They have a lot of perks. They have cappuccino machines available to the guests and to their families, and popcorn is always available. There were lots of activities for the seniors. They had bingo, word search, and people came in to the assisted living. People from the rehab were welcome to attend as well. I would highly recommend them.
April 22, 2014
I am a friend or relative of a resident
At first, Sweet Life was very nice when my mother-in-law lived there. After five years, they switched management and it went downhill. My mother-in-law complained about the food. She passed away two years ago. They have rooms that people live in, and somebody comes in every so often to clean the rooms and change the bed sheets, butI think they could have done a better job. They kept what the public sees very clean, but the apartments could have been cleaner.
Provider Response
Thank you for taking the time to share your concerns about Sweet Life Rosehill. The safety and well-being of our residents is our first priority and we share their concerns as well as the concerns of their families. The staff is committed to providing the highest-quality service and care for each resident every day, so your feedback is very important to us.
November 28, 2013
I visited this facility
The high point for me in Sweet Life Rosehill was their nursing unit because they had private rooms. The dining area was very acceptable. It was clean. However, I just don't think it had a pleasant environment. I just didn't like it. I didn't like the décor and my mom wasn't crazy about it either. I didn't like their long term care unit. It seemed as though they had low functioning folk there in their long-term care unit. It didn't feel homey to me. It didn't had the same warmth or sense of community. The staff seemed very nice and professional.
October 05, 2012
I am a friend or relative of a resident
My mom was treated very well at the Sweet Life at Rosehill. She was very pleased and even looked 10 years younger. The staff was phenomenal, too.
February 29, 2012
I visited this facility
I visited my grandmother at this wonderful establishment in Shawnee Kansas. The first thing you notice upon entering is how well they have maintained and kept the gardens outside, there is a real attention to detail. When you go into the facility, the friendly staff is more than willing to help you with any questions or show you around, they all keep great smiles on their faces and are very friendly to you. I found the carpets to be imaculately clean, as well as everything else, and that the elderly there were very happy and always seemed to be coming or going to some event or game with big grins on their happy faces. Also the food was suprisingly good, as I have tasted some bad food in "rest homes" before, and I was glad to know that they were giving my grandmother excelent treatment and she was receiving the nutritious meals she so needs in her poor health. The rooms were well-equipped with color television sets and nice views of the outdoors. Each room also had an air conditioning which was very important during our hot summer visit. We sat with our grandmother and enjoyed the friendly company of both the staff and the other elderly living there at the assisted living center, and I had to say it was a very enjoyable experience and put my heart at ease that she was receiving the proper and happy care I so want for her to have. I would recommend this fine establishment for anyone who is considering going into an assisted living situation or has a loved one who they can no longer care for as was the case with me. If you live in the Kansas area, or the Shawnee area to be more specific, take a drive up to Sweet Life and take a look for yourself, I doubt you will be disappointed in this fantastic home for your loved one.
June 15, 2011
I visited this facility
The Sweet Life Rosehill facility is a sister facility to another, smaller, Brookdale facility about a mile away which caters specifically to Alzheimer's and Dementia patients. The facility at Rosehill is larger, and offers three separate levels of care, including Assisted Living. The interior of this facility is very nicely appointed, in the style of a luxury apartment community, and seems very clean and well-maintained. There are a number of smaller common spaces, such as an aviary room, as well as a couple of larger common areas for group activities planned each day. The rooms at this facility are a decent size, but the Assisted Living component does not offer two-bedroom apartments, which might be difficult for some couples. I did not meet many staff members, but my tour guide was genuinely friendly and upbeat. I felt that the residents were more active in this facility than they were in some others I have visited, so it might be a good match for people want a busier community. The management of the Sweet Life facilities appears to be very good in general, with a full schedule of activities and events for residents, as well as smaller spaces for more individualised activity. I would definitely recommend this facility for a loved one.
Features of Brookdale Rosehill
---
About Brookdale Rosehill
---
Brookdale Rosehill provides assisted living residents with lifestyles, housing, and services in comfortable surroundings combined with exceptional amenities, programs, and care. Through Brookdale's signature Personalized Assisted Living, we customize our care offerings for the individual. This allows each resident at our community the freedom and opportunity to make choices that will ease their lifestyle transitions. Residents enjoy life with the support they need, coupled with the appropriate accommodations as their needs change.
We promise Respect for Individual Preferences by offering personalized care needs and providing an atmosphere that encourages each assisted living resident to live in health and longevity. We also offer special housing and care options for those who require assistance with the activities of daily living such as dressing, bathing and assistance with medication. We offer graduated levels of care based upon the individual need of residents, as determined by our continual assessment process. We are dedicated to enriching the lives of residents every day with signature services for those who value their freedom and independence, but desire or need services providing them with the highest level of quality, care, and value.
Map
of Brookdale Rosehill
---
Get Costs