Atria Park of Sierra Pointe
14500 N. Frank Lloyd Wright Blvd., Scottsdale, AZ, 85260
Talk to a Family Advisor: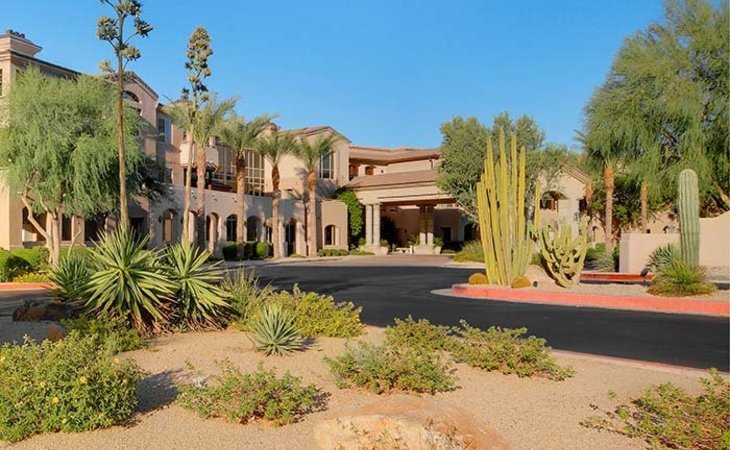 Promotion ends in 64 days!
The best time to choose Atria is right NOW! For a limited time*, you can lock in our current rental rate with no increases until at least January 1, 2019. Don't miss this opportunity! - *Offer valid on certain apartments for move-in by September 30, 2017.
Reviews of Atria Park of Sierra Pointe
---
grandsonJD
March 30, 2017
I am a friend or relative of a current/past resident
My Grandmother has lived in Sierra Pointe for about 5 years, transitioning from independent living to assisted living. Independent living and assisted living (called legacy by atria) use the same apartments, except assisted living (legacy) gets access to the health aides. There is also an enhanced care wing--generally occupied by residents who need more care than available on the independent/legacy side (as noted below, this happens a lot). Grandma was generally happy when she was on the independent side, except she felt that the quality of the food has deteriorated markedly since atria purchased Sierra Pointe. Honestly i find the fool acceptable, but it does seems all the residents complain about the food--I think many are used to higher end food--and the food has transitioned to ordinary. The main problem has been the very limited assistance available in assisted living. The caregivers are actually wonderful and caring--its just that there are not enough of them. For example, at night there is just one caregiver for the entire "legacy side"==thats one caregiver for about 70 residents getting caregiving assistance. If one needs care at night, the wait is long! ! Grandma says that when she gets assistance, the caregiver is very nice, but her caregiver gets several beeps from other residents who need care while the caregiver is with her. So there is only time for very limited help. Sierra Pointe encourages residents who need more care to move to the "enhanced care" side---but this side requires residents to move out of their nice apartments to the very tiny apartments on the other side of the facility--once there, grandma would essentially be isolated from the community she has engaged with the last 5 years. She would not be allowed to enter the independent/legacy side, could not eat in the dining room with her friends, and could not participate in any of the activities currently available to her. Many residents in legacy/assisted living seem to have private caregivers in order to stay in their current apartments--this makes up for the limited care available, but the cost is massive (i.e., 8 hours a day of a personal health aide costs $6000 a month or more). I think Sierra Pointe could be a good choice for anyone who is independent. (As long as food is not a top priority). But I would be very cautious if your loved one needs assistance, as they are far too short on caregivers to provide sufficient assistance--especially at night. Even if your loved one just needs minimal assistance, keep in mind that your loved one will not stop--and with time will need more assistance--You will be faced with moving them to the tiny enhanced care apartments, or getting a very expensive private caregiver.
Provider Response
Thank you for being a part of the Atria family. I appreciate you reaching out to let me know about your concerns. I encourage you to discuss your frustrations directly with your Executive Director - she can be reached at 480.767.9800.
---
Marion701134
January 02, 2017
I visited this facility
Atria Park has a lot of wonderful things, so we really liked it. I liked the idea that you can go into an apartment and as your needs increased, stay in the same apartment. The memory department will come and take care of you. You don't have to move from one apartment to another. The dining area was a very big and nice room. The rooms that I saw were very nice. I did not have any negative feelings about them.
---
Joann885461
October 10, 2016
I visited this facility
Atria Park of Sierra Pointe was the first one we visited. It was a lovely place. We like it a lot. The lady was very friendly. Again, it seemed like a big empty hotel. The people were in line to go eat, but we really didn't talk to any of the residents. There was nothing wrong with it. We thought it was fine.
---
Sherry119481950
January 29, 2016
I visited this facility
I visited Atria. It was very nice. The people were very nice. It is in a very nice neighborhood. The amenities seemed to be good to me. I checked two apartments, and they were very nice. I was quite impressed.
---
Anonymous117452150
December 17, 2015
I visited this facility
Atria Sierra Pointe was wonderful but expensive. The staff and apartments were very nice and perfect. I did not taste the food, but I saw it, and it looked terrific. They had tons of unbelievable amenities.
---
Claire22
October 25, 2015
I visited this facility
Atria was very nice and very fancy. It's just beautiful and perfect. I do not have any complaints about it at all. They have just about everything. They have a separate section for people who are memory impaired, and there's a lot going on for anybody who is able-bodied, like bus trips. The rooms have balconies, and you can get a one- or two-bedroom or a studio, which was pretty large. I would've moved in myself. It was just exquisitely beautiful. The people were lovely, too. The lady that helped us gave us a tour twice: once with my husband and myself, and the second time was with my mother. She spent a lot of time with us, and we never had the sense of not having enough time to get to know the place.
---
Caring107393050
August 22, 2015
I visited this facility
It's really expensive. We ate there several times, and the food was good. It's just not affordable for us people, so that takes it out of the running even though it was nice and clean. They have art classes, swimming pool, a movie theater, and often a lot of activities. I know somebody whose wife worked there who quit because she didn't like the treatment the patients were getting. That's one of the reasons other than cost why we eliminated Atria Sierra Pointe, but you can lease there, so you don't have to buy.
---
Caring111168150
August 21, 2015
I visited this facility
It felt like an extension of home, which was really good. You didn't have this sense that this is just where people come to die. We met a very active group. Peter was great in taking me around several times, and I bought mom back to see the place; she was delighted. They offered painting classes, and they had a walking group and Bridge group. All of that would've been good for her. She liked Atria Sierra Pointe, and she could see herself living there. They were also offering to have an interior designer that they pay to come to your home to help you choose what things to bring and what would work for safe planning, and that was a wonderful thing to offer for these folks. Pets were allowed. There were lots of field trips, and they had one whole activity room. They would sign them up for activities whether it's concerts, plays, or Diamondbacks games. They were amazing.
---
son1945
May 17, 2015
I am a friend or relative of resident
Since Atria has taken over Sierra Pointe it has gone downhill quite a bit. The staff is still wonderful but the quality of food and services has suffered greatly, apparently in consideration of Atria's bottom line. Assisted living residents are "locked in", requiring them to be buzzed in and out of the facility and they are not permitted to attend any activities on the independent side of the building regardless of their capabilities. Atria's first rent increase was over 5% and they readily admit that future increase may go as high as 7%. Less quality for more money seems to be their mantra. I would not vouch for the future of this facility based upon Artie's corporate approach which is unfortunate since this used to be a wonderful place to live.
Provider Response
We appreciate you taking the time to share with us. We're sorry to hear of your frustration, and would like the chance to connect with you to learn more about how we can improve your experience at Atria Sierra Pointe. If you're comfortable with sharing more, please reach out to us at customerservice@atriaseniorliving.com.
---
Bill107252050
May 13, 2015
I visited this facility
Atria Sierra Pointe was a luxury place. It's the most expensive, but it's very topnotch. Everything was new, and it had the modern, high-end look. It had a really nice cafeteria. I just thought it would be a little bit too large a facility for my mother, and the residents might be a little bit higher than my mom's social class, but they were very helpful and friendly and showed us around.
---
Caring99727950
February 22, 2015
I am a friend or relative of a resident
We have put my father in Atria in Scottsdale. It was one of our five selections, and it was the cleanest. His apartment was the largest out of all the ones that we had looked at, with two bathrooms and two bedrooms, and we really enjoy the people that work there. He seems to be pretty well pleased with the food, just like any restaurant. He has some good and bad meals every once in a while, but overall he is very satisfied with it. One of the complaints is that they only serve one meal on Sunday, just brunch. Unfortunately, my father does not want to engage in activities. They have quite a few: museum trips, grocery store trips, art events, happy hour, and card games.
---
SRRA
December 20, 2011
I visited this facility
I have visited Sierra Pointe this pass spring. In general, I thought Sierra Pointe was absolutely beautiful. Sierra Pointe was so breathtaking. The grounds of the facility are outstanding. This facility offers so much like pools, spas, and nice gardens. The common areas of the facility is amazing. Everywhere you looked was amazing from the decor to the staff. The residents' rooms were huge and offered so much unlike other facilities, Sierra Pointe offers residents safety, entertainment, and many professional services right on the grounds.  The staff and management of the facility are amazing. You get every healthcare professional there is from the doctor to the caregivers and all of them were so nice and friendly was just amazing. The staff was interacting with residents  everywhere I turned it was like a mini inside community where everyone knows everyone. While I was there, I noticed the residents had many activities and entertainment to do throughout the day. Also that Sierra Pointe can care for all levels from independent to assisted living. Overall, Sierra Pointe  is a beautiful rich filled facility full of life and enjoying it to the fullest type of facility. I would recommend anyone looking for a very active classy community in northeast Scottsdale to Sierra Pointe anyway!  Five stars a must see community! 
---
Candace Ropp
October 01, 2011
Other
The morale among the residents in this facility is very high. They all seem to get along nicely and I have seen many situations where they have been supportive of one another. They all seem so happy, active, and confident. I love talking to them because there is this type of positive energy that like radiates off of them. They always have new stories to tell me and they love to talk about all of the happenings around the facility. I always look forward to my visits and I know that for the most part, they will probably be good visits. The staff is also very welcoming and friendly. The facility is beautiful and you can see the McDowell Mountains from many different places throughout the building. The apartments are pretty spacious and they always seem very clean. There are a few apartments where the residents knick knack's and personal items make the apartments very cluttered and they are placed all throughout the rooms, one apartment has items stacked on the floor. I worry about the resident's safety in these rooms as they could trip, fall into things, what could happen in the event of a fire, and so on. I think that the staff need to get in there and help the residents to better organize their belongings and make their apartments an easier place for them to move around in. There are many amenities available and I always see the residents taking full advantage of them, which is great! I love seeing the residents roaming about and socializing with one another as oppose to them being in their apartments all day. I actually think that the residents spend more time out of their apartments then in them! The facility is made up of three main Independent Living floors and then the Assisted Living area. The services and amenities are spread out among the main floors. Kids love running around exploring the community and there are many kid-friendly areas to play. There are many families that spend a lot of time in the facility visiting, so they also take full advantage of all of the services. I have had many kids that visit the facility tell me that they like the second floor the most because there's a huge movie theatre, a game room, craft and activity rooms, a computer lab, and an aquarium that is built right into the wall. A resident told me once that whenever his great-granddaughter visits that he and her will sit in front of the aquarium and together they give the fish funny names. He says that they're his favorite times and that he's so thankful that Sierra Pointe thought of the kids too. Dining at Sierra Pointe is like dining in a restaurant, only there is better wait staff in the facility then in most restaurants. There are options available to satisfy all cravings, whether it's a cup of coffee, a snack, or an exotic dish. There is a buffet available on the weekends and it is really good. A variety of food is offered and they have a great omelet bar. The pastries and bagels are also really tasty. There is also a wide variety of menu options so whether you feel like a grilled cheese sandwich or filet mignon, the possibilities are almost endless. I have eaten there a few times on the weekdays and I wish everyone could experience eating at Sierra Pointe at least once. Sierra Pointe may be a bit more costly than other facilities in the area but I really think that in the end when you look at the quality of care, the amenities and services offered, and all of the opportunities made available to the residents, I think that it could be worth spending a bit more. I think that the staff really does strive to provide the best possible care to each resident and while the facility is a very nice place to visit, you need to make sure that it is the appropriate place for you or your loved ones to live.
---
S.Sherrill
June 10, 2011
Other
Sierra Pointe is a beautiful, resort-like facility, where the residents are treated like royalty. They have plenty of social activities, and a friendly, caring staff. They also have the most magnificent saltwater aquarium I've ever seen, built into the wall, on the second floor. Last I heard, there was a 2 year waiting list to get into Sierra Pointe.
---
From Atria Park of Sierra Pointe
---
Our luxurious, resort-style community is situated in a residential neighborhood in North Scottsdale with stunning mountain views and kaleidoscopic sunsets. We're within walking distance of shopping, dining and banking less than 20 miles from downtown Phoenix.
At Atria Park of Sierra Pointe, older adults enjoy the freedom to live as they choose, in the area they know and love – without the burdens of maintaining a home. We also offer discreet assistance to accommodate the needs of our residents as they change.
With endless opportunities to travel, learn, experience and meet new people, each resident creates a lifestyle perfectly suited to their tastes, complete with comfortable amenities and outstanding service. Life at Atria Park of Sierra Pointe is always eventful. Through our signature Engage Life&reg program, residents enjoy a wealth of opportunities for enrichment, enlightenment and fun every day.
Atria Senior Living is a leading operator of independent living, assisted living, supportive living and memory care communities in more than 180 locations in 28 states and seven Canadian provinces. We are the residence of choice for more than 21,000 seniors, and the workplace of choice for more than 13,500 employees. We create vibrant communities where older adults can thrive and participate, know that their contributions are valued, and enjoy access to opportunities and support that help them keep making a positive difference in our world.
What Makes Us Special
---
Largest licensed ALF community in the area with 216 units with license for 250 offering all three licensed levels of care in State of Arizona--supervisory, personal and directed care with two neighborhoods in one building on one campus.
Features of Atria Park of Sierra Pointe
---
Costs
Rent Plus Care Fees
Fee Structure Extra:

We Offer A Month To Month Rental
Room and housing options
1-bedroom apartments
2-bedroom apartments
Companion Suites:

We Do Not Offer Companion Suites

Studio Apartments
Dining options
In Room Kitchenette
In Room Kitchens
Dining Room Shared Meals
Room Service For Meals
Features
Beauty Barber Shop
Computer Room
Resident Transportation
Coffee Shop
Party Space
Tv Room
Garden And Patio
Resident Parking
Pool
Features Extra:

Library, Fitness Room/Gym, W/D In Residence
Cleaning services
Laundry For Linens
Private Cleaning Services
Housekeeping
Laundry For Clothing
Technology and entertainment
Cable In Rooms
Internet Enabled Rooms
Technology Extra:

Emergency Call System
Activities
Offsite Activities
Music
Games
Stories
Religious Services
Lectures Discussions
Book Clubs
Wii Sports
Tai Chi
Fitness Room
Yoga
Gardening
Cooking
Arts And Crafts
Activities Extra:

Computer Class
Financial guidance
Financial Guidance Extra:

We Provide Names Of Local Resources To Help
Guest services
Guest Parking
Guests At Mealtime
Overnight Guests
General
Respite Care
Minimum Age:

None

Pets:

Small Pets Allowed
Licenses
Licenses:

We are licensed for directed, personal and supvervisory care

State Licenses:

AL9474C
Location of Atria Park of Sierra Pointe
---
Get Cost Information
Get full access to reviews, cost information, and amenities