Marsh View Senior Living
7410 Skidaway Road, Savannah, GA, 31406
Talk to a Family Advisor: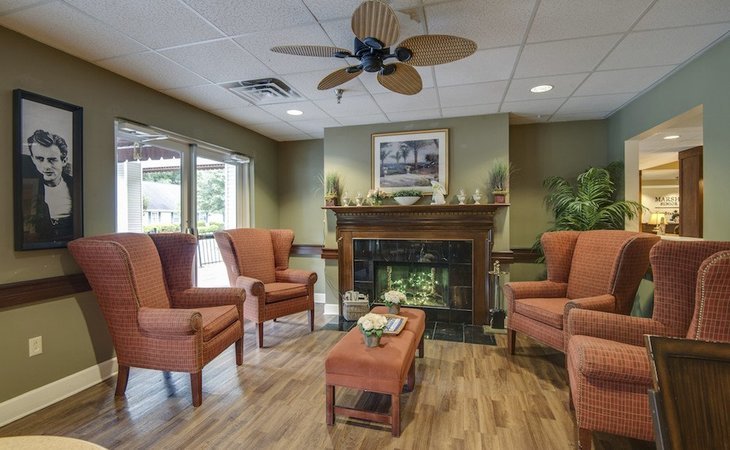 Reviews of Marsh View Senior Living
---
Patty788470
November 21, 2016
I visited this facility
I visited Marsh View Senior Living. The staff was good. The place was nice. It needed a little bit more maintenance. The rooms were an average size. They had an average dining area. The staff was accommodating. The place was neat. It needed a bit of updating.
---
Lana252685
November 02, 2016
I visited this facility
The location of Marsh View seemed a little far out from the city. It's in a very quiet neighborhood. The best thing was the quietness and peacefulness, and it is way out in the boondocks. They also had Alzheimer's care which was very nice.
---
Jack780317
October 21, 2016
I visited this facility
Marsh View Senior Living was very clean and seemed to be very well run. The staff seemed to be pretty upbeat and very professional. The assisted living had very nice and spacious one- and two-bedroom apartments. All of the services included three meals and laundry. There were memory care facilities.
---
Donna337561
September 29, 2016
I am a friend or relative of a current/past resident
My dad had to have some minor surgery, and from that, he went back to Marsh View Senior Living. He was in the Alzheimer's unit. It was not good. I don't think they took care of him very well. I went there one day, his bandage was hanging off, and nobody was paying any attention to him. The rooms were fair, but I don't think they had many activities at all. I'm not happy with them.
Provider Response
Thank you so much for your input. Five Star Senior Living communities offer a variety of activities and programs designed to encourage spiritual, mental and physical well-being of our residents. We strive to deliver quality care to all of our residents and hold our staff only to the highest standards of hospitality and service, in all lines of care. Among our programs we offer one designed for our Alzheimer and Dementia patients: Bridge to Rediscovery is an innovative program offered exclusively at Five Star Senior Living communities, where seniors living with Alzheimer's disease and other forms of dementia can flourish and share a positive life experience. Please reach out to the Activities Director directly at the community or check our web site for more information about these programs: https://www.fivestarseniorliving.com/our-services/alzheimer-s-care
---
kirjos3003
May 12, 2016
Other
I sit with a current resident at Marsh View Senior Living. I must say that this facility is one of the nicest facilities I have been in. The staff is always very helpful when I need assistance with my patient. The family pays for me to eat with my patient and the food there is AWESOME. If I don't want the regular meal being served that day I can order from there always available menu that has at least 8 different items. There are always activities going on the facility. The residents play Bingo, Pokeno, make jewelry, make flower arrangements among other things. I have had the pleasure of being there when the facility had a party. You would not have guessed that the party was inside an assisted living facility. Everything was decorated so beautifully. They had a DJ playing and everyone danced and had a wonderful time. The food served was delicious.
---
Margareta1
February 29, 2016
I visited this facility
My visit at Marsh View Senior Living was very good. The manager immediately approached me and introduced herself. She was very friendly and showed me around the facility. She showed me two different rooms but they were very small. They have a studio room with a small entrance, a couch and two chairs, a kitchenette and a bedroom. Their rate is more expensive compared to the other ones I visited. But their setting is very nice; it is in a wooded area and there are no houses around. It's like a resort when you drive up the property.
---
Jenni1
January 31, 2016
I visited this facility
When we got there at Marsh View they were super-friendly. The staff was helpful, and it was a beautiful place. We went there in Christmas; it's gorgeous, and the decorations were pretty. It has a nice, homey atmosphere. The rooms looked nice. They showed us an empty room, one they had setup, and another with furniture that you can bring. They do have an exercise class each morning, and they have a therapy there. They have a library too.
---
Michelle117144750
December 10, 2015
I visited this facility
Marsh View Senior Living is a nice facility. The staff was very nice even with the short tour that we had at the facility. The facility was awesome with a great layout and a very nice environment.
---
LillyJ
November 06, 2015
I am a friend or relative of resident
Marshview is a wonderful place. My mom is so very happy. They have Wonderful events, and caring assistants that take care of mom. Everyone is kind and helpful. They go above the norm when decorating for Holidays and parties. My mom is happy and that makes me happy. I definatley recomend!
---
Anonymous110933250
July 29, 2015
I am a friend or relative of a resident
My sister has two rooms, a kitchen, and a bath at Marsh View Senior Living. She has been there for years.
---
Verna6
July 06, 2015
I am a friend or relative of a resident
My mom is in Marsh View Senior Living. They are very helpful. It is set up very nicely, and the residents are wonderful. They have an activities director who is very good. She has different things for them to do. She gets my mom's hair done, and they have a happy hour every Friday. They have a wheelchair accessible van that takes her to her doctor's appointments. They have a chef, and the food is really good. The dining room is beautiful. It looks like a nice restaurant. It is a beautiful place, and it looks like a 5-star hotel. The rooms are really nice. She has a huge closet, a living room, and a kitchenette. She also has a huge bathroom. They also have a large separate dining room. So if a big family group comes to celebrate a birthday or whatever, they can reserve it. They also have a movie room.
---
Caring103250750
March 11, 2015
I visited this facility
Marsh View was very nice, the people were very pleasant, and the residents seemed to be very happy to be there.
---
Caring94133950
October 17, 2014
I visited this facility
Marsh View Senior Living was very nice. I would move my mom in there in a heartbeat. The people were nice. They were so kind, and they seemed to love living there. The staff seems to love their jobs. They actually had a thunderstorm and a power outage, and they didn't miss a beat. They were very apologetic for making us wait 5 minutes. They were just fantastic. The rooms were very spacious. The dining area was very nice. I couldn't say enough nice things about it.
---
Caring79303850
February 26, 2014
I am a friend or relative of a resident
Marsh View was nice and it seemed to fit what mom needed. She's been living there since December. It seemed like it has a pleasant environment. The rooms basically have a living area, a small refrigerator and sink, a bedroom, bathroom and a large closet. The staff had a caring concern, was pleasant and very helpful. Mom seemed to like the food and had no complaints about it. For activities, they can go out and have lunch once a week, they have jewelry making and people come in for entertainment. They have exercise groups and bible studies.
---
Chey
December 16, 2013
I am a friend or relative of resident
A relative of mine has resided at Marshview for about a year and I am quite favorably impressed. The staff works very hard to create an attractive and positive environment, including activities (such as the recent Thanksgiving and Christmas parties) which are fun and designed to involve the residents' families. The staff treat the residents with respect and are always available to help when needed.
---
Woodlow
December 03, 2013
I am a friend or relative of resident
This is a wonderful community!! My mother has called Marsh View her home for over two years. Before mom moved in she had become a recluse, she no longer participated in any social activities. But after mom moved in she started making friends and partaking in activies. Now we can hardly get a hold of her when we call because she is never in her room. We have to call Danielle at the front dedk to get mom if we need to get a hold of her. The staff is great and extremely accommodating. We just celebrated Thanjsgiving Holidays with mom and the Residents and staff. It was a wonderful family gathering. Marsh View is a blessing!
---
Not a Place for Mom
November 29, 2013
I am a past client of this provider
This facility is best suited for a mobile, self-sufficient client who's using it as an independent living facility. The CNA who assisted my mother with bathing and dressing did not put her wig on her head. We arrived on two occasions to find her sitting in the dining room without her wig. The social activity calendar is posted, but no attempt is made to engage new residents. If you're unfamiliar with the schedule and do not take the initiative to go to it, you'll sit all day and do nothing . I spoke with several other clients who also stated that they weren't encouraged to attend any activities. The sales pitches at all of the these facilities make them sound very appealing, however the performance of the staff is not aligned with the enthusiasm and description of the sales or intake counselor.
---
CaringSon575
August 15, 2013
I am a friend or relative of a resident
I found a place for my mother at Marsh View Senior Living. I chose it because it is five minutes away from my house. It's very well-maintained and the staff is great. The people who run the place are the best thing about it.
---
Krissy247
July 24, 2013
I am a friend or relative of resident
Marsh View was a wonderful facility. They took very good care of my aunt while she was a resident there. The staff always so helpful and went above beyond in the care of my aunt while stayed there. The staff was always kind and supportive. Whenever I had a request and question they were always there to help and answer any questions. The facility was neat, clean and very family oriented. We always felt like family not just another statistic or number. They activities and events were always fun. The staff interacts with the residents to make them feel comfortable. The transition into the facility was very smooth. I felt relieved to be able to leave my aunt in such a warm and loving environment.
---
Rosby
July 23, 2013
I am a friend or relative of resident
My father was a resident at Marsh View for 3 years. He moved into the assisted living side then after two years his alzhiemers progressed and he transfered to the memory care side. The Marsh View staff was wonderful to my father and our family. I was always able to speak directly to management any time I had a question. I did not have to make an appointment I could just walk in and see them. My father had many friends there and was very happy. The staff went out of there way to make him happy and Holidays were so special there, he felt like a big part of the community. We will miss seeing everyone as much but we will still pop in for the Friday Happy Hour when we can. I would recommend this community.
---
lynell
June 13, 2013
I am a friend or relative of resident
I would never recommend Marsh View to anyone unless I wished to punish them. My husband's stay there was torture; for him and for me. I only wish I had another chance to remove him. Lazy, neglectful, incompetent staff. Very misrepresented! Too many "residents" for the number of aides. I now have nothing but bad memories of the Sandfly area.
---
salell
January 22, 2013
I am a friend or relative of resident
My grandmother is in this community. Marsh view is beautiful, clean, and the staff are very friendly.Everytime I visit my grandmother she is busy enjoying an event, making jewelry, painting, or visiting with her friends. My children love to go visit because the community is so much like a family it really is just like going to grandmas house. During the past holidays they had a haunted hallway for the kids to go in and an amazing area upstairs for the kids at Christmas. I am so happy that my grandmother is in a place that she enjoys and loves. Our family visits almost everyday and we couldn't be happier. We also enjoy coming to the Friday Happy Hour, they have live entertainment, open bar, good food, and dancing. I recommend this community!
---
Savannahboy81
July 23, 2012
I visited this facility
During my visit to Marsh View I was able to see many different aspects of the facility. I came away from my visit generally impressed. I was pleased with the location of Marsh View. It is convenient to most parts of Savannah, with access by the Truman Parkway. The grounds are spacious and generally well kept, with the exception of the lagoon near the entrance. There were large clumps of weeds growing nearby. The interior of the facility was clean and the lobby and common areas were well appointed and inviting. There was a slight odor, but it wasn't overpowering or unpleasant, mainly a hospital smell. The food in the dining room looked tasty, with a wide variety of Southern staples. I didn't taste it, but my uncle seemed to enjoy it. My uncle also spoke highly of the staff. He said they were friendly and attentive. He also enjoyed the activities at Marsh View, they kept him active and engaged with the other residents at the facility.
---
SavannahLover
May 09, 2012
I visited this facility
The facility was very nice. The faculty was also very nice. I usually just show up unannounced to make sure things are running smoothly and that my grandfather is treated nice. He tells me he loves living there and that's why he has been there so long. They allow them to not be tied down like children in pre school and they give them freedom to go outside when they like and also to have the privilege to make phone calls when they want. It's an excellent place and i would recommend it to anyone who loves their parent or grandparent but need to place them in a home. everyone should be able to experience life to the fullest and here they still allow the elderly to live how they want. My grandfather say's he loves the staff and the friends he's made while living there. Go see for yourself.
---
virtual reader
January 04, 2012
I visited this facility
When I drove up to Marsh View ALF I thought how beautiful and quaint this facility is nestled in old oak trees and surrounded by historic marshes. I noticed that there is ample parking areas and sidewalk trails for the residents to be able to walk around outside and enjoy the view and fresh air. As I entered the facility I noticed there is as much greenery inside almost as there is outside. I had a very comfortable feeling here. I arrived at lunch time and since I was given a grand tour I was also offered to have lunch with the residents and I must say it was delicious. Also they offer a variety of diets due to some residents have certain diets they must follow. The dinning room reminded me of a cafeteria style setting. There are three types of floor plans for the resident to choose, either a studio, one bedroom or two bedroom. Each room has their own private bath. I was allowed to view each type of room and they were all very spacious. Also each room has a beautiful view outside their windows. There were many activities that the resident can take part in if they choose, there's also a large library, sitting rooms and they even have a large movie room. The staff were all very friendly and helpful and are on duty 24 hours per day. The facility provides transportation for residents that need to go out to their appointments or shopping, etc.
---
healthcareconsultant
December 01, 2011
I visited this facility
I visited Marshview. In general, I was not impressed with Marshview. The grounds of the facility are very nice, and well taken care of. The common area of the facility looked okay. However the resident room that I visited was tidy in appearance but smelled. Some of the staff did not seem friendly or professional. The resident that I visited did not receive adequate care. The resident needed assistance with eating and sometimes did not receive her meals on time. I would not recommend Marshview
---
From Marsh View Senior Living
---
Marsh View Senior Living offers compassionate senior care in Savannah, GA. We strive to create a home-like atmosphere where you and your loved ones can feel secure. Our warm, well-trained staff works closely with our residents to provide the utmost care and comfort. As part of the Five Star corporation, you can be sure that everyone at Marsh View Senior Living shares the Five Star Values, and is committed to a high level of caring in all that they do. Please schedule a visit to see why we are the first choice in senior care in Savannah, GA.
Features of Marsh View Senior Living
---
Costs
Minimum Rate:

$2500/month

Minimum Memory Cost:

$3300/month
Diet
Diabetic
Low Fat
Low Salt
Vegetarian
Location of Marsh View Senior Living
---
Get Cost Information
Get full access to reviews, cost information, and amenities