Habersham House
5200 Habersham Street, Savannah, GA, 31405
Talk to a Family Advisor: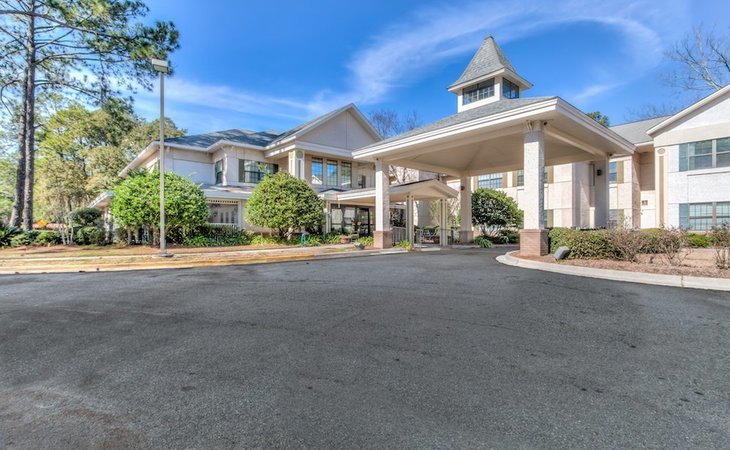 Reviews of Habersham House
---
frankie kerby
March 30, 2017
I am a friend or relative of a current/past resident
I have had my aunt at Habersham house for quite sometime and the staff and facilities there have made a huge difference in the quality of live she has know . I would recommend them for anyone who has elderly love ones who needs extended stay and health care . The fact that they have memory care is another reason we chose them . Top rated all around . Thanks for taking such good care of my aunt .
---
Suzanne R.
November 23, 2016
I am a friend or relative of a current/past resident
My mother has been in Habersham House for about a year now, and it's very nice. They're very polite, professional, and caring. They assist her in getting up and into the dining area, and they let her know when they have activities. They had a nice activity coordinator. Her room is a nice size for her, and it's like a home. She's enjoying it, and she has a lot of friends there.
---
Patty788470
November 21, 2016
I visited this facility
Habersham House was a nice facility. That would be the one that I would most likely go in. It was well kept and the location was good for me. The apartments were a better size than some of the others I saw. They had a memory care that was locked. The residents seemed to be engaged.
---
Lana821878
November 02, 2016
I visited this facility
Habersham House's staff members were very nice and competent. The place looked very clean and well-organized. The tenants there seemed to be in good care, and I liked the general living situation. The rooms looked very nice, neat, and clean. The location is great, and it's very close to hospitals, so just in case there are emergencies, there are staff and doctors close by.
---
Tony31326
March 23, 2016
I am a friend or relative of a resident
I have my parents in Habersham House right now. So far, it has been a fine, positive experience. They need 24-hour help, so they like it there. It's a safe, comfortable place. They have a comfortable two-bedroom apartment with a very homey atmosphere. Most of the staff seem to really care about the people who live there, provide good care, seem very attentive, and take good care of my parents. They're very pleased with the food and have lots of choices; if they want more, they can always ask for more. They have a great variety of community service and religious support, which my parents have been involved in. There are lots of opportunities to get to know other folks.
---
Margareta1
February 29, 2016
I visited this facility
Habersham House was very nice and they are centrally located. The facility was okay but the room was not as nice compared to the one I saw in another facility. The staff were very friendly and offered me a cup of coffee while waiting for the man who will show me around the facility.
---
KCParker
January 05, 2016
I visited this facility
I visited Habersham House and met with Robin. She spent a lot of time explaning the services they offer and their outreach program for memory care. They truly seek to give the best care possible for their patients. Thanks Robin!
---
Suzanne Rushing
January 05, 2016
I am a friend or relative of resident
My mother is a new resident of the Habersham House. We visited the facility several times before deciding that this was the location for her. The Habersham House Staff were professional, welcoming, and polite and very helpful to me and our family. They have been very helpful to providing for my mother's every day needs and assisting in getting her settled and adjusted to her new living space. They very concerned about her well-being and health. The facility is clean, spacious, and well-maintained. Habersham House is located very close the medical center of Savannah, Ga. which is a very nice feature. The Habersham House has many benefits which is why we choose it.over several others within the surrounding area. The managing staff are so very helpful and professional in their duties. I am very pleased with the Habersham House staff and the facility and the services they are providing to my mother. They are doing an excellent job. There is one item that I wish the Habersham House would acquire in the near future. I am very hopeful that they obtain a room better suited for physical/occupational therapy services.
---
Anonymous113034850
October 31, 2015
I visited this facility
The facilities at Habersham House were nice, except that the apartments were very small. He could not have fit the furniture that he has in it. I was concerned about the staff turnover, I was concerned about the medical aspect of it, I was concerned about the size of the room, and it would've cost just about as much as what we're paying now.
---
Neva2
July 31, 2015
I visited this facility
Habersham House was alright. They did have apartments in the main building, but there was no cottage. Habersham House cater to Jewish people. I supposed some other people could go there, but it was very obvious that that was the situation. I saw an apartment, and it was very nice; however, it was not what I would want at all, especially the location. It is on the main street of Savannah, and it is not where I like to be. However, Habersham House would be a 4 for the right people.
---
Caring111151750
July 13, 2015
I visited this facility
My visit at Habersham House was a disaster. I had an appointment, and the lady wasn't there or ready. I thought it was at a different time. The chef showed me around, but he was in the middle of serving the meal, and he didn't know much of anything. That place was more focused towards assisted living, but I wouldn't go there no matter how much assistance I needed. They weren't professional at all. The guy that did show me around didn't know a whole lot about the place. He couldn't answer my questions. I was very dissatisfied. They should have a staff member that knows the place well, knows what's going on, can answer all the questions, and can show you around. It was beautiful on the outside, the building was pretty, and the grounds were nice. It didn't look bad inside -- parts of it were OK -- but overall, it's not.
---
Caring106656850
June 01, 2015
I visited this facility
It was nice when you walked into the lobby of Habersham House. It was professionally staffed. The person that showed us around was very knowledgeable, polite, and nice. It was well appointed, and it was close to a hospital. They had different levels of care. For instance, if my father needed help with memory care, they had that. If my mother wanted to go somewhere, she could do that, and somebody would be there to help take care of my father. They had a dining facility and different levels of activities. They would take you to the doctor, and they had courtesy buses to take you shopping.
---
Caring103250750
March 11, 2015
I visited this facility
Habersham House was very nice, neat, and clean. It would be a place I would want to live, but there is no way that we can afford it. It was very expensive compared to the others. I think it could be more affordable.
---
A Concerned Daughter today
February 10, 2015
I am a friend or relative of resident
Don't be fooled by the nice grounds and upkeep on the outside. Habersham House is a horrible place to put your loved ones. Make sure you tour the whole facility and look at all the rooms. Also check the staff out. Half of them are not certified to care for the elderly, and then they are understaffed. I would come everyday and found my father sitting in wet or soiled diapers. Also their memory care is unsatisfactory. I personally know four people that moved their parents out due to neglect. For the money that I paid, it just wasn't worth it.
Provider Response
As Executive Director of Habersham House, I am proud to be part of such a wonderful community and team. Thank you for the kind compliments regarding the aesthetics of our community. We take a great deal of pride in the overall appearance of Habersham House. I am disheartened that you feel that you and your loved one did not have the most optimal experience while at our community. Habersham House continues to strive for excellence and remains a highly reputable community with many wonderful services to offer. In addition to providing personal care with tenderness and compassion in a fun yet nurturing environment, Habersham House passed our State survey with zero deficiencies and is also the recipient of the Best of 2015 Award for Assisted Living. At Habersham House, our caring staff consists of Certified Nursing Assistants, Certified Medication Aides, 3 LPNS and we offer on-going training for all staff to meet the changing needs of our residents. We staff above State required ratios which also enables us to manage the needs of all residents. Through regularly conducted health assessments, constant communication with physicians and family members, and weekly team meetings which include our on-site therapy services, we are able to capture and address the needs of our residents in a timely manner. We take the time to really get to know our residents and their families as well as what their needs are. We customize our services based on those needs. From monitoring every 2 hours, medication management and everything in between, it is and has always been our goal to provide the best customer service and the best care with the highest level of dignity and respect in order to optimize the lives of those we serve. I invite you to visit with me at Habersham House so you can experience the warmth and hospitality that makes our community so special!

Kellie G. Pugh, Executive Director
---
Cheryl34
June 30, 2014
I visited this facility
Habersman House was where I wanted to place my parents. I liked the location, the atmosphere, and the people who worked there. They were very helpful. The interaction was great. They had a very nice girl working there, and her name was Jennifer; she was very helpful with what I needed to know and figure out. It was clean, and it had the right setup in the room where both of my parents could live. They had a gathering area on the first floor that was very welcoming. I liked the boy who played music there. I came in one day, and they had live entertainment with a young man playing the guitar and singing along. They had a nice dining room area. I brought my father and mother there, and the residents were very friendly and welcoming. However, I can't afford it at this point.
---
Melinda11
March 21, 2014
I visited this facility
Habersham House was a very nice facility. The staff was very accommodating; however, the individual that was supposed to meet us for the tour to provide us information was not there. Someone else stepped up and did the best she could, but that was not her routine job. So I felt that they were a little unprepared. They would have expected since there had been an appointment made. The rooms were nice, neat and clean. We only got to try dessert. Again, they were not prepared for it. So I really don't know about the quality of the routine food. The dining room was very nice. It was very much like a restaurant-type setting. They have all sorts of things, like crafts area, an exercise room, a movie room, and organized activities to go shopping once a week. There seem to be plenty to do. I think what I like best is its location. It's in midtown and its easy access to medical facilities.
---
Caring79303850
February 25, 2014
I visited this facility
Habersham House was a little bit larger and it was not closer to us. The lady that worked there was very polite and helpful. She called me back after I visited and was very helpful in any way she could. I saw some of the rooms and they have different sizes of rooms. They also have activities and entertainment.
---
Caring78527150
February 24, 2014
I visited this facility
The staff was extremely friendly. The people that live there seemed very happy. We really like the personalities of everybody who was there. It was a nice facility overall.
---
Not a Place for Mom
November 29, 2013
I am a past client of this provider
When we met with the rep, we shared that our 96 year-old mother had a restrictive diet requiring low salt and no pork. The facility uses an assembly line approach to preparing meals. Everyone gets the same thing unless the patient requests something other than the day's menu. Our mother was not assertive enough to request an alternative, she ate what was placed in front of her. On three different occasions a family member arrived to witness her being served pork - sausage and/or ham, and pointed it out to the servers. Upon speaking to an administrator and the nurse, we were told that we needed a doctor's note stating that our mother should not have pork. We weren't told this two months earlier when we completed the intake process. We had to resort to taping a note on the table where our mother sat to eat as a reminder for the staff. We couldn't understand why this simple request was so hard to accommodate. Actually we didn't find the menu "senior friendly" in our opinion. Our mother, as well as many of the other residents, is not a fan of hamburgers and cold cut subs which were regular items on the menu. As far as the social activities, a calendar of limited activities is posted, but the residents are not encouraged to attend. There are no reminders. It's left up to the residents to show up. Residents who are not as mobile and outgoing are allowed to sit in their rooms all day.
---
seniorzrule
October 09, 2013
I visited this facility
Amazing Staff! Toured community and pleasantly surprised!
---
James40
August 27, 2013
I visited this facility
Habersham House has pretty much everything and has a very warm feeling throughout the facility. The staff will bend over backwards to do anything for the residents. We went in a couple times unannounced and the residents were very warm towards the staff. We were very happy with that.
---
Caring052502
June 12, 2013
I visited this facility
Habersham House was very nice and very clean. The staff was very good. It was great.
---
tjamie71
August 28, 2012
I visited this facility
In my opinion he Habersham House seems to be a pretty impressive place for assisted living. I have been to many other assisted living facilities and this one is like a palace compared to some. We were able to each lunch with my friends grandmother who has Alzheimers. The food was actually really really good! The portions were just right and it was a well balanced diet. The kitchen facilty was clean as was all commons areas, full of chatter and lil old ladies and men doing what cute lil old ladies and men do. Everything was clean and smelled like it was truly disinfected. The linens, something I always notice as well as the cleanliness of the bathrooms, were in perfect condition. There were no stains or foul odors coming from them. The bathroom was sparkling clean. I was very impressed that they are so on top of things. The staff are extremely friendly, helpful and very kind. They do not treat these elderly people like they are their job, they treat them like they are their own family. This is a beautiful facility with access to indoor and outdoor activities. Another major plus is that it is located right by Memorial Hospital and candler Hospital(let me be politically correct for the St. Joseph's hardcore group...it is now St. Joseph's Candler Hospital)!
---
Viking Parry
May 03, 2012
I visited this facility
The place had this pretty garden and they also have an entrance that had a 2 story ceiling.Also the people who lived there loved the atmosphere.
---
virtual reader
January 04, 2012
I visited this facility
I visited this facility and when I pulled up I noticed that it was a large beautiful old home right in the middle of the historic district of Savannah, GA. As soon as you walk into the facility you feel as though you have walked into a beautiful home with friendly staff and residents as well. There is ample seating for residents and visitors and the dinning room is large. Habersham House has a large library and each room is very spacious. I noticed that the resident's rooms were spacious as well with their own private bath and there are several different styles to choose from. Habersham House is very close to many shops and within walking distance of many historic buildings and squares. Also the facility offers many activities and outdoor excursions.
---
healthcareconsultant
November 17, 2011
I visited this facility
I visited Habersham House. In general, I thought Habersham House was a nice facility. The grounds of the facility are beautiful and well taken care of. The common areas of the facility are clean and clutter free. The residents' rooms are clean as well, and organized. The staff and management of the facility are professional and friendly. I think the residents receive wonderful care there. While I was there, I noticed that the staff took the time to listen to the residents and addressed their concerns. Overall, Habersham House is a great facility, and I would recommend it to everyone that is seeking assisted living care.
---
Kathy Deringer
June 30, 2011
I visited this facility
I have visited this facility on two occasions to tour and see the rooms. It sits conveniently within walking distance of Candler Hospital and many health related offices. It is 2 stories high and may seem too large to be as warm and cozy as it is, but you will be pleasantly surprised. At the entrance you are greeted by a very friendly receptionist. Then, as you tour the facility you soon realize that it is not just her, but all of the staff that give you a feeling of being "home". There are beautiful sitting areas like the Magnolia Room, The Club Room, and the charming Palm Library. Residents were joyfully conversing in several of these areas. I especially loved the beautiful sun-room and could see my loved one truly enjoying a relaxing time there. I have always felt that activities are a huge part of an Assisted Living. Habersham House must feel the same way as there are painting classes, wheelchair volleyball, Wii bowling, a 'Happy Half Hour" (I could see myself there for hours), and so much more. Classical music piped through the halls as you strolled and it was the exact feel that you received while there-elegant, joyful, and airy. There were pictures of the staff happily participating in local charity walks and you could tell that there is genuine teamwork in this building. I give it 5 very well deserved stars and would recommend it to anyone looking for a true "home away from home".
---
---
Habersham House offers compassionate senior care in Savannah, GA. We strive to create a home-like atmosphere where you and your loved ones can feel secure. Our warm, well-trained staff works closely with our residents to provide the utmost care and comfort. As part of the Five Star corporation, you can be sure that everyone at Habersham House shares the Five Star Values, and is committed to a high level of caring in all that they do. Please schedule a visit to see why we are the first choice in senior care in Savannah, GA.
What Makes Us Special
---
We are located within walking distance of physician offices, Candler hospital, as well as Habersham Village where one can shop & dine. We are centrally located for ALL your needs!
Features of Habersham House
---
Costs
Minimum Rate

$2895/month

Minimum Memory Cost

$2535/month

Rent Plus Care Fees
Entry Fee
Fee Structure Extra

We Offer A Month To Month Rental
Room and housing options
1-bedroom apartments
2-bedroom apartments
Companion Suites

We Offer Companion Suites

Studio Apartments
Dining options
In Room Kitchenette
Dining Room Shared Meals
Room Service For Meals
Features
Beauty Barber Shop
Computer Room
Resident Transportation
Party Space
Tv Room
Garden And Patio
Resident Parking
Features Extra

Library
Cleaning services
Laundry For Linens
Private Cleaning Services
Housekeeping
Laundry For Clothing
Health services
Hospice Care
Medication Management
Physical Therapy
Nurse On Staff

Yes

Pharma
Activities
Offsite Activities
Music
Games
Stories
Lectures Discussions
Book Clubs
Wii Sports
Tai Chi
Yoga
Gardening
Cooking
Arts And Crafts
Activities Extra

Computer Class
Financial guidance
Va Benefits Consultation
Financing Advice
Guest services
Guest Parking
Guests At Mealtime
Overnight Guests
Diet
Diabetic
Low Fat
Low Salt
Vegetarian
General
Respite Care
Minimum Age

55

Pets

Small Pets Allowed
Location of Habersham House
---
Get Cost Information
Get full access to reviews, cost information, and amenities