Heron House
3221 Fruitville Rd., Sarasota, FL, 34237
Talk to a Family Advisor: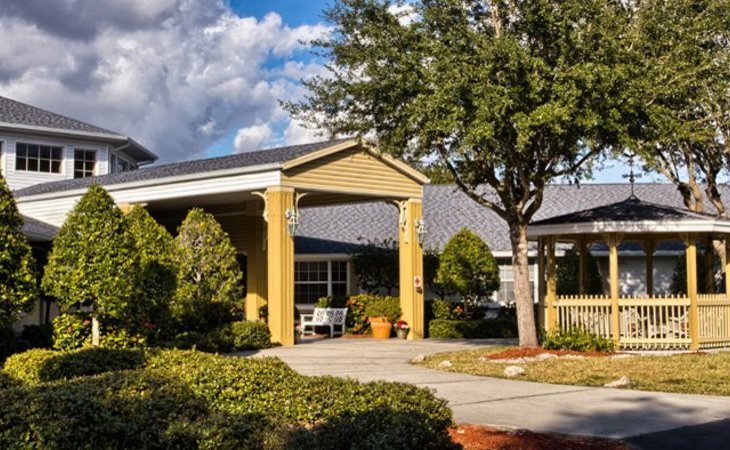 Reviews of Heron House
---
Jill361118
March 28, 2017
I visited this facility
I liked Heron House a lot. It was very nice and gave me a good feeling. It's a pretty building that I've actually admired for years. I enjoyed seeing the inside of it, and the people are very nice. It was lovely, and I liked the design. The activities looked good. I was thinking that if my husband and I needed a place, it would be a contender and a good option. They had church services. I didn't have any problems. It was more reasonable than some of the places we visited. It's attractive, pleasant, and serves its purpose.
Provider Response
Thank you for taking the time to write a review! We appreciate your feedback and are delighted that you enjoyed your visit. Our goal is to provide the best possible experience for our residents and we hope to see you again soon!
---
Linda528701
January 03, 2017
I visited this facility
Heron House was bright, cheerful, and welcoming with nice, light colors. It looked newer and had a warm feel about it. The staff was all very committed to what they were doing and very professional. They were more committed to a healthy menu with a focus on fresh fruit and vegetables.
---
Debbie086274
November 29, 2016
I visited this facility
Heron House was OK. I did a quick tour, and it seemed like a clean place. Some of the rooms were shared and just had two twin beds. There was no privacy. Where my father is at now, he has almost his own apartment. Their memory center seemed nice and clean, but the rooms were small. I don't think they did as many activities as the one where my father is in now. Heron House wasn't bad, but it was more expensive.
Provider Response
Thank you very much for taking the time to share your honest review of Heron House. We strive to be first in class. I am sorry that our memory care neighborhood did not meet your expectations. Please feel free to reach out to Tammy Wearsch at 941-955-7575, if we could be of any further assistance to you.
---
Larry308623
November 21, 2016
I am a friend or relative of a current/past resident
My mother-in-law is in Heron House. It is satisfactory. She has been in there for about 9 months now. It has been adequate, and they seem to be taking care of her pretty much. The food is always satisfactory. The staff has been responsive to things that I have requested. I have no problem with them.
Provider Response
Thank you very much for taking the time to share your honest review of Heron House. We strive to be best-in-class, and we were glad to learn you have had such a positive experience so far. Please feel free to reach out to Tammy Wearsch at 941-955-7575, if we could be of any further assistance to you.
---
Penny581300
September 01, 2016
I visited this facility
Our overall experience with Heron House was fine. I just did not like the three levels. The staff was great, the rooms were fine, but the dining area was too far away from the center of the activity. The amenities seemed fine.
---
NancyAnn
August 02, 2016
I am a friend or relative of resident
My mother was a resident at Heron House for about 6 years. She just passed in February of 2016. I live in Canada and really depended on the staff at Heron House to care for my mom as I could only get to Sarasota 3 or 4 times a year. She could not live with me in Canada because she was to a Canadian citizen. My mother and I were as close as a mother and daughter could be. She was my best friend! Without the amazing staff at Heron House I would not be able to sleep at night. Seth and his great staff in Legacy Court were the BEST!!!! They cared for my mother as if she was their own mother. My mother was very comfortable there. To everyone at Heron House, Thank you for being the caring, loving people that you are. When missing my mom, I think about all of you often. My mother and I were so lucky to have all of you as part of our family while she lived there. All the best, Nancy
---
Barbara119725250
January 29, 2016
I visited this facility
I liked Heron House a lot, the visit was very nice. It's setback from the road, and I thought the parking was very good. It seemed like a very nice facility. They had a very nice entry way. When I came, there was like a physical therapy person, and she was doing some activities with the residents. Then the dining room was adjacent to that big room, and the dining room seemed very nice where the people can feel comfortable. I liked the way when you come in. There's like a little area where the residents could gather. They had a lot of holiday decorations.
---
Jean Cavanaugh
January 23, 2016
I am a friend or relative of resident
I was very impressed with Heron House in every respect. The thing that most impressed me was, how friendly and caring the staff is, and also so many of the residents came over to say "hi". The rooms are wonderful, the dining room so bright and cheerful, if really invites you to want to sit down and have a meal. My friend was a resident there for only a short time, but he loved it. Because I loved my friend like a brother, and because Heron House was so good to him, I am going to be a volunteer there, in hopes of making other residents happy. Thank all of you at Heron House!!!!!
---
Anonymous117166550
November 30, 2015
I visited this facility
Heron House was a little older. They were very friendly and outgoing and had their activities in the center when you walk in. It was a little too far away, so I don't think it was the right place for my mom. It was fine and looked very nice.
---
Sanford M.
October 29, 2015
I visited this facility
I almost wish I had gone into Heron House. To me, it looked well-kept with fine people running it. The lady who showed me around was very impressive. As far as I could see, it was clean and looked like the people were friendly to each other, so I was impressed with it. It's closer to where I live, which is the biggest factor. I saw their dining area, which looked very good.
---
darchel
February 12, 2015
I visited this facility
I just didn't like certain features of Heron House. The staff seemed OK. I really didn't get to know them since I was just there with a marketing director. The place is physically lovely although I don't think I want to recommend this place. I think there is too much open access to a busy street at the front.
Provider Response
Thank you for taking the time to visit and review our community. I am so glad that you thought the community was lovely, although we are disappointed to hear that you have some concerns. Our community is located on Fruitville Road in Sarasota, Florida and is tucked back in a peaceful, wooded area, so I can assure you that every staff member and resident is safe at our community. I'd like to invite you to come back to tour our community and have a complimentary lunch with myself, and I can show you all the great amenities and services our community offers. Feel free to reach out to me directly at your earliest convenience. Edie Emerald-Barsch, Executive Director, 941-955-7575, eemerald-barsch@seniorlifestyle.com
---
Benita1
December 05, 2014
I visited this facility
Heron House was a nice, little place. I liked the fact that they had information, and they answered questions openly and honestly, the place was nice and clean, people seemed very happy there, it wasn't overly huge, and the price was reasonable. Even though it wasn't upscale per se, I think that for the money it would have cost if we moved my mother down, I really liked the Heron House because it wasn't very luxurious. What I was impressed with was that it was very clean, it was cheery and very bright, and it was laid out in a manner that seemed like the residents could get around pretty easily. The apartment was very inviting, and they tried to make it look very tropical, very comfortable and homey. They were clean, they were on top of things, and people seemed upbeat, so that made a difference, and financially it was more realistic. The management director I spoke with was very, very knowledgeable and very open about information; she showed me anything that I asked and gave me more information that I'd asked for upfront because she helped me with some other information that I wasn't really aware of, and that was a great help. She went out of her way to make sure that I could see anything and everything that I wanted. Apparently, every resident that we came across, she knew them by name, and this mattered to me -- that the facility was more on top of things and where people were living; it didn't make somebody feel like they are an inmate.
---
Eda1
February 28, 2014
I am a friend or relative of a resident
I chose Heron House for my husband because they are willing to take him in. On my first visit there, it appears to be clean even though it is an old place as it is over than 20 years old. The staff who help the residents are available. They seem to handle them quite well. They don't question, they just help. Also, when I talked to the director, I noticed that many people are there for many years. So, they don't have a large turnover in reference to the residents. The person who is taking care of the memory unit seems to be very patient and compassionate person. So far, they are taking good care of him even though I know my husband is a difficult person, especially when it comes to his personal care. They are trying to keep him clean as he will allow them to. The food is nothing outrageous but it is fine. My husband is in a private room large enough for him. I don't think they had many activities in the memory unit but they have activities in the assisted living. If they have activities, they have to take them out because the entrance door to the memory unit is locked. However, they usually watch movie and when I come there I usually take my husband out to the courtyard. They have a little garden with a sitting area and it is pretty. I think the only biggest problem that I have is that the stuff that I bring to him would end up missing. I brought some beautiful towels for him when he moved in and those towels disappeared. I even put his names on those towels and even though I described the towels, they are not able to find them. Same as with his socks, they just disappeared. I could see that they are using linens in his bed, some that I bring and some that they have on their own.
Provider Response
Thank you for your response. We appreciate the time you took to give us both positive and constructive feedback on Heron House. We are proud of our dedicated staff that is committed to delivering excellent service and care to our residents. We greatly attribute our low resident turnover to our amazing team. We do offer extensive programs designed specifically for residents in our memory care neighborhood. We would like to find out more about your husbands interests to see if we can more actively engage him in the programs. Additionally, we want to find out what we can do to more closely monitor your husbands personal belongings. In order to improve his experience we welcome you to contact Karen Arway, Executive Director, directly at 941-955-7575
---
Caring76938150
February 28, 2014
I visited this facility
Heron House was one of the top ones on my list. They were very nice. The gentleman that spoke with took me on a really nice tour and gave me a lot of information. They were very detailed and very helpful. The rooms were fine, because I'm used to about the same size for my mom. And that's all they need. They have lots of activities. They do have a chapel there on site, so that was really nice, too. But I think the memory care unit could be more inviting. It could be maybe decorated a little better.
---
Hank3
February 24, 2014
I visited this facility
I walked through Heron House and it's a nice facility. The place is nice and clean. It's well kept. The rooms were nice; it's just like a small apartment. If my father would need to go there, I would feel comfortable putting him there. I know they have a list of activities, but I don't recall what exactly they were.
Provider Response
Thank you so much for taking time to stop by Heron House. We appreciate your kind words about our community. We take great pride in keeping Heron House clean and comfortable for our residents. We are glad that you think the rooms are nice. If you are looking for a more spacious apartment we also offer larger one bedroom/2 bathroom apartments. Our residents truly enjoy the variety of programs we have to offer at Heron House. Located near downtown Sarasota and the beaches, our residents enjoy going fishing at the local piers, shopping or to one of the many wonderful museums that are a stone's throw away. Other activities include painting, bingo, social hours filled with entertainers and exercise classes. We are gearing up for some more trips to see some Spring Training teams in action as well as cheering on the Rays baseball team. We invite you and your dad to stop by for lunch anytime. Additionally, if he would like to experience a resident program or spend a few hours with us, please call us and we will gladly make arrangements. I would also be happy to send you a Program Calendar so you can see in more detail what we offer on a daily basis. Again, thank you so much for your feedback. We look forward to the opportunity to serve your loved one.

– Edie Emerald-Barsch, 941-955-7575, DSM
---
Thelma L
August 14, 2013
I am/was a resident of this facility
I moved into Heron House two months ago. Mt apartment is beautiful and face the garden area which is home to many birds. I was nervous about making friends but it was easy to meet people and my neighbors are nice. My favorite things are the card games, fishing at the local piers and the food committee. The staff is kind and they work hard. I am glad that I am here because I feel safe.
---
---
Senior assisted living at Heron House offers residents the best of both worlds. All benefits of our senior living community are combined with a full spectrum of senior care services to create a premier senior assisted living community. Residents enjoy beautiful surroundings, on-site amenities and social programs alongside continual on-call medical care.
At Heron House, we adhere to state-of-the-art standards of senior assisted living while providing a special touch. Our residents receive personal and comprehensive care and are consistently treated with the dignity and respect they deserve. Whether our residents need help with day-to-day activities, getting to appointments, or medication management, our caregivers kindly and competently meet those needs.
Our assisted living community in Sarasota has been purposefully designed to provide you or your loved one with a nurturing, comfortable, home-like environment that is attractive and easy to navigate. We foster community and family by hosting many activities and events each month. Residents are encouraged to participate in as many pursuits and outings as they like, appropriate to their ability. No matter what, everyone is treated as an individual person with unique needs.
At Heron House, our residents live life to its fullest as they age in place.
Assisted Living Amenities
Personalized Care Plans
24-hour Staffing
Emergency Response System
Medication Management
Scheduled transportation to local shopping and medical appointments
Award winning Wellness Everyday™ programs, provided 7 days a week
Dining for Wellness™ - educational and wellness program
Brain Health University™
Beauty and Barber Shop
Housekeeping and maintenance service
All utilities and basic cable included
Individually controlled heat and central air
Fresh, seasonal cuisine prepared by the dining service team
What Makes Us Special
---
newly renovated memory care community that is secured and it is connected to our outdoor garden area___ Accept Medicaid___ Our residents can choose to live in a wide variety of apartment styles ranging from companion suites to private studios with a kitchenette to garden view one bedroom apartments___ Pet Friendly___ located near downtown Sarasota and is close to many award winning beaches in Sarasota including Siesta Key which is a short 10 minute drive from our community
Features of Heron House
---
Costs
Minimum Rate

$2750/month

Minimum Memory Cost

$3400/month

Rent Plus Care Fees
Entry Fee
Room and housing options
1-bedroom apartments
Studio Apartments
Dining options
In Room Kitchenette
In Room Kitchens
Dining Room Shared Meals
Room Service For Meals
Features
Beauty Barber Shop
Resident Transportation
Coffee Shop
Party Space
General Store
Tv Room
Garden And Patio
Resident Parking
Cleaning services
Laundry For Linens
Housekeeping
Laundry For Clothing
Technology and entertainment
Health services
Hospice Care
Medication Management
Physical Therapy
Psychiatric Care
Activities
Offsite Activities
Music
Stories
Religious Services
Lectures Discussions
Book Clubs
Wii Sports
Tai Chi
Fitness Room
Yoga
Gardening
Cooking
Arts And Crafts
Financial guidance
Va Benefits Consultation
Financing Advice
Guest services
Guest Parking
Guests At Mealtime
Overnight Guests
General
Staff Patient Ratio

15 1 Al 8 1 Memory Care

Respite Care
Minimum Age

62

Pets

Small Pets Allowed
Licenses
Licenses

Standard License
Get Cost Information
Get full access to reviews, cost information, and amenities